Sin City: Season Five: SPACE (the funniest frontier).
Kirsten Van Ritzen and Ian Ferguson of Broad Theatrics arrived in Victoria in 2010 and immediately set about shaking up the local theatre, improv and comedy culture.  One of their first projects was to re-create a version of the extremely successful weekly improvised serial they had originated in Edmonton (Die Nasty–now in its 24th year), then taken to Toronto and Los Angeles.
Seasons in Victoria have included: Season One: Die-Nasty, set in 1984, followed the adventures of the Craigdarrochmactavishes, a wealthy Victoria family whose fortune was built on the invention of typewriter-ribbon.  (February-June 2011, 24 episodes),  Season Two: Carnies the story of a small-time carnival during the dust-bowl era (October 2011-May 2012, 30 episodes),  Season Three: Bedlam-by-Sea a fictional English seaside town in which Fawlty Towers met Monty Python (January – May 2013, 21 episodes), Season Four: Kingdom of Thrones set in a Medieval Castle in the fictional European principality of Thronavia, circa 1342. "Populated by peasants and ruled by royalty, it was an epic tale that evoked the fairytale world of Once Upon a Time and the dangerous intrigue of Game of Thrones. " (November 2013 – April 2014, 24 episodes).
Ensemble members are recruited from amongst Victoria's finest improvisers, with some cast members having appeared in every season.  The work is tight, physical, laced with humour, wit and innuendo, and extremely fast-paced.  Guest artists are incorporated on a regular basis (with some returning as regular cast in subsequent seasons), which provides the felicitous opportunity for audiences to see actors such as Julian Cervello (known for his work with the Greater Victoria Shakespeare Festival and his own creations, Canterbury Tales and Wyf of Bath) and Amanda Lisman (Spring Awakening–Belfry Theatre, My Fair Lady and Uncle Vanya–Blue Bridge Repertory Theatre) playing outside normal roles—although it must be noted that Lisman honed her improv chops as part of Atomic Vaudeville.  This season's guest artists include Mike Delamont and Justin Carter.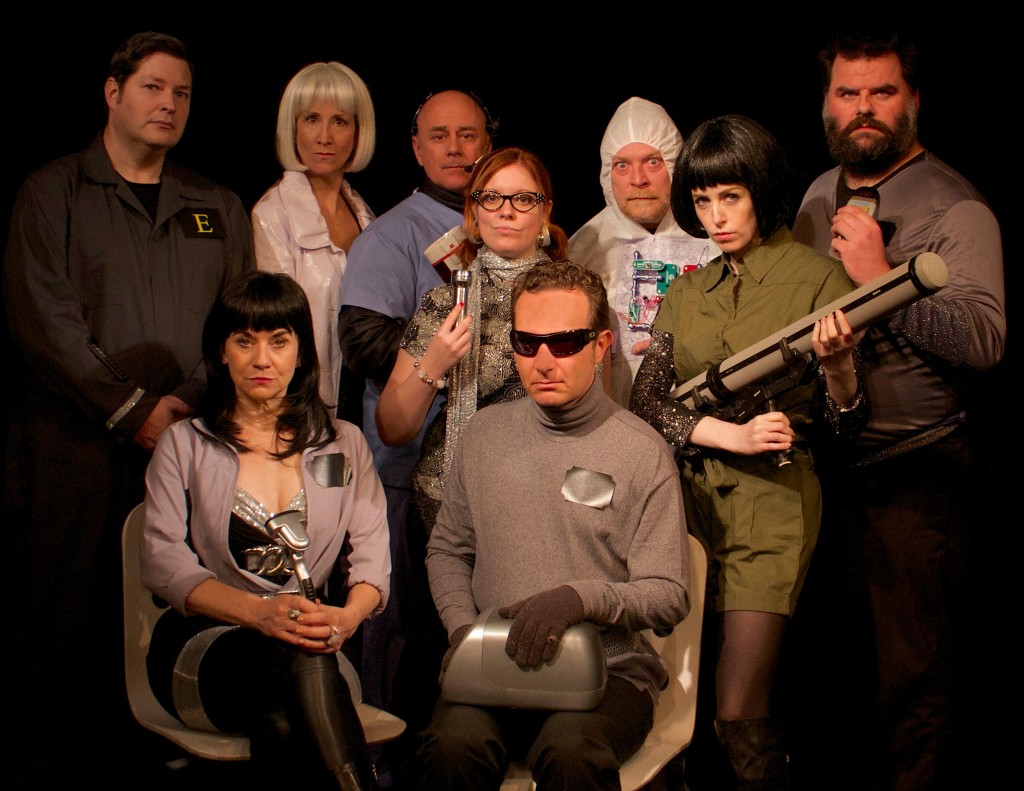 Robert Conway, Kirsten Van Ritzen,  Charlie de Pape, Amy Culliford, Wes Borg, Amanda Lisman, Morgan Cranny
front row: Christine Upright, Bill Nance. Photographer: David Bruce
Cast members of Space are: Kirsten Van Ritzen as Space Concierge Monet Mitsubishi, Christine Upright as Captain Cherise Cosmo, Morgan Cranny as First Officer William Frakes, Amanda Lisman as Head of Security Natasha Ripleycova, Charlie DePape as the ship's doctor, Dr. Luca Britoni, Katt Campbell as the scientist Dr. Deedee Kalrisian, Bill Nance as rich space tourist Carlton Von Houghton III, Amy Culliford as navigator Lieutenant Molly Troy, Alan Penty as stowaway Captain Tickle (a children's entertainer) and Robert Conway, the mysterious Ep-Sil-On, the only surviving crew member of the Apollo 2001 space station.
The live improvised music is provided by musical director Alexander Brendan Ferguson, and technical director is Emma Dickerson.
Season Five: Space is off to a rocketing start but there is still time to enjoy the shenanigans of this superlative space-age adventure.
It's sexy, sultry, smart, suggestive, scintillating, scandalous, silly–SPACE, the funniest frontier. Buckle up and enjoy the ride.  Come expecting to get hooked; my husband (a Sin City virgin) attended  opening night and immediately purchased a punch card.
I owe a debt of deep gratitude to the entire team of Sin City; the year 2014 got off to a very rough start due to some personal family issues (now thankfully resolved). In moments of my deepest worry, I came on a weekly basis, knowing the dose of laughter would lift my spirits and recalibrate my thinking.  It's no wonder we say "a merry heart doeth good like a medicine".  A weekly ration of Sin City was definitely cheaper than therapy.
8pm Tuesday January 13 Preview  ~  100th episode in Victoria!
8pm Tuesday January 20 Opening

continuing weekly on Tuesday nights until the Finale on March 31  * only 12 episodes! Do not miss out!

Victoria Event Centre 1415 Broad Street  V8W 2B2

Set in SPACE in the year 2020, a team of astronauts are on a mission to replace crew stationed in a far galaxy. The crew endured cryosleep while their spacecraft the USS Kukamunga travelled through a wormhole. Upon arriving, they discovered only one crew member alive on the damaged Apollo 2001 Space Station … and he can't remember what happened.

The show is completely improvised and unrehearsed. An original tale will unfold in weekly installments on Tuesday nights, directed LIVE by Ian Ferguson. Season 5 only runs for 12 episodes in total with the Finale on March 31. Do not miss out on any of the laughs!

Tix 7:30 at the door $15 general $12 seniors/students (cash only)
– Punch card $60 good for any 6 admissions on any dates. On sale in advance at Eventbrite (MC/Visa) or cash at the door.
– Season Space Pass $98 (non-transferable) at the door
Info/reservations: 778-440-0408 www.sincityimprovserial.com

Presented by Broad Theatrics www.broadtheatrics.com
Sponsored by Stone's Throw Restaurant.

* * * * *

SIN CITY is a live improvised comedy show performed in Victoria, B.C. Every season has a new setting, and spins a multi-layered story from beginning to end over several episodes. On Tuesday nights the characters move the story forward in hilarious and unexpected ways, as the talented improvisors respond to live direction.  Each show stands alone – come for one night and laughs are guaranteed. If you get hooked come on back – you will be in good company.

Funny, poignant, thrilling unscripted theatre – this format takes improv to a whole new level. Created and directed by Ian Ferguson and Kirsten Van Ritzen, produced by Broad Theatrics.

2014 M Award Nominee "Top Improv/Sketch Variety Troupe"
Sin City: Kingdom of Thrones

2014 M Award Nominees "Top Improvisors/Sketch Performers"
Wes Borg, Morgan Cranny, Karen Brelsford

2014 M Award Nominee "Top Comedian"
Kirsten Van Ritzen, Wes, Borg, Mike Delamont

2011 M Award Nominee "Favourite New Production"
Sin City: Carnies