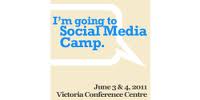 It's a week later and I'm still processing Social Media Camp 2011, #SMCV11, held at the Victoria Conference Centre on June 3rd and 4th.
Exhilarating, sharing, connecting, community, fun, generosity, gratitude – these are a few of the words that come to mind when trying to explain my experiences for outsiders.
When we live in the "social media bubble" we forget, at times, that there are people who do not know what a blog is, let alone social media.
The conference itself featured a full two day package of workshops, panels, presentations, one on one assistance (genius bar) and keynotes, as well as a trade show, social showcase, podcast tent, photo booth, networking dinner, awards ceremony and wrap up party. All this for individuals who ranged from the aforementioned "newbie" to world renowned industry professionals.
Sectors represented included: the music industry, academia, politics, not for profits (NGOs), tourism, faith communities, media, human resources, small business, marketing.
There were workshops on: community, online safety, digital identity, photography, writing, vlogging, blogging, and email, as well as Twitter, Facebook, YouTube, WordPress, Hootsuite and location based social media like Foursquare and Gowalla.
A total of 64 speakers presented 3 keynotes and 38 sessions/workshops/panels. Over 650 people attended. The entire event was capably managed by the organizers and a team of incredible volunteers – how many I'm not even sure!
Besides presenting a session on "Social Marketing for Not for Profits" (slides in another post), I live tweeted sessions over two days and moderated a presentation by Dr. Raul Pacheco Vega aka @hummingbird604.
In between, I had the opportunity to connect with old friends from outside the greater Victoria area, meet many new people, and experiment a bit with my camera (and video).
Thank you to ALL involved and to Paul Holmes (the Idea Zone team) and Chris Burdge (bWest Interactive) for undertaking such a huge endeavour.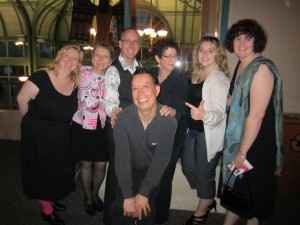 Here are some highlights from my #smcv11 Twitter stream:
There was much talk of storytelling and authenticity:
" Helpful, interesting, human. These are the stories we want to hear"

"They (Sweet Leaf Tea) start conversations people want to be part of. They are not talking just about tea." Amber Naslund, The Now Revolution Book

"Being authentic allows you to build a brand that people will follow. Be consistent & congruent." Raul Pacheco Vega (hummingbird604)

"How do I develop a personal voice when tweeting on behalf of an organization. Practise! And have the conversation first." Janis La Couvée
Build a foundation of values:
"The culture of your organization is the foundation to your social media activities." Amber Naslund

"Non-profits have values & passion that other organizations struggle to find – it's a huge advantage in social media" Janis La Couvée
Connect with critics:
"Find your brand advocates. Your "brandgelists" – thank them!! Find your critics too." Kemp Edmonds, Hoot Suite

"People respond positively when you take an incident of criticism via the social web & deal with it!"

"You can't avoid the negative on social media. Can't only take positive calls" Amber Naslund
Reconnect with our "village" roots:
This isn't new. It's old made new again. Back to the small town feel. Neighbours lending sugar. Kemp Edmonds

Social media – is like living in a small town. You wouldn't turn your back to Bob at the BBQ. Theresa Lalonde, CBC
Own your content:
" It's important to have a home base – your blog or website". Rebecca Bollwitt Miss 604

"We still need a place for our information. Twitter could go away. Interactive tools on CBC website." Theresa Lalonde
There is no magic bullet solution:
"There is NO magic number in social media for your company. What is a "like" on your FB page?" Amber Naslund

"What is the ROI of calculating ROI?" Jay Baer, Convince and Convert, and the Now Revolution book
What would you like to see at Social Media Camp 2012? Be sure to let the organizers know.