Stepping Out at Langham Court Theatre January 13-30 2016. A review.
Diligent hard work, dedication, commitment and persistence pay off significantly for the talented cast and crew of Stepping Out (currently at Langham Court Theatre until January 30, 2016). Working together since June of last year (the longest rehearsal period ever in the theatre's storied 87 years) they've crafted a show that is entertaining, and sure to please with its "can-do" attitude and nostalgic nod to an 80s vibe that will resonate with many. Stepping Out is entertaining for many reasons—sharply differentiated characters who are easy to love, amusing costumes (Chris Stubel) recalling the fun of the era, wonderful detailed choreography (Heather-Elayne Day)—how hard it must be to produce a routine full of deliberate pratfalls—, rousing music (Jason King), an authentic set (Bill Adams) perfectly recreating a church basement—not the least of which is the broad comedy peppered broadly throughout Richard Harris' 1983 script.
Director Heather-Elayne Day has skillfully mentored the actors (including theatre and dance neophytes) into a cohesive and synergistic team who play off one another with ease—setting up the comedic moments and dance mishaps with impeccable timing. Harris' script never digs deep into the lives of this disparate group of individuals, bound by a common desire—to tap and thereby provide a moment of respite in a personal and public world often fraught with conflict and trouble. The ensemble create characters who are sympathetic and complete despite these restrictions.
The economic collapse in 1980s England is gently reflected in issues they face—a husband out of work (Suzanne Bell shines as the boisterous and happy-go-lucky Sylvia), a son who can't quite launch (Jennifer Almeida as Rose in her stage début), a shopkeeper perennially short-changed by her suppliers (Elizabeth Brimacombe brings warmth to the role of Maxine—always eager to help); even the class divide appears in the person of Vera (a perfectly snooty and meddlesome Kristin Pickup).
To some degree these eight men and women all have their dark secrets and hidden corners—there are glimpses of tragedy and hurt throughout in swift asides and whispered confidences.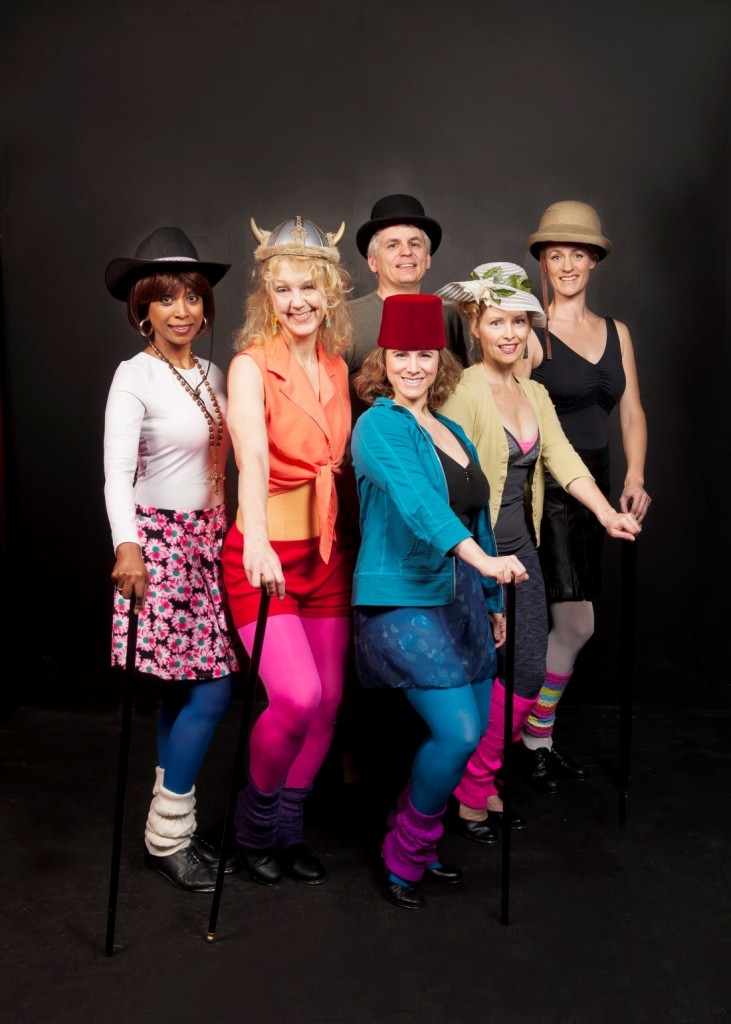 L-R: Jennifer Almeida, Elizabeth Brimacombe, Stephanie Geehan, Kristin Pickup, Christie Norman-Taal, Michael Romano (rear), Photography by David Lowes
The lone male, Geoffrey (Michael Romano) is a widower with little to enliven his rather dreary days as an insurance salesman; Lynne (Stephanie Geehan)–an earnest young nurse who lacks confidence in her abilities. The most troubled of the lot is the mousy Andy (Keeley Teuber in a nuanced performance—a clear departure from more recent roles). In every group trying to master a physical skill, there is the klutz. Dorothy (Christie Norman-Taal) with her zany get-ups and two left feet, is at heart a happy soul despite her job working in social services. Norman-Taal, an accomplished ballet dancer and teacher, gleefully meets the challenge of tap-dancing badly.
Even the perpetually sunny and endlessly calm Mavis the tap instructor (Ursula Szkolak) hides a troubled past. Szkolak, a trained dancer, brings assuredness and great confidence to the role. It's easy to imagine being her student carefully mentored and pushed to succeed. Valerie Turner, in real-life a rehearsal pianist and teacher, delights as the rather dogmatic and drill-sargeant-like Mrs Fraser.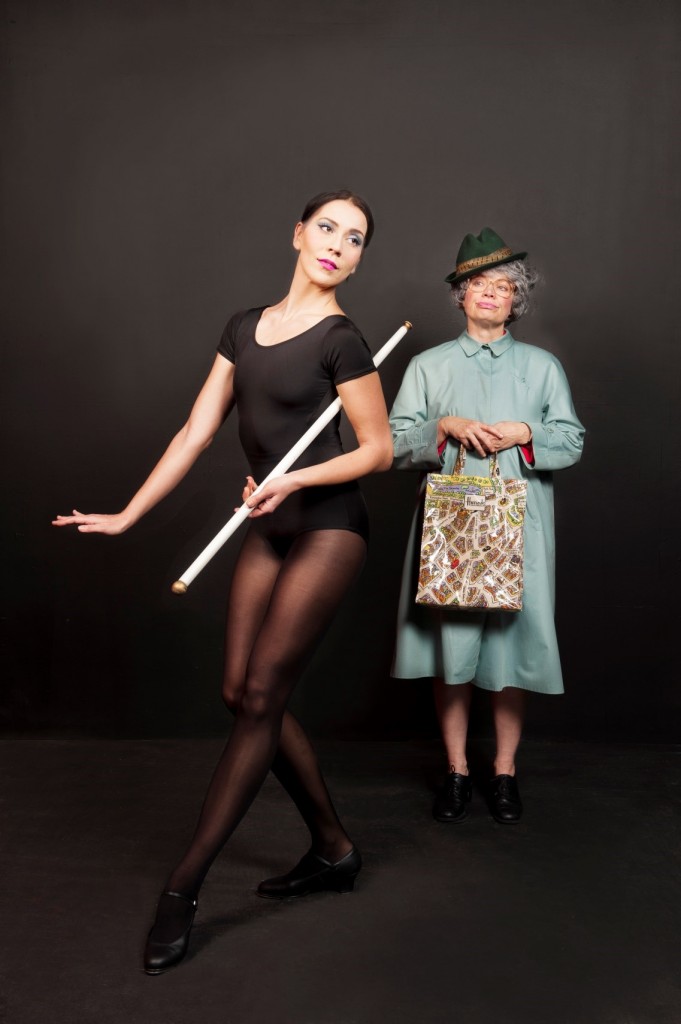 Ursula Szkolak, Valerie Turner. Photography by David Lowes
Jolted out of their comfort zone by Mavis' sudden decision to perform a routine at a big charity fundraiser, the students up their game. Mild conflict ensues, but hard-work wins out in the end (was there ever any doubt?). Despite differences these students are determined to succeed.
Jason King's sound design takes the audience back immediately to a time of big-hair, foot warmers, bold colours and leggings with powerful songs by all the favourite icons. Adam Wilkinson's lighting design reflects the changing weather and seasons outside—complete with rain and lightning on occasion. Bill Adams set, for the main part the afore-mentioned church basement, transforms into razzle-dazzle for the closing scene as this splendid ensemble truly brings it home.
It's a story guaranteed to have audiences on their feet cheering and applauding. In a true testament to knowing your patrons, the complete run of Stepping Out was sold-out before the preview (January 13th). The run will not be extended but I have been advised that people may still be able to secure tickets at the door if there are cancellations. Try your luck!
Langham Court Theatre starts the New Year off with a touching and campy comedy, "Stepping Out". Set in a dingy church hall in early 1980s North London, Stepping Out is about the lives, laughs and loves of a group of women (and one man) attending a weekly tap dance class. Despite treating the classes as social occasions and showing little co-ordination, the students slowly develop a level of skill and cohesion, and by the end transform into triumphant tappers.
Stepping Out by Richard Harris, directed and choreographed by Heather-Elayne Day
Langham Court Theatre
January 13-30, 2016
Tickets $16-21 online or by phone 250-384-2142
Production
Director/Choreographer Heather-Elayne Day
Apprentice Director Debbie Robinson
Producer Andrea Pite
Stage Manager Janet Hender
Set Design Bill Adams
Lighting Design Adam WilkinsonSound Design Jason King
Costume Design Chris Stubel
Properties/Set Decor Drew Waveryn
Dance Captain Sylvia Hosie
Cast
Ursula Szkolak Mavis
Kristin Pickup Vera
Elizabeth Brimacombe Maxine
Keeley Teuber Andy
Suzanne Bell Sylvia
Christie Norman-Taal Dorothy
Jennifer Almeida Rose
Michael Romano Geoffrey
Stephanie Geehan Lynne
Valerie Turner Mrs. Fraser
Michael Gosselin Nigel
Irene Doerksen Sugar Plum Fairy
Amanda Hefflefinger Sugar Plum Fairy
Adrian Sly Stage Manager (offstage)
Dick Newman Announcer (offstage)
Disclaimer:  I received complimentary tickets to attend the opening of Stepping Out for the purpose of writing a review.