Boeing Boeing at Langham Court Theatre July 23-August 2, 2014. A review.
Farce—fast, funny and physical—done well, is such a guilty pleasure for theatre-goers, and incredibly difficult for cast and crew.
The action must be quick, most often involving an incredible number of exits and entrances with costume changes in between, but not so quick that the thread of the plot is lost.  Characters need to be over-the-top while remaining likable. Smart dialogue keeps the audience laughing (and groaning too).
Langham Court Theatre succeeds wonderfully on all counts in their latest rendition of the 1960s French hit Boeing Boeing (written by Mark Camoletti) which they originally staged in 1978 with the same director Toshik Bukowiecki.
Boeing Boeing remains a classic for all the right reasons—the cad in all of us secretly roots for Bernard (Jeff Olyarnyk) while deploring his behaviour.  It's a fine line to walk and this cast of experienced actors does it with aplomb and gusto—accentuating characteristics and accents to the hilt without ever veering into slap-stick.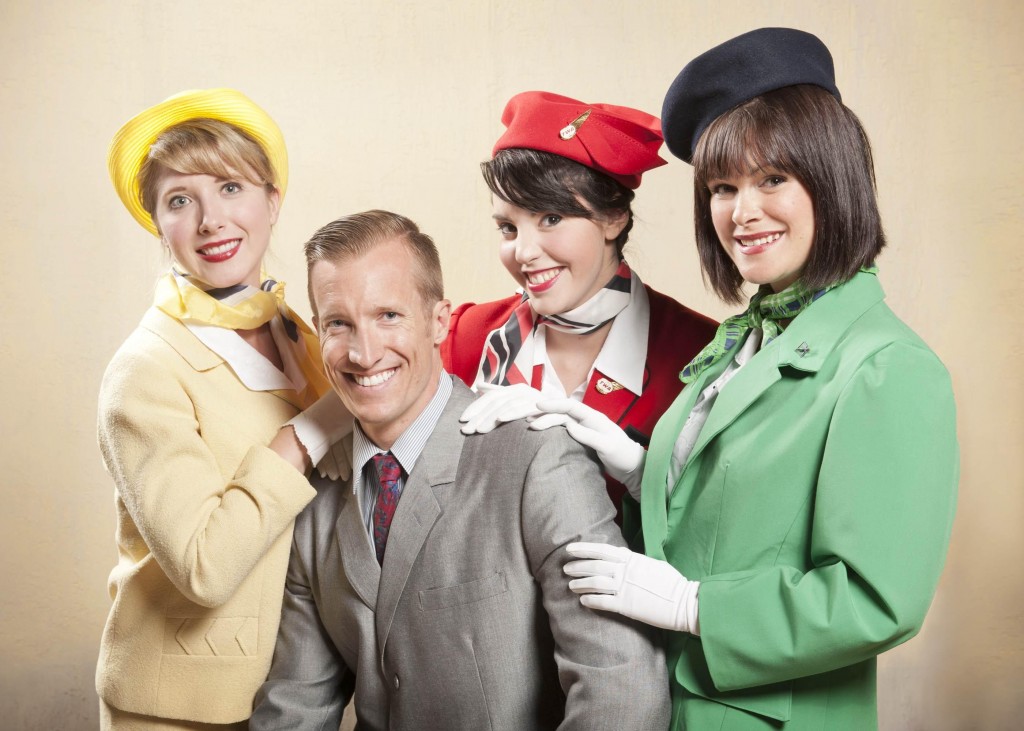 Hayley McCurdy (Gretchen) Jeff Olyarnk (Bernard), Tea Siskin (Gloria), Keeley Teuber (Gabriella). Photo: David Lowes Art Studio 21
Directed with precision, Boeing Boeing utilizes the elaborate set (also Bukowiecki)—complete with no less than seven doors—to the maximum.  From a visual perspective the design elements exude sophistication—whether it is in the elaborate wallpaper and cut-out accents over arches and windows, or the landscape scenery (Anne Swannell) as seen from the balcony nook.  The props and set décor departments definitely deserve congratulations for all the doodads, gewgaws and furniture that defined this era—lava lamps, metal wall hangings, cut-glass decanters, hanging chairs—as do the scenery construction and painting crews.  Jason King's sound design nods to the aeronautical theme with familiar tunes like Fly Me to the Moon.
Costumes by Sue McCaskill—in her Langham début—add a level of "pop", particularly in the stewardesses' uniforms.  Dresses and suits are sleek, loungewear delightfully glamourous and hats a milliner's dream.
Contrasted to all this sophistication, is the charwoman, Berthe (Kathy Macovichuk) slouchy in dress and demeanour but sharp in tongue and wit.  Macovichuk is the perfect foil to the intricate machinations of man-about-town Bernard and his wingman Robert (Perry Burton) as they try desperately to avoid getting caught-out by the three women Bernard is engaged to.
Bernard likes variety and Gloria (Tea Siskin), Gabriella (Keeley Teuber) and Gretchen (Hayley McCurdy) deliver it by the bucket-full. Beguiling yet wary, these young women know how to parlay a situation to their favour.  Siskin's deep southern drawl might lead us to believe she is the wronged innocent—which turns out, in the end, to be far from the truth.  McCurdy's sturdy and forthright German walks the most morally ambiguous road with Burton, in scenes that contain fine dramatic tension amid all the funny hijinks. Teuber's Gabriella is soft, sweet, sexy and—above all—determined to get her man.
The central premise of Boeing Boeing keeps everyone on their toes, and the audience beside itself with laughter, as sequences unfold to an ending that the French would call "bien ficellé"—well tied-up with nary a loose end.  I won't spoil the surprises—but I can guarantee that there will be a few.  Camoletti was a master; in the hands of the talented cast and crew of Langham Court Theatre Boeing Boeing receives the nuanced treatment it deserves.
Boeing Boeing by Mark Camoletti, directed by Toskik Bukowiecki
Translated by Beverley Cross, Revised by Francis Evans
July 23-August 2, 2014
Langham Court Theatre
Tickets:
$21 for Adults$19 for Students / Seniors (ages 65+)
Student Rush Tickets $10 per ticket  (At 15 min before curtain, Student ID required)
July 23 to July 26–Wed thru Sat nightly show time 8:00pm
July 30 to Aug 2–Wed thru Sat nightly show time 8:00pm
* Plus two Sat matinees July 26 & Aug 2-show time 2pm
For more information, contact Langham Court Theatre:
805 Langham Court, Victoria BC V8V 4J3
Box Office / Admin: 250-384-2142
boxoffice@langhamtheatre.ca
Facebook: https://www.facebook.com/langhamtheatre
Twitter: https://twitter.com/#!/LanghamTheatre
Cast:
Tea Siskin as Gloria
Kathy Macovichuk as Berthe
Keeley Teuber as Gabriella
Hayley McCurdy as Gretchen
Jeff Olyarnyk as Bernard
Perry Burton as Robert
Production Team:
Toshik Bukowiecki / Director, Set Designer
Nick Stull / Producer
Jon Scheer / Stage Manager
Leigh Robinson / Assistant Stage Manager
Sue McCaskill / Costume Designer
Jean de Cartier & Ann Harris / Set Decor
Drew Waveryn & Michael Ledger / Properties
Karrie Ayotte & Paul Hilton / Lighting Designers
Jason King / Sound Designer
Disclaimer: I was provided complimentary tickets to Boeing Boeing and asked to provide a review. As always, I retain complete editorial control over all content published on this website.