Tenant Haymovitch at Theatre Inconnu May 3-19 2018. A review.
No matter how often you go to the theatre, there are some shows that remain seared in memory for their sheer audacity, breadth of content and artistic vision. Tenant Haymovitch is one such show.  Originally presented by Theatre Zygota from Tel Aviv at the Victoria Fringe in 2012, it defied description—a combination of incredibly energetic physical theatre, absurdist montages and oblique references to contemporary Israeli politics, Jewish culture, family dynamics, love and the creative spirit. Matt McLaren, then a writer with the arts blog The Marble Victoria, was smitten.  After his inaugural directing debut (Bad Jews) at Theatre Inconnu in, he approached artistic director Clayton Jevne with the idea of a remount of Tenant Haymovitch for the 2018-2019 season.
Playwritz Ariel Bronz does not fear confrontation; he also does not fear losing an audience in a sea of ideas. The translation by Boaz Tinker is exceptional and flows freely; there is marvellous poetry and word play, carefully elucidated by the actors. (This is a definite departure from the original production where the Israeli actors were working in a second language).
McLaren has gathered an accomplished ensemble with the requisite skills to convey an array of complex ideas while maintaining an astonishing madcap liveliness—audiences will recognize actors from Theatre Inconnu, Langham Court Theatre, the Greater Victoria Shakespeare Festival, Atomic Vaudeville and Launch Pad Theatre. Tenant Haymovitch is surely as much a gift to these thespians as it is to an audience.
Daniel Haymovitch (Chase Hiebert), a Ukrainian immigrant, rents a dilapidated apartment from a menacing and mendacious Landlord (Graham Croft) in order to pursue his writerly dreams. Bronz singles his intentions in the opening scene when an offhand question about smoking turns into a reference to a seminal Alan Ginsberg rant "Don't Smoke"—these are deep waters.
The first sign that things could go awry comes from a series of walls bisecting the space—a wall, then another wall, then a blocked window and behind it, a wall. Uncertain as to suitability, Haymovitch nonetheless allows himself to be bullied into signing the lease.  Falling asleep—projections by Mily Mumford and sound design by Max Johnson highlight the sheer aimlessness of the subconscious in a wonderful film-like moment—he awakes to a host of other inhabitants. Longing for quiet he finds himself surrounded by chattering and harassment as they poke, prod and question.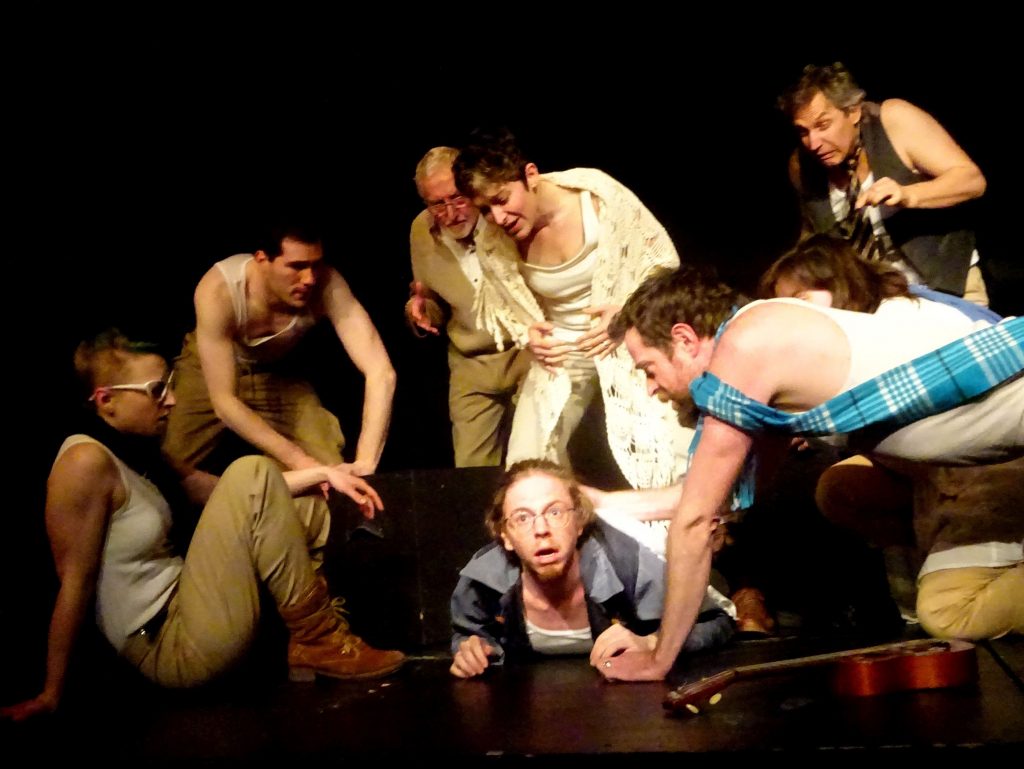 Amy Lee Radigan, Jared Gowan, Eric Grace, Michelle Mitchell, Chase Hiebert, Paul Shortt, Julie McGuire, Graham Croft
A Rabbi (Paul Shortt) and his Rebbetzin (Amy Lee Radigan) want to know if he's a "proper Jew", questioning his parents' affiliations to the KGB and his observances.  Hiebert is strong and resolute in the role of Daniel—he may be bewildered, befuddled and confused by the sheer illogic of their arguments and the non-stop onslaught on his person, nevertheless he remains determined to pursue his dreams.
An authoritarian Citizen #1 (Eric Grace is marvellously ambivalent with a proclivity for twisting words) proclaims "I believe in my tenants, I believe in my walls" before bending logic with "Why? Because? Not because—it's mysterious".  If it weren't for the fact Tenant Haymovitch was written in 2012, he could be portraying a more recent political figure with a penchant for obfuscation.
The montage of scenes continues. In a factory for the manufacturing of slogans there is only one inevitable end result in modern Israel; Radigan and Shortt draw on French mannerisms and psycho-babble for a therapy session; there's a subsequent re-birthing and confrontation with his parents (a prickly father—Eric Grace—and mother—Michelle Mitchell—bound to induce maximum guilt by preferring their ideal son Jared Gowan) before a brief romance and wedding to sweet Anny (Julie McGuire), and, finally the exorcism of an evil spirit (Dybbuk).
In spite of all these attempts to unseat him, Haymovitch clings to his beliefs—love, beauty, myself—and casts off the roommates to venture out on his own, hopeful of the outcome.
Throughout McLaren draws on physicality to convey meaning—enlisting the talents of Andrew Barrett (Impulse Theatre) as movement consultant and Paul Shortt as dance captain–with entertaining sequences for a wild dance party, the mechanized actions of the factory assembly line and the spirited incantation "push/breathe" during the re-birthing.
Costumes (Annie Konstantinova) feature singlets and jack boots on many characters—the Landlord, Rabbi, Rebbetzin, Lifeguard—is this an allusion to a military state?—while elsewhere Grace as Father and Citizen # 1 signals his superior status with a tailored suit.
Theatre-goers who aspire to rich fare will be ideally served by this complex salmagundi—it's a wildly absurd coming-of-age tale with probing political and social commentary. Think of fine wine or old Scotch—in a society habituated to consuming culture in gulps, this play may require a second sip to appreciate all its nuances.
As director, McLaren delivers on the challenge set in choosing Tenant Haymovitch—regardless of the playwright's many circuitous arguments and rabbit holes, the audience is lead to safely navigate the terrain.  Entertaining and stimulating Tenant Haymovitch is a feather in his cap and another in the long line of Theatre Inconnu's thought-provoking productions.
Tenant Haymovitch by Ariel Bronz, directed by Matthew McLaren
Theatre Inconnu
1923 Fernwood Road, the Paul Phillips Hall
May 1-19, 2018
Tickets: $10/14 with $7 preview May 1st and pay what you can May 9th
Through TICKET ROCKET: http://www.ticketrocket.co/Event/Season/266 or (25) 590-6291
Directly through THEATRE INCONNU: http://www.theatreinconnu.com/2018/01/the-tenant-hamovitch/ or (250) 360-0234
Tenant Haymovitch is 90 minutes long with one intermission.
The Cast (alphabetically)

Graham Croft Landlord, Clerk
Jared Gowan Lifeguard, Interrogator, Factory Manager, Son
Eric Grace Father, Citizen #1
Chase Hiebert Daniel
Julie McGuire Anny
Michelle Michell Mother, Wife
Amy Lee Radigan Rebbetzin, Social Worker
Paul Shortt Rabbi, Doctor, Dance Captain
Production Team
Matthew McLaren Director and Production Design
Michael Gosselin Stage Manager
Mily Mumford Projection Design
Max Johnson Sound Design
Annie Konstantinova Costume COnsultant
Amy Lee Radigan and Paul Shortt Live Music
Brian Gibbs Script Consultant
Richard Patterson Crew
Morgan Gadd Crew
Clayton Jevne Crew
Robert Randall Poster Design
Disclaimer: I received a complimentary ticket to attend Tenant Haymovitch.