Who Killed Spalding Gray at Belfry Theatre SPARK Festival 2018. A review.
What do you get when you cross Daniel McIvor, playwright, performer and renowned Canadian theatre artist with Spalding Gray, the man who practically invented the autobiographical monologue?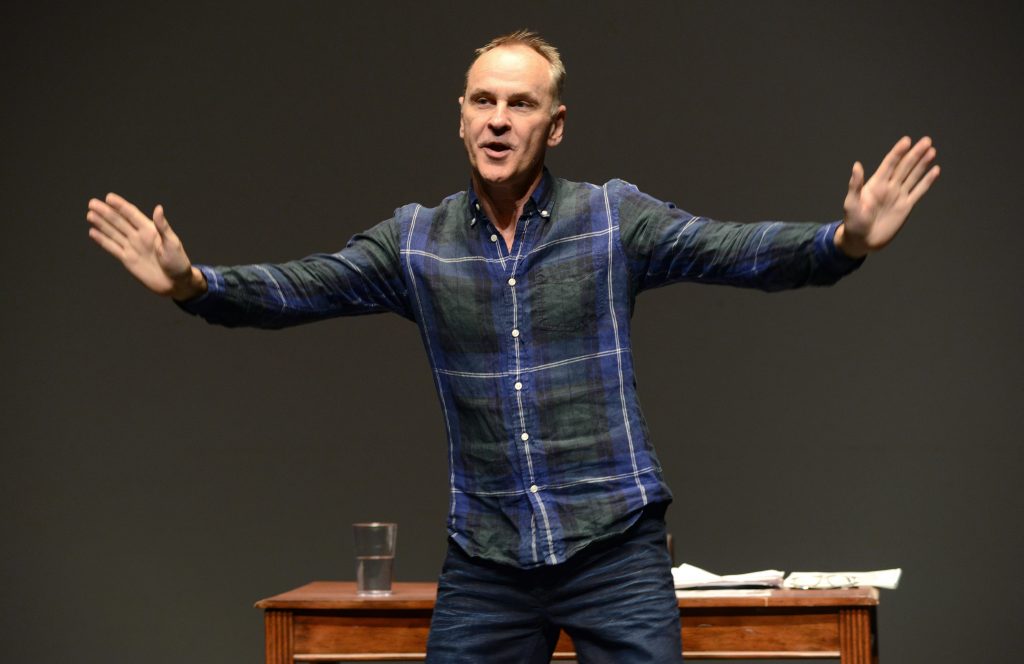 Daniel McIvor. Photo: Guntar Kravis
Two celebrated storytellers—Canada's Daniel MacIvor, Siminovitch Prize winner, playwright and actor Spalding Gray, the American who re-invented the autobiographical monologue.  One day in time; intersecting stories.
It's any wonder, in ancient cultures, that storytellers were simultaneously revered and feared.  MacIvor makes both magic and meaning, weaving threads at times seemingly pulled from thin air, into a cohesive and head-scratchingly perplex tale that will have patrons running to Netflix looking for Tim Burton's Big Fish.
Digressive, disarming, both a meditation on life and a master class in the art of the monologue, Who Killed Spalding Gray is so much more than the sum of its parts.
MacIvor's work, though studied at university and held up as an example of fine writing over decades, has been less often performed in Victoria than "back east" where he lived first in Toronto then in Halifax (the reason for this move inserted briefly into this story).  Scouring the Belfry archives reveals productions of The Best Brothers (2014), In On It (2001) and Here Lies Henry (1996) while Jarvolution Theatre mounted A Beautiful View in 2014.  The University of Victoria Phoenix Theatre presented the premiere of Inside in 2011 to critical acclaim. Appearances by MacIvor himself have been even more rare—a keynote at UNO Fest in 2017 (WTF -What's Theatre For) and a lecture at UVic in the writing class of David Leach. In a beautiful synchronistic–and meta-theatrical–moment, Leach was the audience member "voluntold" to be onstage with MacIvor when he opened Who Killed Spalding Gray at SPARK.
For audiences there is broad appeal—it's an opportunity to witness, up close and personal, a major talent at work and for the theatre community, a chance to mine the craft and technique of a master (on my way to the car after the show I couldn't help but overhear the very enthusiastic theatre students behind me engaged in spirited conversation about his brilliance).
MacIvor teams with long time collaborators, director Daniel Brooks and dramaturge Iris Turcott, to produce a spellbinding tale of three men—himself, Gray and a character named Howard who is perhaps fictional—who never truly fit in.
From the onset, he is astute in the setup, tying up loose ends for people who may not know the significance of the two writers in question.  He does so in an apparently off-handed manner, greeting the audience from the stage, making sure everyone is comfortable and then choosing someone to come on stage with him (the aforementioned David Leach) and answer three questions.  How could the room not be onside with him at this point?  The conjuror begins, the audience—hooked—leans it to listen, fascinated by the macabre possibilities of possession by an entity.
MacIvor's telling is perfectly matter-of-fact, with no hint of the prurient attached, as if it makes logical sense to consult an intuitive to avoid being killed. Or to wonder about his connection to the death of Spalding Gray.
Song lyrics foreshadow as the Talking Heads sing "Home is where I want to be" and MacIvor dances to a carefully choreographed routine. Lighting design by Kimberly Purtell is absolutely crucial to creating the crisp and essential transitions between narratives, while Brooks' direction ensures a path for watchers to follow.
As a framework he introduces a quote, never naming the author, about the four things that matter in life—the ocean, the sky, swimming and death—and then proceeds to divide the stories into those categories.
Fact and fiction collide; the grand themes of life are examined; profound words are spoken; resolution, at least for some of the protagonists, is reached.
Depending on individual back story, elements of Who Killed Spalding Gray will resonate more or less with theatre-goers.  Is it a universal truth that we all want to fit in or feel at home in the world, to know that our life has meaning and that it is not our fault? Whether we choose to sink or swim depends on the answers to those questions.  In the end, MacIvor and Howard chose to swim.
Revelatory, erudite and philosophical musings tied to lived experience sparkle with immediacy. MacIvor sees connections hidden to most and makes exquisite theatre in the process.
On the weekend of January 11, 2004, celebrated American monologist Spalding Gray ended his life by jumping off the Staten Island Ferry in New York. That same weekend, on the other side of the country, Daniel MacIvor was spending three days in California in a series of sessions with a man who had offered to save MacIvor's life. Linking these two real stories is a wholly original fiction about truth, lies and the four most important things in life.

Candid and darkly funny, Who Killed Spalding Gray? reunites Daniel MacIvor, one of Canada's foremost playwrights, with longtime collaborator, director Daniel Brooks.
Who Killed Spalding Gray?
Belfry Theatre SPARK Festival 2018
Written & Performed by Daniel MacIvor
Directed by Daniel Brooks
Tickets: $30 online or by calling the Box Office at 250 385 6815
Tuesday, March 13 at 7:30 pm
Wednesday, March 14 at 7:30 pm
Thursday, March 15 at 7:30 pm
Friday, March 16 at 8 pm
Saturday, March 17 at 8 pm
80 minutes / no intermission
Written and Performed by Daniel MacIvor
Directed by Daniel Brooks
Dramaturgy by Iris Turcott
Producer/Stage Manager Marcie Januska
Lighting by Kimberly Purtell
Photos Guntar Kravis
reWork Productions, Toronto
Disclaimer: I was offered a complimentary ticket to attend Who Killed Spalding Gray?