The Pansy Craze by Avery Brennan an Intrepid Theatre YOU Show April 1, 2017. Preview.
Avery Brennan has been extremely busy since graduating from the Canadian College of Performing Arts Year III program—Company C—in late 2013. As the artistic director intern at the college, he was the music director for Cities and Girls (February 2015), the assistant director for Smoky Joe's Cabaret (April 2015) and helped début the Alumni Company, writing and directing two original musicals Art Isn't Easy (2015) and Get Happy: A Hollywood Musical Revue (2016). Further afield, he was part of the Prairie Skies Musical Theatre team this past summer, bringing The Drowsy Chaperone to rural Saskatchewan.
This Saturday April 1st he presents, as part of Intrepid Theatre's YOU Show, The Pansy Craze, his original musical about a little known period of gay performance in the United States from 1930-1933 (the final years of prohibition).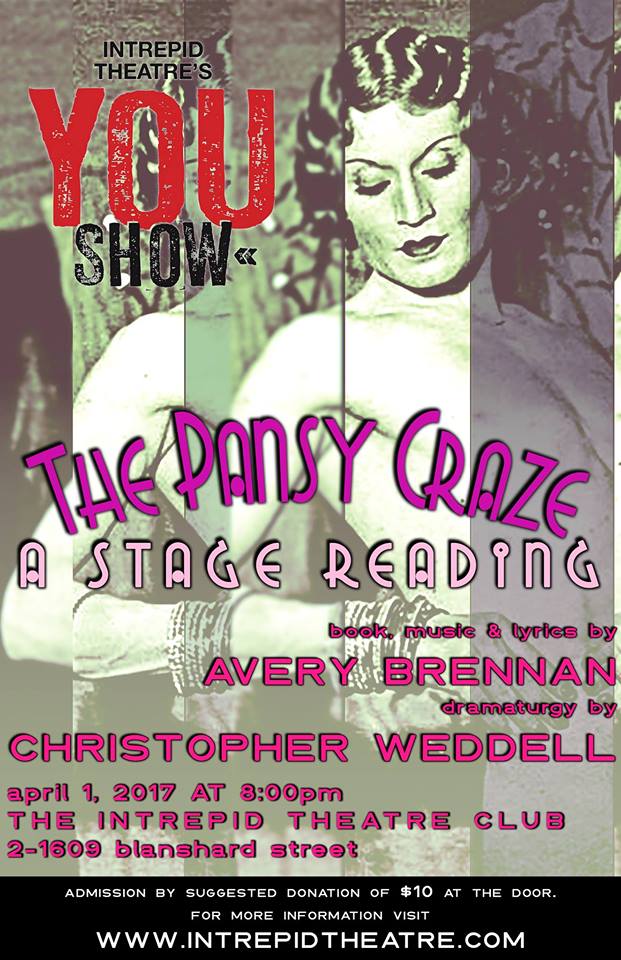 Sophisticated audiences in midtown New York were looking for the next novelty, after the wave of black entertainers.  Drag queens who previously had been performing in smaller back alley venues (homosexuality was still a crime) were suddenly thrust into mainstage theatres.
Brennan tells the story of Jeanie (Vaughn Naylor), a drag queen originally from Charlottetown, who partners professionally with Charlie (Marcus Spodzieja) a blue-collar expectant father down on his luck and eager to try something new.  The pair head to New York and became, in spite of themselves, part of a political revolution.  Musical numbers are inspired by songwriters Jule Styne (Diamonds Are A Girl's Best Friend, Everything's Coming Up Roses) and the duo of Kander and Ebb (Cabaret, Zorba).
The Pansy Craze is "a message of hope, of finding sanctuary and your tribe".  It explores issues of gender identity and asks the question "what is womanhood, what is manhood?"
"Queer history has been about waves of progress, followed by periods of receding.  It's important to remember and to tell the story.  If you think about it, Jewish kids/black kids learn history from their parents, but gay kids are essentially orphans. Who do they learn their history from?" asks Brennan.
Featuring eight original compositions and a cast of ten actors, The Pansy Craze is being presented in its first full-length staged reading (an earlier version was presented at DaPoPo Theatre's Live-In Festival in Halifax this past October).  Brennan credits dramaturge and mentor Christopher Weddell as well as the musical talents of CCPA faculty member Jim Hill for their assistance in making his idea reality.
Brennan is eager for audience feedback (there will be a session after the reading); this draft is largely about seeking clarity. Ultimately he would like to submit The Pansy Craze to other workshops and festivals.
The Pansy Craze
Book, Music and Lyrics by Avery Brennan
Dramaturgy by Christopher Weddell
Additional Music and Lyrics by Joe Howard & Leo Wood
Saturday April 1st, 8pm
Intrepid Theatre Club, #2-1609 Blanshard Street (at Fisgard)
General admission by suggested donation of $10 at the door. No advance sales.
Featuring:
Jesse Deutscher, Kirsti Hack, Madeleine Humeny, Alex Judd, Justin Lapeña, Griffin Lea, Ingrid Moore, Vaughn Naylor, Chase Sander, Markus Spodzieja, and Derry Oshust.
Piano accompaniment by Jim Hill.
Contains mature/sexual themes
Depicts scenes of violence
In recent years, the progression of LGBTQIA rights has been at the forefront of social issues in the media. TV shows like Will & Grace, RuPaul's Drag Race, The L Word and Queer as Folk have popularized modern queer culture, but did that sense of cultural unity exist further back in history? Emerging playwright and composer Avery Brennan has set out to explore just that in his new musical, The Pansy Craze, under the tutelage and dramaturgy of Christopher Weddell, Canadian College of Performing Arts faculty member and founding member of Vancouver's Bard on the Beach.

After its debut as a play featured in Halifax's Live-In Festival play reading series (produced by DaPoPo Theatre) in October, 2016, The Pansy Craze has now begun to evolve into a full-fledged musical. Through the generous support of Intrepid Theatre's YOU Show program, the next stage of this work-in-progress will be presented as a stage concert-reading, followed by an optional audience talk-back session. Come hear a sample of where this show is heading!

"At its heart, The Pansy Craze celebrates being one's self above all else," says actor Jesse Deutscher, who recently starred in This Little Light at The Belfry Theatre, "Being unapologetically queer and not giving a damn who disagrees."