The Wanted Composers Tour.Victoria Composers Collective tours BC Interior June 28-July 9, 2015.
I had the opportunity to attend the Victoria kick-off concert and was highly impressed not only by the skill of the musicians, but the variety of musical offerings in the programme.  I am familiar with a number of the composers through their association with A Place to Listen and it was a true joy to see them spread their wings with this endeavour.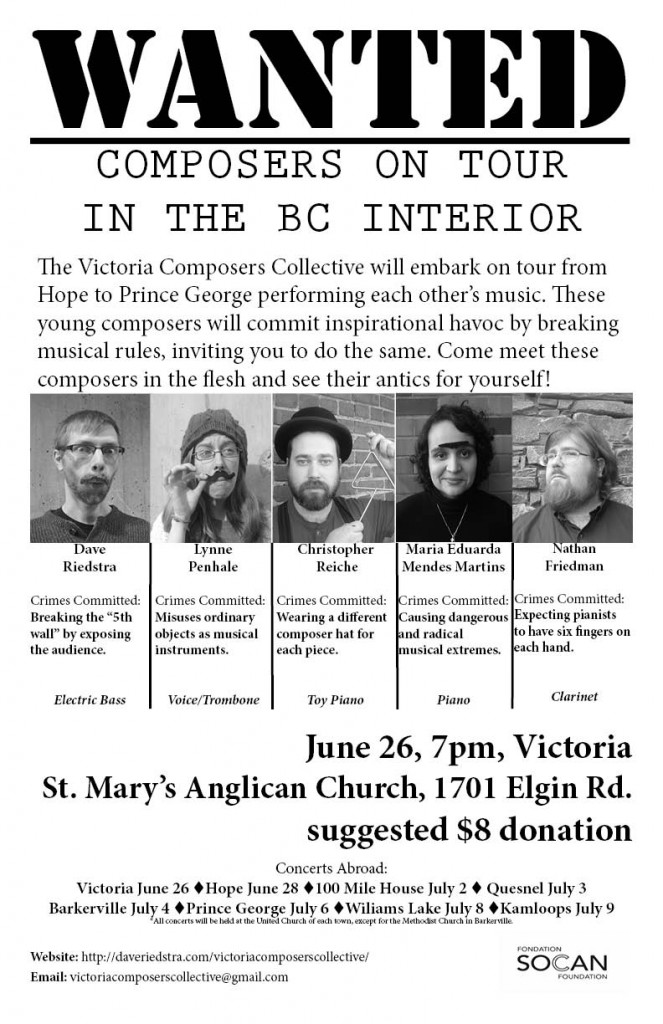 The programme will vary from place to place.  In Victoria the composers opened with the playful Hmmm by Lynne Penhale (who was the major instigator and organizer of this tour)–a piece utilizing the human voice riffing on the many meanings of the vocalization "hmmm"–from angry to sad, happy to intrigued and many other emotions in between.  In Nathan Friedman's Six Popular Songs After Lawrence Durrell, soprano Penhale was accompanied by Maria Eduarda Mendes Martins (piano) on two charming tunes–a ballad (Avis) and the blues-influenced Dublin. Friedman followed on clarinet with his own composition Incoronazione which brought to mind solemn proceedings in dimly-lit churches.  Christopher Reiche based his epistolary opera Marguerite Helen McKay on letters from his great-grandmother to her sister.  Penhale was luminous and clear, accompanied with great depth by Reiche on piano.
For the second half, Penhale performed her tone poem The Rose with amplified voice and piano.  Dave Riedstra's Prairie Trails was a virtuoso performance on clarinet by Nathan Friedman–of all the compositions I found it demanded the greatest attention due to the voice-less nature of many of the sounds produced.  Christopher Reiche's Sonatina was performed by the ensemble as vocalists and Maria Eduarda Mendes Martins Mirrors by the ensemble as musicians on a variety of instruments–the last piece a delightful composition of jangling and at-time discordant sounds.  The composers of the Victoria Composers Collective have packed a wellspring of sounds and experiences into The Wanted Composers concert.  Aficionados and neophytes alike will surely find a tune, melody, phrasing or thought to tickle their fancy and listening ear.
New music, among the uninitiated, often has a reputation for being difficult, hard to listen to—let the composers of The Wanted Composers Tour dispel that notion for you.
Composers Dave Riedstra, Lynne Penhale, Maria Eduarda Mendes Martins, Nathan Friedman, and Christopher Reiche have come together to present the Wanted Composers Tour. They will be presenting concerts of newly composed, unconventional works for electric bass, toy piano, trombone, clarinet, voice, and piano as well as non-traditional musical instruments. The tour starts in Victoria on June 26, 2015 and ends in Kamloops on July 9, 2015. On the way the composers will share their music in Hope, 100 Mile House, Quesnel, Barkerville, Prince George, and Williams Lake.

These young composers have had tremendous success in their artistic careers. The ingenuity and charm of their work has won the favour of audiences in cities around the world including Brazil, Holland, Argentina, the United States, and Canada. In addition to being prolific composers, the group performs with a high degree of skill, often tackling difficult pieces that both mentally and physically challenge the performer. "They disseminated a spirit of appreciation and insight into every piece performed," writes Benjamin Willems about their work in February's I <3 Composers festival. The Wanted Composers Tour brings this music to audiences in communities across BC for the first time in the form of performances, post-concert discussion periods, and improvised music workshops.
Hope Sunday June 28, 7:00pm. Suggested $8
Hope United Church 310 Queen Street https://www.facebook.com/events/1552418191701040/
100 Mile House Thursday July 2, 7:00pm. Suggested $8
49 Dogwood Avenue https://www.facebook.com/events/1010028049015133/
Quesnel Friday July 3, 7:30pm. Tickets $10 adult/$5 students
218 Kinchant Street https://www.facebook.com/events/438800456298687/
Barkerville Saturday July 4, 7:00pm. Suggested $8
The Methodist Church in historic Barkerville https://www.facebook.com/events/1600318986887508/

Prince George Monday July 6, 7:00pm. Suggested $8
Knox United Church 1448 – 5th Avenue https://www.facebook.com/events/662539687181489/
Williams Lake Wednesday July 8, 7:00pm. Suggested $8
1000 Huckvale Place https://www.facebook.com/events/481998001951759/

Kamloops Thursday July 9, 7:00pm. Suggested $8
Kamloops United Church 421 St Paul Street https://www.facebook.com/events/494253037392201/
About the Victoria Composers Collective
The Victoria Composers Collective is a group of over twenty composers dedicated to creating opportunities for Canadian composers to have their works presented in concert. Additional goals include building a supportive community interested in new music and providing an approachable concert going experience. Having hosted several performances around the city, they are eager to spread their music to a wider audience outside of Vancouver and Victoria.
Check out their website for more information.
Meet the five composers
Dave Riedstra
• Composer, performer, improviser
• Originally from Norval, Ontario (near Brampton)
• Makes music designed for the experience of heightened spatial awareness.
• Plays jazz, folk, classical, improvised and new music in bands and ensembles with either the electric or upright bass.
• Masters in Music Composition from UVic.
• Awarded a New Music in New Places grant from the Canadian Music Centre and organized a series of concerts in unusual places.
• Also a website developer with a diploma in interactive multimedia from Sheridan College.
• http://daveriedstra.com/
Lynne Penhale
• Composer, performer, music teacher
• Originally from Quesnel, BC
• Creates music that imitates familiar sounds and noises. Often using instruments that are found in kitchens and recycling bins.
• Sings and plays trombone in jazz and new music ensembles.
• Bachelor of Music in Composition and Theory from UVic
• Participant in the Young Composers Meeting in Holland, 2013
• Enjoys swing dancing to Ella Fitzgerald and Nina Simone
• https://lynnepenhale.wordpress.com/
Maria Eduarda Mendes Martins
• Composer, performer, conductor
• Originally from Rio de Janeiro, Brazil
• Creates big sonic contrasts in her music
• Conducts for the Victoria Composers Collective and the UVic Orchestra.
• Masters in Music Composition from UVic.
• Has had her music performed in Brazil, Argentina, and Canada
• Works with electro-acoustic and acoustic music.
• Likes to watch movies because she likes stories.
Nathan Friedman
• Composer, performer, researcher
• Originally from Kamloops
• Creates fragmented and disjunct as well as lyrical and sensual music.
• Plays the clarinet in jazz, klezmer, classical, new music, and improvising bands.
• Masters in Composition and Experimental Music from Wesleyan University, Connecticut.
• Performed in the Canadian premieres of pieces by great contemporary composers such as Witold Lutoslawski, Fausto Romitelli, and Michael Finnissy.
• Performed the world premiere of Anthony Braxton's Sonic Genome in the Vancouver Cultural Olympiad, 2010.
• Loves to cook amazing foods.
• https://nathanfriedmanmusic.wordpress.com/
Christopher Reiche
• Composer, performer, arts administrator, music teacher
• Originally from Pembroke, Ontario
• Studied at Wilfrid Laurier University and the University of Victoria
• Interested in the interplay between musicians and how they interpret notation.
• Plays classical, new music and improvises on the piano.
• Currently the new music coordinator at Open Space in Victoria.
• A founding member of LaSaM, a group of composers and performers dedicated to collaboratively creating new pieces.
• Enjoys knitting in his spare time.
• http://christopherreiche.tumblr.com/