This is GOOD: A new initiative for Victoria's creative workers
Media Release
Picture a private coffee shop with a big rustic table and a warm-industrial feel, tucked away down a tree-lined courtyard on the edge of the Chinatown District and you start to get a sense of what it feels like to attend an event at GOOD.
Offering workshops, intensives, classes, retreats, co-working sessions, and one-on-one creative consults alongside community building events, GOOD is a new Victoria-based initiative for writers and independent creative workers founded by Jill Margo and Andrew Templeton.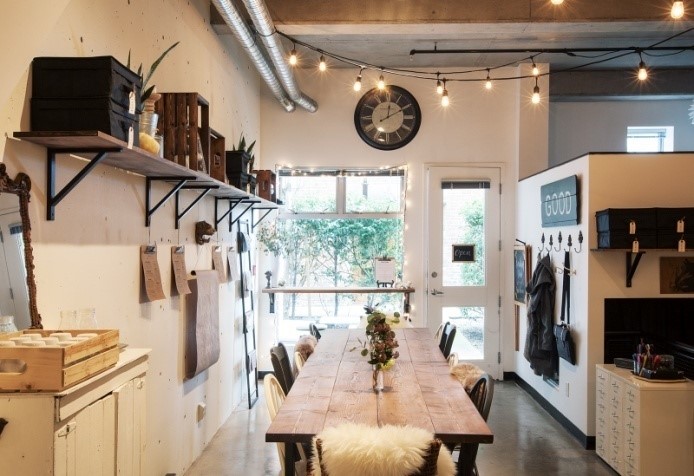 image provided
The passion behind GOOD derives from the fact that both Margo and Templeton have lived and worked as writers in Canada. They understand first hand where the challenges lay and what sorts of support creative workers need. They also believe that new models are required to help independent creative workers flourish in an often challenging environment.
"There are many traditional critique-based creative writing workshops out there for learning craft but they often exclude the real world context that writers exist in—particularly in terms of how they manage their practice and support their professional endeavours. Our goal is to remedy that," says Templeton.
Margo adds, "We also want to dismantle romantic stereotypes about what it means to be an artist and what artistic practice looks like. We believe that as independent creative workers we need to synthesize artistry with practicality. We need to build productive practices, clarify our missions, cultivate opportunities, and approach our work with an entrepreneurial spirit. This thinking goes to the heart of GOOD."
In planning and executing the programming—as well as understanding the local creative ecology—Margo draws heavily on her experience as a former Director of the Victoria School of Writing.
Autumn programming kicked off with two workshops, co-hosted with the Victoria Festival of Authors—one with poet Gregory Scofield and another with memoirist Sharon Butala—and continues with two separate departments.
The Dept. for Writers has offerings crafted by guest facilitators, reflecting their own experience and interests. They range from refining your creative practice with Carla Funk and considering your work from the outside with Heidi Taylor, to using poetic techniques to write more lyrical prose with Yvonne Blomer and a consideration of how to write about environmental challenges with Marilyn Bowering. To keep pens moving, GOOD also offers an evening of writing prompts.
Meanwhile, the Dept. for Independent Creative Workers offers a creative planning retreat to help folks start new projects, and a class on how to embed sharing into your practice in the digital age via e-newsletters, both led by Margo. Programming is rounded out with Finishing Class, GOOD's regular co-working accountability sessions, as well as our new one-on-one creative consults.
"For a long time—including when we lived in Toronto, prior to returning to B.C.— we imagined how we'd animate a space like GOOD," says Templeton. "We're so lucky to have found a space right here in Victoria."
WHO           GOOD, a workshop studio co-founded by Jill Margo + Andrew Templeton and featuring guest facilitators Marilyn Bowering, Carla Funk, Yvonne Blomer + Heidi Taylor
WHAT        GOOD's Autumn 2017 programming for writers + independent creative workers
WHERE      Unit 104 – 536 Herald Street, on the edge of the Chinatown District in downtown Victoria
WHEN        Programming continues through to mid-December
WHY           To help writers + independent creative workers do good work + live good lives
~ 30 ~
Media Contacts: Andrew Templeton or Jill Margo
Email: thisisgoodorg@gmail.com | Phone: 778.922.0450 | More Info: www.thisisgoodorg.com