Do you enjoy podcasts and audio books?  Find yourself listening to words and music while closing your eyes? Then, you might enjoy the second in a series of radio plays by This Is Twisted Theatre – Batman's Great Mystery Part Two – June 13/14th at the Intrepid Theatre Club.
This is Twisted Theatre was formed late in 2011 by Rod Peter Jr, local comedian known for his roles with Random Selection of Chairs, Atomic Vaudeville, Terra Firm (Victoria Fringe 2011), and Theodore Sherman, popular theatre technician, and actor (The Importance of Being Earnest, Giggling Iguana).  In the beginning they held monthly shows on the first Sundays at the Victoria Event Centre but have recently shifted format and venue.  If last month's sold-out show at the Intrepid Theatre Club is any indication, it looks like radio plays are going to be the winner.
Dress up in your best 1940s gear, and come prepared to be a studio audience.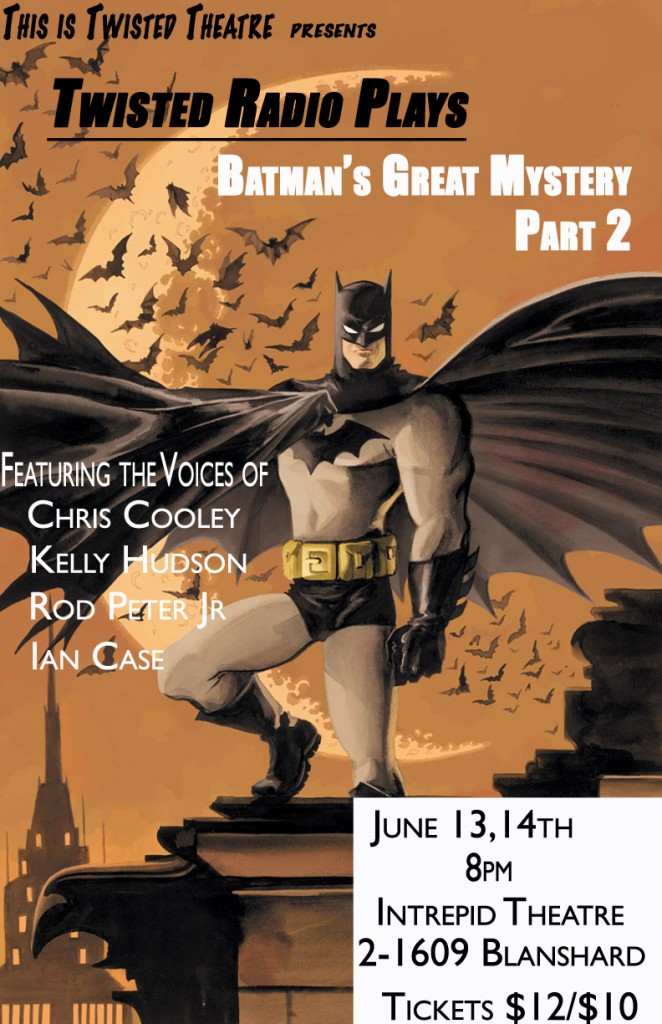 What is Twisted Radio Plays?

Original radio plays from the 1940's re created on stage with a live vocal cast and foley artist!
See what it was like to be a audience member in the 1940's.
Smoking, whisky drinking performers dazzle you with their voices whilst the foley artist and his props brings a smile to your face! This was and still is ENTERTAINMENT!
During each Radio play, folks can buy beer and popcorn to enjoy while watching and listening to the show that is being RECORDED LIVE!
Be prepared to to clap, cheer, boo, and full on be apart of the show!

Also during Batman's Great Mystery Part 2, prizes will be given away ( all Superhero related ) to those who bought beer and or popcorn!

The Story so far!
After telling Robin, his young companion, that he might never see him again, the famous Batman disappeared. Then, twelve days later, while Robin and Superman hunted desperately for him, Batman apparently reappeared without notifying his friends, and delivered a rabble-rousing, un-American speech in Metropolis Auditorium.

Unable to believe their ears, Superman and Robin in their guises of Clark Kent and Dick Grayson respectively, hurried to Batman's dressing room after the speech. But, when they were given a cold reception, Robin asked Kent to leave, then appealed to Batman to explain his amazing behavior. To his utter bewilderment, the man he considered his dearest friend, turned on him viciously, and when Kent returned a short time later, he found Batman gone and Dick lying on the floor unconscious.

What will happen next!?!? On JUNE 13 and 14th you'll find out in Part 2 of Batman's Great Mystery!

This months ALL STAR VOICES:

Bruce Wayne as BATMAN
Ian Case as the NARRATOR
Rod Peter Jr as SUPERMAN
Chris Cooley as JONES
and 
Kelly Hudson as Robin

This month you will also the cast take on more than one character each!
You'll see the introduction of some of your favorite DC characters, such as:

PERRY WHITE
LOIS LANE
GORDON
and 
ALFRED.

Tickets are only $12/$10 
And this time Pre Sale tickets will be coming to you!
So look out for those tickets via Ticket Rocket coming soon!
Disclaimer: I will be attending as a guest of Twisted Theatre.