It's a bird, it's a plane, it's ……
The talented crew at Twisted Theatre bring an original 1948 radio play to Victoria audiences, complete with some of your favourite thespians and technical staff.
Join them Saturday May 19th for Twisted Radio Play's "Batman's Great Mystery!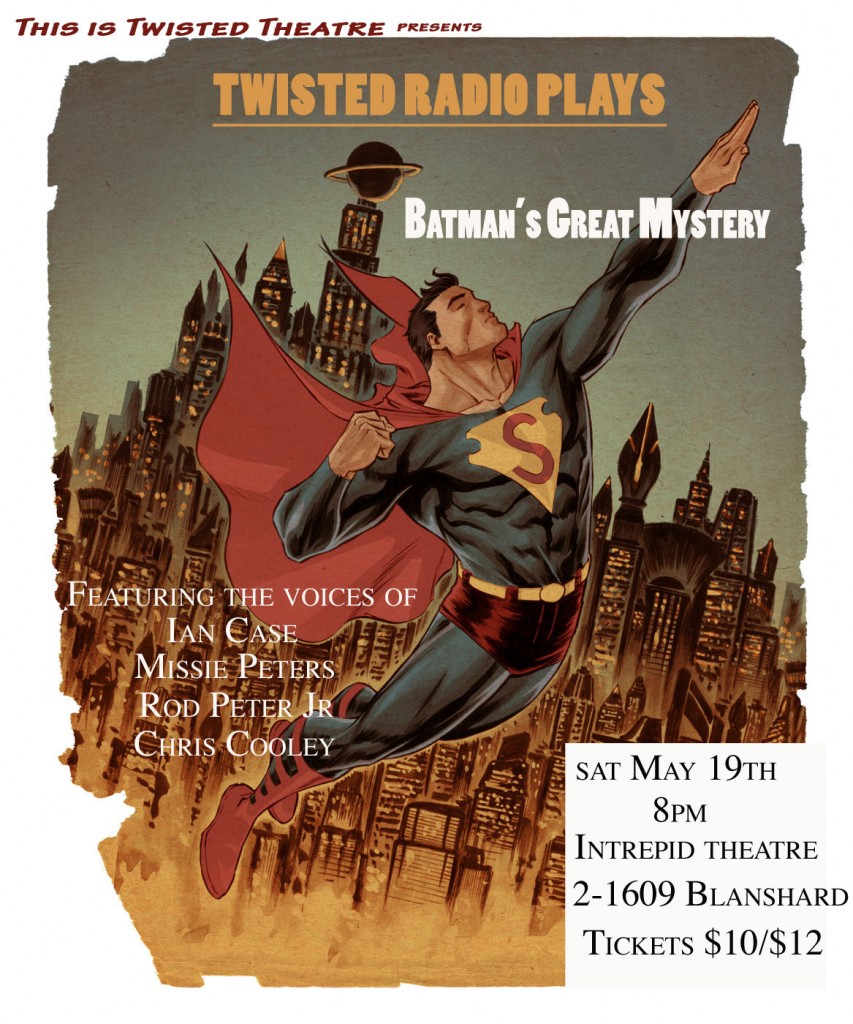 This is Twisted Theatre presents:

TWISTED RADIO PLAYS

An all new show at INTREPID THEATRE!

A live radio play performed and recorded in front of an audience!

This months show:

BATMAN'S GREAT MYSTERY

Originally aired in 1948 as ten 20 minute episodes, Batman's Great Mystery has been re done by This is Twisted Theatre as 2 two hour episodes.

When first aired the show was thought of as thrilling and action packed … but in the days of 3D IMAX AVENGERS …. well Superman driving a car and never once flying …. hey it's in the script!

This outright funny and silly show will surely keep audiences entertained from start to finish.

It's like listening to the Goon show mixed with Monty Python but with Superman and Batman in it!
The Story:

SUPERMAN, otherwise known as Clark Kent is a mild mannered reporter at the Daily Planet, when one day Dick Grayson, known as ROBIN, BATMANS younger sidekick, calls with bad news …. BATMAN has gone missing!

Join the all star talented voice cast:

IAN CASE as the Narrator
MISSIE PETERS as Robin aka Dick Grayson
ROD PETER JR as Superman aka Clark Kent
CHRIS COOLEY as Jones
and

THEODORE SHERMAN as the live Foley Artist.

not to mention a SURPRISE guest as BATMAN aka Bruce Wayne …

rumor is … Roderick Glanville …. shhhhh!

Laughs, Thrills, Mystery, all around fun … while having a beer!

learn more about Twisted Theatre and all upcoming shows on Facebook! or follow us on Twitter : @ThisisTwisted 

Episode 1: Saturday May 19th.8pm.

Intrepid Theatre Studio2-1609 Blanshard Street(entrance on Fisgard)

Tickets: $10/$12 
Disclaimer: I will be attending as a guest of Twisted Theatre.