Victoria's Shakespeare by the Sea presents Hamlet and The Tempest at Clover Point Park July 2-August 2 2015.
Victoria's Shakespeare by the Sea embarks on a multi-year exploration of Shakespeare's mind on women,and aims to illuminate the consequences of misogyny with the three year trilogy Shakespeare and Women. "This year we present Hamlet, a young man estranged from his mother. Next year we will do Othello, a middle-aged man suspicious of his wife, and in 2017 we will produce King Lear, an aged father cut off from his daughters." says Robert Light, artistic director.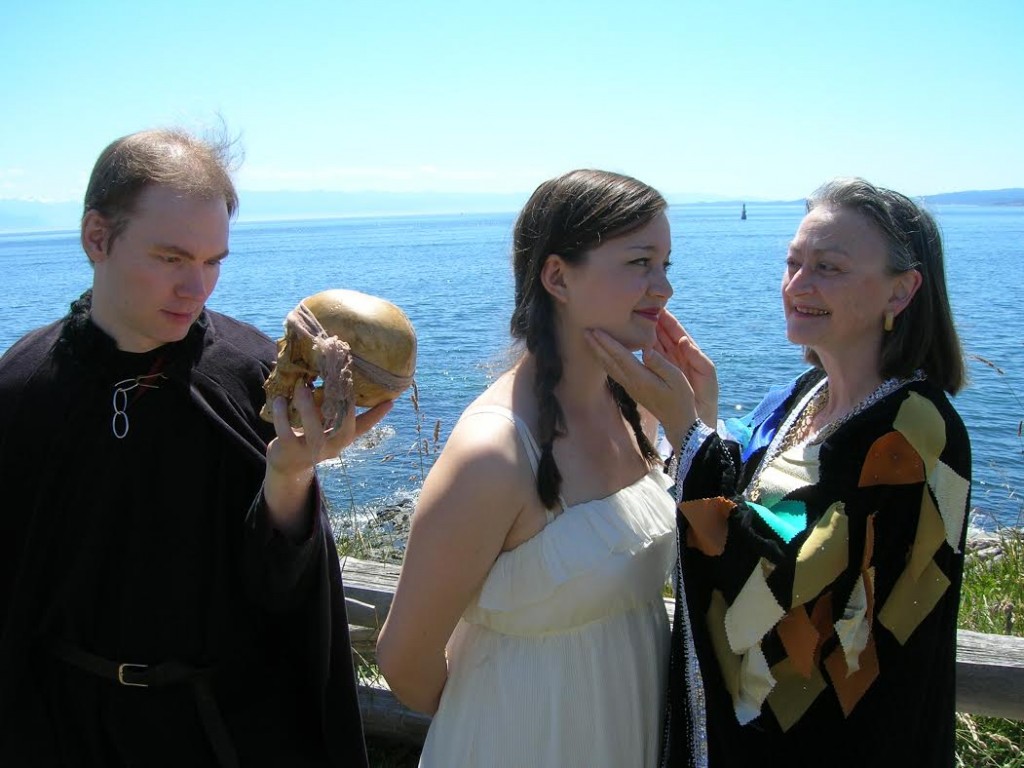 Hamlet and The Tempest
I spoke with Robert Light about the fourth season (Victoria's Shakespeare by the Sea originated with Romeo and Juliet at Holland Point Park in 2012 before moving to Clover Point in 2013).
This is your fourth year–what are some of the highlights and/or changes you've made to this year's season?
We are building an audience every year. One of our exciting changes this year is that we will be touring to not only Sidney BC but Nanaimo as well! This will be after our regular season at Clover Point in September. We are very excited about that. A highlight of this year is having some of our original cast members working together again. Fran Patterson, Matt Mathiason, Monica Ogden, Travis Stanley to name a few. As well, our new actors this year are doing a phenomenal job. The cast is coming together beautifully in Hamlet, and The Tempest.
Our long term goal is to build a modular and removable Globe Theatre to run shows every July and August in Clover Point Park. The 30 meter wide and 13 meter tall wooden building will have a ten meter wide stage opening out to the Pacific Ocean. The stage will have two hinged walls designed to converge across the back of the stage to shield the audience from wind or rain.
You're the "new kid on the block". How do you complement existing companies?
Victoria's Shakespeare by the Sea is a unique sea viewing venue. We provide for the use of our tents in Clover Point Park by letting other music, dance and dramatic art groups use it for free. The paintings and photography of local artists are displayed in our Hospitality Tent.
Where do you draw from for the actors in your company? Do you have a core of regulars?
We draw our actors from the general community of Greater Victoria. We now have a core of performers with tremendous talents. At least 2/3rds of our company have worked together before in Shakespeare by the Sea. We know each other very well by now.
You're embarking on a trilogy of plays examining Shakespeare's mind on women. What lead to this decision? What will the comedies be in 2016 and 2017?
The three year program of "Shakespeare and Women" was an idea by one of our founders, the feminist philosopher Michelle Brewer. It has been realized for a long time by academia that the tragedies of "Hamlet," "Othello," and "King Lear" are a trilogy of a son, husband and father who fail women. The attendant comedies are not yet set though "The Merry Wives of Windsor" looks good for being done along with "King Lear" for it deals with an old man trying to exploit women.
Who will be playing the lead roles?
This year sees us with the strongest double cast yet. Hamlet is being played by Matt Mathiason. Prospera is being played by Fran Patterson. Hamlet is set in the Viking era when the original story was first written down by Saxo Grammaticus. It is a play of fundamental and even elemental conflicts in the unique era of the Christian conversion of the Baltic and Scandinavian peoples. The Tempest is set in the modern era for its challenges of forgiveness and reconciliation between individuals, families, countries and races.
Tickets are available at ticketrocket.co.
Facebook https://www.facebook.com/vicshakesea and twitter @vicshakesea
Hamlet and The Tempest
July 2-August 2, Thursdays-Sundays at Clover Point Park
Thursday/Friday 7pm only, Saturday/Sunday 2:00pm matinée and 7pm
Tickets: $25/$20 student and seniors available at TicketRocket.co
Duration 2.5 hours
Victoria's Shakespeare by the Sea is going on tour!
Sidney September 10-13 with 6 performances at the Pavilion in Beacon Park
Nanaimo September 19-21 with 6 performances at the Pioneer Waterfront Plaza
Victoria's Shakespeare by the Sea aims to illuminate the consequences of misogyny in the three year trilogy "Shakespeare and Women", beginning with Hamlet and The Tempest.

It is the late Viking age, transitioning from Pagan to Christian values. Hamlet, Prince of
Denmark, begins to question the suspicious death of his father. Traditionally, Hamlet's hesitation is a main focus of presentations, but Artistic Director Robert Light seeks to examine a few different themes.

"Hamlet's hamartia is found not only in his procrastination, but in his deep rooted misogyny" says Light, "He should be making an alliance with his mother and with Ophelia. His father warns ' Taint not thy mind nor let thy soul contrive against thy mother. Leave her to heaven.' Hamlet ultimately fails this instruction, and we watch our tragic hero fall."

The tragic trilogy examines the outcomes when men fail to connect with women. Each tragedy will be paired with comedies where socialization with women is much more successful, as shown in The Tempest.

The Tempest is set in the modern age with its timeless call for reconciliation between families, cities, countries and genders. Prospera was a Duchess, but was exiled to live on an island with her daughter. When a boat carrying those responsible for her unjust sentence sails close by, she uses her magic to cast a tempest. Hijinks ensue, new love is formed, and resolution is found in the eye of the storm.