Working the Musical by the Canadian College of Performing Arts. Preview.
The Canadian College of Performing Arts (CCPA) sheds the glitz and glamour of their spring performance with the Victoria Symphony to don a different uniform this week.
The students – singers, actors and dancers all – will become a tableau of America's often invisible working classes in the Tony Award-nominated musical WORKING.
WORKING paints a vivid portrait of the men and women that the world so often takes for granted. Based on the award-winning book of collected interviews by Studs Terkel, this 2012 revival of the original 1978 production promises to deliver thought-provoking, inspiring, challenging and highly entertaining stories from all walks of working life.
With a riveting score by an outstanding team of songwriters including Stephen Schwartz, James Taylor, Craig Carnelia and Lin-Manuel Miranda, and text created from Terkel's original interviews, WORKING delivers an honest and intriguing portrayal of 26 diverse careers.
Audiences will relate to the varied songs and monologues of this working man's musical – if you haven't done the job then you know someone who has.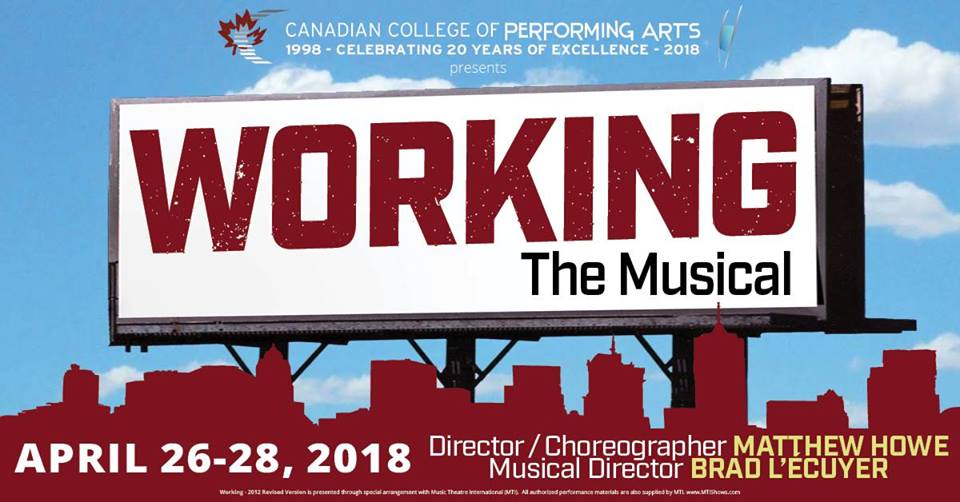 "CCPA students will challenge the audience, and themselves, to think deeply because they will be very connected to these stories that are based in truth," comments director Matthew Howe. At times grungy, at times comedic, but always hopeful, Working celebrates the daily grind.
New York Theatre calls Working "entertaining, funny and touching," hailing the wonderful new songs by Miranda (In the Heights, Hamilton) and celebrating the new characters – based on new interviews – that "reflect how dramatically the world of work has changed just in the past three decades."
Don't miss the opportunity to see this powerful performance by Victoria's emerging artists. Just once wouldn't you like to say, "I knew them when they were starting out?"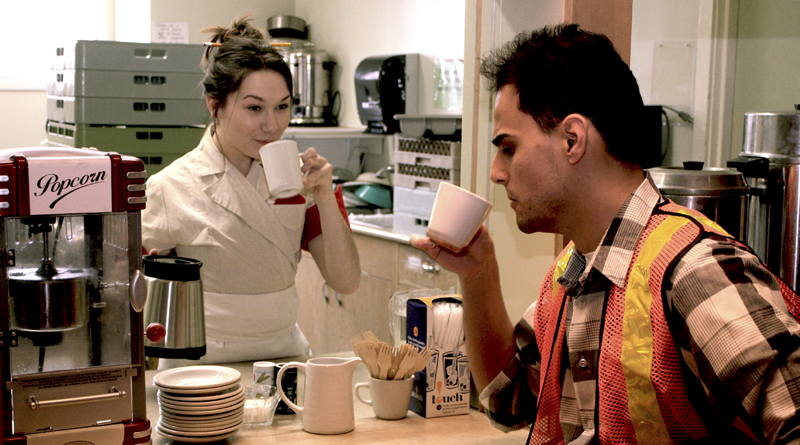 Photo: CCPA
CCPA students take you behind the scenes of the college's year-end production of WORKING in the college's Backstage at CCPA blog. First year student Emma McEvoy talks about early assignments from Director Matthew Howe; and second year student Shawnda Swenson talks about preparing for her role as Millworker.
Join CCPA for their year-end show at the McPherson Playhouse April 26 to 28, with evening performances at 7:30 p.m. and Saturday matinee at 2 p.m. Tickets are $52.50 and available online at rmts.bc.ca, at the Royal or McPherson box offices or by calling 250-386-2121.
ABOUT CCPA
The Canadian College of Performing Arts (CCPA) offers quality training in a broad spectrum of skills which will prepare the students for careers in the performing arts locally, nationally or internationally. The College provides a stimulating, positive and constructive environment where students are encouraged to develop high standards of work ethics and conduct which will serve them in any field of endeavor in the future.
CCPA offers three post-secondary training programs for performing arts aligned with the needs of the industry. These unique and intensive programs attract artists from across Canada and around the world. CCPA alumni are pursuing successful careers on major stages across Canada in New York and London, as well as film, television and the recording industry. For more information about CCPA please visit our website at: www.ccpacanada.com.