For some people, it is the plethora of craft fairs or musical events that signals the advent of the holiday season.
For me, it has traditionally been Gallery Walk – an evening in late November, hosted by seven downtown Victoria art galleries who open their collections for viewing.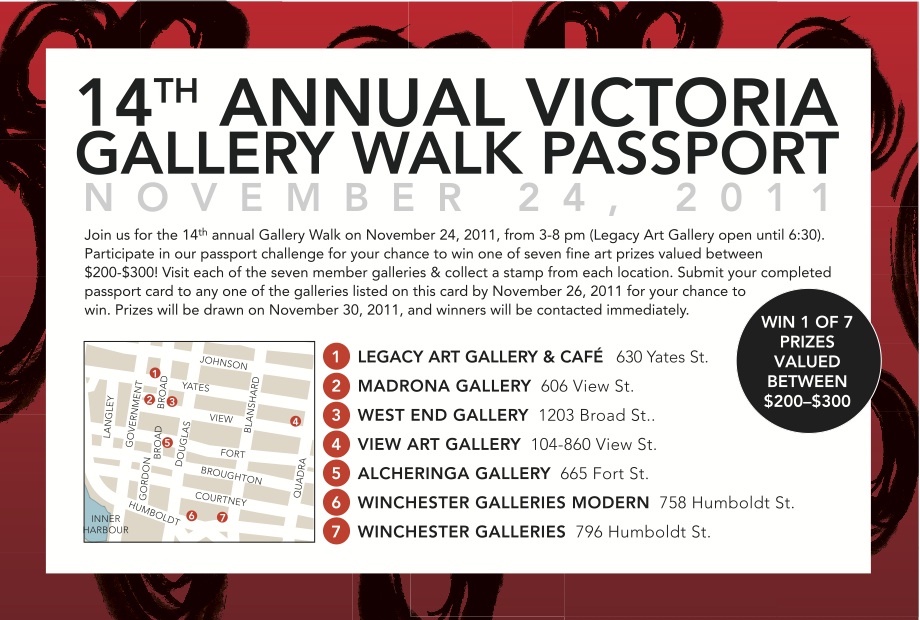 This year's walk, the 14th annual, is Thursday November 24th from 3-8pm. Of note is the "passport" which participants in the walk can get stamped for a chance to win one of seven art works donated by the galleries.
The galleries are within easy walking distance of one another, but there is also a bus that will take you from place to place.
Participating galleries are:
No matter your artistic tastes, there is something for everyone on the walk – from the fine tribal art by Northwest Coast, Aboriginal Australian, and Papua New Guinea artists at Alcheringa, to traditional west coast First Nations prints and jewellery at Legacy, beautiful oils depicting eastern Canadian landscapes at West End, established and emerging Canadian artists at Madrona, contemporary modern art (including new media) at View, a panoply of 20th century modern and abstract art at Winchester Modern and Canadian historical and contemporary art at Winchester.
Take some time after work to linger (or head) downtown, immerse yourself in art, stroll from gallery to gallery, and enjoy some festive refreshments.
There is also a gallery walk in Oak Bay, Art on the Avenue, Thursday December 1st with may shops and galleries remaining open until 8pm.
A few images from the show at Madrona Gallery: (provided by the gallery and used with permission)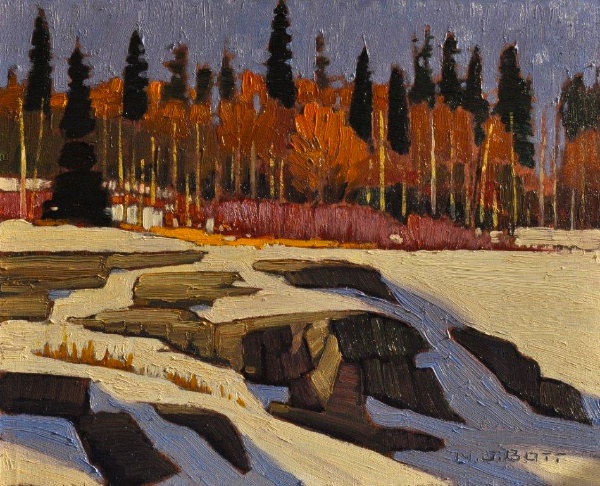 Mid Winter Light by Nicholas Bott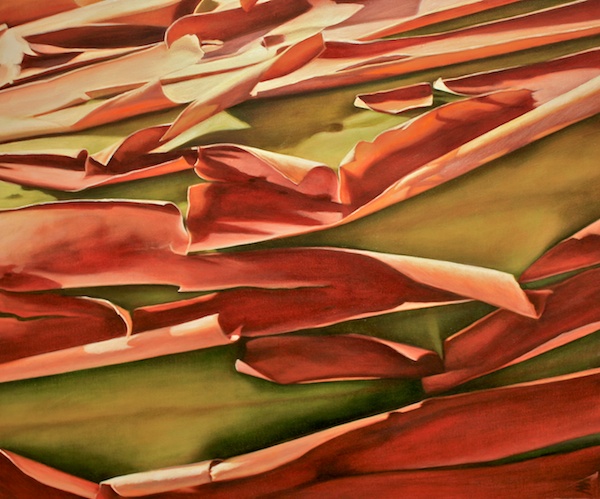 Exposé  by Madeleine Wood