An impressive cornucopia of artistic treats awaits art lovers as the holiday season approaches.  How often have I heard people wish, sometimes with a trace of envy, that they had more art in their lives?
I'm reminded of the old English proverb "What, a cat may look on a king, ye know!"  I may not have the finances to purchase all the art I would like to have hanging on my walls, but I can definitely attend art openings, studio tours, gallery walks and sales to develop an appreciation for artists and their work.
The recent arrival of "small works" art shows on the local art scene means that art to fit more modest budgets is now readily available.  Be sure to see the listings below for galleries that are featuring holiday small works shows.  Buying local can definitely mean –  buying local art and supporting local artists.
In addition, the ever popular holiday gallery walks return – in both downtown Victoria for the 15th annual walk, and in Oak Bay for the 9th annual Art on the Avenue.
New this year, the  Stinking Fish Studio Tour is teaming up with the Metchosin Art Gallery (theMAG) and hosting the tour in one spot, rather than as a drive between studios (a fact I for one greatly appreciate during this dark and rainy season).
Stinking Fish Artists, at the Metchosin Art Gallery 4495 Happy Valley Road November 5 – 30th.  The Gallery is open Thursday – Sunday, noon to5pm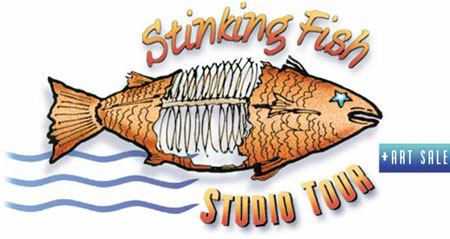 The Stinking Fish Artists are a diverse group of artists and artisans that have come together to exhibit their work at this new gallery space in their community.

Often working alone in their studios, these artists are known for opening their doors for the very popular bi-annual Stinking Fish Studio Tour. This year they are offering the public a different way to experience their work by mounting their first ever formal exhibition: 'AT THE MAG'.

The show will highlight works of various media from over 20 artists, including: pottery, contemporary mixed media paintings, landscapes in oil, nudes in acrylics, organic and recycled mosaics, metal sculpture, jewellery featuring lamp work beads and chain maille techniques, etchings and mono prints, wood-turned bowls, furniture and carved stone.

The Stinking Fish Artists have been a cohesive group for over 12 years and are celebrating their diversity, and unity, by coming together under one roof to share their work with the public that has supported them for so many years.
Small Works – Eclectic Gallery, 2170 Oak Bay Avenue
Nov 5 – January 5th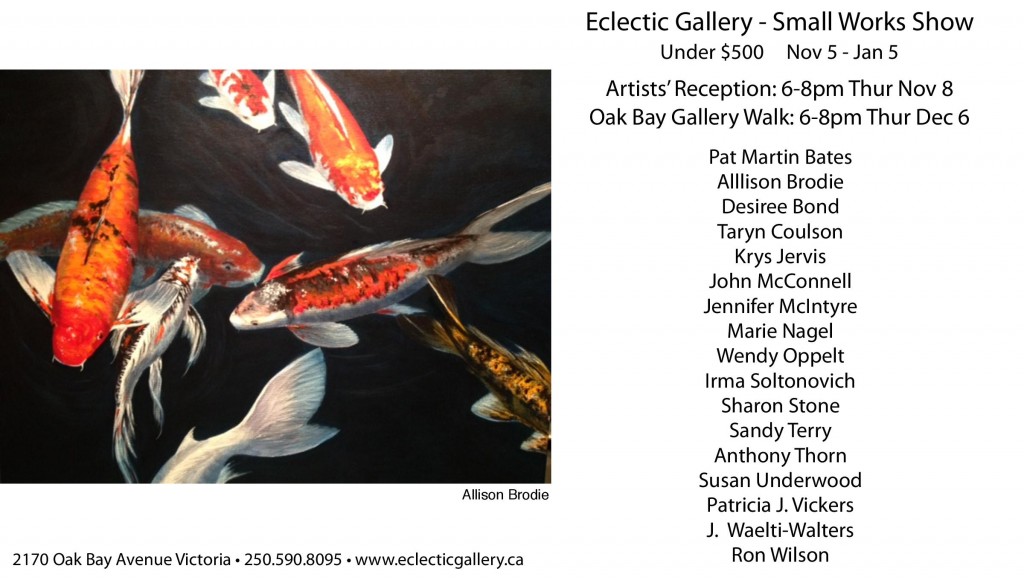 Art Gallery of Greater Victoria, Christmas Exhibition and Small Works Sale
Opening reception November 24th 2-4pm, sale November 17th to January 8th, AGGV Art Rentals and Sales, Massey Gallery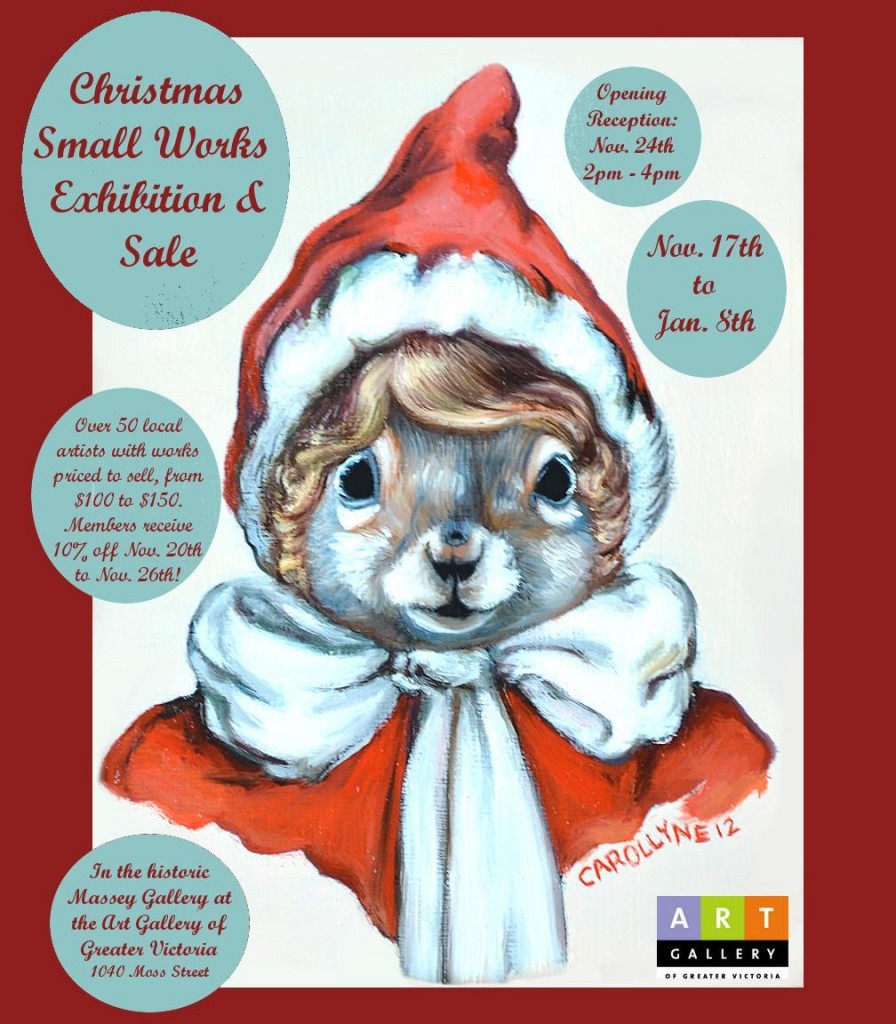 This Christmas season visit the historic Massey Gallery to browse original oil, acrylic, print, collage and photographic works all priced between $100 -$150. Find a unique gift for someone special while supporting local island artists and programming at the Art Gallery of Greater Victoria.

With over sixty artists displaying new small works the show is inspiring, colourful and very festive. This holiday season find unique gifts to suit any palette!
Celebrating Small VIII – Anything Goes. Avenue Gallery – 2184  Oak Bay Avenue
One Day Sale November 24th10 am sharp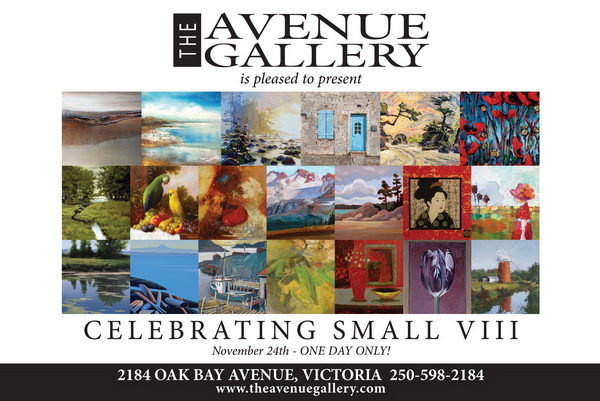 Join us for the unveiling of this year's miniature masterpieces.

This year we've left it to our artists to come up with the details – expect the unexpected…and, as always, expect a lineup!
The 15th Annual Victoria Gallery Walk November 29th,3-8pm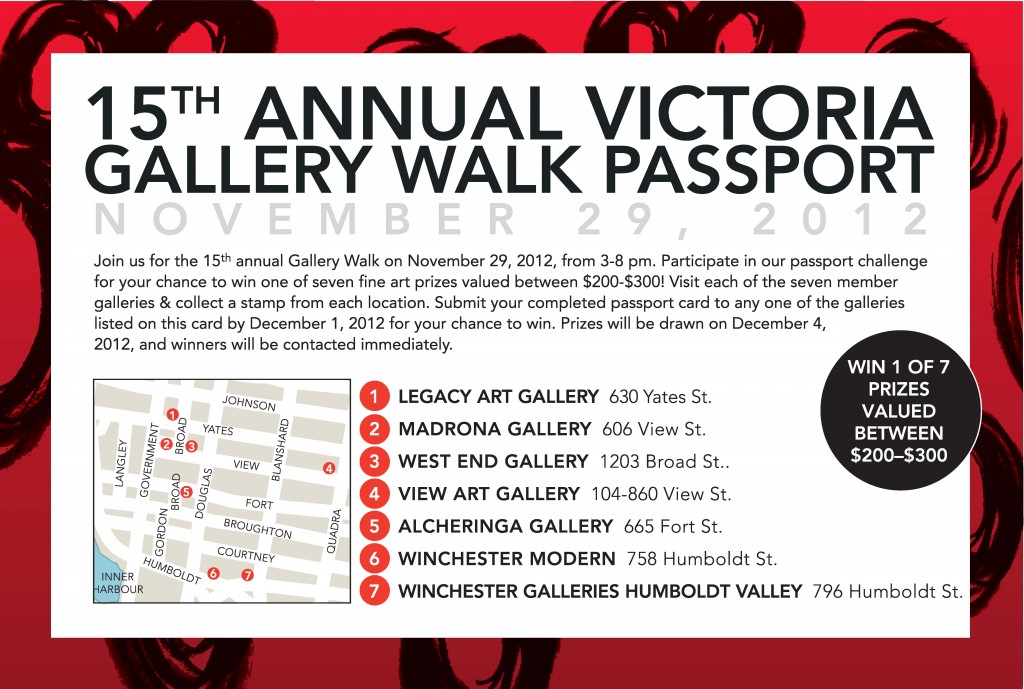 Tour seven of Victoria's most well-known downtown art galleries. Gallery Walk is one of my favourite holiday traditions!
Of note is the "passport" which participants in the walk can get stamped for a chance to win one of seven art works donated by the galleries.
The galleries are within easy walking distance of one another, but there is also a bus that will take you from place to place.
Participating galleries are:
No matter your artistic tastes, there is something for everyone on the walk – from the fine tribal art by Northwest Coast, Aboriginal Australian, and Papua New Guinea artists at Alcheringa, to traditional west coast First Nations prints and jewellery at Legacy, beautiful oils depicting eastern Canadian landscapes at West End, established and emerging Canadian artists at Madrona, contemporary modern art (including new media) at View, a panoply of 20th century modern and abstract art at Winchester Modern and Canadian historical and contemporary art at Winchester.
Take some time after work to linger (or head) downtown, immerse yourself in art, stroll from gallery to gallery, and enjoy some festive refreshments.
Art for the Great Bear Rainforest, Art for an Oil-Free Coast, December 5-9th, Victoria Conference Centre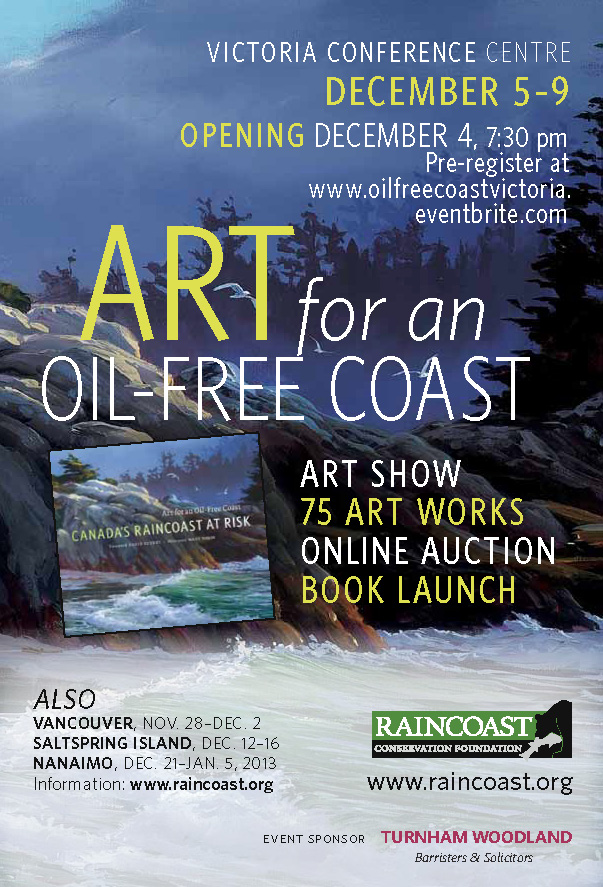 We invite you to see the works from 50 of BC's finest artists who have depicted the fragility, beauty and vulnerability of Canada's west coast with texture, colour and reverence.

Original paintings, carvings, and sculptures by artists that include Robert Bateman, Roy Henry Vickers and Robert Davidson, will all be on display. All the works have been donated and will be available for bidding and purchase through on-line auction.

In addition to the exhibits, a 160-page book, CANADA'S RAINCOAST AT RISK, featuring the art along side writings from esteemed Canadian scientists David Suzuki, Wade Davis and Paul Paquet, will be for sale. We will also screen the 22 minute documentary REFLECTIONS, which portrays the artists and their reasons for taking a stand for an oil-free coast.

The shows opens is open to the public on December 5-9th at the Victoria Conference Centre, with additional dates in Vancouver, Salt Spring and Nanaimo through to the new year. Times, dates and tickets for all events can be found on the website below. Tickets for all opening nights must be booked in advance.

See the art works for auction, meet the artists, and build the vision for an oil-free coast. For details about the tour, opening nights, tickets, the book, the auction and the film, see: http://www.raincoast.org/oil-free-coast/artists-for-an-oil-free-coast/art-exhibition-dates/  
9th Annual Art on the Avenue Gallery Walk Thursday December 6th,6 – 8pm.
Galleries include (but are not limited to) Red Art Gallery, the Avenue Art Gallery, Eclectic, Winchester Gallery, Side Street Studio, The Gallery in Oak Bay Village. Shops on the Avenue will be open late, and there will be tastings too.
Massively Mini Art, Metchosin Art Gallery, December 8th – December 30th, Opening  December 8th2pm – 5pm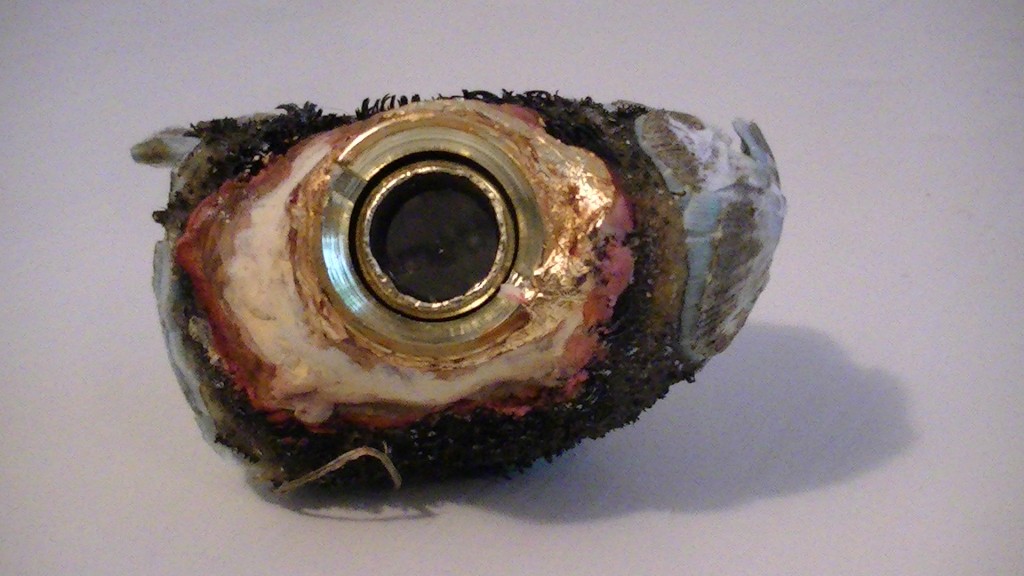 Joel's Appendix by Rachel Evans. Image provided.
Massively Mini Art is an art show that features small two and three-dimensional artworks by local artists.  Paintings, printmaking, fiber art, mixed media, drawing and sculpture will be on display.  Massively Mini Art will show art lovers how small artwork can create a big impact.

Featured artists include: Rachel Evans, Will Gordon, June Haynes, Chiarina Loggia, Beverly Petow and Kathy and Selby Saluke.
The Metchosin Art Gallery is open Thursday to Sunday 12:00 – 5:00pm.