Centennial Square is the site of the 17th annual Victoria French Fest, presented by the Société Francophone de Victoria. Celebrate French culture and heritage March 6 – 9th, 2014 in Victoria BC with free events for children, drumming workshops, sugar shack, community booths, an artisans market, performances and more!  (Complete program guide -in French and English here). (Scroll to the bottom of this post for more information on the schedule of events). Most free events take place Saturday and Sunday from noon – 4 pm in the Square. The Festival opens Thursday March 6th with a mixer (le 5 à 7) at the Yates Street Taphouse.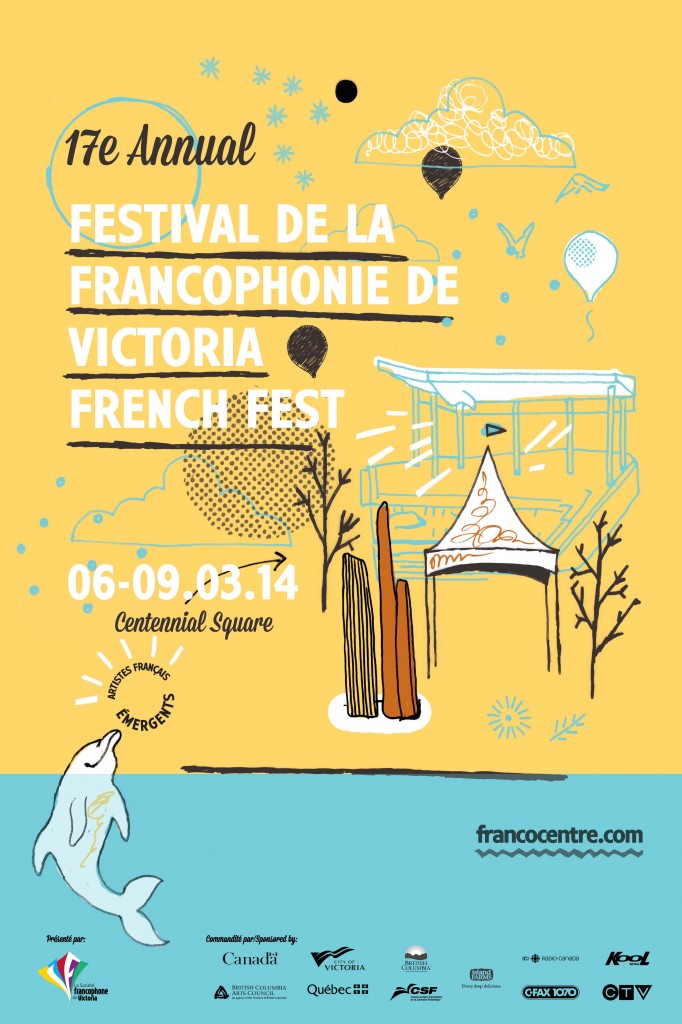 Join Garoche ta Sacoche (duo Cynthia and Sonia), winners of the Granby International Song Festival, Friday March 7th, 8pm at École Victor-Brodeur (637 Head Street in Esquimalt) for an evening of  song. Tickets ($10/$5) at the Société Francophone de Victoria.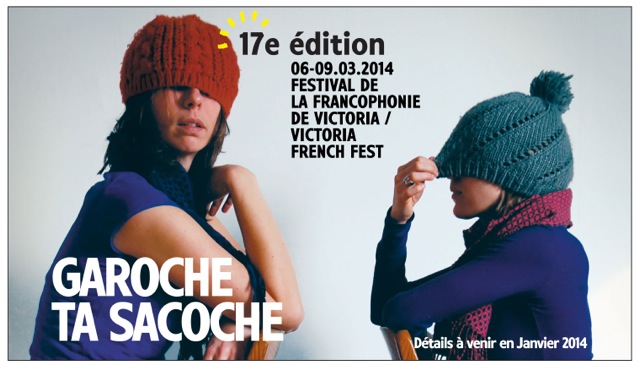 On Saturday, in recognition of International Women's Day, the SFV has decided to pay tribute to women by creating a special musical program that headlines emerging female artists.
The Sugar Shack Brunch is at the Ambrosia Centre, Sunday March 9 th at 11am (tickets required and available at the SFV). This event usually sells out, so be sure to get your tickets in advance. There are no tickets at the door.
People are often amazed at the number of Francophones and Francophiles in the Capital Region (Victoria BC).They are equally astonished that there are native franco-colombiens (someone born in BC who identifies as Francophone). I am one, as are my children.
The Société Francophone de Victoria (Victoria Francophone Society) works hard to promote French language and culture. So do a myriad of groups, including educational institutions like École Victor-Brodeur, the University of Victoria and the venerable Alliance Française, not to forget the many immersion programs in local schools.
Did you know that in the beginnings of FortVictoria francophones were among some of the very first settlers? L'Association Historique Francophone de Victoria  offers tours, including St Ann's Academy, that highlight this connection.
Some of the many Francophone groups and services in Victoria include:
Société Francophone de Victoria
École Victor-Brodeur (a K-12 school with over 500 students)
The burgeoning community radio CILS FM at 107.9
The long-standing traditional dance troupe Les Cournouillers
A centre of continuing education, Éducacentre with courses in French, and for people who want to improve their French.
Réseau Femmes de la C-B (Women's network) offering workshops, get-togethers and events.
Scouts francophones/Francophone scouts (for boys and girls)
Conseil Jeunesse de la Colombie – Britannique (Francophone Youth Council)
Paroisse St Jean Baptiste (Francophone Roman Catholic parish, established in the 1950s)
L'Agraff (l'Association des gens retraités et aînés francophones -Francophone seniors)
La Société de Développement Économique de la Colombie-Brittanique (Economic Development)
Garderie Saut-Mouton (day care)
L'Association Historique Francophone de Victoria  people passionate about exploring the Francophone historical connections.
Canadian Parents for French (parents of children in immersion)
Alliance Française de Victoria
Whether you are Francophone or Francophile (someone who is fond of, or admires, French) there is a group or organization for you.  Don't hesitate to get involved.
[vsw id="twrHAKD6a9o" source="youtube" width="425″ height="344″ autoplay="no"]
Thursday, March 6th, 2014 – Sunday, March 9th, 2014 
Come discover the talent and multicultural flavors of our local Francophone community during a weekend of performances & activities. We welcome Anglophones, Francophiles and Francophones to celebrate with us!
Thursday, March 6th
5PM Opening Event: Yates Street Taphouse & Grill Happy Hour
Come get together to celebrate the official opening for the festival during a 5pm-7pm happy hour with musical performances and complimentary appetizers!
Friday, March 7th
5PM Hearts of the World
Francophone school, Victor-Brodeur, invites everyone to the unveiling of its' Heart of the World, part of a globally acclaimed project done by French artist François Michaud. The permanent sculpture symbolizes the resolution of conflicts among the students of Victor-Brodeur. Come listen to a musical performance by Aude Ray et enjoy complimentary appetizers!
8PM Garoche Ta Sacoche show
Winners of the Granby International Song Festival, duo, Cynthia and Sonia, will put on a show at Victor-Brodeur school. Garoche Ta Sacoche is two guitars, harmonious vocals, and one-of-a-kind, funky folk music! Tickets are on sale at the French Society. $10 Non-members / $5 Members
Saturday, March 8th
Noon to 4PM Centennial Square: Radio-Canada Stage
To support the International Women's Day, the French Society has decided to pay tribute to the women by creating a special musical program that includes female emerging artists as the headliners!
Noon Marijosée
1PM Aude Ray
2PM Garoche Ta Sacoche
3PM Maryse Bernard
6PM Marijosée CD Launch Yates Taphouse : Pas Tout Cuit Dans L'Bec
Marijosée will be launching her new album in partnership with the 17th Annual Victoria French Fest! She has an amazing voice and a wild imagination that makes her shows unforgettable! Don't miss this complimentary show at Yates Street Taphouse & Grill!
Sunday, March 9th
11AM Traditional Sugar Shack Brunch: Ambrosia (638 Fisgard St)
The traditional maple syrup brunch will be complemented by a musical performance by Réjean and his musicians who will let you experience a traditional, old Québec! The Henriette-Moreau prize will be handed out during the brunch.
Tickets are being pre-sold at the French Society.
$25 Non-members / $20 Members / $15 for children (10 years and younger).
NO TICKETS WILL BE SOLD AT THE DOOR!
2PM Pièce de théâtre AFRACB
A play directed by francophone, Michel Ouelette, that is part of a nation-wide initiative to stop violence, fraud, and abuse towards seniors. The play is taking place at Ambrosia and will be in French. For more information, contact Marie-Pier Courbon at (250) 382-1310.
Noon to 4PM Centennial Square: Radio-Canada Stage
Noon Wontanara
1PM Sam Weber
2PM Michael Wood Band
3PM To be determined
For more information, visit us on our website, http://www.francocentre.com/ and our facebook: http://www.facebook.com/francophonie.victoria