2014 a Theatre Year in Review in Victoria BC
Don't let anyone ever tell you that Victoria is a cultural backwater—in a year that included a wonderful week at the Stratford Festival (with performances by legends like Martha Henry, Colm Feore and Shauna McKenna), I managed to see 90 theatrical performances in the regular season as well as 42 shows at the Victoria Fringe, and a regrettably smaller number of concerts, dance, comedy and spoken word shows.  I wrote over 70 reviews as well as a number of previews and interviews.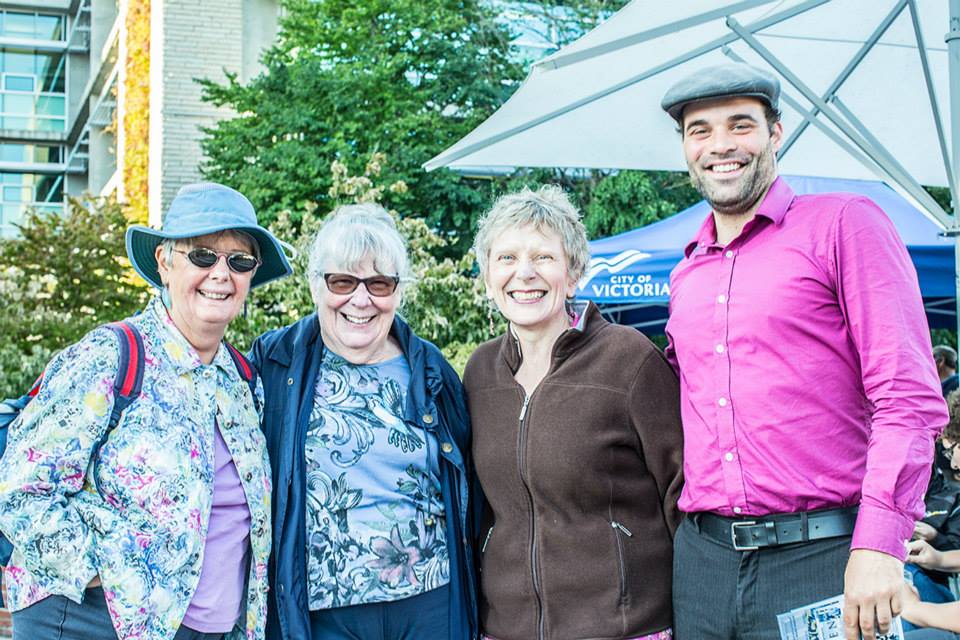 with fellow frequent Fringers at the launch of the Victoria Fringe Festival 2014. Photo: Derek Ford
2014 was a year that began with a crowd-sourced puppet extravaganza Ignorance by the acclaimed Old Trout Puppet Workshop, and the verbatim theatre project Home is a Beautiful Word under-scoring the Belfry Theatre's commitment to making theatre that is relevant and ground-breaking.  New companies emerged—RKO Productions wowed audiences with the live Rocky Horror Show and Bema Productions, after the great success of the Jewish Arts Festival in 2013 for the 150th anniversary of the synagogue, mounted 17 Stories (of loss) at Congregation Emanu-El and several community locations.
Local audiences were saddened to hear Giggling Iguana announce an end, after 15 years, of producing shows at Craigdarroch Castle and elsewhere—who will step in to produce the next spooky Hallowe'en show?
Collaboration was evident through-out the year—Intrepid Theatre continued to lead the way with a second WinterLab as well as a Presenting Series, UNO Fest and the Victoria Fringe Festival, not to forget the fantastic emerging artists opportunity presented by the YOU Show, and one of their newest initiatives—a regular play-reading series on the first Tuesday of the month that highlights work by local playwrights and focuses for the first few months on plays by women. For the first time, the Victoria Fringe employed a young guest producer—Rose Jang—and will continue to do so; Heather Jarvie has been named the Guest Producer for 2015. Kudos are in order for mentoring the next generation of arts administrators.
Blue Bridge Repertory Theatre worked closely with the Old Trout Puppet Workshop (Ignorance), Itsazoo Productions (Flick)—director Chelsea Haberlin has just been nominated as a top theatrical innovator in an article by the Globe and Mail—and Puente Theatre (Lagrimas Crueles), as well as students in the SelfDesign program (Alice in Wonderland).
Theatre SKAM (who celebrate 20 years in 2015) brought a paean to long-time fan Joan Mans to the stage in Joan! , collaborated with Jenny Ambrose of The Makehouse and the Intercultural Association of Greater Victoria on Fashion Machine, staged the 6th Bike Ride Festival on the Galloping Goose (look for an expanded Summer Theatre Festival in 2015) and finished the year with pop-up theatrical presentations, once again on the Galloping Goose.
Belfry Theatre's commitment to education is evident in events like the all-too-popular B4Play presentations (the Saturday before the opening of each play—with CBC's Gregor Craigie)—get there at least ½ hour before doors open—and Belfry 101 for high-school students.  For 20 years they have hosted Charles Tidler's Playwright's Cabaret and are now in their 4th year of hosting musical theatre company Gotta Getta Gimmick's Chorus | Line | Cabaret (both play to capacity audiences). Sold-out shows at the SPARK Festival speak to their appeal, and regular theatre-goers note that they also attract audiences hither-to unseen at the theatre. SPARK shows remain some of the highlights of my theatrical year for the challenges they present.  The 2014 calendar year spans two distinct seasons in regular Belfry programming with shows that continue to shine in my memory—Home is a Beautiful Word, Proud, Equivocation, the Rez Sisters, Venus in Fur—there isn't a weak moment in any of them. It was a particularly strong year for local actress Celine Stubel (Proud, Venus in Fur) who continues to confirm her prominent place among a younger generation of Canadian actors.
Audiences were well-served outside the realm of traditional fare in 2014 with Flick (Itsazoo at Blue Bridge), Winners and Losers (Neworld Theatre presented by Intrepid), Alice vs Wonderland (Blue Bridge), the Bomb-itty of Errors (Twenty Something Theatre at the Belfry Theatre), Small Room at the Top of the Stairs (Langham Court Theatre), as well as the Belfry Theatre's SPARK Festival, Intrepid Theatre's UNO Fest and Fringe Festival, and Theatre SKAM's Bike Ride.
Theatre Inconnu continues to present work unlike anything else, ending 2014 on a high note with their production of the Canadian premiere of Tom Wait's musical Alice.  Artistic director Clayton Jevne performed double duty this summer for the Greater Victoria Shakespeare Festival, directing both Henry V and Taming of a Shrew as the Victoria Shakespeare Society moved to a repertory model that proved quite felicitous with Julian Cervello (Canterbury Cocktails, the Wyfe of Bath) and Adrienne Smook as mentor/coaches to the company.
Atomic Vaudeville celebrated 10 years in style in 2014, continues to mentor young artists, and is working on several new works—one with pianist Anne Schaefer. Their newest initiative sees Mily Mumford—a regular cabaret performer who through her company Determined Illusions staged a site-specific adaptation of Frankenstein at Emily Carr House this October—stepping into a directing mentorship.
Paper Street Theatre's brand of full length improvised works "in the style of" has a large fan-base. The company has grown incrementally over the past four years since beginning with An Improvised Tennessee Williams in 2011, and now regularly hosts full houses for 4 nights of a run. Company founder Dave Morris was awarded "Favourite Male Performer" at the Pick of the Fringe awards in 2014 for his solo show Improv Club: An Improvised Chuck Palahniuk.  In 2015 Paper Street acquires a studio space for Morris' improv classes.
Broad Theatrics, established in Victoria since 2010 by Kirsten van Ritzen and Ian Ferguson, has been extremely busy, producing the regular Sin City, live improvised serial for a fourth season (Sin City: Kingdom of Thrones) as well as the first Funny Women Festival, Geez Louise cabaret, and two play readings (Mad Lady Peel and Boyle Street Blues).  Sin City in particular was instrumental in getting me through a very rough patch at the beginning of 2014—proof that "laughter doeth good, like a medicine should". I looked forward to my weekly dose with great anticipation.
Genres has started to blur with companies like Snafu Dance Theatre (Kitt and Jane), Broken Rhythms (SEVEN), Impulse Theatre (The Wolf in the Mirror), Implied Intuition (The New Conformity), For Body and Light, Ouroboros Shadow Theatre (Vasilisa) presenting work that incorporates a large element of dance, physical theatre, juggling and/or shadow puppetry into their work. One startling development this year has been the resurgence of puppetry, mask, magic, juggling and circus arts (there were 5 magic shows at this year's Victoria Fringe Festival alone, as well as 5 works incorporating shadow puppetry).  A sub-genre is manipulated objects—startling effects that belie the small scale were evident in Little Iliad (EW& FCO—Belfry SPARK Festival) and Of the Causes of Wonderful Things (Tayla Rubin—Intrepid Theatre UNO Fest).
Tim Gosley and Petra Kixmöller (Merlin's Sun Theatre) worked tirelessly to bring the first Puppets for Peace and Pacific Northwest Puppetry Festival to Victoria in September.  The Roxy Theatre was packed with an all-ages audience for The Umbrella (Puente Theatre/Old Trout Puppet Workshop) and Caws and Effect (Mind of a Snail), and a large crowd gathered for the celebrations at Craigdarroch Castle and Government House as well as the parade from one to the other. The festival returns Sept. 11,12 & 13 2015.
Victoria is fortunate to be home to a university (UVic Phoenix Theatre), college (the Canadian College of Performing Arts), theatre company for young audiences (Kaleidoscope Theatre) and studio (Kate Rubin Theatre and Drama Studio) that are preparing students to be the next generation of performing artists. I continue to be astonished by the breadth and depth of the work they present and encourage people to incorporate these performances into their viewing.
Highlights in 2014 included Picnic (UVic Phoenix), Sense and Sensibility (CCPA performed as a site specific work at St Ann's Academy), The Secret Garden (Kaleidoscope Theatre in a re-purposed space at Uptown) and Photo:phobia (Kate Rubin Studio—a student devised piece).
Rubin is also part of The Prison Collective—a group of artists working with inmates at William Head to produce WHoS, William Head on Stage.  This year's offering—Time Waits for No One—stands out for atmosphere, as the company re-created the look and feel of an old-time carnival, complete with merry-go-round.
Langham Court Theatre in their 85th and 86th seasons produced shows that played to sold-out houses. It's a reminder to buy season's passes to ensure seating—as more than one hopeful attendee of Cabaret, Rosencrantz & Guildenstern and Pride and Prejudice found out to their regret. It's been wonderful to see new faces alongside regulars in both cast and crew. The second iteration of the ACTivate Festival of new works was well received with the winner—Red Herring—going on to a spot at the Victoria Fringe. Nor has the company shied away from presenting challenging work—The Small Room at the Top of the Stairs was definitely complex, and eerie; the well-attended after-show talk-backs were a popular new addition. Personally, I was pleased to see Margaret Atwood's play The Penelopiad beautifully staged by an enthusiastic and versatile cast.
Mike Delamont (God is A Scottish Drag Queen, One Night Stand With Mike Delamont) continues to be one of the hardest working local performers (as he is also building a significant following across Canada and the US) with a keen grasp of the mechanics of promotion. Whether you know him for his stand-up, his roles with Atomic Vaudeville, or the Fringe (and soon to be theatrical) hit God is A Scottish Drag Queen, one thing is certain—now is the time to see him, close-up and personal, before larger centres retain him forever.
Wes Borg is another performer and theatrical impresario with a flair—presenting regularly at comedy nights, hosting Wes Borg's Cavalcade of Whimsy and The Derwin Blanshard Extremely Classy Sunday Evening Programme (at the Victoria Event Centre), resurrecting The War of 1812 (yes, it's HIS song) for further Fringe performances, performing in Sin City (all seasons) and, with great aplomb and humour, to our delight, in the classic Victorian-era thriller Gaslight (Blue Bridge Theatre) as the crusty detective Rough.
Jacob Richmond, co-founder of Atomic Vaudeville, snarled as a Texas trucking boss in Lagrimas Crueles and vamped his way across the stage mimicking Miley Cyrus as The Red Queen (Alice vs Wonderland)—both for Blue Bridge—another impressive and versatile talent among the younger generation of performers.
Puente Theatre produced a reading series (World Play) original work (The Umbrella), collaborated on a gutsy Lagrimas Crueles with Blue Bridge Theatre and presented Sum Theatre's My Rabbi (originally read at World Play in 2009), as well as being invited to Toronto's Summerworks Festival with El Jinete, a mariachi opera (seen here in 2013).
Community theatre is alive and well in Victoria with the afore-mentioned Langham Court, St Luke's Players and Peninsula Players.  All three have impressive histories and deep roots in the community—the latter two are particularly well-known for their signature Christmas pantomimes with St Luke's selling out early in December. I managed to happily squeeze Welfarewell and Steel Magnolias (St Luke's) into my schedule, and look forward to more.  Peninsula Players has recently made a significant strategic and geographic move, and now presents plays at Berwick Royal Oak and the Charlie White Theatre (Mary Winspear Centre) in Sidney. In addition, they have a wonderful partnership with Muse Winery where they mount a summer musical (this year for their 5th summer it was the original work–Cirque de Chablis).
On the subject of outdoor performance–Muse Winery is a delightful spot to while away a summer afternoon watching ballet.  For the past two summers local  emerging dance company Ballet Étoile has presented their Summer Musings to enthusiastic audiences.
Thank you to the many artists who make our cultural lives so incredibly rich in the capital region.  I look forward to 2015 and the many surprises in store for audiences.
Shows I saw in 2014
* indicates a review  + indicates an interview or preview
January
*Ignorance (Old Trout Puppet Workshop)
*Home is a Beautiful Word (Belfry Theatre)
SIN City Kingdom of Thrones (Broad Theatrics)
+Sci-Fi Double Feature (Ramshackle Theatre—Intrepid Theatre's WinterLab)
Against Gravity (Mind of a Snail—Intrepid Theatre's WinterLab)
The Half Time Show (Launch Pad)
February
When I'm 64 (JS Hill at Merlin's Sun Theatre)
*Proud (Belfry)
*Shakespeare in Love (Victoria Shakespeare Society)
*Picnic (Phoenix Theatre)
*Glass Menagerie (Blue Bridge)
*What Happened Was (Theatre Inconnu)
Theatrical Treasures (Canadian College of Performing Arts)
March
+WordPlay (Kerploding Theatre—YOU Show at Intrepid Theatre)
Atomic Vaudeville Spring Cabaret
*Welfarewell (St Luke's Players)
*Unity 1918  (Phoenix Theatre
*The Graduate (Langham Court Theatre)
A Beautiful View (Caitlin Croteau and Heather Jarvie)
*Terminus (Outside the March Theatre—Belfry Theatre SPARK Festival)
*Firewall ( Target Theatre—Belfry Theatre SPARK Festival)
*Flick (Itsazoo Productions—Blue Bridge Presenting Series)
*Little Iliad (EW & FCO—Belfry Theatre SPARK Festival)
*When it Rains (2B Theatre Company—Belfry Theatre SPARK Festival)
God is a Scottish Drag Queen   Mike Delamont
Festival of New Works (Canadian College of Performing Arts)
April   
*Lagrimas Crueles (Blue Bridge Theatre and Puente Theatre)
Kitt and Jane (Snafu Dance Theatre)
*Science Fiction Thriller (Paper Street Theatre)
+Winners and Losers (New World Theatre—presented by Intrepid Theatre)
Joan (Theatre SKAM)
Superman and Batman (This is Twisted Theatre)
*Penelopiad (Langham Court Theatre)
*Equivocation (Belfry Theatre)
Young Frankenstein (Canadian College of Performing Arts)                          
May   
Princess Rescue Force  (New Blood Theatre–YOU Show at Intrepid Theatre)
*Antigone (Theatre Inconnu)
Photo/Phobia (Kate Rubin Studio)
Robinson & Crusoe (Kaleidoscope)
+Atomic Vaudeville 10th anniversary    Atomic Vaudeville
Chorus Line Cabaret (Gotta Getta Gimmick)
Hirsch  (Alon Nashman-UNO Fest)
*Weak Sauce (Sam Mullins-UNO Fest)
*Of the Causes of Wonderful Things (Tayla Rubin-UNO Fest)
Bunny Bunny    (Rosaruby Kagan-UNO Fest)
The Rite of James Biddle (Andrew Bailey-UNO Fest_
*Shangri-La (Judy Wensel-UNO Fest)
*Davy the Punk (Bob Bossin-UNO Fest)
Loon (WonderHeads-UNO Fest)
Family Theatre Festival-Kaleidoscope
June   
*+Wolf in the Mirror (Impulse Theatre)
Birdmann (Trent Baumann at the Metro Studio)
*Rosencrantz and Guildenstern Are Dead (Langham Court Theatre)
July
Bike Ride (Theatre SKAM)
*Henry V (Greater Victoria Shakespeare Festival)
*Taming of the Shrew (Greater Victoria Shakespeare Festival)
*Judy, the Judy Garland Story (Blue Bridge Repertory Theatre)
+When I'm 64 (JS Hill presented by Victoria's Shakespeare by the Sea)
*Boeing Boeing (Langham Court Theatre)
August
War of 1812    Wes Borg
*The Bomb-itty of Errors (20 20 Theatre at the Belfry Theatre)
September
Peter 'n Chris OK Corral (Peter n Chris)
*Rez Sisters (Belfry Theatre)
*My Rabbi (Sum Theatre at the Belfry)
The Umbrella    Old Trout Puppet Workshop    at the Puppets for Peace Festival
Caws and Effect (Mind of a Snail at the Puppets for Peace Festival)
*Baby With The Bathwater (Theatre Inconnu)
October          
*Pride and Prejudice (Langham Court Theatre)
*Steel Magnolias (St Luke's Players)
*The Lion The Witch and The Wardrobe (Phoenix Theatre)
*Time Waits for No Man (WHoS)
Frankenstein (Determined Illusions -Mily Mumford)
*The Extemporium (Paper Street Theatre)
*Gaslight (Blue BridgeTheatre)
*Spring Awakening (Company C-CCPA at the Belfry Theatre)
*Rocky Horror Show (RKO Productions)
Atomic Vaudeville fall cabaret
November
Mad Lady Peel (Broad Theatrics-Kirsten Van Ritzen)
*A Midsummer Night's Dream (Phoenix Theatre)
+Laughing Allowed (community applied theatre project with Will Weigler)
*Venus in Fur (Belfry Theatre)
+High Tea (James and Jamesy)
*The Small Room at the Top of the Stairs (Langham Court Theatre)
Boyle Street Blues (Broad Theatrics)
*Alice vs Wonderland  (Blue Bridge Theatre)
+17 Stories (Bema Productions)
December
*Sense & Sensibility (Company C—CCPA)
*Alice, the Musical (Theatre Inconnu)
Playwright's Cabaret (Charles Tidler at the Belfry Theatre)
TD Festival of New Works (Canadian College of Performing Arts)
The Secret Garden (Kaleidoscope Theatre)
Miracle on Paper Street (Paper Street   Theatre)