Lie of the Mind at Theatre Inconnu May 3-21, 2016. A review.
Sam Shepard is arguably one of America's greatest living playwrights—his scripts veritable treasure troves of "bon mots" and aphorisms, constructed to reveal the discordant and unhappy underbelly of a society disassociated with itself.  His caustic and probing examination of family structures and the ties that bind is in sharp relief in A Lie of the Mind, currently running at Theatre Inconnu (May 3-21) and very capably directed by David MacPherson who also plays Jake, the violent unhinged husband to Beth (Melissa Blank).
Blank excels in roles that combine fragility and strength—she always finds the common human core of her characters, enabling the audience to swiftly enter a world unknown to them.  Despite being a victim of domestic abuse and suffering a traumatic brain injury, Beth has agency.  Jake, on the other hand, is prey to unknown impulses and a brain that sparks unexpectedly—leaving him raw, curled in a fetal position to escape.  MacPherson channels rage and bewilderment in equal measure with frightening realism.
Lie of the Mind introduces two families, completely torn apart by one last incident in a long string—there's a sense of decades of accumulated strife and grief, more so in Jake's family—comprised of his brother (Chris Gabel in his first non-improviser role is a sensible and sympathetic Frankie), mother Lorraine (Wendy Magahay uses all her feminine and motherly wiles to draw her children into her orbit) and sister Sally (Sarah Heyman)—than in Beth's where domineering patriarch Baylor, a rough-and-ready Montana rancher (Mark Marquette) rides herd not only on livestock but also on his ditzy and well-meaning wife Meg (Elizabeth Brimacombe) and stalwart son Mike (Evan Roberts).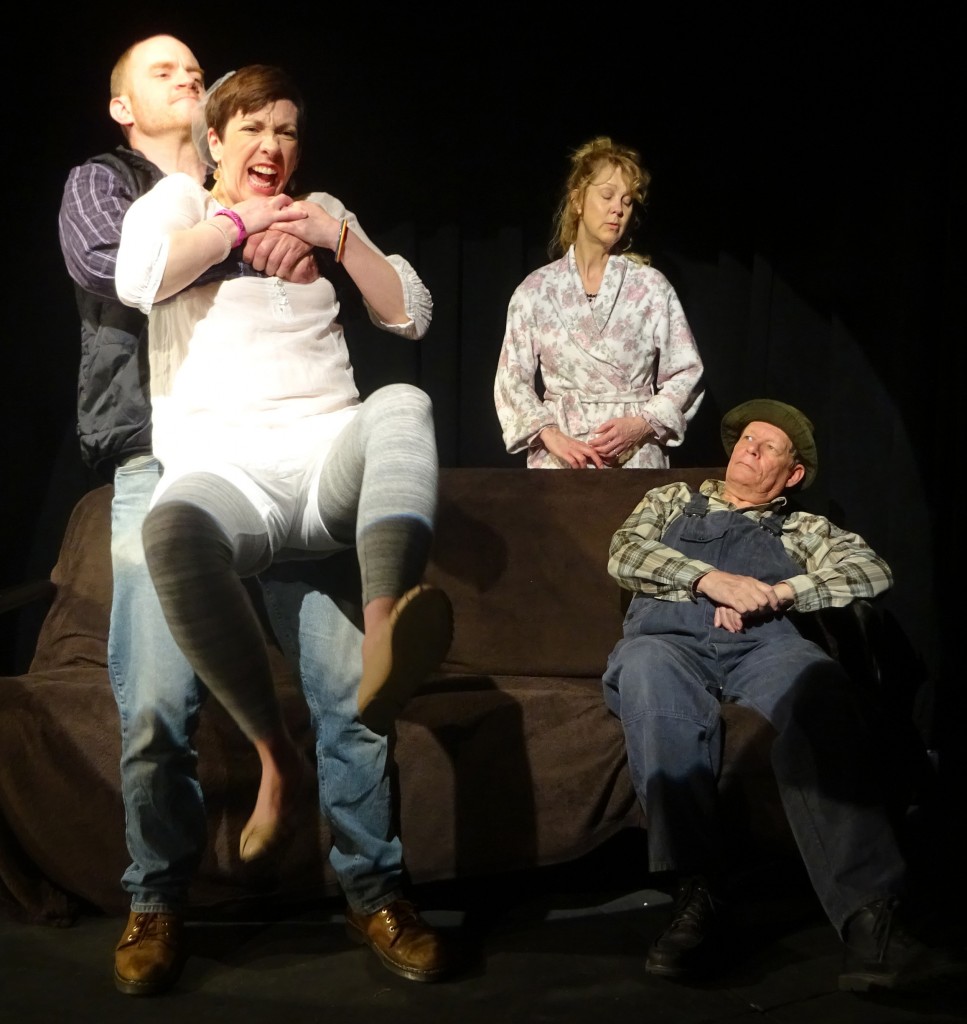 Evan Roberts, Melissa Blank, Elizabeth Brimacombe, Mark Marquette. Photo: Theatre Inconnu
In families where everyone operates under some level of delusion and disremembering, it's the siblings Frankie, Sarah and Mike who stand out as the most grounded in reality—struggling to come to grips with the horrific results of a love story gone terribly awry–"He's my heart", Beth says of Jake—while attempting to jolly their parents towards some semblance of reality.  Ultimately, they fail—the central tragedy of the story.
No amount of make-believe on the part of Meg (Brimacombe has mastered the vacant and pleasant demeanour of a woman bound and determined not to make waves), resolve from Lorraine (a steely and resolute Mahagy) or fatalism from Baylor (Marquette is persuasively gruff and blustery) can keep life on an even keel.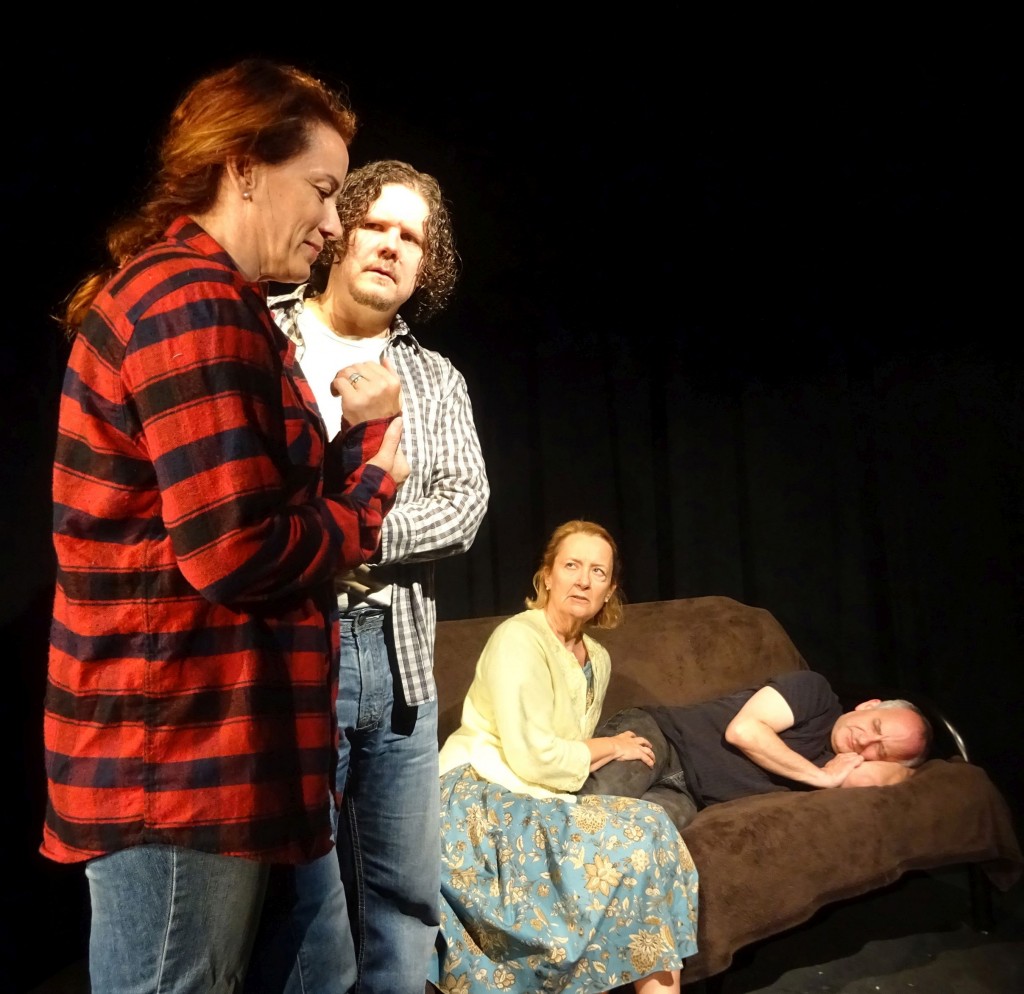 Sarah Heyman, Chris Gabel, Wendy Magahay, David MacPherson. Photo: Theatre Inconnu
While some retreat into a happier version of the truth—Jake can't even remember being with his dad when he died, and he definitely doesn't remember beating Beth—others leave, only to come back, incapable of living life outside the family (Heyman distills the essence of Sarah's quiet strength and ultimate indecision).  Beth may be the most damaged physically, but psychically, they all are.
Scenes stand alone, every one of them complete unto itself, making it impossible to choose favourites, accentuated by light changes and underscored by a selection of heart-breaking, haunting tunes that howl their passion (selections by David MacPherson).  The spare and simple staging allows the audience to focus on words and interaction—honing in on the essential motivations and connections between the characters.  Anyone who has ever loved or lived in a family will understand the primordial tug to the heart of ties that entwine and cannot be loosed.
A Lie of The Mind is rich and rewarding theatre—with an excellent script and direction, experienced actors and a devotion to the moment.  The intimate space of Theatre Inconnu (mirroring the close confines of the settings) is the perfect place to ponder Shepard's universal and always timely themes, and yet again a wonderful reminder that companies do not need huge budgets to produce work that leaves audiences impacted.
Sam Shepard's A Lie of the Mind is a play filled with enormous vitality, and humor. Prior to the play's opening, the action is set in motion by a severe domestic beating that leaves Beth, a young wife, brain damaged; at the hands of her husband Jake. The story is one of shifting focus between the two families – that of the victim and that of the abuser – as we experience how family members cope with the aftermath of Beth's injury. This is a play that does not shy away from taking a gritty look at an issue all too commonly ignored.

"Mr. Shepard's richest and most penetrating play, a 20th-century masterwork." New York Times
A Lie of the Mind by Sam Shepard, directed by David MacPherson
Theatre Inconnu, 1923 Fernwood Road
May 3-21, 2016
Ticket prices: $14 regular, $10 seniors (60+) /students/unwaged
May 3 preview is $7
Wednesday, May 11 is Pay-What-You-Wish admission
Through TICKET ROCKET: www.ticketrocket.co or 250-590-6291 (price will include a $2.50 surcharge).
Through THEATRE INCONNU: (250)-360-0234, (no surcharge).
Or you can buy tickets at the door when you come to the play (if it is not sold out).
Directed by David Macpherson
Acted by (alphabetically): Melissa Blank, Elizabeth Brimacombe, Chris Gabel, Sarah Heyman, David MacPherson, Wendy Magahay, Mark Marquette, and Evan Roberts.
Preview: May 3-8pm
8pm shows: May 5, 6, 7, 11, 12, 13, 14, 18, 19, 20, 21
2pm shows: May 7, 14, 21
The performance is about 2 and a half hours long, including one fifteen minute intermission.
Theatre Inconnu is located at 1923 Fernwood Road.
www.theatreinconnu.com
Disclaimer:  I was offered a complimentary ticket to attend A Lie of the Mind.