Summer is off to a bang in local theatre. No sooner did May wind up with Intrepid Theatre's 16th annual UNO Fest, the inaugural  Little Fernwood UFO (UNO offsite) and the first show in new company Epiphany Productions schedule (Godspell), than summer announces an incredible line-up of regular season offerings and unexpected surprises.
Local actors Andrew Bailey (the Adversary), Izad Etamadi (Borderland), Mike Delamont (God is a Scottish Drag Queen), and Jeff Leard (the Show Must Go On)hit the Fringe circuit (I'll have posts on their shows and tours).
Will Weigler in partnership with VIDEA and ICA presents the first truly immersive theatre experience From the Heart in previously empty space at Uptown.  Bike Ride by Theatre SKAM returns for two weekends in July with family-friendly entertainment along the Galloping Goose.  Beloved theatre legend and Canadian icon Will Wingfield presents the complete Wingfield trilogy at the Belfry Theatre.  Blue Bridge Theatre celebrates their fifth season of presenting fresh classics with Uncle Vanya, Brighton Beach Memoirs and My Fair Lady.  Outdoor theatre never looked so good with two companies presenting Shakespeare – the Greater Victoria Shakespeare Festival (Merry Wives of Windsor and Measure for Measure) at Camosun College Interurban Campus and Victoria's Shakespeare by the Sea (Romeo and Juliet, and Midsummer Night's Dream) at HollandPark.
Langham Court ends their 84th season with the ever-popular Calendar Girls (get your tickets now as sales are brisk). Atomic Vaudeville and Gotta Getta Gimmick present cabarets. Derwin Blanshard's Extremely Classy Sunday Evening Programme stage a season one finale. Dave Morris (Paper Street Theatre) introduces Harold Night (long form improv).  Theatre SKAM returns with their 2010 Victoria Fringe hit Smalltown.
Carter stages his solo show Africville as a fundraiser in honour of Meg Newton (late operations manager at Intrepid Theatre) and for student scholarships. The Brat Pack present Shaken and Stirred to raise scholarship funds for students at the Canadian College of Performing Arts.
Godspell, Epiphany Productions, St Matthias Church
May 31/June 1st and 2nd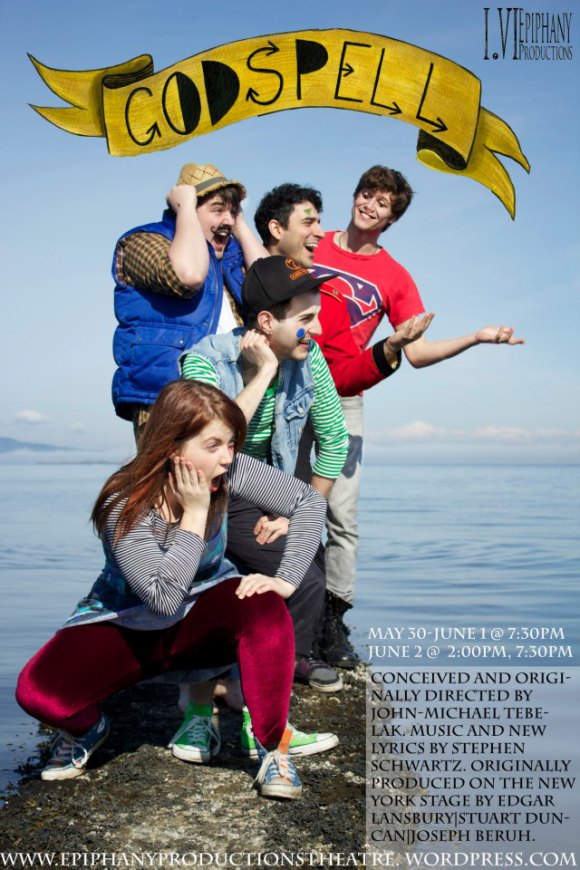 Come and see the gospel according to the book of Matthew told through song, dance, and skits. Staged in a beautiful church using the aisles, balcony, and even the organ! Featuring an incredible cast of Victoria's most promising emerging artists who will play instruments while singing and dancing. A production that is family friendly and affordable!
I'm definitely looking for more work from Epiphany Productions.  The vocal work was top-notch, and the young cast imbued the show with fun and panache.
Borderland Launch Party, CCPA Performance Hall, 1701 Elgin Avenue
June 4th
Izad Etamadi ([title of show], Smalltown ) hits the Fringe circuit with his first original solo show, Borderland. Join friends and supports for this fundraiser.

 Navid is a gay Iranian man running from himself and his home. He arrives at Borderland – a secret hiding place – in search of acceptance. There he meets Leila and Zia. Who are they? Can they help Navid on this dangerous path towards happiness?
Uncle Vanya, Blue Bridge Repertory Theatre, McPherson Playhouse
June 4 – 16th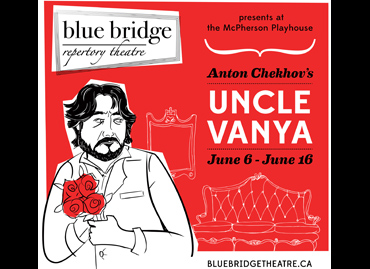 One of the masterpieces of 19th century Russian drama; on a remote farm in the Russian hinterlands Uncle Vanya and his niece Sonya have worked slavishly for years to sustain an estate in decline. Now his brother, the famed Professor Serebryakov and his wife Yelena have returned to visit, bringing with them envy, chaos and disruption. Constant visits to the farm by Vanya's friend, the charismatic doctor and environmentalist Astrov, fuel Vanya's jealousy over the attentions of the beautiful Yelena. Lunch is no longer served on time, work is forgotten and the long, cool nights have become sleepless. From this hotbed of disarray grow three consuming love affairs, each of which is destined to whither in disappointment before having reached their bloom.
Atomic Vaudeville Summer Cabaret, VEC, 1415 Broad Street
June 6/7/8
Tickets for Atomic Vaudeville are now available through Ticket Rocket; it's always an idea to purchase them in advance to this extremely popular local troupe.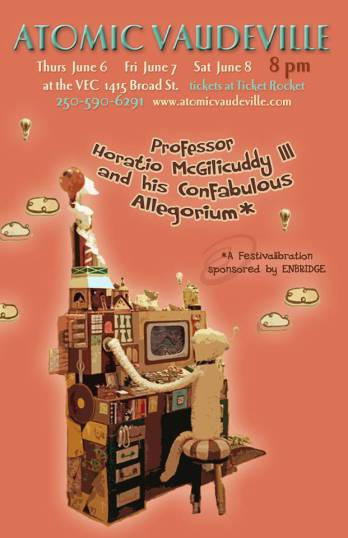 Professor Horatio McGilicuddy III and his Confabulous Allegorium*

*A Festivalibration sponsored by ENBRIDGE
Gotta Getta Gimmick Cabaret, Belfry Theatre Studio A (tickets through the Belfry)
June 10th
Word is slowly getting out to the larger community about these evenings of musical theatre. They've been popular with enthusiasts and singers, and tickets to the series do sell out quickly due to the smaller size of the Belfry's Studio A. Advance ticket purchases are a very good idea.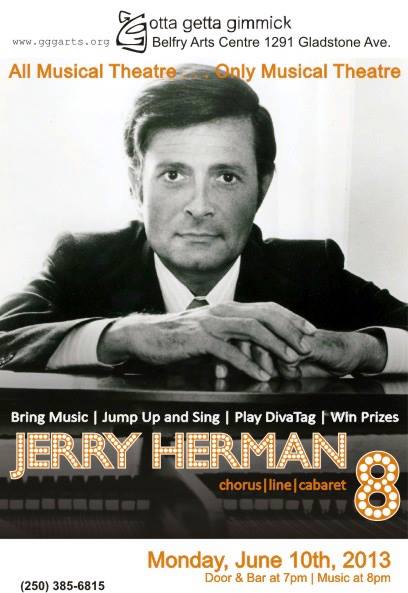 Join GGG for our 8th installment of the chorus|line|cabaret celebrating the words and music of Mr. Jerry Herman: King of the Showtune! Featuring songs from Hello, Dolly!, Mame, Mack and Mabel and La Cage Aux Folles (to name a few…)
Harold Night, Intrepid Theatre Club
June 10th tickets $10 at the door
Social media has given me access to communities within communities.  Before 2009 I knew little of the vibrant and burgeoning improv scene in Victoria. One of its most ardent defenders and innovators is Dave Morris.  Invariably the work he produces, mentors and collaborates on is of the finest calibre.  Harold Night will be a regular feature (2nd Monday of the month) so if you miss the inaugural show, there are two more planned for the foreseeable future in July and August.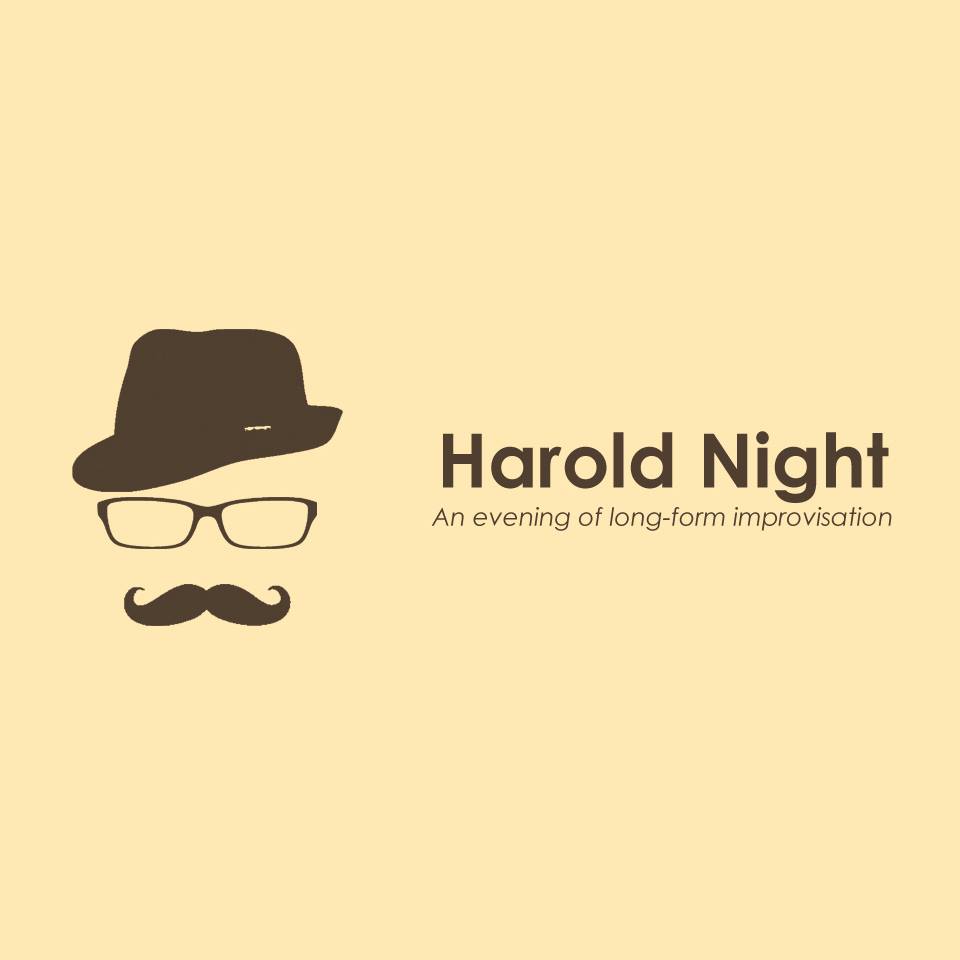 Victoria's new Harold Night invites you to enjoy the journey of improvisational theatre. Led by master improviser Dave Morris, the ensemble cast of local Victoria improvisers will create full-length theatre pieces that excite, delight and provoke. Each moment is created instantly – it may be heartwarming, it may be hilarious- but it whatever it is, it will be discovered in the moment and shared only with you, the audience.

The Harold* is the most well-known type of long-form improv in the world. It was "seen into existence" by Del Close as a way to build a play organically and allow for maximum creativity. In a Harold the players explore the themes of the audience's suggestion through a series of scenes, games movements and monologues. The only rule -that there are no rules.

*Did you know – Inspired by George Harrison naming his haircut Arthur, Del Close's new format was named Harold.
From the Heart: enter into the journey of reconciliation, Uptown
June 12–22 & July 3–27. Performances are Wednesdays through Saturdays.
Show times: 7:00, 7:20, 7:40, 8:00, 8:20, 8:40. 
There aren't enough words to describe the state of anticipation I am in while waiting for From The Heart. I believe in the profound power of the arts to change lives and reveal aspects of ourselves that have been as yet unknown.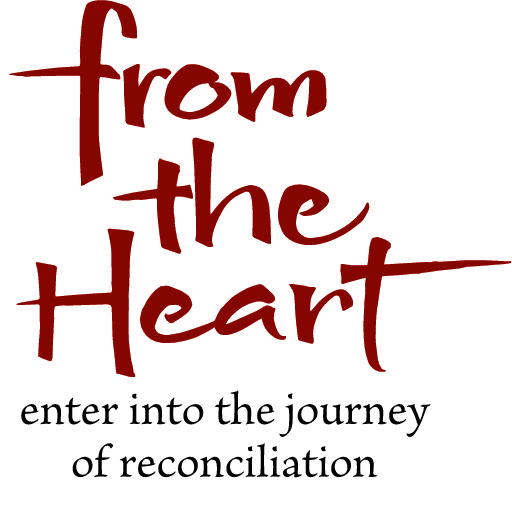 From the Heart: enter into the journey of reconciliation is a new theatre production about transformative stories that have moved non-Indigenous people to see their relationships with their Aboriginal neighbours in new ways. This won't be anything like an ordinary play. Based on the book Unsettling the Settler Within by Paulette Regan and developed in collaboration with VIDEA and ICA, this immersive theatre experience is a first for Victoria.

Starting on June 12, audiences will be invited to explore a temporarily vacant 14,000 square foot store at Uptown Mall that has been transformed into a vast, beautiful labyrinth made of hundreds of doors and windows, fabric, and paper lantern lights. In the nooks and alcoves along the way, they will encounter scenes, songs, and shadow theatre performances all created by a culturally diverse cast of 30 Victoria area residents who range in age from 18 to 80.
Calendar Girls, Langham Court Theatre
June 13-29th
Langham Court ends their 84th season on a comedic high note with a show that has been selling briskly.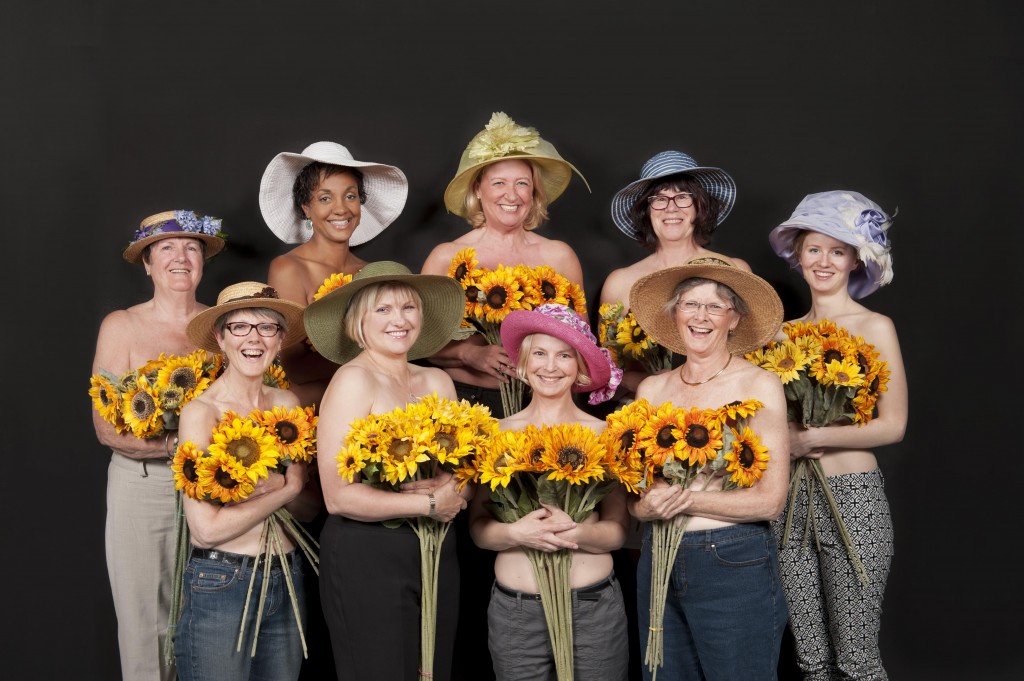 Photo: David Lowes Art Studio 21
What do sunflowers, comfortable settees and tea cakes have in common? The Calendar Girls! A group of ordinary women do something extraordinary and spark a global phenomenon when they persuade one another to pose for a charity calendar with a difference! Based on an inspiring true story, Calendar Girls is quirky, poignant and hilarious.
Derwin Blanshard's Extremely Classy Sunday Evening Programme, Season Finale, the Victoria Event Centre, 1415 Broad Street
June 16th
After a first season of interviews (including now MLA Andrew Weaver, MLAs Lana Popham and Nicoloas Simons), cocktails and other shenanigans performed live in front of a studio audience, Derwin bids us au revoir to embark on summertime adventures before returning refreshed this fall.  Come in your best bib and tucker, long gown or tux to give him the send-off he deserves.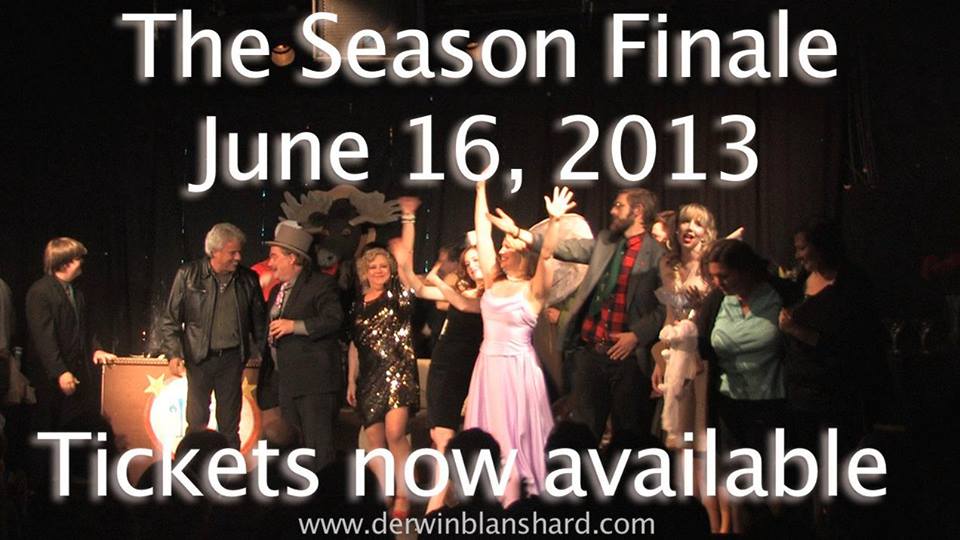 Son of Africville, Intrepid Theatre Club, a benefit in support of the Megan Newton Memorial Award in Theatre
June 21st
I saw one of the very first productions of Son of Africville; it's engaging, thoughtful, warm and funny.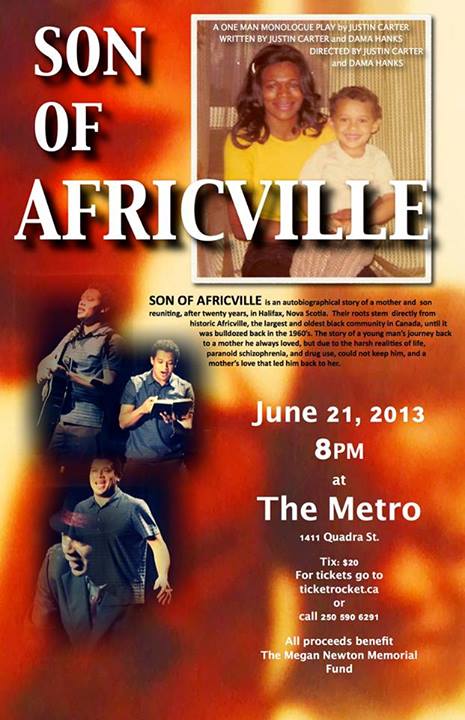 An autobiographical story of a mother and son reuniting, after twenty years, in Halifax, Nova Scotia. Their roots stem directly from historic Africville, the largest and oldest black community in Canada, until it was bulldozed back in the 1960s. It is the heartwarming story of a young man's journey back to a mother who always loved him, but due to the harsh realities of life, paranoid schizophrenia, and drug use, could not keep him. Performer/creator Justin Carter relives this reunion through story, and song, in a poignant and humorous performance.
Down Dangerous Passes Road, Intrepid Theatre Club, directed by Sean Guist
June 22/23, Intrepid Theatre Club. Tickets $10 at the door
Sean Guist is the new Marketing and Development Coordinator at Intrepid Theatre. He holds an MFA in directing and creation from the University of Lethbridge and recently directed Side by Side by Sondheim (Saltwater Inc) in Victoria.  Down Dangerous Passes Road is written by Michel Bouchard, one of Canada's most prolific playwrights, and translated by  Linda Gaboriau. It features emerging artists from the UVic Theatre Department.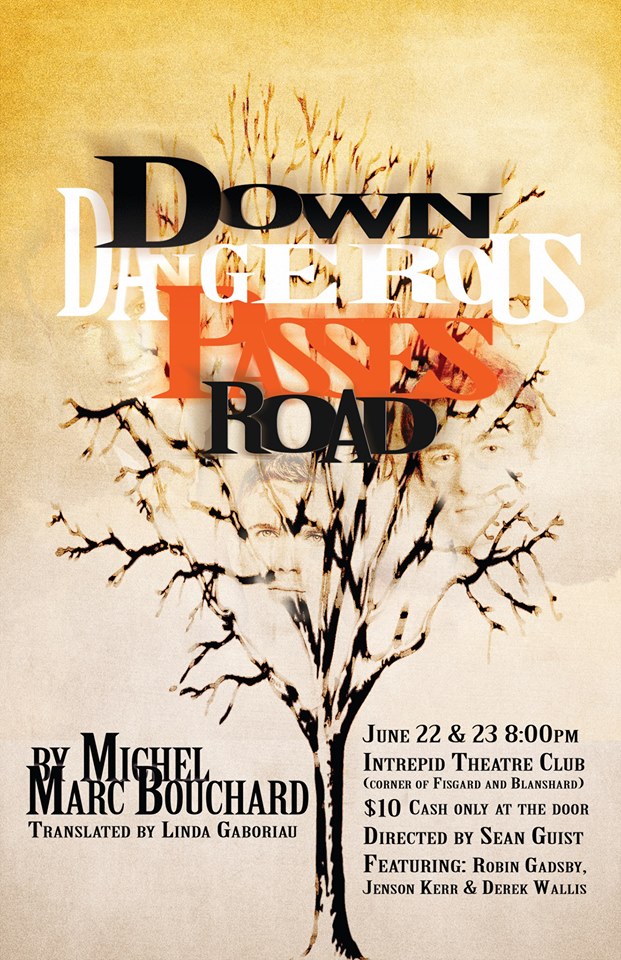 Three brothers drive out to a forgotten childhood memory: an old fishing spot on the river down Dangerous Passes Road.

Each sibling is facing a crucial rite of passage: Carl, the youngest, is to be married later in the day, and it is this occasion that has brought the three of them together. Ambrose is losing his lover to AIDS. Victor, the eldest, has just left his second failed marriage.

They have never really spoken with each other because they all have their own individual secrets to hide, and because they share an ambivalence about the death of their father. Are they ready, finally, to reveal themselves to each other and move on with their lives?

In voices that interweave, alternate and play off one another with the exquisite lyricism of chamber music, the brothers reveal themselves as trapped by their father's inability to let his boys grow up, and their own inability to accept him as an adult.

*This play contains mature content.*
Brighton Beach Memoirs, Blue Bridge Repertory Theatre
July 2 – 14th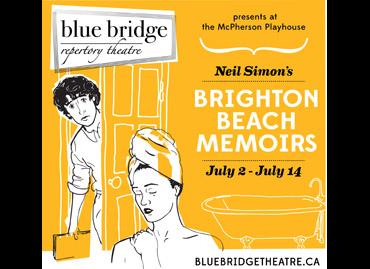 Neil Simon's semi-autobiographical tale follows the hilarious and witty journey of the teenage Jewish American boy Eugene Morris Jerome as he navigates his way through puberty and his struggles with self-identity. Following the various threads of the challenges sorrows and joys of each generation of the Jerome household this hilarious look at the rites of passage that a young man faces while entering puberty written by modern America's master of comedy is sure to please.
Bike Ride, Theatre SKAM, Galloping Goose at Cecelia Ravine Park
July 6/7 and 13/14
One of the highlights of my summer season! Highly recommended and family-friendly, you wouldn't be remiss buying the two-day pass.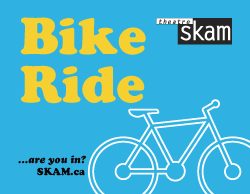 Theatre SKAM's annual summer project Bike Ride is an outdoor live performance festival event that is suitable for the whole family. Bike Ride is a series of short shows presented along a 4km stretch of the Galloping Goose Trail. Audiences ride bikes from show to show.
Greater Victoria Shakespeare Festival, Camosun College Landsdowne
July 15 – August 17
Summer is a wonderful time for theatre outdoors. Enjoy the bard in the lovely setting at CamosunCollege. Bring a picnic and relax over dinner before or during the show.  Children are welcome.  Advance ticket are available at Shepherd Books and The Papery until the festival starts and are a very attractive $10.
Merry Wives of Windsor (directed by Kate Rubin)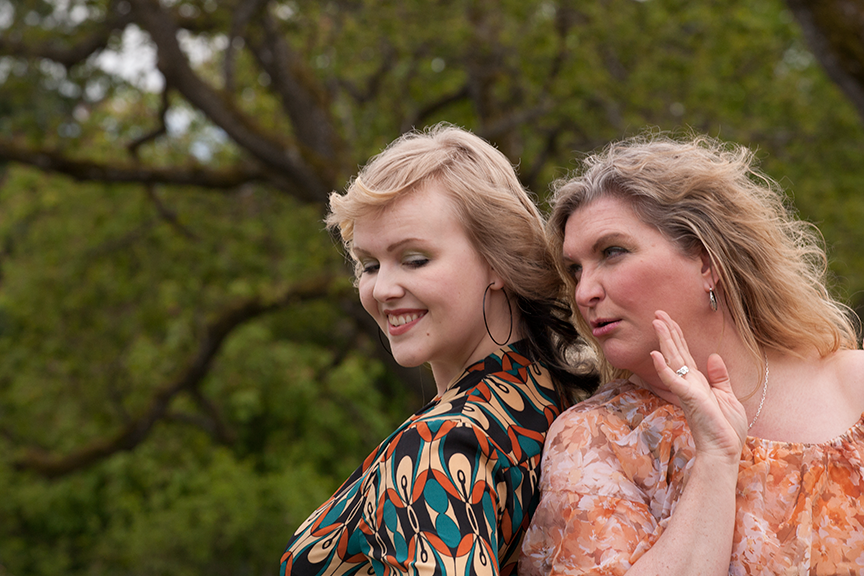 Photo: Tagg Kelt
When Sir John Falstaff decides that he wants to have a little fun he writes two letters to a pair of wives: Mistress Ford and Mistress Page. When they put their heads together and compare missives, they plan a practical joke or two to teach the knight a lesson. But Mistress Ford's husband is a very jealous man and is pumping Falstaff for information of the affair. Meanwhile the Pages' daughter Anne is besieged by suitors.
Measure for Measure (directed by Clayton Jevne)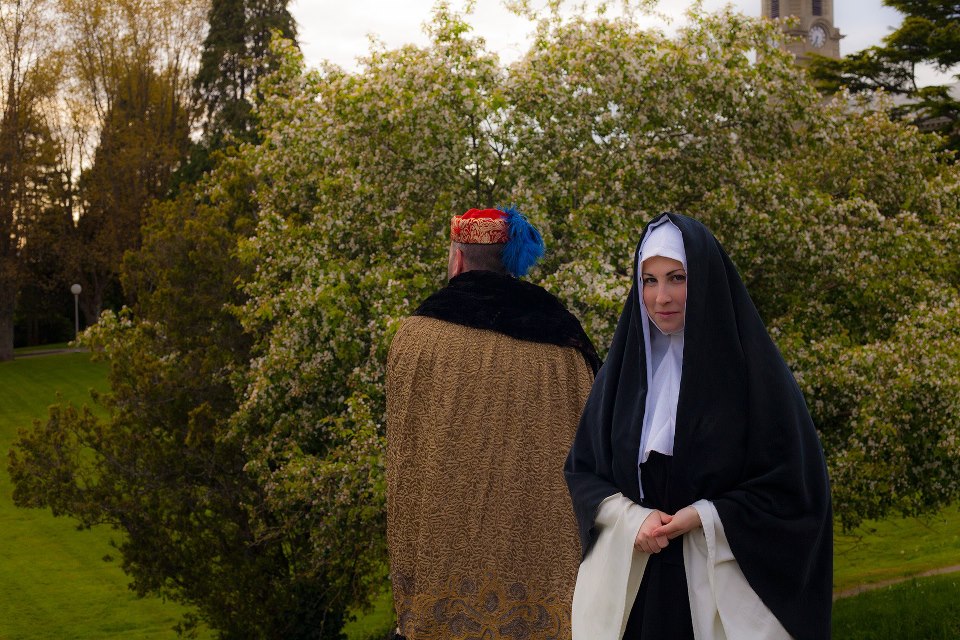 Photo: Tagg Kelt
When the Duke of Vienna takes a mysterious leave of absence and leaves the strict Angelo in charge, things couldn't be worse for Claudio, who is sentenced to death for premarital sex. His sister,  Isabella (a nun-in-training), however, is a very persuasive pleader. She goes to Angelo, but instead of freeing her brother, she gets an offer from Angelo to save Claudio's life if Isabella sleeps with him. The only sympathetic friend Isabella has is a priest who, in actuality, is the Duke in disguise…and he has a plan
Victoria International Busker's Festival
July 19 – 28th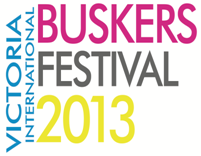 One of the world's most unique street theatre festivals! Buskers from around the world will converge in Victoria and present ten days of performances on event stages along our Inner Harbour and in Bastion Square. Additional daily lunch time performances will also be presented at the Bay Centre!
The Brat Pack presents Shaken AND Stirred, CCPA Performance Hall, 1701 Elgin Road
July 25th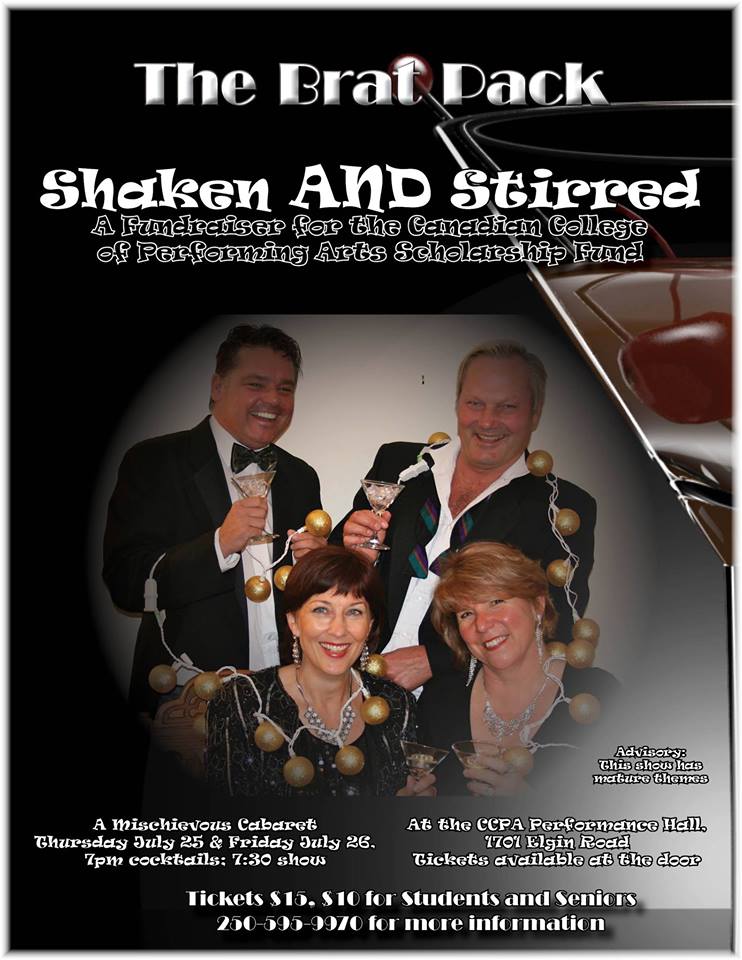 An evening of cabaret style song and dance starring Sara Weicker Partridge, Darold Roles, Ron Schuster and Susan Smitten, with a guest appearance by Jim Hill – a fundraiser for Scholarships for students at The Canadian College of Performing Arts (CCPA)

The Brat Pack are professional crooners with a twist! Their music and antics are reminiscent of the infamous Rat Pack (Frank Sinatra, Dean Martin, Sammy Davis Jr., Peter Lawford and Joey Bishop) who ruled the Las Vegas entertainment scene throughout the 1960's. Individually the Brats have appeared on stages all across Canada and internationally. Collectively they have crooned throughout Victoria charming audiences at special events, parties and fund-raisers. They mix some smooth sounds with a sprinkle of mischief and humor. Hold on to your fedoras as this show has some mature themes and the martinis are served Cabaret-style!
Letter from Wingfield Farm / Wingfield's Progress / Wingfield's Folly, Belfry Theatre
July 30th – August 25th, Belfry Theatre
Rod Beattie (Walt Wingfield) returns to the Belfry Theatre – where it all began – for a trilogy of the Wingfield plays.
When a captain of industry trades his pinstripe suit for overalls and retreats to a hundred acre farm, the residents of PersephoneTownship raise their eyebrows. Weekend farmers are a common enough sight, but this man seems to think he can make a living with a broken down racehorse and a single furrow plough.

Letter From Wingfield Farm is the story of one man's attempt to embrace a less complicated world. In a series of letters to the editor of the Larkspur weekly newspaper, Walt Wingfield tells of the people and events of his first year as a man of the soil.

Wingfield's Progress and Wingfield's Folly follow Walt Whitfield's adventures on the farm.
Smalltown: A Pickup Musical, Theatre SKAM By Amiel Gladstone and Lucas Myers
August 6 to 25, 2013  (No show Aug 12 or 19) 7pm – A show on the back of a truck, In parks throughout the Capital Region. Locales TBC.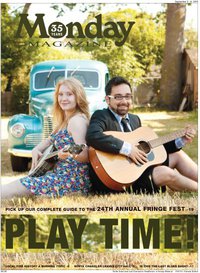 This is the story of a little B.C. burg whose denizens are attracted to a rich offer from a big corporation. The cast rotates through a variety of instruments, delivering undeniably catchy songs on the back of a pickup truck in a park.
Winner in 2010 of Best of Fringe at the Victoria Fringe Festival, and Best New Play as per the Victoria Critics' Choice Spotlight Award.
My Fair Lady, Blue Bridge Theatre,
August 6 – 18th
Blue Bridge's Artistic Director, Brian Richmond, returns to the stage as Professor Henry Higgins with Amanda Lisman in the role of Eliza Doolittle.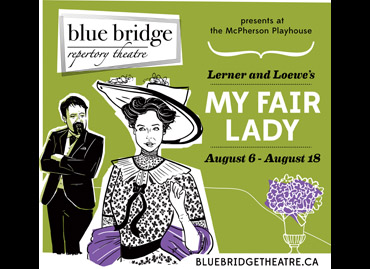 In this chamber sized re-telling of one of Broadway's musical theatre masterpieces, the famed phoneticist and 'confirmed old bachelor' Professor Henry Higgins takes a bet from his colleague Colonel Pickering that he can transform an unrefined Cockney flower girl Eliza Doolittle into a lady? He does but in the process gets more than he bargained for as he and audiences are charmed and bewitched by such timeless melodies as I Could Have Danced All Night, On the Street Where You Live and I've Grown Accustomed (to her face)!
Victoria's Shakespeare by the Sea, in Holland Park (at the edge of Beacon Hill Park)
August 13 – September 2nd
A Midsummer Night's Dream (T, Th, Sat, Sun) and Romeo and Juliet (W, F, Sat Sun)
Victoria Fringe Festival, Intrepid Theatre
August 22 – September 1, the 27th annual
For me the summer simply wouldn't be complete without the Victoria Fringe Festival, now in its 27th year. This 10 day celebration of un-juried, un-censored live performance makes my heart sing. Complete with a preview night, Fringe Kids Fest and a rotation of family-friendly shows, the famous Fringe Club and closing night Pick of the Fringe awards.  There is truly something for everyone!