Act Two ~ a Musical Theatre Fundraiser and Party In support of Gotta Getta Gimmick
Isn't it appropriate that Victoria's musical theatre company, Gotta Getta Gimmick, has scheduled a fundraiser/party for Culture Days?  I got to know co-founders Brad L'Ecuyer and Clayton Baraniuk when my son attended the Canadian College of Performing Arts (they are both grads). He then went on to perform in their summer Butchart Garden shows.
Since 2011 they have been organizing the well-attended chorus|line|cabaret events (with the next session featuring Marvin Hamlisch soon to begin). If you thrill to the idea of an evening of show tunes, this event should be on your radar screen.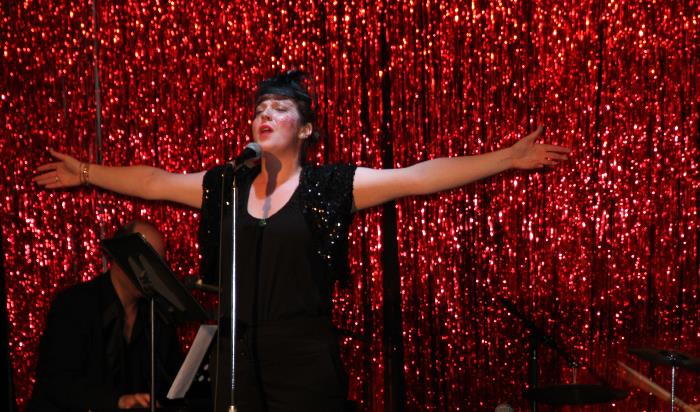 Sarah Carlé sings her heart out at chorus|line|cabaret
Saturday, September 28, 2013 – 8pm till Late
Dance Victoria Studios – 2750 Quadra Street (one block north of Hillside)
What is this?:  A night celebrating Gotta Getta Gimmick, musical theatre, and the folks who love it. Featuring more than 20 great singers, sing-alongs, games and diva tags, at the Dance Victoria Studio all night long. All musical theatre, only musical theatre.

Join some of Victoria's best singers and members of the GGG chorus|line|cabarets, jump up and belt a solo, or just toe tap all night and sing along. Light refreshments, Cash Bar. Live piano accompaniment. (more information – www.gggarts.org)

Act Two:

In the style of the chorus|line|cabaret second act performances, enjoy the classic piano bar atmosphere we all love, with singer jump ups, a complete line up of our infamous Diva Tags, games, special prizes, and familiar sing-a-longs. Live piano accompaniment all night long – bring your sequins, and shimmer. Requests will be taken. Listings on our website.

Featured singers include local comedian Mike Delamont, Broadway performer/voice over actress Tracey Moore, opera star Rebecca Hass, Ride the Cyclone's Kelly Hudson, GGG's diva Sarah Carlé, the incredible Matthew Howe, CCPA Directors Ron Schuster and Darold Roles, local legends Pam Miller, Kirsten Van Ritzen, Clayton Baraniuk, Alison Roberts, plus our very own Resident Singing Drag Queen, Miss Gouda Gabor, and many, many more! Check our website for sing-alongs, diva tags, and singers listings. We also have Victoria's best accompanists donating their time and skills to play for you: the amazing Heather Burns, GGG's Brad L'Ecuyer and our stalwart founding Board Member Mr. Jim Hill.

We hope you can join in the revelry and belt out a showstopper, or just sing along. All proceeds go towards the Gotta Getta Gimmick Arts Society's quest for musical theatre for Victoria and beyond, enabling the ongoing experiences that so many have come to enjoy. Your support is invaluable to us. Featured raffle, 50/50, Free snacks, Cash Bar.

Where:  Dance Victoria Studios – 111 – 2750 Quadra Street (one block north of Hillside).

When: Saturday, September 28 , 2013 – 8pm till late.

How much: $20, through the Belfry Box Office – 250-385-6815 or online at www.gggarts.org

Email gggarts@gmail.com to book in a Jump up time in advance, or sign up for a diva tag. On the spot jump ups also encouraged.