Bella Culpa at the Victoria Fringe 2016. Interview with Amica Hunter.
Also at the Vancouver Fringe September 8-18, 2016.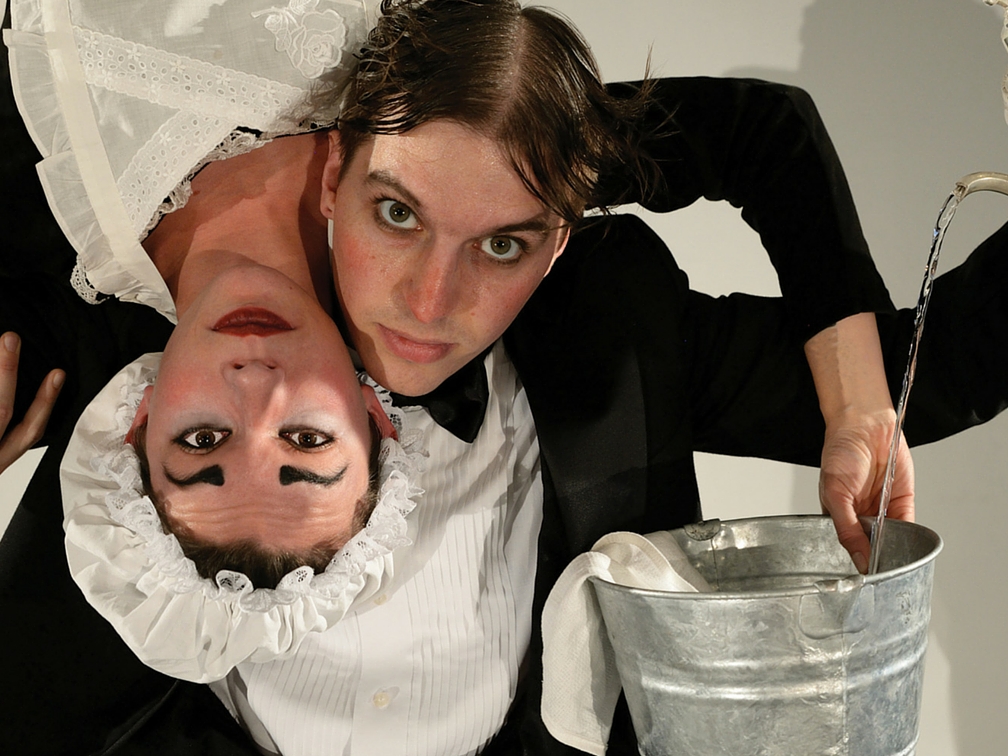 photo: Anthony Arnista
How long have you been producing work on the Fringe circuit?  As an artist/company?
David (Cantor) and I have been creating work as the company A Little Bit Off since 2013, and have be doing Fringe Festivals with our work since 2014. Our first summer tour was spend in Europe doing street theater, but we have been loyal indoor Fringers ever since then.
Is this your first visit to Victoria?
It will be David's first trip to Victoria, and my second time. Neither of us have been to the Victoria Fringe however, so we're both newbies in that regard.
Have you been (or will you be) taking the show to other Fringes?
Yes! Our tour this year has started with Orlando Fringe. From there we went to San Diego Fringe, Winnipeg Fringe, Calgary Fringe, and soon we'll do Edmonton, Victoria, and Vancouver Fringes as well.
Is your show a new work, or has it been performed elsewhere?
The show is relatively new to us, but by the time we get to Victoria, we will have performed it at four fringes, and six non-fringe events.
Significant awards or accolades? (not just on the Fringe circuit)
We are a 14 time award winning company, but this particular show has so far won 4 of those 14 awards: Patron's Pick – Orlando Fringe 2016, Best New Producer – Orlando Fringe 2016, Spirit of the Fringe – San Diego Fringe 2016, and Artists' Pick – San Diego Fringe Festival. We'll see if there are any add-ons at the end of this tour.
Can you speak to the creation process of this work?
We are an "all hats" duo, meaning we write, direct, perform, produce, and promote all of our own original material. Bella Culpa started just as the idea of two servants. We played around with a lot of props, and generated WAY too many ideas, and then had to pick and choose from those ideas to decide what we would keep, and how we'd thread it all together into a cohesive whole. It wasn't easy. We spent a lot of time laying on the floor of the rehearsal studio, wallowing in doubt and despair. It's nearly impossible to tell what will work comedically in the lab without an audience present, so it was only when we started testing out our ideas in front of a crowd that we really hit our stride. It can be really hard to – as our clown teacher would say – "kill your baby," but sometimes you just have to let go of a precious idea for a joke that just doesn't work.
Who will your show appeal to?
Do you like cartoons? Do you like acrobatic spectacles? Do you like Vaudeville and Silent Films? Do you like Downton Abbey? If so, this show is definitely for you. It's a zany, light-hearted, action-packed nonstop comedy that truly is great fun for all ages, and all language abilities/backgrounds. Might be a little hard to sit through if you are under 4 years old, but at that age, what isn't?
What would you say to entice a potential audience member to come?
Sometimes rather than saying anything, we just do a trick! I'll climb up on David's shoulders to impress the crown and grab their attention, and then we give our usual tagline: "It's like Downton Abbey meets Laurel and Hardy (or the Three Stooges)." It's not always what you SAY that gets them to come, it's what you DO.
What do you hope to inspire in your audience?
Playfulness and a sense of joy. We want to give people the experience of forgetting all their adult troubles for an hour, and inviting them into a world where anything goes. Our biggest reward is offering that relief, and hearing people leaving the theater babbling excitedly and laughing. It really makes us feel like we made a difference.
Is there anything I've missed asking you, or that you would like to comment on?
I just wanted to mention that this has been our longest and most Jam-packed tour yet, and we feel very lucky to have gotten a chance to experience so much of this amazing circuit! We won the CAFF lottery this year, and are so glad we did. Every time we pack up our set and our stuff into Vanna White (our white touring van), it feels like an exciting new chapter. It sure is going to be hard when it ends.
Award-winning duo, A Little Bit Off, presents a slapstick comedy featuring two peculiar servants in an Edwardian manor. With a mess of silver buckets, and some acrobatic flair, this off-beat comedy will leave the whole family laughing. Like Downton Abbey meets the Three Stooges. http://www.alittlebitoff.us
Bella Culpa by A Little Bit Off, Portland OR
Langham Court Theatre (Fringe Venue 5) 805 Langham Court, Victoria, BC V8V 4J3
Advance price: Regular $11/ St & Sr $9 + s/c*
Door price: Regular $11/ St & Sr $9
Duration: 55 mins
Rating: All Ages
Genre: Comedy, Vaudeville, Physical-Theatre
Thu Aug 25 – 7:00pm
Sat Aug 27 – 9:00pm
Sun Aug 28 – 3:45pm
Mon Aug 29 – 6:45pm
Fri Sep 2 – 4:00pm
Sat Sep 3 – 7:00pm
#BellaCulpa
Facebook: https://www.facebook.com/alittlebitoffclowns/
FB Event: https://www.facebook.com/events/1575319416104865/
Twitter: https://twitter.com/A_LittleBitOff
Instagram: https://www.instagram.com/a_littlebitoff
Website: http://alittlebitoff.us/