Blue Bridge Repertory Theatre announces cast and creative for Làgrimas Crueles Cruel Tears (media release).
From Elizabethan England to our own times, the story of Othello has fascinated generations of playwrights over several centuries and in several countries. The newest playwright to adapt this classic story of racial and gender tension will be Puente Theatre's Artistic Director Mercedes Bátiz-Benét in a musical she is titling Cruel Tears/Lágrimas Crueles – a thrilling new re-make of Ken Mitchell and Humphrey and the Dumptrucks' classic Canadian musical Cruel Tears.
Now this exciting Mexican- Canadian playwright has a new version that will premiere on May 1st, 2014 at the Roxy Theatre in Victoria, BC in a co-production between Victoria's Blue Bridge Repertory and Puente Theatre. Re- locating the story to 1970's El Paso, Texas, Bátiz-Benét describes her decision to move the story from the Canadian prairies to this border town as an attempt to capture the spirit of "a more innocent time in the relationship between the United States and Mexico, her home country".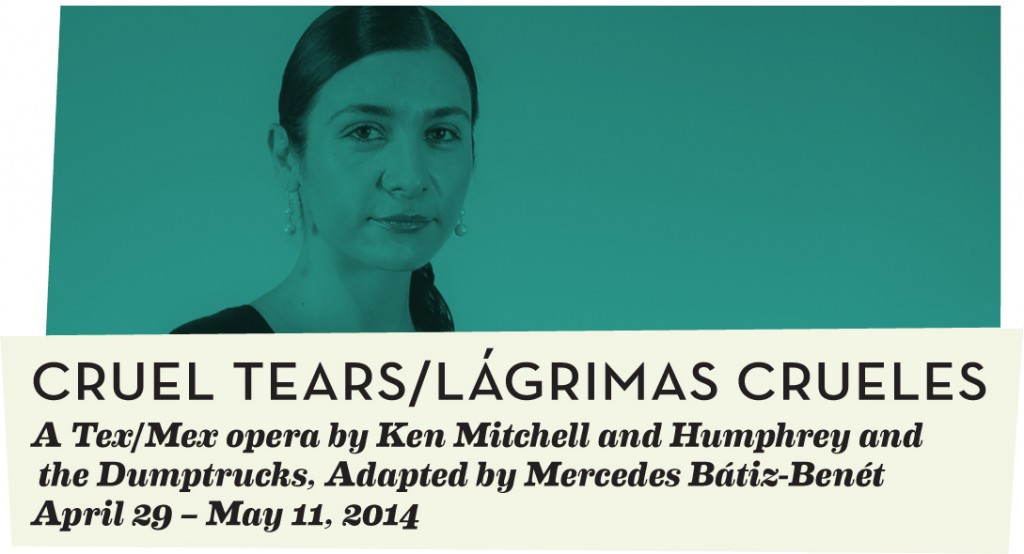 Cruel Tears/Lágrimas Crueles tells the story of Juan Ramírez, an illegal Mexican immigrant and trucker who has fallen in love with his boss' daughter, Kathy Jensen. Envied by his best friend, fellow trucker and Mexican-American Jack (Juan) Deal, this Iago inspired character lays out the complex traps that will eventually cause Ramírez's downfall, his lover's death, and spin all of their lives towards pointless tragedy.
"What is fascinating about Mercedes' adaptation," says Brian Richmond, Blue Bridge's Artistic Director, and the director of both the original Cruel Tears and this new version, "is how she has tapped into a wholly different and more contemporary spin on the roots of both racism and misogyny that has fueled this story since the time of Shakespeare. By focusing her very distinctive version on the imposed cultural self-hatred that is at the root of the tragedy, she is clearly identifying the source of these crippling issues as residing in our vision of how we see ourselves as individuals in relationship to the outside world."
Much of what motivated Richmond and Bátiz-Benét to re-visit this classic musical was their common love of the intersection and cross-fertilization of popular and folk music traditions that inhabit the borders between the U.S. and Mexico. Popularly known in both countries as 'Tex-Mex', the music of this region blends together traditions found in the immigrant American, German, Spanish, and indigenous cultures that gave this region the diverse musical landscape it enjoys.
To re-orchestrate, translate, and re-shape the original music of Humphrey and the Dumptrucks into these forms, Blue Bridge secured the services of the recent Memphis Tennessee "International Blues Challenge" winner, Tim Williams, as the music director and arranger for the production. Steeped in a life-long study of the music of this region, Richmond said he believes he could not have found a better collaborator. "Apart from being a virtuoso musician in his own right", Richmond stated, "Tim is a walking encyclopedia of the history of this music." "Rife with tunes that are influenced by what we think of as traditional country, to Norteño and Bolero stylings, Cruel Tears/Lágrimas Crueles will be a virtual smorgasbord of the music traditions of this area," said Williams.
Joining Richmond, Bátiz-Benét, and Williams in interpreting this exciting new play, Blue Bridge and Puente Theatre have assembled an international cast of actors and musicians that include the Argentinian musician/actor, Indio Saravanja, in the role of Juan Ramírez; Guatemalan-born Alexandra Wever in the Desdemona-inspired role of Kathy Jensen; Brian Richmond as her father Earl Jensen; Blue Bridge core company member Jacob Richmond in the role of Jack Deal; Tracey Moore as his wife Flora Deal; Old Trout Puppet Workshop founding member and Co-Artistic Director Judd Palmer, in the role of Roy: Jana Morrison as Marilu, R.J. Peters as Ricky, and Jeff Pufahl as El Sucio Salinas. They are joined by musicians Kale Penny and Brendan McGuigan, and local dance legends Jung-Ah Chung and David Ferguson in the roles of the Non-Vocal Chorus. Choreography is by Treena Stubel, Dialect Coach is Iris McGregor-Bannerman, Assistant Director Shauna Baird, and the Fight Coach is Trevor Hinton. Set Design is by Carole Klemm, Costume Design by Graham McMonagle, and Light Design by Rebekah Johnson.
Tickets for Cruel Tears/Lágrimas Crueles can be purchased through Ticket Rocket in person, by phone or online. Ticket Rocket- 2-1609 Blanshard Street (at Fisgard), 250-590-6291, www.ticketrocket.org
For further information contact:
JustineShore – Director of Marketing and Public Relations pr@bluebridgetheatre.ca
250-385-4462