Perfect pacing and a masterful blend of comedy, pathos and drama make Brighton Beach Memoirs, Blue Bridge's second show of the season, a rich and relatable theatrical experience.
Modern audiences are perhaps most familiar with prolific playwright Neil Simon's Tony-award-winning comedy The Odd Couple.  Simon, a native New Yorker, got his start writing for radio and TV but went on earn the distinction of being the most produced playwright of all time after William Shakespeare. In the 1980s he penned his semi-autobiographical trilogy of which Brighton Beach Memoirs is the first.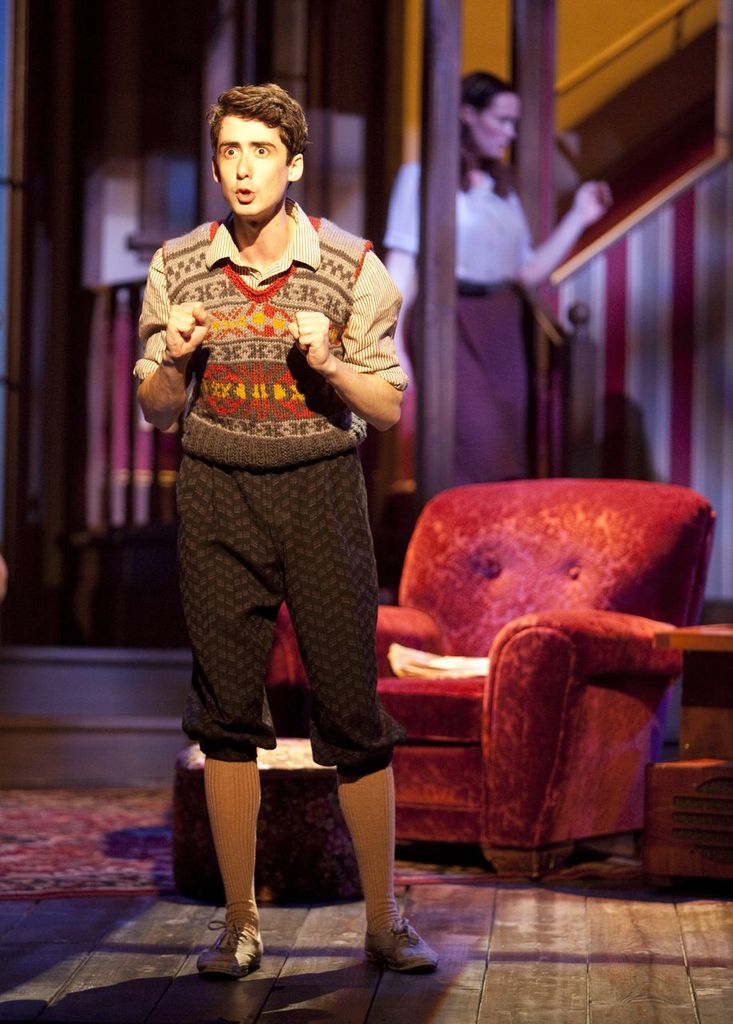 Amitai Marmorstein as Eugene Jerome. Photo: Tim Matheson
Within a tempestuous Depression-era New York Jewish family, the teenage narrator, Eugene Morris Jerome (Amitai Marmorstein) dreams of becoming a famous writer, while listening to baseball, fighting with his older brother Stanley (Sebastien Archibald), and trying to shrug off his chores as much as possible. Life isn't made any easier by the fact the family has had to take in his mother Kate's (Jane Spidell) sister Blanche (Samantha Currie) and her daughters Nora (Kate Dion-Richard) and Laurie (Elizabeth Duncan) after the death of his uncle Dave six years previously.
Teenage desires and impulsiveness strain against conscientiousness and responsibility; Simon is adept at developing conflict, based in the small every day actions of life and family, and then allowing comedy to defuse the situation.  The cast of seven is comprised of dyads (three pairs of siblings, parent-child, spouses, cousins) and the narrative includes a multitude of groupings – soliloquies, off-sides, pairs and ensemble. What is quite remarkable in Blue Bridge's production is the strength of each of these moments.  Whether we're laughing as Eugene tries to weasel out of eating his liver, or tearing up when his brother Stanley finally gets a moment alone for a heart-to-heart with his dad (Brian Linds), there is an authenticity that takes us back to moments within our own families of origin.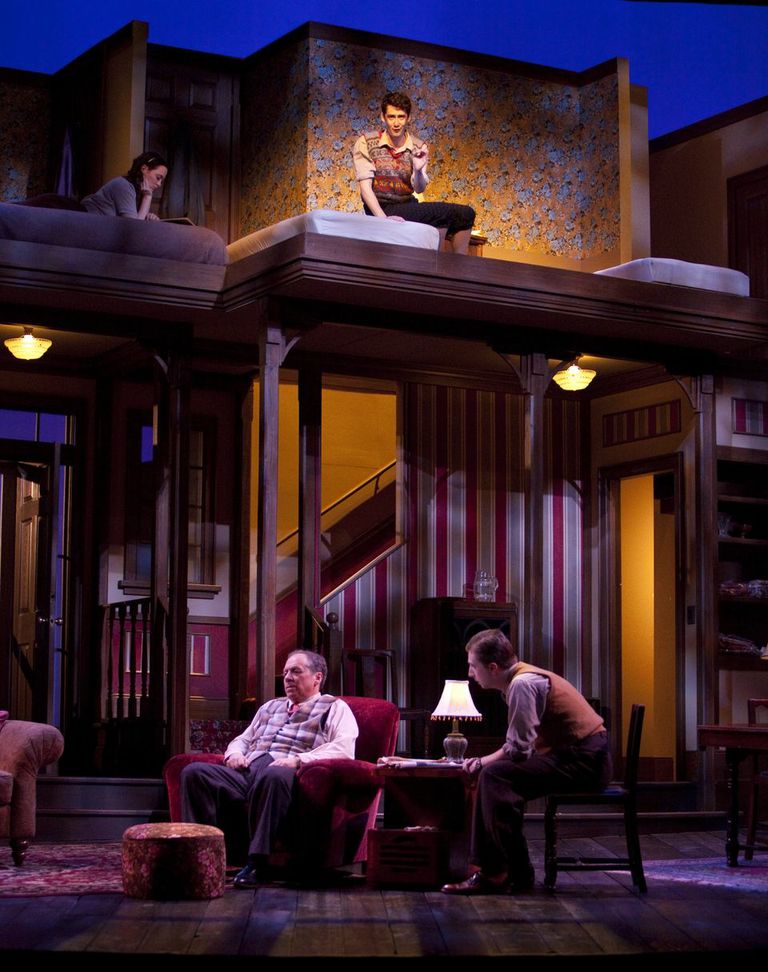 Below: Brian Linds as Jack, Sebastien Archibald as Stanley.
Above: Kate Dion-Richard as Nora, Amitai Marmorstein as Eugene. Photo: Tim Matheson
Carole Klemm's set features a cozy, almost-full-sized apartment with bedrooms overhanging the main floor.  The cast was definitely up to the challenge of projecting from this second floor with not a sentence of dialogue lost or muffled. Lighting (Rebekah Johnson) and costume design (Patricia Reilly) embody the look and feel of the time.
Brighton Beach Memoirs rests on the shoulders of its narrator, Eugene, and Amitai Marmorstein captures all his mischievousness and spunk perfectly. Sebastian Archibald imbues Stanley with a definite gravitas.  Their bedroom scene, when Stanley reassures Eugene about his sexual dreams and desires, is very funny without being vulgar.
The ensemble, under director Janet Wright (who herself played Kate during the 1980s), is constantly reaching for dramatic excellence, absorbed in the important task of translating this family and era.  Dialect coach Iris MacGregor Bannerman deserves accolades for her work in providing the actors with credible (and not forced) accents that they maintained throughout, and a rhythm that accentuates Simon's snappy dialogue, filled with one-liners.
L to R: Elizabeth Duncan (Laurie), Jane Spidell (Kate), Kate Dion-Richard (Nora), Samantha Currie (Blanche)
Photo: Tim Matheson
Kate Dion-Richard as Nora was particularly snippy and biting as the cousin who dreams of being Broadway bound. Her constant need to claim space faced with a sickly younger sister and largely absent mother becomes apparent in one of the penultimate scenes with her mother.
Another fine surprise was the final argument between Kate and Blanche. Spidell and Currie create splendid portrayals of sisters stifled by tradition and class, desperately searching for ways to break free of old patterns, while held tight.
Elizabeth Duncan is a young talent to mark with her subtle characterization of Laurie.
Brian Linds has appeared in every Blue Bridge season since 2009, and is one of the company's resident designers (sound) as well. His Jack is a wonderful nuanced achievement – warm, kind, caring, an anchor and touchstone – the type of father we all wish we'd had, yet imperfect.
Brighton Beach Memoirs is a sprawling tale of family, bound through ties of love and duty, during a time of deep trouble. Simon never sugar coats the realities of the difficulties they face. Ultimately however, the story is one of hope.
Although disappointment – with self, situation and the other – lurks, ever-present, when faced with bigger threats such as sickness, job loss or impending war, this family knows how to marshall resources.
"Other things may change us, but we start and end with family." Anthony Brand
Brighton Beach Memoirs by Neil Simon, directed by Janet Wright
Blue Bridge Repertory Theatre
July 2 – 14, 2013
Tickets: McPherson Playhouse, online, by phone (250.386.6121) or in person.
Previews $24.50 Matinees $45.25 Evenings $54.75
Starring:
Brian Linds – Jack Jerome
Sebastien Archibald – Stanley
Samantha Currie – Blanche
Kate Dion-Richard – Nora
Elizabeth Duncan- Laurie
Amitai Marmorstein – Eugene
Jane Spidell – Kate
Director – Janet Wright
Set Designer -Carole Klemm
Costume Designer – Patricia Reilly
Lighting Designer – Rebekah Johnson
Sound Designer – Brian Linds
Stage Manager – Caitlinn O'Leary
Assistant Stage Manager – Jess Amy Shead
Dialect Coach  – Iris MacGregor Bannerman
 Disclaimer: I was offered complimentary tickets to attend Brighton Beach Memoirs for the purpose of writing a review. As always, I retain full editorial control over all content published on this blog.