Broad Theatrics announces their 2014-2015 season. Victoria BC.
Since moving to Victoria in 2010, Kirsten Van Ritzen, artistic producer of Broad Theatrics, has been one of the busiest people in the local entertainment and arts communities, producing four seasons of the improvised serial Sin City, the Funny Women Festival, She Kills Me (for APTN) and two Fringe shows, while teaching comedy, improv and acting classes, writing a book, and acting with other companies (That Face–Langham Theatre, Smalltown–Theatre SKAM).
Now, Broad Theatrics announces their first complete season.The upcoming 2014-2015 season presents an exciting mix of scripted improvised theatre, stand-up comedy and variety shows, starting with Geez Louise!, a comedy variety show on Sunday September 28.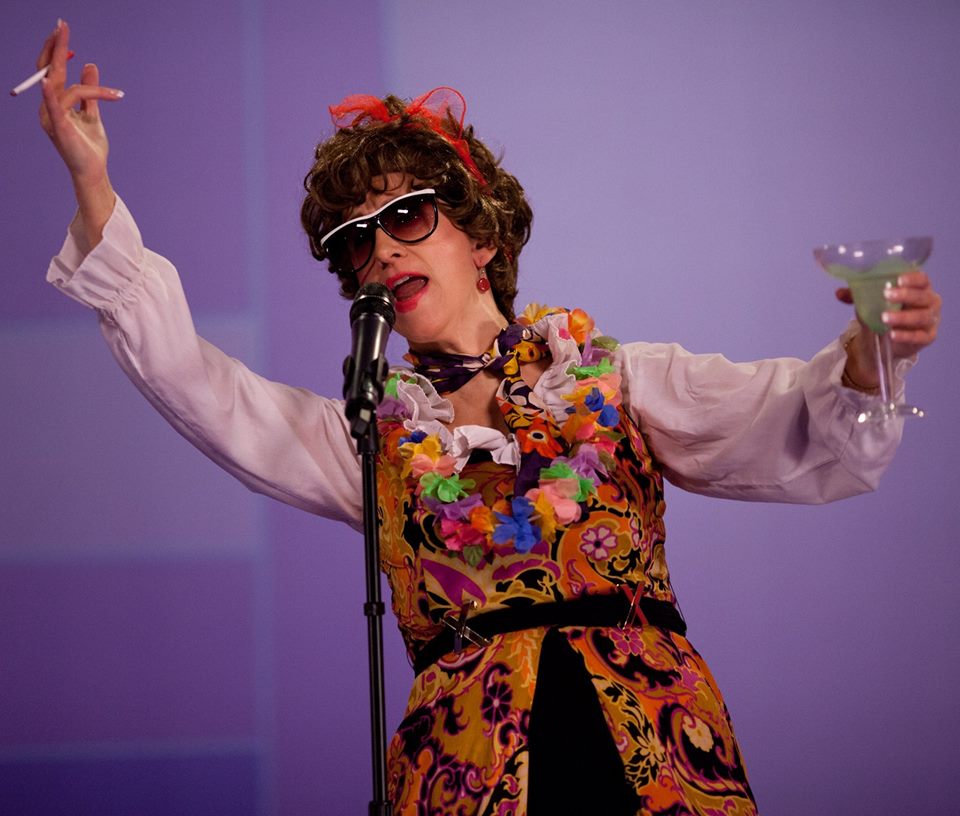 Photo: David Bukach Photography
variety: GEEZ LOUISE!  
8pm Sundays Sept. 28, Oct. 26, Nov. 30, March 29, May 31 Victoria Event Centre 1415 Broad Street
Party gal Louise (Kirsten Van Ritzen) creates comedy mayhem as she hosts her own character variety show, featuring a whack of kooky acts!  In Victoria, 'Louise' has thrilled audiences at FUNNY WOMEN FESTIVAL, PHILLIPS COMEDY NIGHT, and more; she also hosted the hit weekly comedy show LUCILLE'S BALL in Toronto. Co-presented by Victoria Event Centre. drama: BOYLE STREET BLUES
8pm Sat. Nov. 22  Intrepid Studio 1609 Blanshard

Written by Award-winning playwright and author Ian Ferguson, this hard-hitting drama revolves around the brutal lives of a dozen inner city thieves, hustlers, addicts, cops and social workers.  Nominated for Edmonton's Sterling Awards 'Best New Play' and 'Best New Production'.  A  staged reading. Warning: adult language/content.

stand-up: 4th Annual HO HO HO SHOW!  
8pm Sat. Dec. 6  Stone's Throw Restaurant  642 Johnson St.

A festive comedy show hosted by comedienne Kirsten Van Ritzen features ordinary folks making their stand-up debuts, with special guest comedians. The past 3 years this event was standing room only. Adult language 19+

improv: SIN CITY THE IMPROVISED SERIAL Season 5       
8pm Tuesdays Jan 13 –  March 31 Victoria Event Centre  1415 Broad St.

This unique and popular show seamlessly blends theatre and improv. Completely unscripted, the continuing story advances every week, as directed live by Ian Ferguson. Twice nominated for 'M' Awards and featuring Victoria's finest improvisers, Sin City returns for a 5th hilarious season with a brand new setting and cast of characters…and a new story begins. www.sincityimprov.com

comedy: Victoria's 2nd Annual FUNNY WOMEN FESTIVAL     
April 2015 Dates/venues to be announced

Celebrating female stand-up, character and variety performers, the 2014 debut festival was a sold out smash.  The 2015 festival promises laughter and surprises. www.funnywomenfestival.com

theatre: THE EXQUISITE HOUR   
June 5-7 Berwick Royal Oak 4680 Elk Lake Drive  June 12-14 Intrepid Studio 1609 Blanshard

On a spring evening in 1962, the alluring Mrs. Darabont enters the backyard of confirmed bachelor Mr. Teale, and tries to sell him a set of encyclopaedias.  A gentle and enchanting romantic comedy by Award-winning Alberta playwright Stewart Lemoine.

HISTORY

Broad Theatrics was created in early 2011 by Artistic Producer actor/comedienne Kirsten Van Ritzen. Broad Theatrics has produced four wildly successful, completely different seasons of Sin City the Live Improvised Serial, two Fringe plays, numerous stand-up comedy shows, and Victoria's 1st ever Funny Women Festival.  Broad Theatrics also offers public comedy workshops, and private comedy shows for corporate events.

Company info, show details, photos and more at: www.broadtheatrics.com

As an independent artist, Kirsten will also be performing in a number of other theatre and comedy shows; workshopping a full-length play she has written; and creating television with Less Bland Productions.  www.kirstenvanritzen.com