The new Oak Bay Beach Hotel celebrates its first anniversary (December 1st) in style with many Christmas-themed events throughout the month.
Whether you are of the Christian faith or not, Christmas for most people is tied up in remembrances and nostalgia, dreams of childhood and past celebrations.  Since everyone has their own interpretation of the "perfect" holiday, it is extremely challenging to design a program that will appeal to the majority.
One of the signature aspects of the new Oak Bay Beach Hotel has been to re-create and re-imagine a physical location that is tied to the collective memories of generations of Victorians – drinks in the Snug, dinner theatre, Christmas shows, weddings, and the huge fireplace in the lobby.
If our personal experience is any indication, owners Kevin and Shawna Walker have proven above all that it's the people who make each moment special.
In planning the hotel, and incorporating a new, beautiful and well-appointed dinner theatre, the Walkers intended to bring back habitués and gain new followers.  They've partnered with some of the finest singers, dancers and musicians to achieve this.

"It's Christmas: A Sparkling, Music, Holiday Revue", created and produced by Matthew Howe, currently playing in the hotel's David Foster Foundation Theatre, succeeds magnificently on all levels.
The cast and backup musicians have, between them, decades of musical theatre experience, and have often worked together. This level of showmanship is evident in the completely effortless execution of Christmas hits – traditional, pop culture (the Grinch, A Charlie Brown Christmas) and religious.  Their voices blend wonderfully and are particularly memorable in the acapella numbers; stories shared between songs have personal connections for the performers. Together this creates a deep, rich and authentic experience for the audience – all the elements of holiday celebrations past and present tie together perfectly.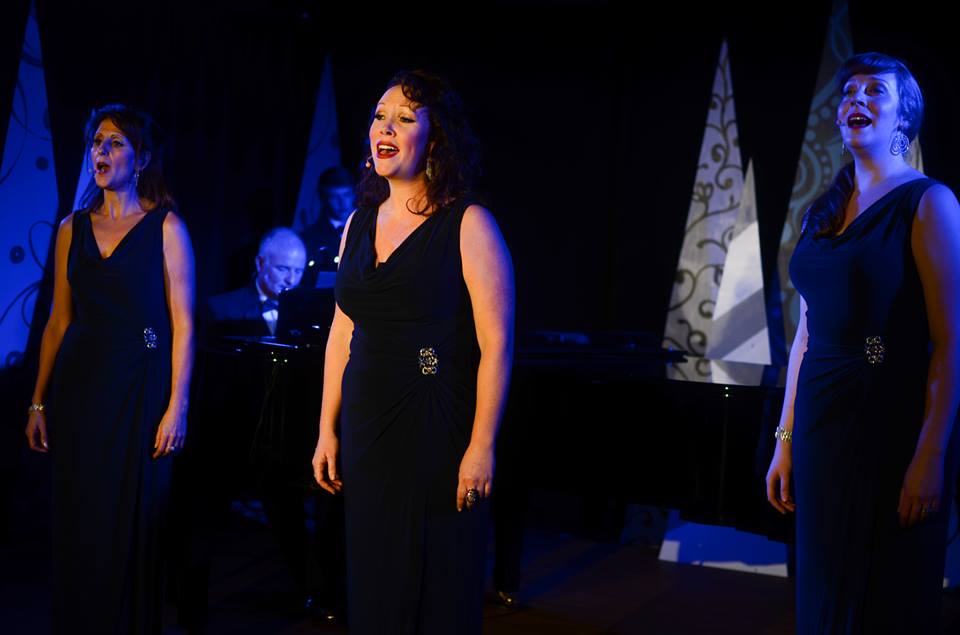 Coupled with warm and personable service from the banquet team, and a delicious three-course plated dinner, followed by hot cocoa and cookies, an evening at the Oak Bay Beach Hotel for It's Christmas marks an exceptional way to begin the holiday season.
It's Christmas: A Sparkling, Musical, Holiday Revue
Oak Bay Beach Hotel, David Foster Foundation Theatre
November 8 – December 24th, 2013  every Friday and Saturday
(with special shows Monday December 23rd and Tuesday December 24th)
Reservations, by phone at 250.598.4556.
Tickets $89 + tax
Cast
Matthew Howe Director/Producer
Angela Ireland
Sarah Carlé
Chris Newstead
Francesca Bitonti
Jeffrey Stephen
Heather Burns keyboard
Matthew Smith bass
Nate Demetrius percussion
Dinner Menu:
~ Starter ~
Honey Roasted Butternut Squash Soup – with pickled apple cider croutons & maple nutmeg froth
~ Main Course ~
Sous Vide Turkey Breast and Leg – with holiday herb bread pudding, whipped potatoes, seasonal vegetables and natural turkey sauce
~ Dessert ~
Milk Chocolate Bar – with eggnog brule, candy cane dust and caramelized cranberries
We attended It's Christmas as guests of the Oak Bay Beach Hotel. I was not asked, nor was I expected, to write a review.  As always, I retain complete editorial control of all content published on my blog.