Do you love the arts? Would you like to support them and at the same time put a dent in your holiday shopping?  Or, perhaps you'd like to treat those you love before the  holidays, or give them a gift they can enjoy early? If  so,  these upcoming arts fundraisers  will be on interest to you.
PLEASE NOTE: November 23, 2012   The Belfry Theatre has just announced a special online auction which will close December 16th at 4pm- scroll down for more details  
Joy to the World Friday, November 23, 2012 6:30 pm in support of youth programs at the Victoria Conservatory of Music and Pacific Opera Victoria

Celebrate music, young artists, and the joy of the holidays at this festive fundraising event!
Pacific Opera Victoria and the Victoria Conservatory of Music present a spectacular holiday concert and fundraiser to celebrate the joy and hope that young people bring to the world.

Maestro Timothy Vernon and Dr. Gary Karr will host the concert, which will feature POV soloists, VCM faculty, and talented young musicians. Proceeds will support opera and music programs for young people.

Gala Tickets: $95   Order online or by phone 250 382 1641
Includes concert, pre-and post-concert reception with wine, canapés, desserts, and a holiday-themed silent auction. Gala reception and silent auction at6:30 pm at Wood Hall and in the courtyard of the Victoria Conservatory of Music.

Youth Tickets (8 pm Concert only): free for ages 30 and under

Available at the Victoria Conservatory of Music, 900 Johnson St. call 250.386.5311
Only 300 free Youth Concert Tickets available.

Concert at 8 pm at Alix Goolden Performance Hall,907 Pandora Avenue.

This very special event heralds the artistic collaboration between POV and VCM, which will culminate in February's Britten Festival presentation of Noye's Fludde.
Inspired 2012 "Music For Youth  fundraiser" December 1st  7:30pm
for the Victoria Jazz  Society's Student Outreach Programs and jazz programs in Greater Victoria high schools.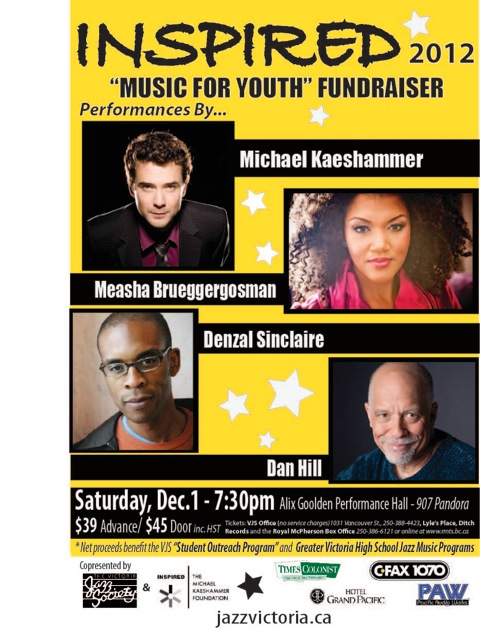 Alix Goolden Hall (905 Pandora Avenue) 7:30pm
Tickets $39 in advance/$45 at the door.
Featuring
MEASHA BRUEGGERGOSMAN, DAN HILL, DENZAL SINCLAIRE, and MICHAEL KAESHAMMER
The Victoria Jazz Society is proud to announce its annual fundraiser for 2012, which will be presented in conjunction with "Inspired" (The Michael Kaeshammer Foundation). The high schools to benefit from this year's fundraiser will be selected by "Inspired" The Michael Kaeshammer Foundation.

This very special and fun-filled evening of music and song will feature four outstanding Canadian musicians who also happen to be friends of Michael Kaeshammer. Canadian soprano Measha Brueggergosman, "a superb voice capable of just about anything" who sang the Olympic Hymn for the opening ceremonies of the Vancouver 2012 Winter Olympic Games, Toronto singer/songwriter/Juno winner Dan Hill best known for his 1977 single Sometimes When We Touch from his Gold album Longer Fuse, one of Canada's most popular male jazz vocalists Denzal Sinclaire, he's been compared to Johnny Hartman and Nat King Cole who he portrayed early in his career in the stage musical Unforgettable, and Victoria's own triple threat combo of piano virtuosity, vocal ability and charisma Michael Kaeshammer he's one of the most entertaining and rhythmically infectious jazz pianists and vocalists on this planet.

The "Student Outreach Program" of the Victoria Jazz Society includes the facilitation of free workshop/clinics for area music students hosted by touring musicians during the TD Victoria International JazzFest and the VJS's Fall/Winter/Spring concert series, and the presentation of the "Jazz in the Schools" program at local middle and high schools.

The mission of "Inspired" The Michael Kaeshammer Foundation is to make music education available for all children in the Victoria community. The foundation raises money to help Victoria public schools purchase musical instruments and give children in need the opportunity to follow their dreams in music and the arts. "I don't think I would have the same career today would it not have been for the support the Victoria music community gave me when I started out. It's time to show my appreciation. I feel INSPIRED!"
December 2nd The Fringe That Stole Christmas IV for Intrepid Theatre.  6-8pm at the Superior Café.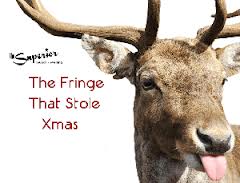 Now in its fourth year, this is the event that inspired my post.  I remember attending in 2009 and purchasing almost all my Christmas gifts.  It was a very easy way to support a local arts organization that I love, and buy unique presents that the recipients enjoyed greatly.
Come join us for some stylish festive season fun at the Superior along with your favourite Fringe-loving friends.  This annual fundraiser in aid of the Victoria Fringe features delicious local food and drinks, and is a great chance to stock up on creative Xmas presents at auction. The Fringe is here because of the wonderful family of generous supporters, donors and enthusiastic audience members who make it all possible through events like this. We hope to see you there!

ON THE FIRST DAY OF XMAS, THE FRINGE FEST BROUGHT TO ME…

Delectable finger food (courtesy of the Superior)

Local specialty beverage tastings (including Sea Cider & Phillips Brewing)

Live Music

A silent auction of unique Christmas gifts (including Film Fest Passes, tickets to Pacific Opera Victoria's Albert Herring, your own private Paper St Theatre show, a private bar tending workshop with mixologist extraordinaire Simon Ogden and more!).

GET YOUR TICKETS NOW!

All tickets $40, include finger food and aperitifs upon arrival. Available from ticketrocket.org or by calling 250 383 2663. Get your tickets early, this popular fundraiser  sold out last year.
December  2nd Art on Stage, for  the Belfry Theatre.
7 pm at Stage Wine Bar,1307 Gladstone Avenue
You may remember that the Belfry Theatre's popular wine auction fundraiser Crush was cancelled at the last moment due to a ruling from the BC Liquor Control and Licensing Branch.  Now, Stage Wine Bar and the Victoria Emerging Art Gallery are stepping in with Art on Stage.
 This formal, red carpet evening will feature canapés created by James Major – Chef at Stage – served throughout the evening, bubbly upon arrival, and new art from Logan Ford and Ben Westergreen and new art installation by Samantha Dickie from  the Victoria Emerging Art Gallery (VEAG).

The entire evening will be captured by SNAP Magazine.

Stage and VEAG have organized some exciting door prizes including:

> A $600 dinner for six,

> A $300 spa package at Victoria Community Acupuncture and Spa

> An artGO workshop at VEAG

> Season Tickets to the Belfry

Limited tickets, $150 each, are available at Stage – 250-388-4222 or by email
November 23 rd – December 16th at 4pm  Online Auction for the Belfry Theatre
The Belfry Theatre announced today (November 23rd) that it is holding a very special online auction now through December 16. The auction features three packages, each offering a selection of rare and select items. Bidding started last night at http://www.belfry.bc.ca/online-holiday-auction/.

With the help of local businesses – Charelli's Cheese Shop and Delicatessen, The Whole Beast Artisan Salumeria, Prestige Picture Framing, and the Victoria Royals Hockey Club – the Belfry has teamed their generous donations with some very special wine.

The packages – Taste and Toast the Belfry (valued at $450), Fine Art & Fine Wine (valued at $800) and The Royal Gretzky (valued at $600) will start bidding at $200, $300 and $250 respectively.

Bidding will close on December 16 at 4 pm (Pacific Standard Time) and the packages will be available for pick up or shipped the following day.

This holiday auction is being held to help the Belfry recover some of the funds it lost when the theatre had to cancel its fundraising wine auction, Crush in October.