Derwin Blanshard Season 2 Finale Sunday June 22, 2014.
Congratulations to Wes Borg aka Derwin Blanshard on his recent nomination for the Canadian Comedy Awards in the category "Best Variety Show".  As those of us who follow his local schedule know, Wes is one of the hardest working performers in the city with recurring roles in Sin City: The Live Improvised Serial and Atomic Vaudeville cabarets. This past season he appeared in Island Repertory Company's The Odd Couple, headlined at the newest addition to the stand-up comedy scene Stone's Throw Comedy, hosted (on a regular basis) the Phillips Comedy Nights at the Victoria Event Centre, and started "Wes Borg's Dysfunctional Family Circus Comedy Show" at Pagliacci's.
Join Wes as Derwin Blanshard, host of Derwin Blanshard's Extremely Classy Sunday Evening Programme (also known as the Derwin Blanshard Show), on Sunday June 22nd, 8 pm at the Victoria Event Centre for the Season 2 Finale. It promises to be a humdinger. Part of the fun is coming over-dressed as part of the live studio audience.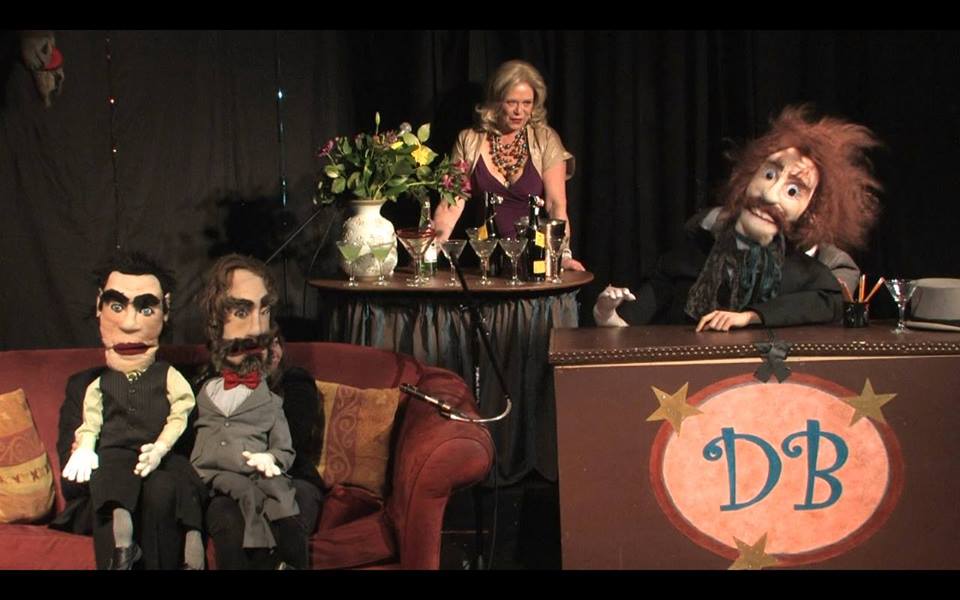 Join Derwin, Corky and the overwrought cast and crew as they climb to the top of Season 2's cliff, while Muppeteer Tim Gosley does some necromancy, and NDP MLA and agriculture critic Nicholas Simons tries to save the world or at least shake a tree or two.  Meanwhile, the show that happens off the air promises to be an in-fighting festival of ego trips that will make fake television history.

Featured interview guests include Fraggle Rock muppeteer  and student of Jim Henson, Tim Gosley, as well as NDP MLA Nicholas Simons, musician Dylan Davis, author Kathy Trithardt, comedians Myles Anderson & Carilynn Nicholson.

Derwin Blanshard's Extremely Classy Sunday Evening Programme is a reimagined post-modern take on the classic 1950's variety/talk TV show.
Derwin Blanshard, (played by Wes Borg), is an eccentric British old-money millionaire blowhard, and the show walks a fine line between intellectual elegance and broad comedy, while being "filmed" with imaginary cameras for a fictional global television network.

Delusional Productions is a Victoria based production company dedicated to creating subversive, hilarious and thought-provoking experiences that embrace and satirize culture, politics, celebrity, community, globalization, socio-economic disparity and love.
Derwin Blanshard's Extremely Classy Sunday Evening Programme
Sunday, June 22nd, 2014
Victoria Event Centre – 1415 Broad Street.
Tickets: $20 ($15 for the overdressed)
Doors at 7:30, show at 8 pm