After a two year absence, Island Repertory Company returns to the Metro Studio Theatre with Neil Simon's classic Tony-award winning play, The Odd Couple, starring Howie Siegel as Oscar and Eric Holmgren as Felix.
With a mandate and reputation for hard-hitting, well produced and entertaining theatre (The Boys in the Band (2010), Glengarry Glen Ross (2011)), artistic director Dick Stille has assembled a cast of some of Victoria's finest comic actors (Ryan Bangra,Wes Borg, Karen Brelsford, Morgan Cranny, Jaymes D Goodman, Eric Holmgren, Kirsten Van Ritzen).
Everyone knows famed Pagliacci's restaurateur Howie Siegel, and older audiences may well remember his controversial talk shows on CHEK and CJVI; he claims he's only recently become an actor, but if anything, it's as if he's been rehearsing for the role of Oscar Madison all his life. A fervent Dodgers fan, Siegel's own personal collection of baseball paraphernalia decorates the sloppy living room, scene of the opening Friday night poker game.
This is the quintessential "guys night out" – filled with Simon's superb jabs and digs, references to wives and children, and male camaraderie.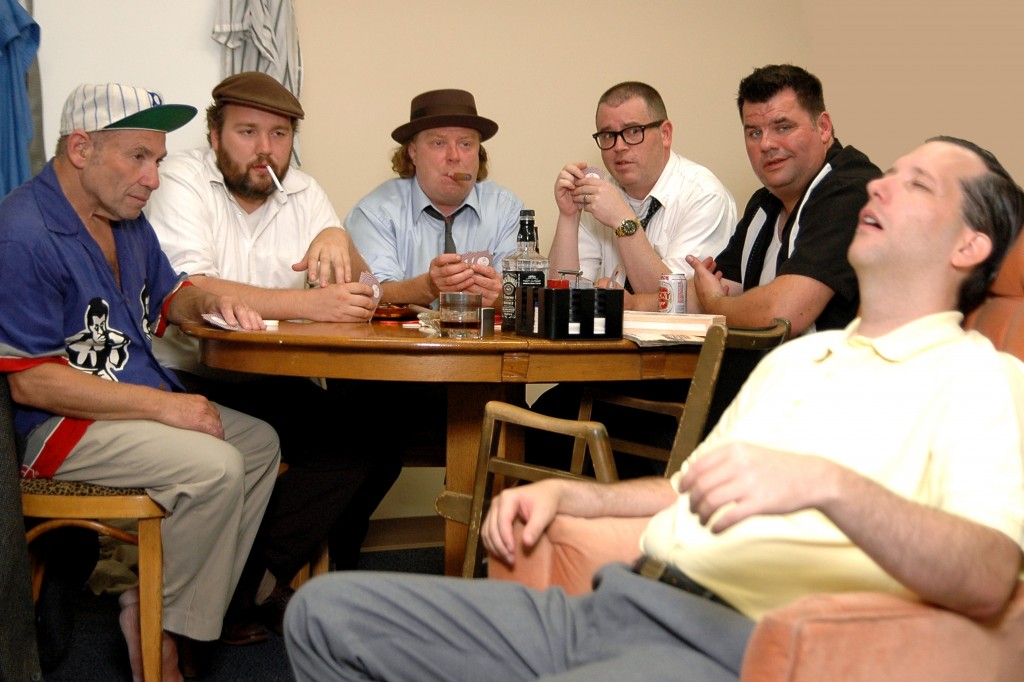 Howie Siegel (Oscar), Ryan Bangma (Roy), Wes Borg (Speed), Jaymes D Goodman (Vinnie), Morgan Cranny (Roy), Eric Holmgren (Felix)
Photo: Barbara Pedrick
It was wonderful surprise to see stand-up comic Ryan Bangra, in his acting début. He brings a natural delivery, honed at the mic in local clubs, to his role as Roy, Oscar's accountant.  Jaymes Goodman (Vinnie) is full of tics and annoying habits.  Borg plays Speed as abrasive and quick to take offence, while Cranny (Murray) has all the bonhomie of the good cop.
Combined with a very earthy performance by Siegel, the opening act provides tension and drama before the arrival of the odd-man-out, suicidal Felix Unger (Eric Holmgren in a neuroses-filled portrayal).
40 years later the pairing of slob and fuss-budget, made popular by the film and subsequent TV show, still delights with the incongruencies their very different natures provide. As audience we laugh because we relate – opposites attract; all of us have people in our lives who share either Oscar's or Felix's traits.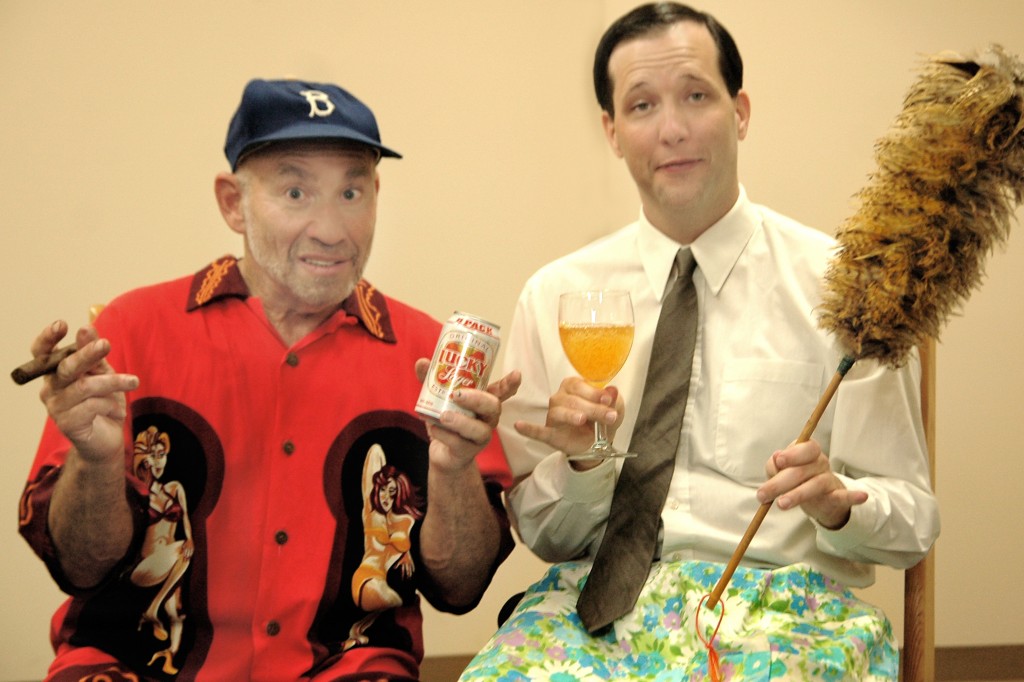 Howie Siegel (Oscar) and Eric Holmgren (Felix). Photo: Barbara Pedrick
This is the second time Siegel and Holmgren have worked together (Glengarry Glen Ross in 2011 being the first); their chemistry couldn't be better. Kirsten Van Ritzen and Karen Brelsford as the Pigeon sisters (Gwendolyn and Cecily) are the ditzy foils for a double-dating dinner in act two that turns into hilarious catastrophe.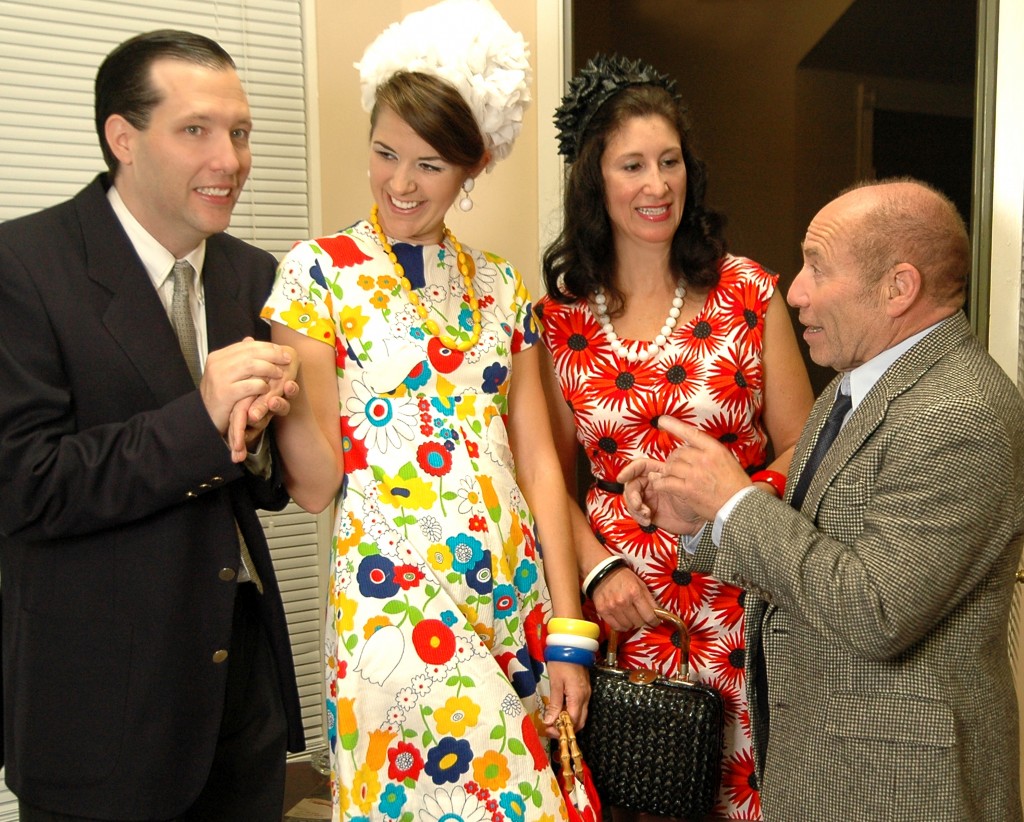 Eric Holmgren (Felix), Karen Brelsford (Cecily), Kirsten Van Ritzen (Gwendolyn), Howie Siegel (Oscar). Photo: Barbara Pedrick
Julius Maslovat brings Oscar's large 1960s New York apartment to life in a simple and effective set.  Siegel, Holmgren and Van Ritzen have evidently scoured Victoria for the realistic and time-stamped décor.  Vintage costumes come courtesy of the Victoria Theatre Guild costume loft – a veritable treasure trove for smaller theatre companies.
Kevin Stinson provides the soundscapes for a busy city, and the backdrop to male domestic life.
With a well-honed ensemble cast, and accomplished leading men, Island Repertory Company's current production of The Odd Couple stands the test of time.
The Odd Couple, directed by Richard Stille at the Metro Studio Theatre
September 19 to October 6, 2013 (Wednesday – Saturday @ 8pm & Sunday @ 2pm
Tickets $20 through TicketRocket
Disclaimer:  I was provided with a complimentary ticket to the opening night of The Odd Couple. I was not required or paid to provide a review. As always, I retain complete editorial control over all the content published on this blog.