Epiphany Productions presents a family-friendly version of the hit 1970s musical Godspell May 30 – June 2, 2013 at St Matthias Church.
This brand-new theatre company was created by Noelle Antonsen and Joseph Goble, two young performers in their very early 20s who graduated from Victoria's Canadian College of Performing Arts third year diploma program in late 2012, with the goal to "celebrate faith through theatre, create jobs for emerging artists, and promote Canadian theatre".
Since graduating they've been very busy on the local theatre scene, performing with Atomic Vaudeville, Kaleidoscope Theatre (Singing in the Rain) and at the Victoria Fringe (Love is for Superbeasts).
I won't have an opportunity to attend on opening night and review the show, so instead stopped by a rehearsal to chat with them and experience the process first-hand.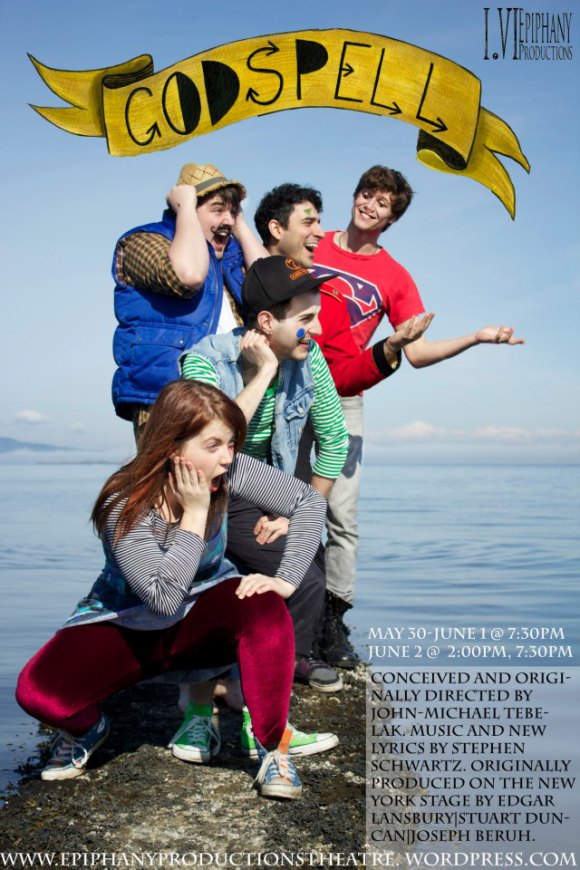 St Matthias Church is a beautiful, sparse space with soaring ceiling reminiscent of an over-turned sailing boat.  I listened intently as cast members sang wonderful harmonies, and accompanied themselves with a variety of instruments.  In all there are piano, organ, trumpet, sax, acoustic and electrical guitar, and even a drummer to back them.
The songs explore a variety of musical genres. Cast member Thomas Redant, who will soon be attending the famed Berklee School of Music, has composed an original acappella version of On the Willows.  Turn Back O Man, written as more of a Mae-West style number, has been adapted to be a tango piece.
Many of the cast are graduates of Company C, the year three program at CCPA including: Nabil Ayoub (Judas/John the Baptist), Thomas Redant, Cate Richardson, Francis Demontigny, as well as Antonsen and Goble. They are joined by first year CCPA student Brady Moore. Jesus is played by Griffin Lea, who Goble and Antonsen met while performing in Kaleidoscope's Singing in the Rain. Impressed with his work ethic, they invited him to audition.  Maelina de Grasse is currently studying private voice with Yannick Giroux, and has appeared locally in Hair with Lawyers on Stage (a Kaleidoscope fundraiser).
The young co-directors stress that this is a family-friendly show with wide appeal, wonderful language, and a strong, relevant and moral story, presented in a non traditional theatre space. I'd add – with a very talented and industrious cast.
Godspell! co-directed by Noelle Antonsen and Joseph Goble, Epiphany Productions
May 30, 31 and June 1, 2 at 7:30pm and June 2 at 2:00pm
St. Matthias Church (600 Richmond Ave.)
Tickets: $10 (child), $15 (student/senior), $20 (adult) plus service charge
http://www.brownpapertickets.com/event/362404
10 % of all ticket sales are being donated to local charity, the Rainbow Kitchen
Conceived and originally directed by John-Michael Tebelak, Music and New Lyrics by Stephen Schwartz. Originally produced on the New York Stage by Edgar Lansbury/Stuart Duncan/Joseph Beruh
The Gospel According to St. Matthew is explored with skits and songs, told by a cast playing instruments while they sing and dance through the audience. Featuring songs by Stephen Schwartz, conceived by John-Michael Tebelak.