Spring is a busy time traditionally in Victoria BC theatre, and 2013 is no exception. The period March to May is book-ended by festivals – the Belfry Theatre's Spark Festival in March, and Intrepid Theatre's UNO Fest at the end of May – and includes theatre for all tastes, with three (Let's Make an Opera/the Little Sweep, the 39 Steps and You're a Good Man Charlie Brown) that would be appropriate for young audiences (without being children's theatre).
Musicals are well represented – Saltwater Inc presents Side by Side by Sondheim, the University of Victoria's Phoenix Theatre – You're A Good Man Charlie Brown, and the Belfry Theatre, a world premiere of Let Me Call You Sweetheart; Kaleidoscope Theatre performs Singin' in the Rain, as a fundraiser, the brand-new Epiphany Producations stages Godspell and the Canadian College of Performing Arts ends their 15th anniversary season with How to Succeed in Business Without Really Trying.
Puente Theatre's World Play is concentrated over four nights, Atomic Vaudeville showcases their spring cabaret, and finishes up a Western Canada tour of Ride the Cyclone with a show in Nanaimo (for anyone who has missed it up until now).  Blue Bridge Repertory Theatre begins their season early with two Canadian theatre icons, Bruce Greenwood and Janet Wright, in Love Letters, and the YOU show at Intrepid Theatre ends theirs with three new works: an improvised Dungeons and Dragons, a collaboration between a dancer/choreographer and an actor/playwright, and a story of mamahood.
Regular weekly shows of Sin City: Bedlam by Sea, a live improvised serial, run until May 28th, the Derwin Blanshard Extremely Classy Sunday Evening Programme continues every fourth Sunday of the month, and Diversion – a cabaret,  every 2nd Wednesday; all call the Victoria Event Centre home.
Click by month to jump down: March April May
March
MARCH
Sondheim, Side by Side, Saltwater Inc, Metro Studio
February 28th – March 2nd
Salterwater Inc brings the music of one of musical theatre's most-awarded composers and lyricists, Stephen Sondheim, to the stage with Side by Side by Sondheim. This revue features songs from well-known classics like Something Funny Happened on the Way to the Forum, Follies, Gypsy,Company, and West Side Story.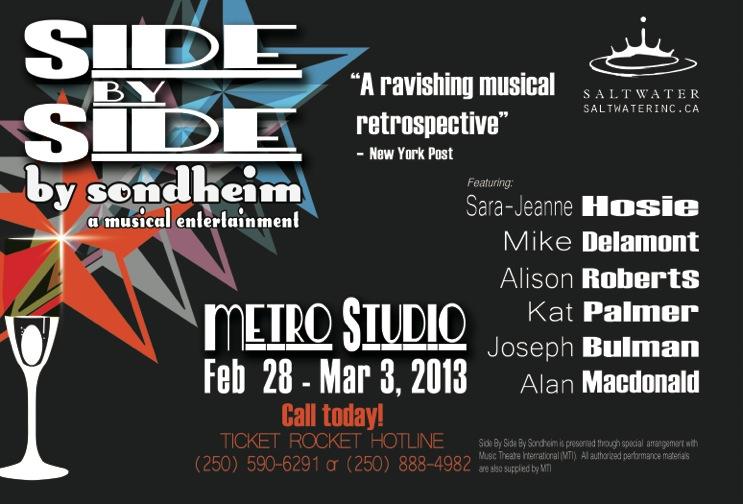 Let's Make an Opera/Little Sweep,  Belfry Theatre
March 2- 10th
Part of the Britten Festival, a celebration of the 100th anniversary of composer Benjamin Britten's birth, in collaboration with Pacific Opera Victoria.

Photo: David Bukach
A Play and an Opera — What a wonderful adventure!

The play "Let's Make an Opera" portrays a happy adventure in collaboration, as kids and grownups create an opera they will perform together. They learn to write words that sing. They hold auditions, wrangle sets and costumes, and survive the chaos and panic of the dress rehearsal.

"The Little Sweep" is the actual opera, the tale of a young sweep who gets stuck up a chimney and is rescued by plucky children who plot to keep him safe from his brutal master. Don't miss this story of courage and kindness, leavened with laughter and the thrill of creating a real live opera. The cast includes professional opera singers, children — and the audience, who will join us as the chorus!
The 39 Steps,  Langham Court Theatre
March 7 – 23rd
This hilarious re-telling of the 39 Steps movie by Alfred Hitchcock features some of Victoria's funniest improvisers (Karen Brelsford and Alan Penty from Sin City the Live Improvised Serial, with Toshik Bukowiecki and Nick Sepi The Foreigner), and is guaranteed to be a sell-out from opening night. Don't be disappointed like I was last year with Drowsy Chaperone. Get tickets now.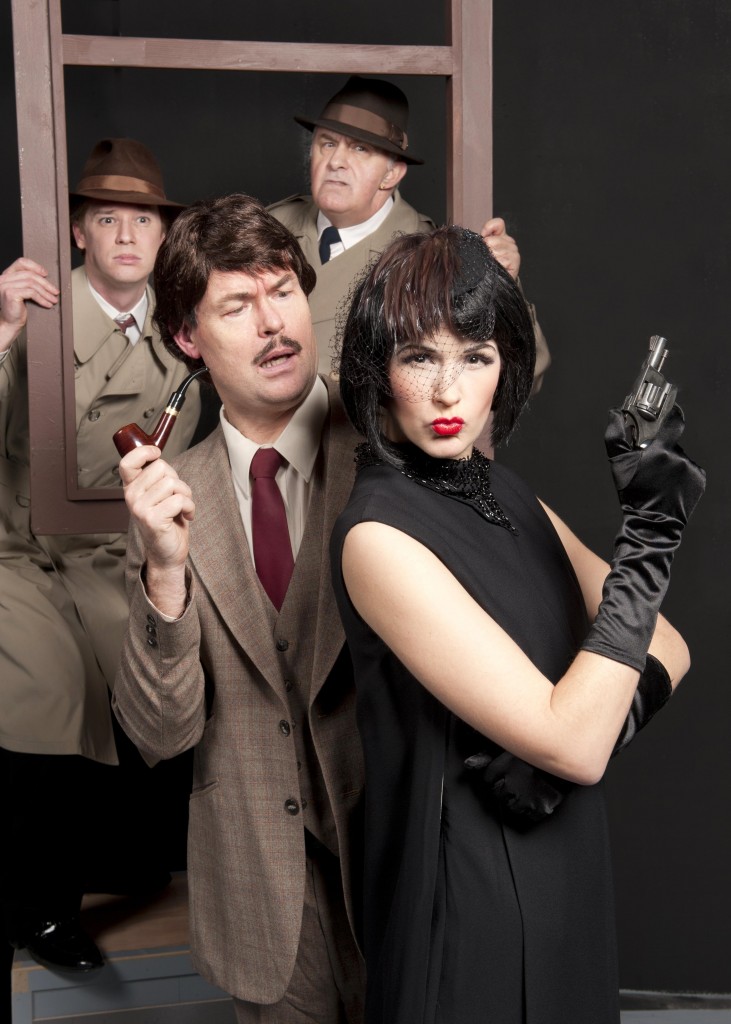 Back: Nick Sepi, Toshik Bukowiecki, Front: Alan Penty, Karen Brelsford  Photo: David Lowes
Set in jolly old England and Scotland, this action-packed Olivier Award-winning irreverent spy-thriller pits a couple of fearless sleuths against a dizzying array of bad guys. Watch in amazement as a handful of actors effortlessly portray over 200 characters in this hit farce! Suitable for all audiences.
World Play, Puente Theatre
Feb 7-10 at the Belfry Theatre, Studio A. Admission by donation.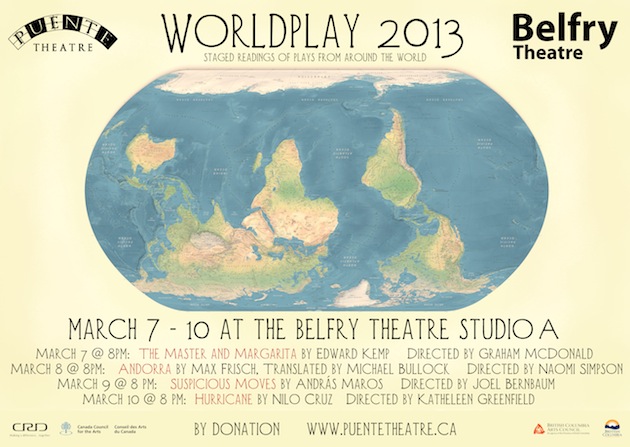 Four nights of theatre with a cosmopolitan world-view.  Originally World Play was staged on Sunday  nights in February.  This year, artistic director Mercedes Bátiz-Benét decided to present World Play just before the Spark Festival, over 4 nights.  Join some of Victoria's finest emerging directors and theatre artists as they explore stories and cultures from around the world.  Admission by donation.
March 7 @ 8pm:  The Master and Margarita by Mikhail Bulgakov, Adapted by Edward Kemp. Directed by Graham McDonald
Mikhail Bulgakov's rich, magical realist novel with its intertwining storylines pits the power of evil against the power of compassion.  The Devil pays a visit to Stalinist Moscow in the guise of a professor of black magic and wreaks havoc in the city, exposing the hypocrisy, greed and corruption of its citizens. Themes of love, compassion and the quality of mercy are explored in three parallel stories.  Two are set in the fervently atheistic Moscow of the 1930s and the third, as told in the narrative of the eponymous Master's rejected novel, is set in Jerusalem at the time of Procurator Pontius Pilate during the last days of Jesus' life.
March 8 @ 8pm:   Andorra by Max Frisch, Translated by Michael Bullock. Directed by Naomi Simpson 
Written by the Swiss dramatist Max Frisch in 1961, The original text came from a prose sketch Frisch had written in his diary titled Der andorranische Jude (The Andorran Jew).  The story is about a young man, Andri, in a mythical country named Andorra.  Andri is mistaken for being Jewish; in his isolation, he comes to accept his otherness with a mixture of pride and obstinacy.
March 9 @ 8 pm:   Suspicious Moves by András Maros. Directed by Joel Bernbaum
Mother and son.  Two lonely people who are incapable of understanding each other.  Matt (the son) accuses his mother that there have been 'suspicious moves' around her apartment, again, just like when she was robbed. Well, it wasn't actually real robbery, since Carol (the mother) handed the robbers everything they asked for.  She gave all her valuables away—to complete strangers.  She was standing at the opened door, waving goodbye to the robbers who left with stuffed bags.  Afterwards she didn't remember one thing about it.

Can a—seemingly hopeless—estranged mother–son relationship be redeemed?  How and why did they turn away from each other?  Because Carol's version, stating that Matt didn't have a sense of humour, should not be enough of a reason.

Suspicious Moves was performed by the National Theatre of Pécs and a year later by the Hungarian Theatre of Budapest.  Both productions ran successfully and received great reviews.
March 10 @ 8 pm:  Hurricane by Nilo Cruz. Directed by Katheleen Greenfield
A play about three people adrift in their lives who have formed a kind of family that is torn apart by a major storm on an unnamed Caribbean island. The three characters act as though they are husband, wife and sort-of grown child, though the exact nature of their relationships isn't clear or important. They are a family, which gives each of them a sense of purpose, identity and comfort as they survive one difficult day after another.
The Emporer Has No Penis, Spring Cabaret, Atomic Vaudeville
March 7/8/9 at the Victoria Event Centre
Atomic Vaudeville – producing cutting-edge theatre since 2004.  In 2013 they move to a 4-show season, and season's tickets are available through Ticket Rocket.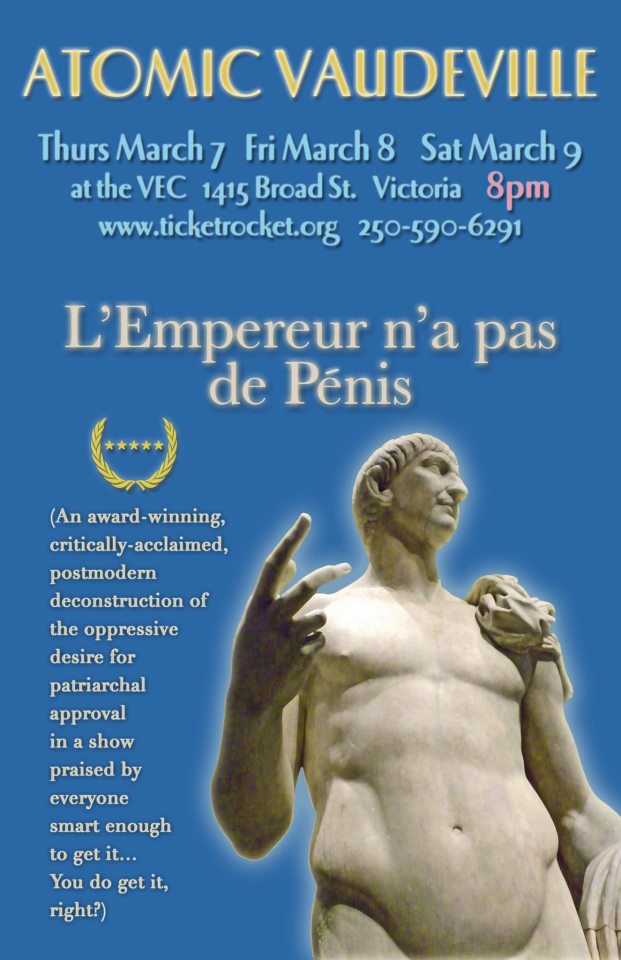 (An award-winning, critically-acclaimed, postmodern deconstruction of the oppressive desire for patriarchal approval in a show praised by everyone smart enough to get it… You do get it, right?)
Ghosts of the Plaza,
March 8/9 at the Oddfellows Hall
After a sold-out run this past fall, Ghosts of the Plaza returns to tell us oft-forgotten and un-told tales of the denizens of the Plaza Hotel.  Given the hotel's recent closure, and the new owners' application for a development permit, this is one last chance to honour a fixture of downtown Victoria's core.  From hey-day to sad decline, the stories are told with humour, compassion and talent.  Read my review here: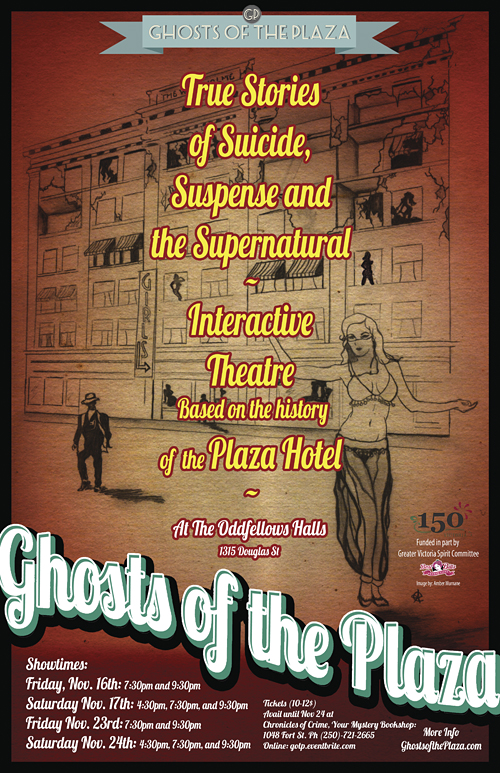 Part comic history, part haunted ghost tour, Ghosts of the Plaza tells its story through the eyes of the women who lived and worked there – and the ghosts who have inevitably collected there. Moving between scenes such as Prohibition Speakeasy, Arabian Nights, and Beatnik Coffee House, the production travels along the hotel's time line in a uniquely interactive series of vignettes. They may have been silent until now, but ultimately, the Ghosts of the Plaza will have their say.
The Belfry SPARK Festival, March 11 – 24th, two weeks of plays, readings, mini-plays, workshops and a party – much of it FREE! Check the complete schedule. Since SPARK runs concurrently with other local shows, I have listed all shows during this time by date, and indicated those that are a part of SPARK.
SPARK is the Belfry Theatre's annual festival of new plays and new ideas. Each March, in our intimate venue in Fernwood, we showcase some of Canada's finest performing artists and companies bringing acclaimed work to the city for the first time.

Along with these presentations from across the country, we commission local artists to create and perform short new pieces throughout our space. The festival also features a new play written and created in just one week by high school students enrolled in our education program, Belfry 101.

Throughout SPARK you'll find new play readings, works-in-progress, professional development workshops and one heck of a party. Join us.
A Brimful of Asha,Belfry Theatre, SPARK Festival
March 12-16th
Asha Jain and Ravi Jain. Photo by Cylla von Tiedemann. Photo courtesy of Tarragon Theatre
Real-life mother and son, Asha and Ravi Jain, each defend their side of this true (and very Canadian) story of generational and cultural clash. When Ravi takes a trip to India his parents decide it is the perfect time to introduce him to potential brides. Ravi is not sold on the idea of getting married-at least not yet-but Asha fears that time is running out. 
Oh My Irma, Belfry Theatre, SPARK Festival
March 12-17th

 Haley McGee. Photo by Jesse Griffiths
Haley McGee brings to the stage the memorable Mission Bird, a socially inept young woman with an insatiable appetite for connection.
In this tour-de-force comedy with razor teeth, Mission Bird finds herself defending an unnameable crime which YES, she committed, but it wasn't her fault. The Tarantino-esque story takes macabre turns as Mission Bird comes closer to revealing what she's done – who she's killed.
You're  A Good Man, Charlie Brown, UVic Phoenix TheatreMarch 12-27th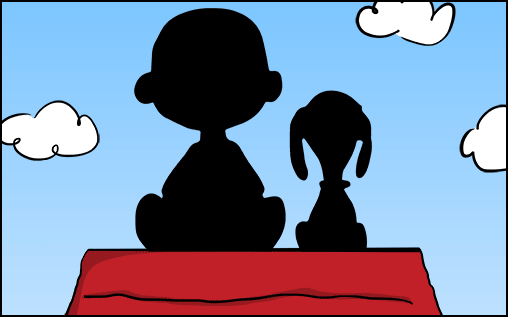 Good grief!  A runaway hit on Broadway – twice! – this lovable ode to Charles M. Schulz's Peanuts gang is once again enjoying a revival.  Follow the antics of good old Charlie Brown as he spends a day pondering the meaning of life. In between kite-flying escapades, baseball games and failed attempts to win the heart of the Little Red-Haired Girl, he finds solace and friendship with Linus, his sister Sally, nemesis Lucy, musical genius Schroeder – and, of course, man's best friend, Snoopy!  Fun for the whole family, set to a singable score that was nominated for the Grammy for Best Musical Show Album – twice! Appropriate for ages 6 and up.
Mike Delamont Presents the Open Mikers
March 15/16 at the Stone's Throw Restaurant. Advance tickets a must as some shows are already sold-out.

Award-winning and critically-acclaimed comedian Mike Delamont is proud to present: THE OPEN MIKERS – The Best New Comedians In The City

The Open Mikers features 8 new comedians, hand picked as the funniest in the city. Come and enjoy a night of comedy as these young comedians perform their best sets for you in an evening of guaranteed laughs.
An Improvised Dungeons and Dragons, YOU Show
March 16th at the Intrepid Theatre Club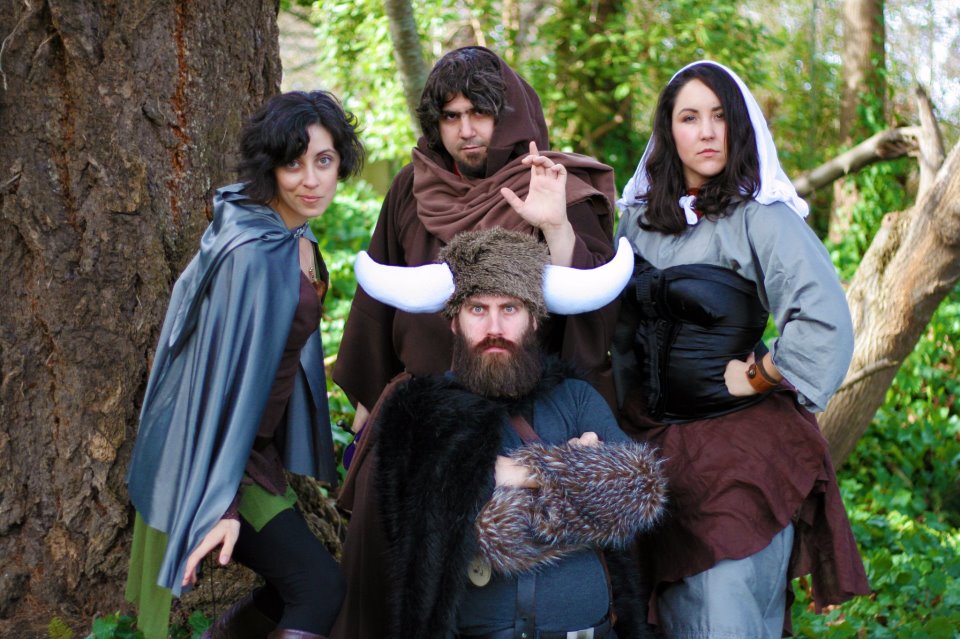 Photo: Steven Ray Orr
Harken all who would bear witness, the deeds of four brave improvisers, as they travel the lands of Ambralia, in an attempt to prevent an ancient evil from returning to power! Will fortune favour them, or conquer them? Only the roll of the dice will tell!

If you're a fan of improv, fantasy, DnD or ALL THREE then this a show you will not want to miss! Come and watch as a ragtag group of some of Victoria's finest improvisers, theatrically play out a DnD adventure, all while following the rules of Dungeons and Dragons v3.5, and the guidance of their Dungeon Master!
One, Belfry Theatre, SPARK Festival
March 19th – 24th

Travel beyond the fabric of the living world and into the strange and all-consuming world of the dead in this multi-disciplinary riff on the Orpheus and Eurydice myth. ONE invites you to surrender to emotions as big as the ocean and as small as the stars.
Little One, Belfry Theatre, SPARK Festival
March 20 – 24th

Michelle Monteith in Little One / Photo by Natasha Mytnowych
Adopted siblings Claire and Aaron love each other with all their hearts. But for some people, loving and destroying are the same thing. Little One is a stylish little lullaby-nightmare from the writer of The Russian Play.
The Lesson, and Essay, Dandelion Theatre and Scrumpy Productions
March 20 – 28th, Intrepid Theatre Club
See two one-act comedies on one ticket.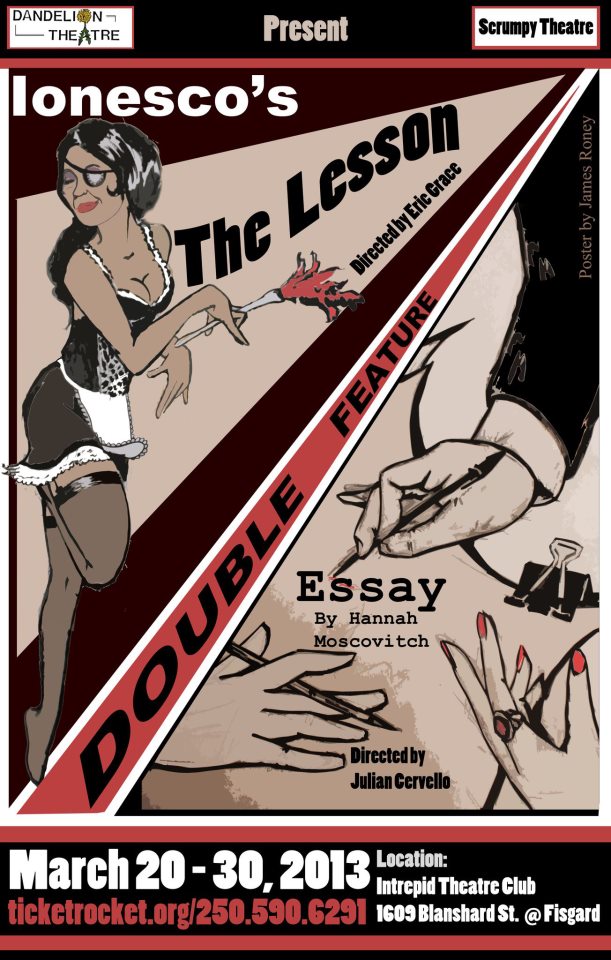 Ionesco's The Lesson is a dark comic drama, in which a professor tries to teach a young student mathematics and linguistics with calamitous results, while a strange French maid punctuates the lesson with enigmatic warnings.

Essay is a clever satire by Canadian playwright Hannah Moscovitch. It also features a professor and a student — together with a teaching assistant who finds himself caught in a bind when trying to grade the student's essay. Like The Lesson, Essay is a commentary on the tyranny of language and politics.

Essay is directed by "Canterbury Cocktails" actor Julian Cervello, with a cast of Kaeden Derksen, Leslie Appleton and Eric Grace. The Lesson features Critic's Choice Winner for Best Performance in 2012, Melissa Blank, "Yummy Mummy" comedienne Ana de Lara, and Eric Grace.
The Voyage of the Forest Dream and The Amethyst Incident, presented by Theatre Inconnu and the Maritime Museum of British Columbia
March 20th at the museum. A joint fundraiser
The Voyage of the Forest Dream, a memoir by Captain Niels Peter Thomsen. Relive the vibrant days when sea travel meant sailing with the wind, sailors climbed masts to dizzying heights to set sails on ships swaying in high seas and when journeys ended, crews were paid in gold coins.

The Amethyst Incident

, excerpts from the original diary by Coxswain Leslie Frank.




In 1949, the HMS Amethyst was unwittingly caught in the middle of the Chinese Civil War On the Yangtze River.  The battle that ensued became an international incident with all the characteristics of a high-octane suspense thriller, and forming the basis for a critically acclaimed feature film in 1957.The readings will be done by University of Victoria professors emeriti: John Krich and Juliana Saxton, accompanied by UVic PhD holders Will Weigler and Clayton Jevne.  All four professional actors will take you back to the romance and danger inherent on the high seas, in the atmospheric environment of the historic Maritime Museum.  Live sea shanties will set the tone for the evening.

Tickets are $20 each and can be ordered from the Museum by calling (250) 385-4222
Love Letters Blue Bridge TheatreMarch 26th – 30th
Canadian Hollywood star Bruce Greenwood appears alongside Canadian television icon Janet Wright in A.R. Gurney's Pulitzer Prize nominated drama Love Letters for the opening of Blue Bridge Theatre's fifth season.
Love Letters is a moving and hilarious portrait of a life-long friendship between two close friends.

"Victoria audiences are in for a thrill…" Artistic Director, Brian Richmond predicted. "This is a rare opportunity to see two of our country's finest actors re-join their creative energies at the height of their careers."
April
The Hitchhikers Guide to the Galaxy: Life, The Universe and Everything. This Is Twisted Theatre.
April 5/6
This third episode in the original radio series is sure to be popular with fans of Douglas Adams' seminal work.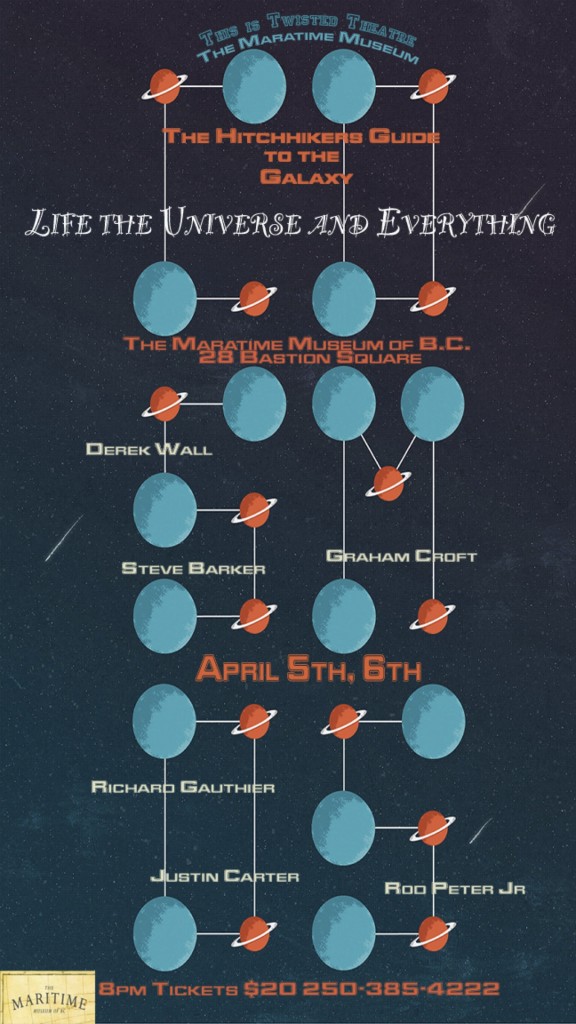 In this months show, Zaphod tells the story of how he got back to Arthur and Ford! The Vogons catch up to the Zaphod! Arthur has a fight with a spaceship about TEA! Old wise birds, a giant Arthur and more!

Join Derek Wall, Steve Barker, Justin Carter, Rich Gauthier, Graham Croft and Rod Peter Jr. for another night of comedy and Sci fi greatness inside the Maritime Museum of B.C.

Take the ride up to the third floor in the elegant 19th century birdcage elevator (voted number two elevator ride in the world by National Geographic) and make your way to the jury benches and prisoners box in the original Provincial Courtroom!
Leacock, Thurber and Leard, a fundraiser for Story Theatre Company, Intrepid Theatre Club
April 6
Presenting a few of Leacock's great stories, a few of James Thurber's "fables" and a couple of local contemporary writers (Adrian Chamberlain's "Ollie", and Kirsten Van Ritzen's "Comedy Divas Diary") as well as some "Special"  story theatre stories made up on the spot (That's the "Leard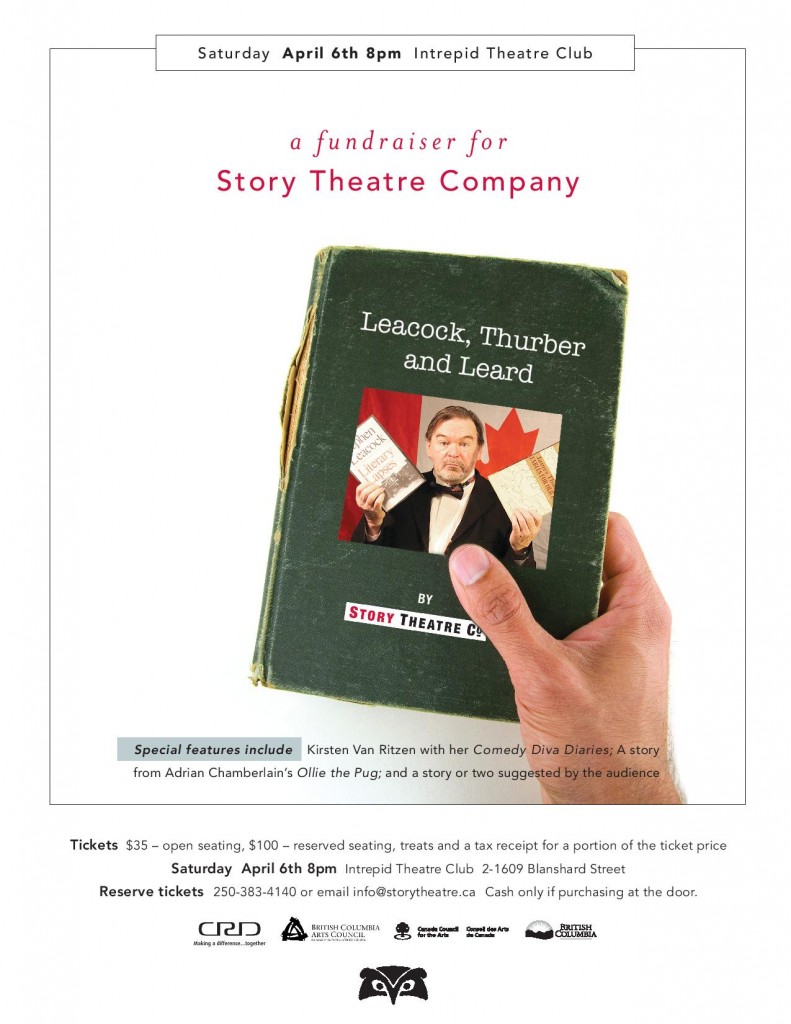 Dora award-winning director Liza Balkan directs this world-première workshop performance of a new work by UVic theatre historian and playwright Jennifer Wise, as part of the Jewish Arts Festival to celebrate the 150th anniversary of Congregation Emanu-El.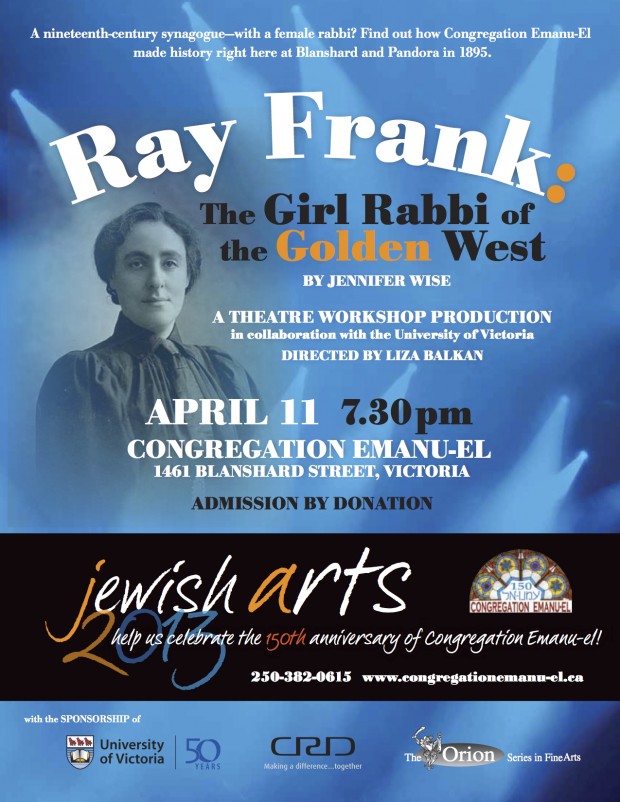 For three weeks in September 1895, Miss Ray Frank of California made women's history – and world religious history – by officiating from the pulpit of a synagogue throughout the High Holidays for all religious services. Even more remarkably, she was formally invited to serve as the congregation's rabbi by the all-male Board of Directors of (what was then) an Orthodox synagogue. The events of this historic decision have been developed into a site-specific play to be performed in the beautiful sanctuary of the synagogue and will bring this historic event to life.
Admission to the workshop performance is at the door, by donation. Visit www.congregationemanu-el.ca or call 250-382-0615
Yes and Yesteryear, An Improvised Jane Austen .
April 12th/13th
I've attended every show since Paper Street Theatre's inception in 2011.  Their command of improvisation is such that many cannot believe their shows are not scripted.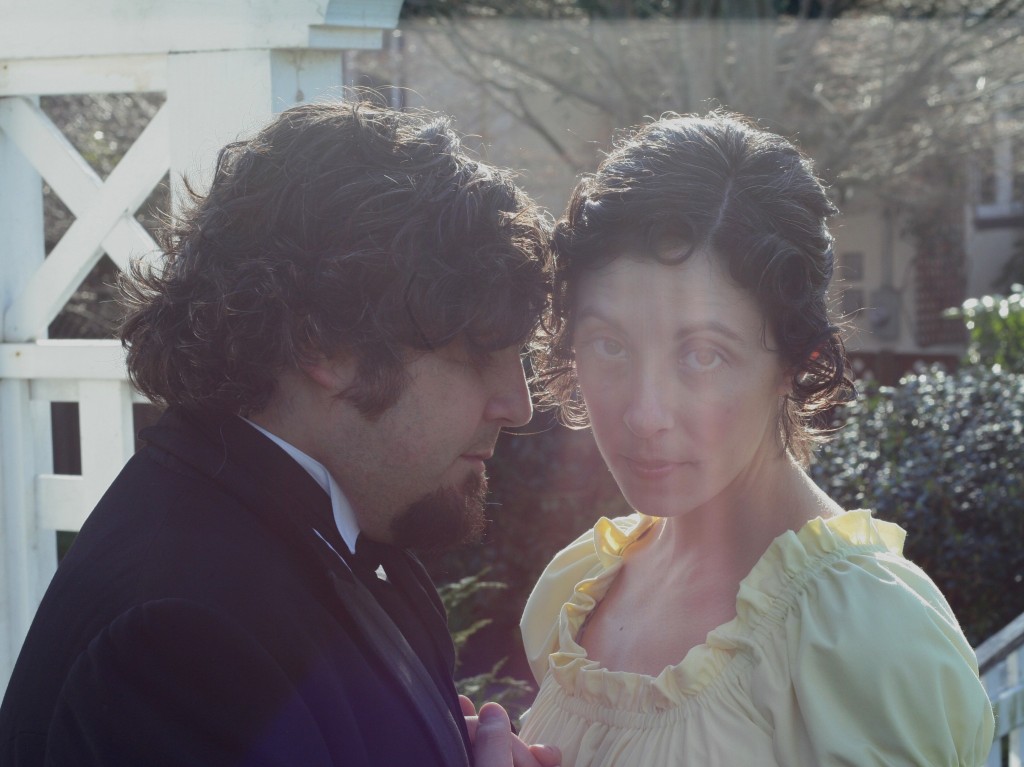 Dave Morris and Missie Peters. Photo: Steven Ray Orr
Paper Street Theatre continues their literary-themed season with Yes and Yesteryear, a fully improvised show based on the works of famed English author Jane Austen.
Join Paper Street for a polite romp through the conventions and manners of proper society and all the comedy such constraints provide. Yes and Yesteryear features a strong cast of female improvisers including Missie Peters, Nicole Olszewski, Monica Ogden and Christina Patterson.

"Jane Austen is incredibly clever and she has a very dry sense of humour," explains director Dave Morris. "That level of sophication is exactly what we want to bring to the stage – and spring feels like the ideal time to do it!"
Singin' in the Rain, Kaleidoscope Theatre, McPherson Playhouse, a fundraiser for Kaleidoscope.
April 12th – 14th.
Make a splash with Kaleidoscope's 16th annual fundraising gala and a brand new production of Singin' in the Rain directed by Pat Rundell. 

It's the roaring '20s and silent movie stars are the biggest names in the world. Don Lockwood has it all, a string of hit films and a studio-engineered romance with the most beautiful actress in town. But with the new phenomenon of the talking picture on the way and a chance meeting with a talented young chorus girl set to steal his heart, things are about to change for Don and for Hollywood forever.
Let Me Call You Sweetheart. Belfry Theatre
April 16th – May 19th
What an honour for the Belfry Theatre to be staging the world premiere of Bruce Ruddell's new musical, a collaboration with Bill Henderson of Salt Spring Island.

Let Me Call You Sweetheart fuses nostalgic tunes with new songs that swing, sway and syncopate.

In a seaside hotel, 85 year-old Nora sings beside a baby grand, and dances with her aging beau.  Outside, her world is starting to crumble.  Increasingly in need of extended care, and told she must leave her home in the seniors' residence, Nora resolves to follow her heart and find a solution to her dilemma.
If I Were a Rich Man, fundraiser to help Blue Bridge Theatre digitalise the Roxy Theatre,
featuring Bucan Bucan and Wes Borg
April 19th
Recently Blue Bridge Theatre purchased the much beloved Quadra Village landmark, the Roxy Theatre. In keeping with the times, the projectors must be digitalised.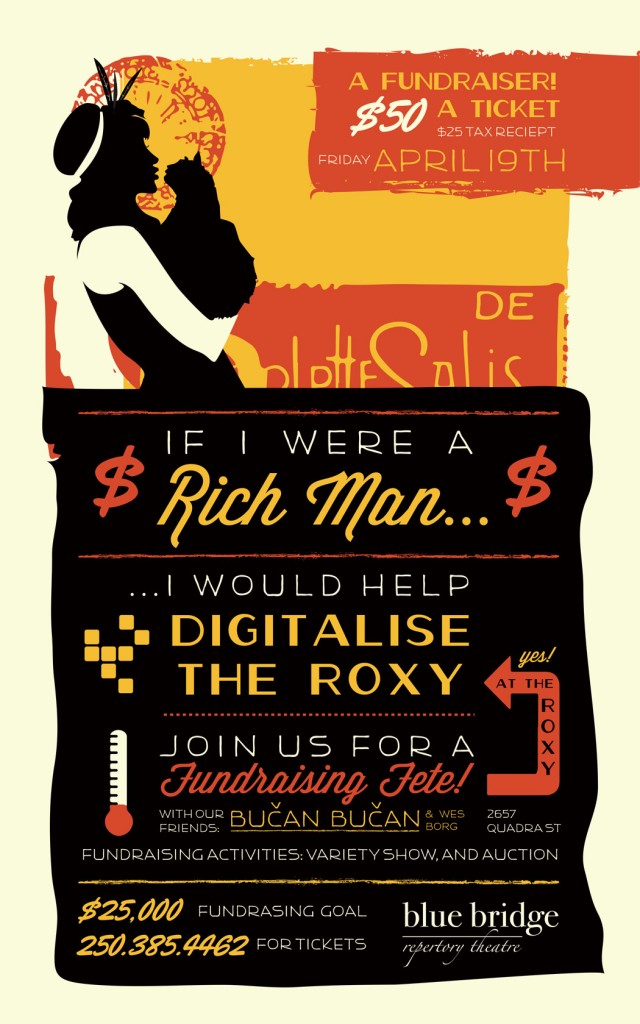 Alice: A Staged Reading. Sum Theatre (Jessica Hinkman & Joel Bernbaum) as part of The YOU Show at Intrepid Theatre.
April 20th. Family appropriate.
An original adaptation of Alice in Wonderland, ALICE, is a theatrical adventure blending text and movement. In this new family friendly play, we see how Alice's journey could easily belong to any one of us. We meet the Queen of Hearts, the Mad Hatter, the Cheshire Cat and other classic characters as they move in and out of the story using physical theatre, choreography and music.
Better Living   Langham Court Theatre.
April 24th – May 11th.
Langham Court Theatre has a gift for farce. I've been following director Wendy Merk's posts attentively, and can't wait to see Better Living.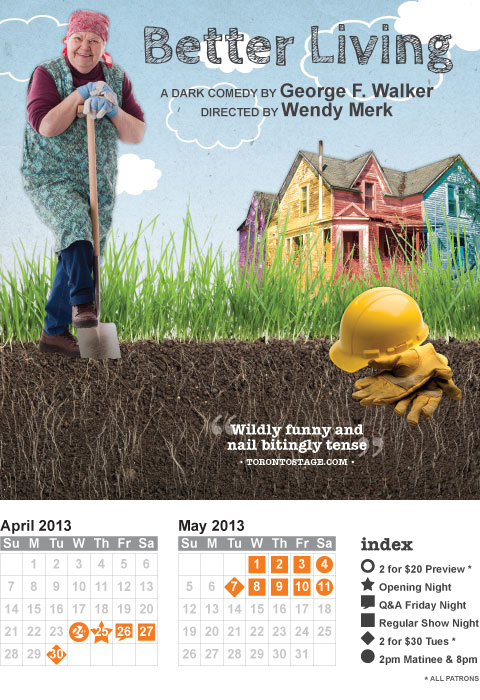 Time for some home renovations? Join Nora as she jackhammers her way to a safe haven in the basement of her eccentric Toronto home. You'll wonder "what next?" at every plot turn of this action-packed farce.
How to Succeed in Business Without Really Trying Canadian College of Performing Arts (CCPA) at the McPherson Playhouse.
April 25th – 27th.
CCPA's year-end shows are very popular, and are well-known for their high energy and choreography.  They do sell-out, so be sure to get your tickets early.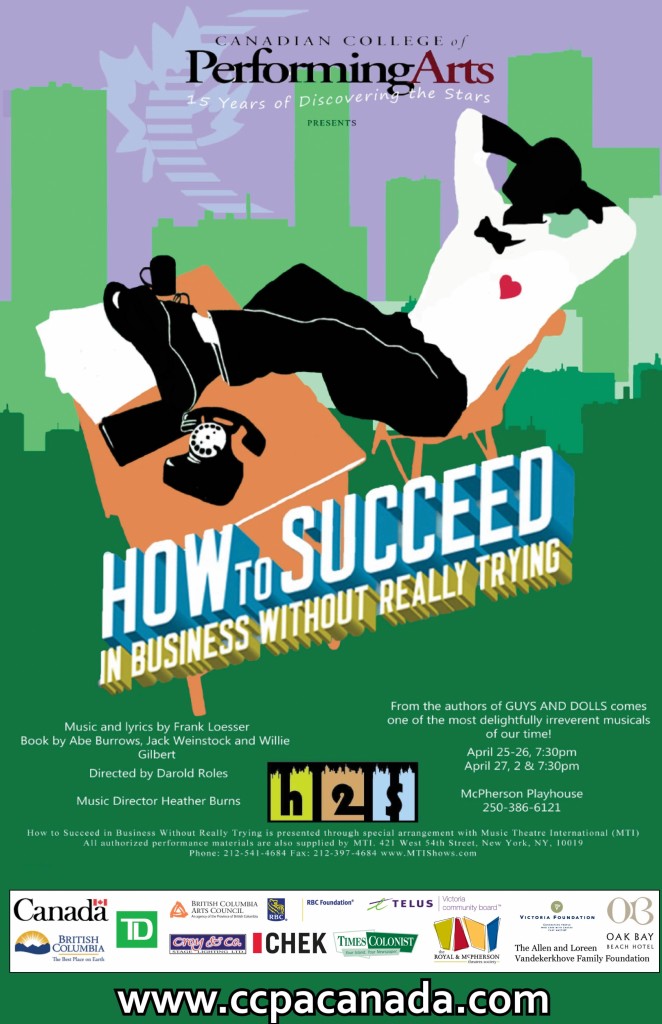 Hot off celebrating it's 50th anniversary with a Broadway revival. Music and lyrics by Frank Loesser. Power, sex, ambition, greed… it's just another day at the office. From the authors of Guys and Dolls comes one of the most delightfully irreverent musicals of all time. Directed and Choreographed by Darold Roles.
Ride the Cyclone  Nanaimo. Presented by TheatreOne at Malaspina Theatre, VIU.
April 25th – 29th.
Somehow in the past 4 years, you've managed to miss it. Now's your chance. Originally staged in Victoria in 2009, Atomic Vaudeville's Ride the Cyclone has gone on to acclaim in Toronto, and indeed much of Canada.  Returning to the coast after a four-month, five-city western Canada tour this beloved local "indy production that could" will please you no end with its impressive tunes and unique characters.  (I'm just the slightest bit biased – my son Elliott Loran is Ricky Potts).
TheatreOne presents the new smash hit musical, Ride The Cyclone. Described as "an astonishing trip to both heaven and hell" (Vancouver Sun) and "Weirdly wonderful" (Toronto's Now Magazine) this non-stop, darkly hilarious musical arrives in Nanaimo, on the last stop in it's 2013 Canadian tour and ahead of a possible Broadway debut.

Written by Jacob Richmond with help from Brooke Maxwell (Music) and Treena Stubel (Choreography), Ride the Cyclone features six young choir members from Uranium, Saskatchewan who perish while on an amusement park ride. A strange fortune-telling machine named Karnak offers a chance to return to life, but only for the one of the six who is most deserving.

Don't miss this once-in-a-lifetime opportunity to see Canada's most anticipated musical production, presented for it's last stop on the 2013 Canadian tour by TheatreOne, at VIU's Malaspina Theatre.
El Jinete, a mariachi opera, Puente Theatre
April 26 – 28th, Metro Studio
The première of the world's first fully-staged Mariachi opera – El Jinete (the Rider), starring Canada's greatest Mariachi band, Los Dorados, with Alexandra Wever.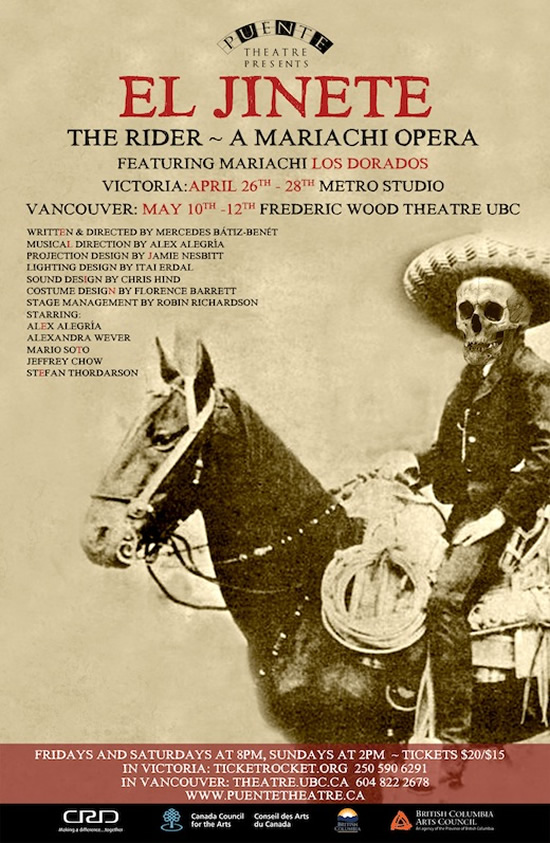 The show is inspired by the black & white Mariachi films from the Golden Era of Mexican cinema.  It's a chance to experience the world of Mariachi as many have never seen it – the bravura, the emotion, and the Mariachi code: that the entire point of life is to die for love. This isn't the music played for tourists – this is the music of the Mexican soul.
May
The Golden Dragon  Theatre Inconnu.
May 3rd – 18th.
Consistently, year after year, Theatre Inconnu presents theatre that takes huge risks and challenges me personally as an audience member.
A beautiful giant cricket is exploited by an ant, stewardesses 30,000 feet in the air speak to boat people in the Atlantic, a tooth lands in a bowl of soup, and a dead boy is carried thousands of miles home on a river. Wielding a dreamlike kaleidoscope, making and remaking connections that span the globe, playwright Roland Schimmelpfennig tells The Golden Dragon's tragi-comic tale of globalization. It's set in your local takeout, wherever it — and whomever you — might be.

'…both artful and accessible, that zooms in on a global village that's astonishingly feudal in its own way, and brutal in the inequality of its sexual politics.' —The Globe and Mail
MAMAHOOD: Turn and Face the Strange. Nicolle Nattrass. YOU Show at Intrepid Theatre.
May 18th.
A staged reading of a new solo work in progress – a sound and text exploration of one woman's journey to an alternate time and space, Planet Mamahood.

Meet Marie, an overachieving, neurotic, deeply aware but also severely sleep deprived first time Mama who comes back to tell the tale of her experience into the unknown.

Warning: Any resemblance to actual events or locales or persons, living or dead, is entirely coincidental.
UNO Fest. Presented by Intrepid Theatre.
May 22nd – June 1st.
10 shows, 3 workshops and a cabaret. Tickets and passes go on sale in March. Five show passes are $69  and there are many PWYC (pay what you can) nights.
I'll post a separate entry with all the UNO Fest shows. It's a great opportunity to see those Fringe shows you missed (Jason McDonald Underbelly, Tara Travis Til Death: The Six Wives of Henry the Eighth and John Grady Fear Factor: Canine Edition, and other spectacular solo theatre.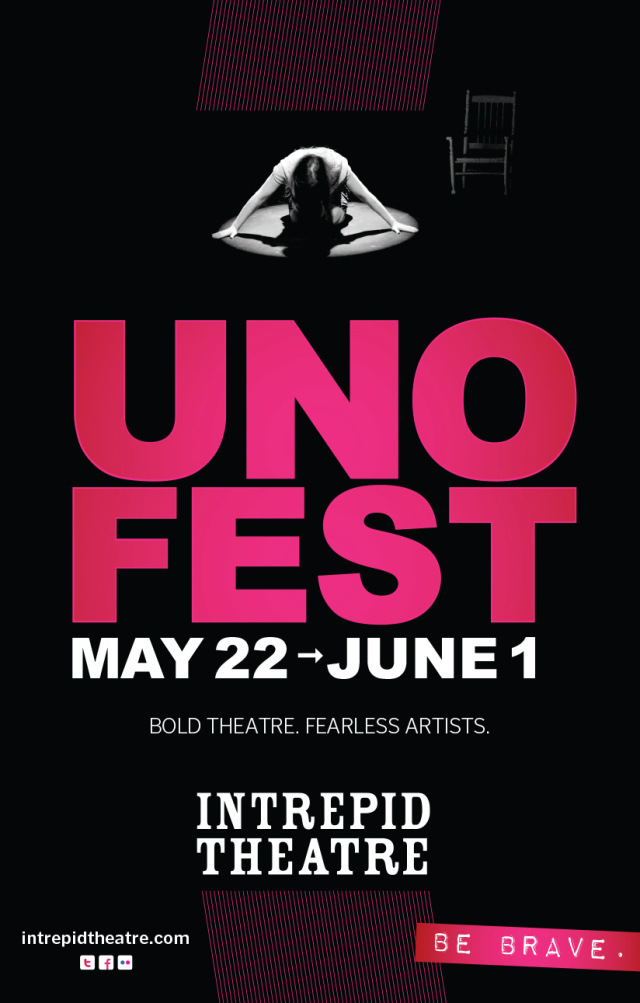 Godspell. Epiphany Productions at St Matthias Church.
May 30th – June 2nd.
Noelle Antonsen and Joseph Goble are recent Company C members and graduates of the Canadian College of Performing Arts. They've been active in local productions (Antonsen is performing in Singin' in the Rain and Goble made a very convincing serial killer in this summer's Fringe with Love is For Superbeasts).  This is their new company's first show.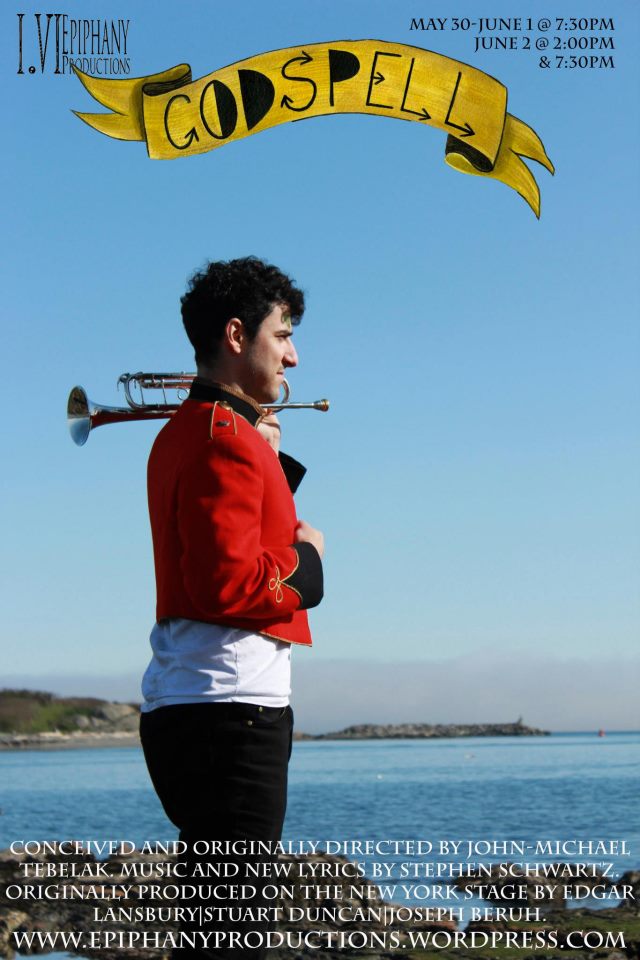 The Gospel According to St. Matthew is explored with skits and songs, told by a cast playing instruments while they sing and dance through the audience. Featuring songs by Stephen Schwartz, conceived by John-Michael Tebelak. 10% of all ticket sales will be donated to The Rainbow Kitchen.