Five Hole For Food returns to Victoria for the fourth year July 18th 2014 at Save On Foods Saanich Plaze (2-6pm).
I first learned about Five Hole For Food through Twitter in 2010 from friends of friends when I started following Dixon Lam, VP media relations.
Five Hole For Food (and now—world-wide—Footy for Food) is the brainchild of Richard Loat.  The concept is simple. Register a team to play ball hockey, come to play and bring a food donation.  From that simple idea has come a national tour that will celebrate the ONE MILLIONTH pound of food raised for local food banks.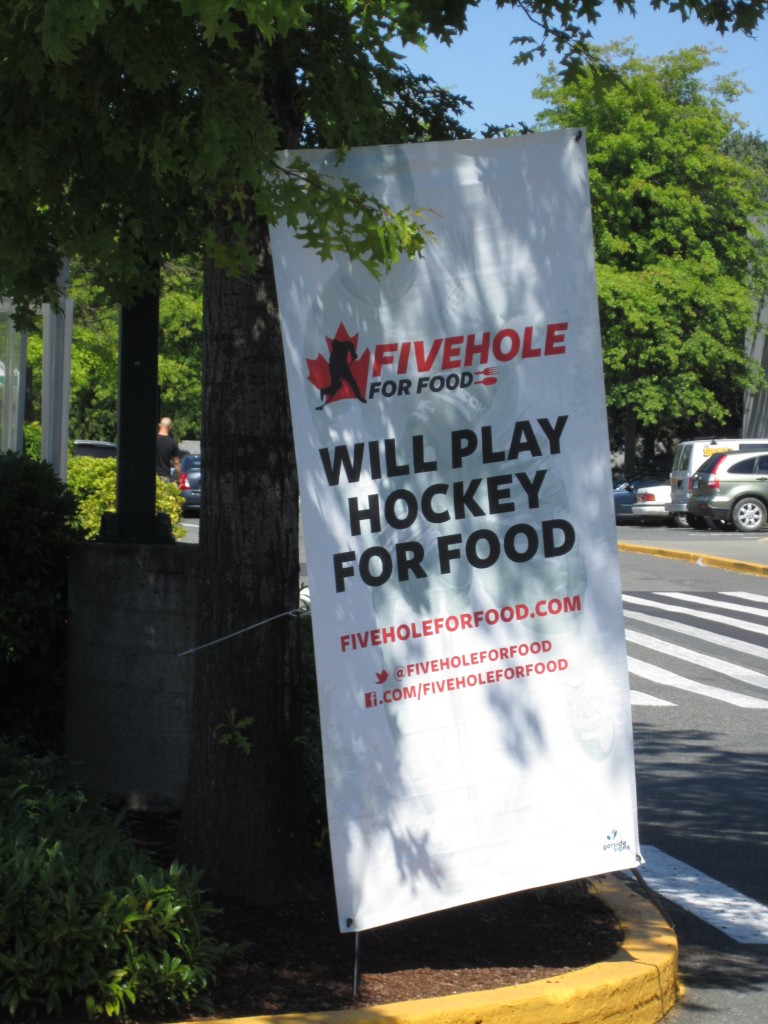 Many of my readers will be too young to remember, but the first Canadian food bank (Edmonton 1982) co-incides closely with the birth of my children.  Since then, generations of Canadians have come to rely on food banks—which, by and large, receive NO government funding—to supplement their daily living.
In Victoria alone, the Mustard Seed Food Bank (founded in 1983) serves over 7000 people each month, including 1000 families.
June to August, with children out of school, families' needs increase and parents turn more to The Mustard Seed for help. These are also the months when our financial and food donations are the lowest.  (Source: The Mustard Seed Spring 2014 Street Beat newsletter).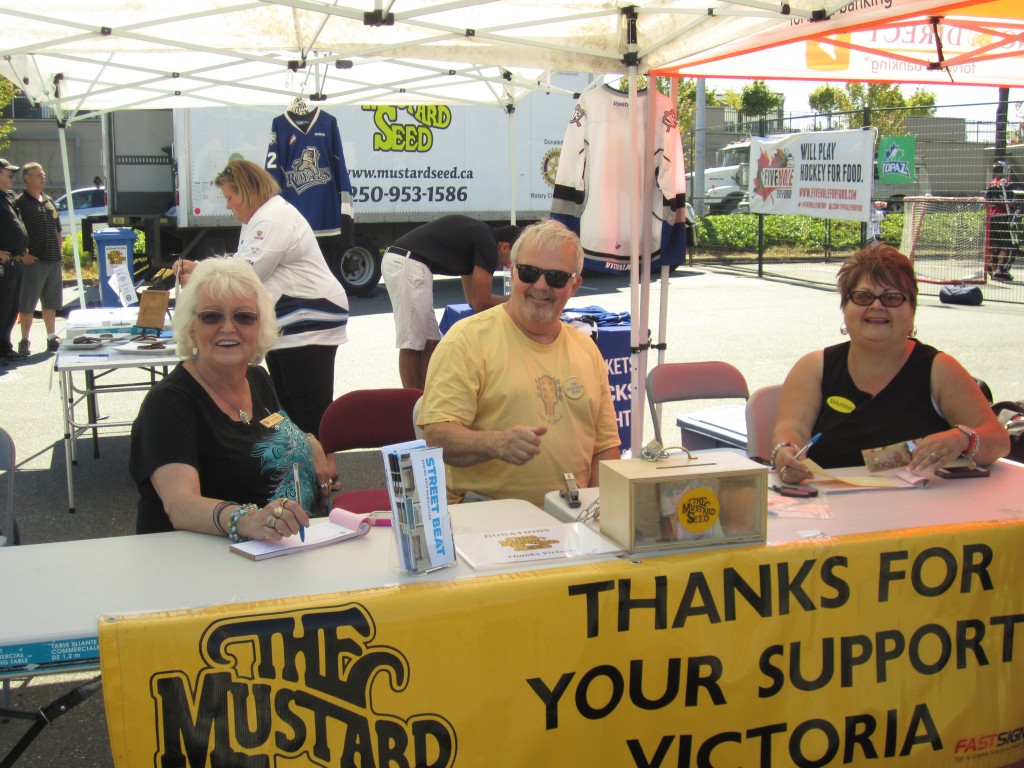 I definitely understand how this happens—it always seemed to me that the fridge was opened constantly in the summer.  Kids were busier and their calorie intake increased. Families have fees for summer camps and programs, as well as new clothes. Food programs that were provided during school are no longer available.
Food banks have been helping more than 700,000 people each and every month for the better part of the past 15 years.

In 2008, it appeared that progress was being made, as the number of people helped by food banks each month reached its lowest point in 10 years. Unfortunately, the recession hit Canada late that year, and food bank use suddenly skyrocketed by 18%, rising from 675,735 to 794,738 people per month in 2009. It continued to rise until it hit a high of 872,379 last year. During this time, food banks and other charitable food programs have been stretched to their limits. (Source: Food Banks Canada-Hunger Count 2013)
Here's a link (from the Kingston Food Bank) to a list of suggested items to donate. You can also donate cash.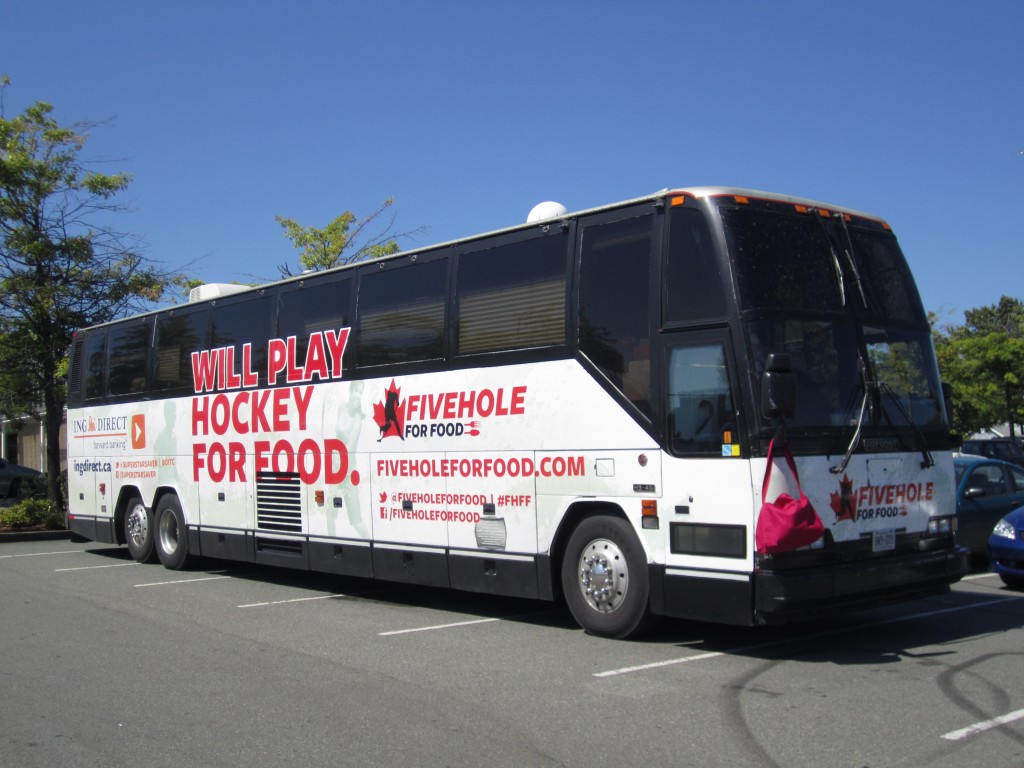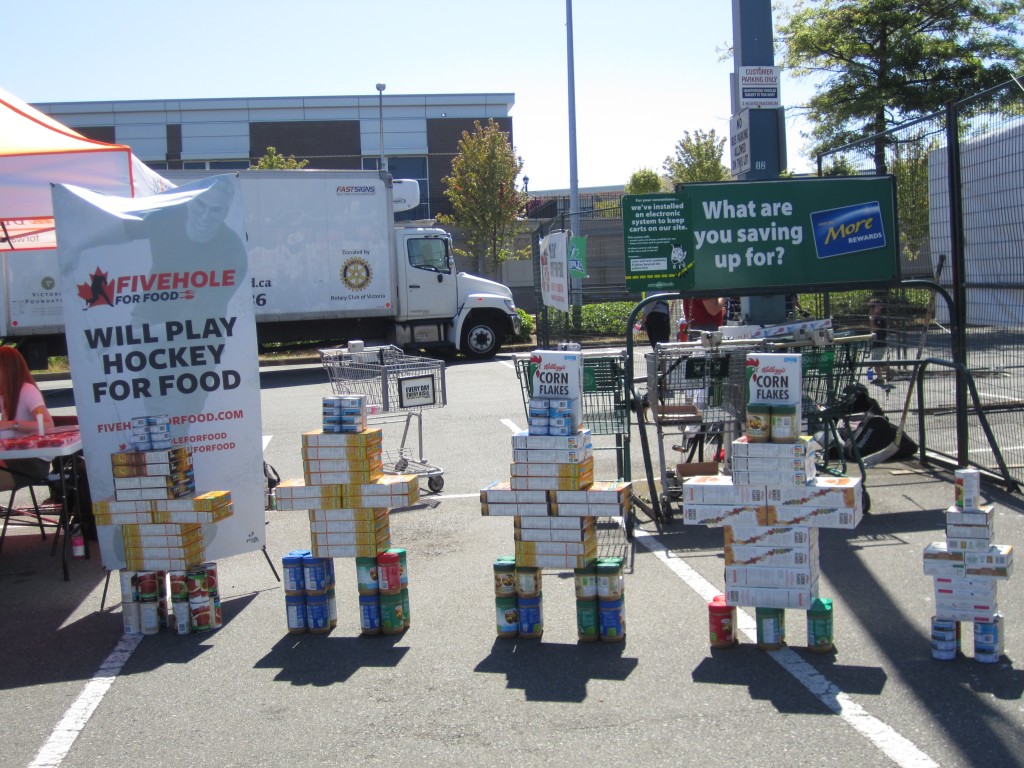 Date: July 18, 2014
Time: 2:00PM – 6:00PM
Location: SaanichPlaza

It's been five years since our first coast-to-coast tour playing ball hockey for local food banks and we're back again to support The Mustard Seed.

Join us on July 18th from 2:00PM – 6:00PM at Saanich Plaza.  All you need is a hockey stick and a can of food – we'll supply the rest.  Will you play hockey for food?

The Mustard Seed

The Mustard Seed in a non-profit organization fighting hunger and restoring faith in Greater Victoria.  The organization provides many crucial services for people in need through physical, relational and spiritual support.  The Mustard Seed provides nutritious hampers to people in Victoria throughout the week, in addition to many other resources.

Collections by the Numbers

2013: 9687 lbs
2012: 8126 lbs
The Tour Starts July 2nd!
We are kicking off our 5th tour across this great country. Join us on our milestone tour as we collect our one millionth pound of food! That's right, one million pounds of food will have been collected for food banks across Canada with your support over the past five years.
From St. John's to Vancouver, we are going coast-to-coast and can't wait to see you! Whether you're looking to play or be a cheerleader on the sidelines, bring your friends and register here >>
2014 Tour Dates