Join the team from Five Hole for Food (FHFF), this Friday July 19th at Saanich Plaza from 2 to 6pm, as they play Canada's favourite pastime – road hockey – and raise donations of food and cash for Victoria's Mustard Seed Food Bank.

I first became aware of Five Hole for Food, founded in Vancouver in 2010, through my online social media connections, and am happy to lend my support to their ongoing efforts to raise awareness of, and support for, Canada's food banks.
The national tour starts in the east and travels to 13 Canadian cities over 10 days (July 3rd – 20th) finishing in Vancouver Saturday July 20th with games on Granville Street.
Richard Loat, Five Hole for Food founder, dreams of playing in Victoria on Belleville Street in front of the BC Legislature, but has not yet been able to make it happen.  Perhaps for the fifth anniversary in 2014?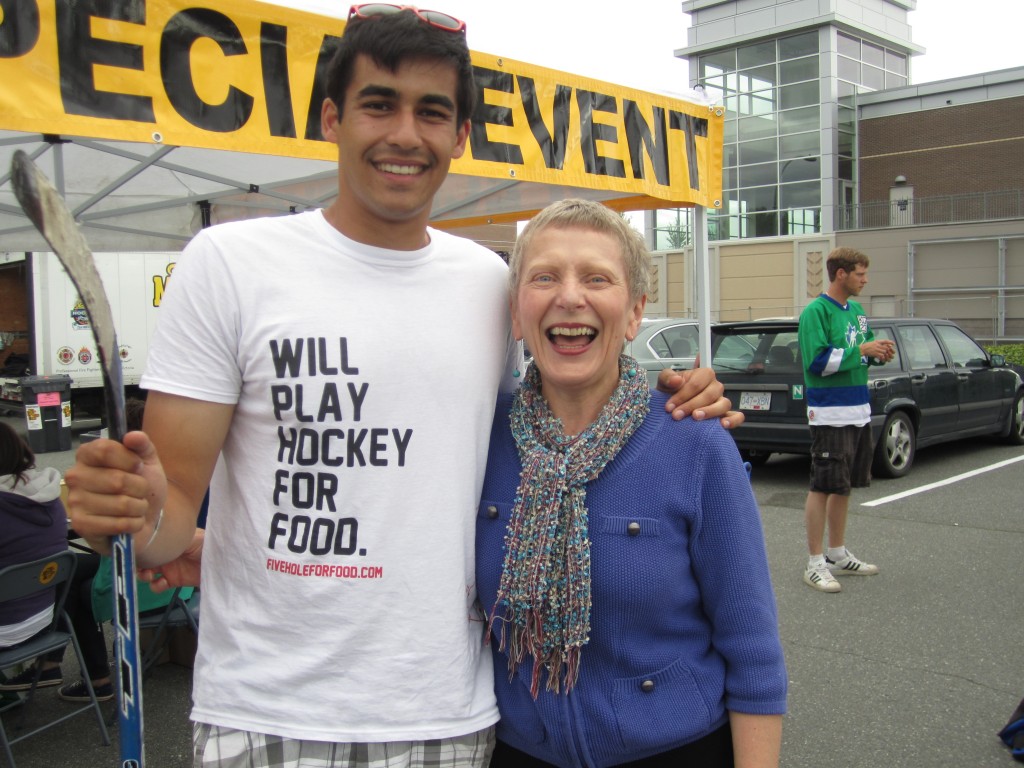 with Five Hole For Food founder, Richard Loat, in 2012
FHFF has slowly gained momentum over the last three years. In 2010 the tour raised 6000 lbs of food, and by 2012 increased totals to 133,000 lbs of food raised across Canada; their 2013 goal is 250,000 lbs.  Each dollar donated counts for 3 lbs of food if you prefer to make a monetary donation.
Food banks in Canada started with Edmonton in 1980, followed shortly thereafter by Victoria's own Mustard Street Food Bank in 1983.  An entire generation has grown up depending on their existence. Currently in Victoria, 31.8% of food bank users are children and youth under 18.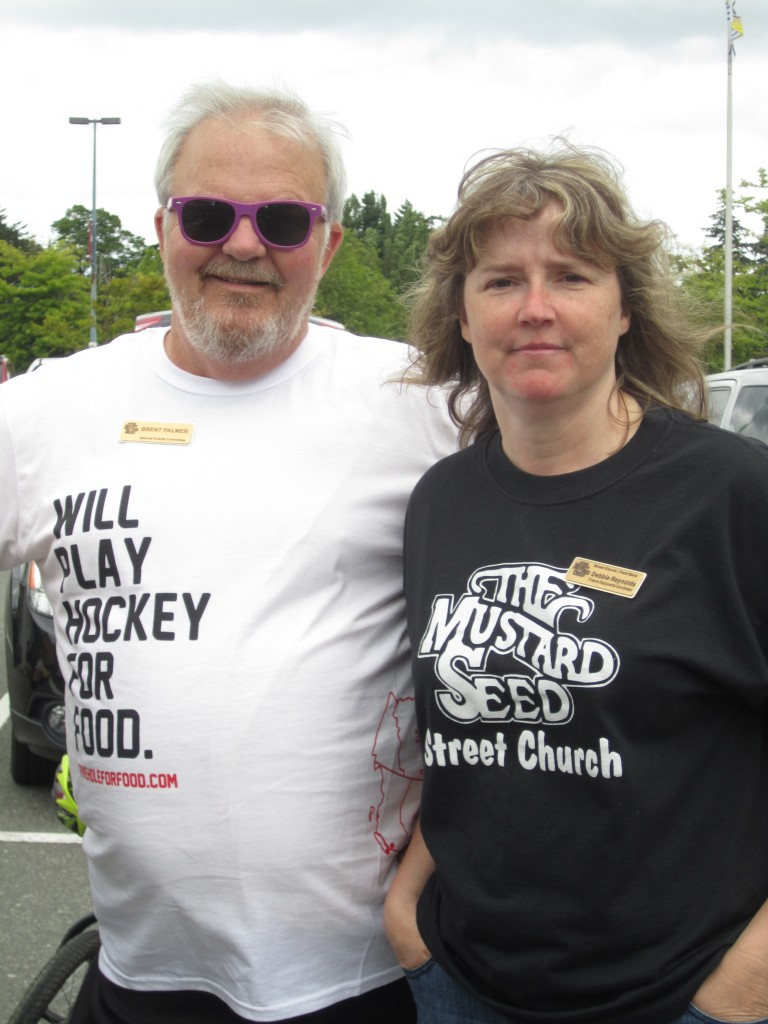 Brent Palmer and Debbie Reynolds from the Mustard Seed
As recent statistics show, BC has the highest incidence of child poverty in Canada.  According to research done by the Community Social Planning Council, in 2013 the wage required to maintain an adequate quality of life in BC's Capital Region is calculated at $18.73 per hour.  Low-income families are forced to make choices every day – summer camp, new running shoes, an ice cream out, groceries.  Expenses often increase in the summer time, particularly with children home from school.
Support for food banks traditionally falls off during the summer months, which is why events like the Postie Food Drive, the recent Hero Work Convoy of Awesome, and Five Hole for Food are so very important.
I may not play road hockey, but I can definitely spare a few minutes to come out, make my donation, and chat with the Five Hole For Food team, and the staff and volunteers of the Mustard Seed.  Will you join me? If you are unable to attend, many grocery stores accept donations, and the Mustard Seed has a donations page too.
Follow Five Hole for Food on Twitter @fiveholeforfoodu
Five Hole For Food Victoria
When: July 19, 2013
Where: Saanich Plaza
Time: 2:00PM-6:00PM
RSVP on Facebook
This event benefits…
The Mustard Seed
The Mustard Seed is a non-profit organization fighting hunger and restoring faith in Greater Victoria. They provide many crucial services for any and all people in need. From food to friendship, they aim to meet the physical, relational, and spiritual needs of the whole person. They have an active weekday drop-in center that offers all sorts of services such as chapel, hair cutting, nursing, a clothing bank, access to home starter kits, and m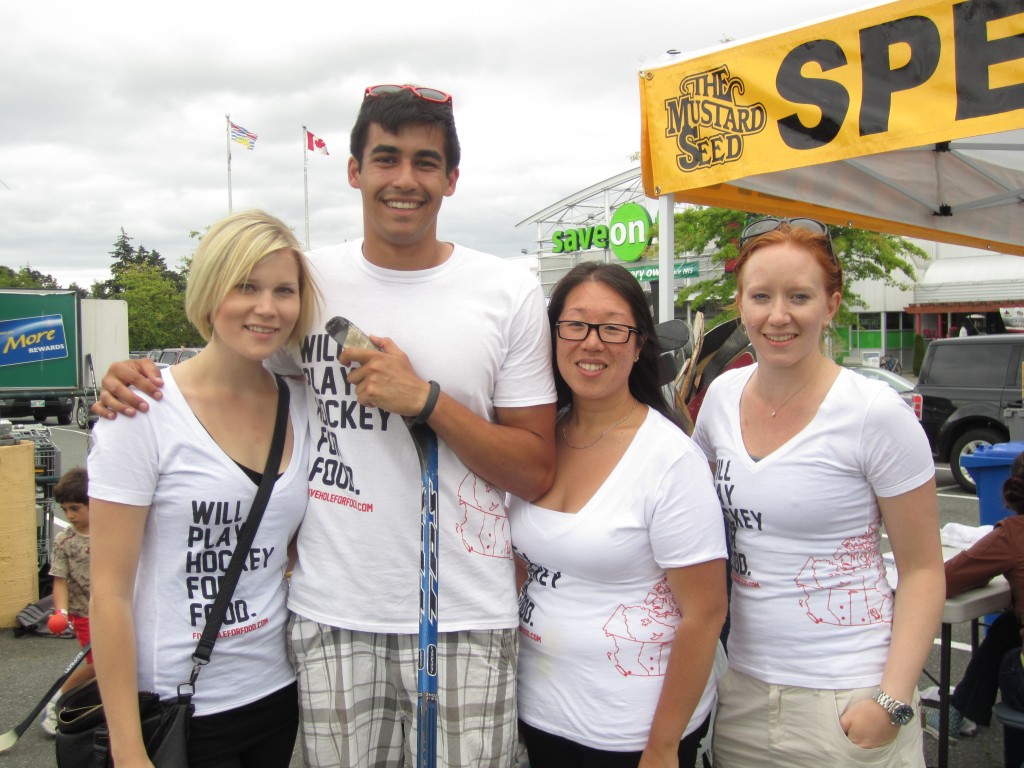 members of the Five Hole for Food team 2012