In just one week, the young students of the Canadian College of Performing Arts (CCPA) take the stage at the MacPherson Playhouse for Footloose , adapted and directed by Darold Roles, college Artistic Director, with music direction by Dr Marvin Regier.
Footloose, the film, defined the 1980s for most people and featured such tunes as the eponymous "Footloose", "Hurts So Good" and "Let's Here it for the Boy".  The musical debuted on Broadway in 1998 and ran for over 700 productions; it was also produced in London.  The movie was remade in 2011.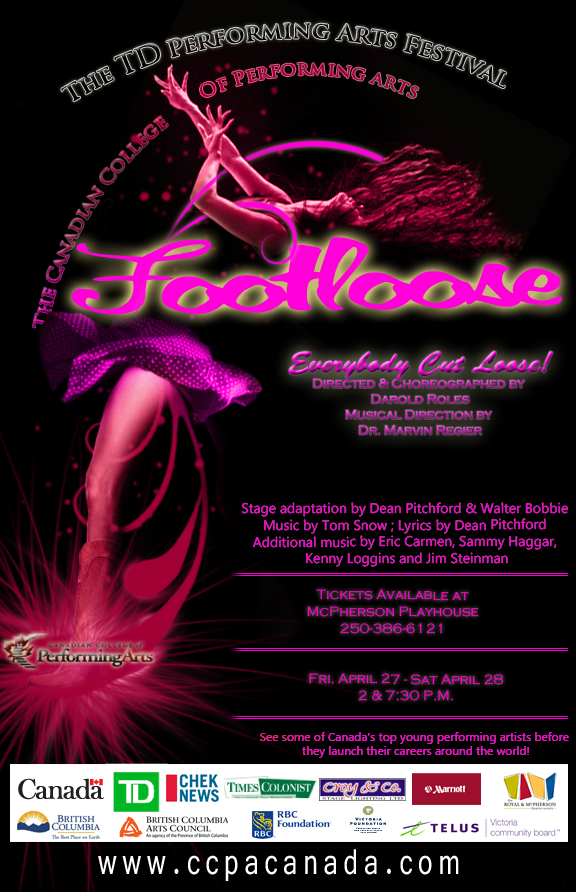 The CCPA version of Footloose has been expanded to include several fresh new songs, and features further development of several key characters.
"We're going to show audiences why CCPA has some of the hottest triple-threat talent inCanada", says Roles.  "We also want audiences to engage in these great characters. At the heart of this pop-infused musical are characters that we ultimately care about as they come to terms with important losses in their life".

"The audience can relate to these themes and the songs bring back an age of innocence for many us.  They make you want to jump up and well…cut loose!" This is not the first time Roles has directed Footloose. In 2004, the Georgia Straight proclaimed "every member of the ensemble has taken proud possession of (the production). That's a tribute to the playful thoroughness of director Roles and a gift to the audience".
Since 2005 when my son became a student at CCPA, I've had the pleasure of watching young talents develop, and the privilege of seeing young artists at the commencement of their professional careers.  They are universally hard-working and dedicated to their craft, and represent the future of the performing arts in Canada. Bravo on the completion of another successful year!
Don't delay, the year-end shows are popular, and do sell out.
Footloose
a year end production by the students of the Canadian College of Performing Arts
TD Performing Arts Festival 
McPherson Playhouse
Friday and Saturday April 27th and 28th, 2pm and 7:30pm
Tickets: $18 (student) $23-$47 (adult) 
Online:  or by phone: 250 386 6121
The Canadian College of Performing Arts offers quality training in a broad spectrum of skills which will prepare students for careers in the performance arts locally, nationally or internationally. The College provides a stimulating, positive and constructive environment where students are encouraged to develop high standards of work ethics and conduct which will serve them in any field of endeavour in the future.