There's a special place in my heart for both the Canadian College of Performing Arts (CCPA) and Atomic Vaudeville (AV). My son , Elliott Loran, graduated from the former, and performed with the latter (mostly recently in the hit musical Ride the Cyclone). Now, Victoria theatre audiences will have a chance to see both CCPA and AV perform together, for the very first time,  in AV's Spring Cabaret – Digital Sunshine.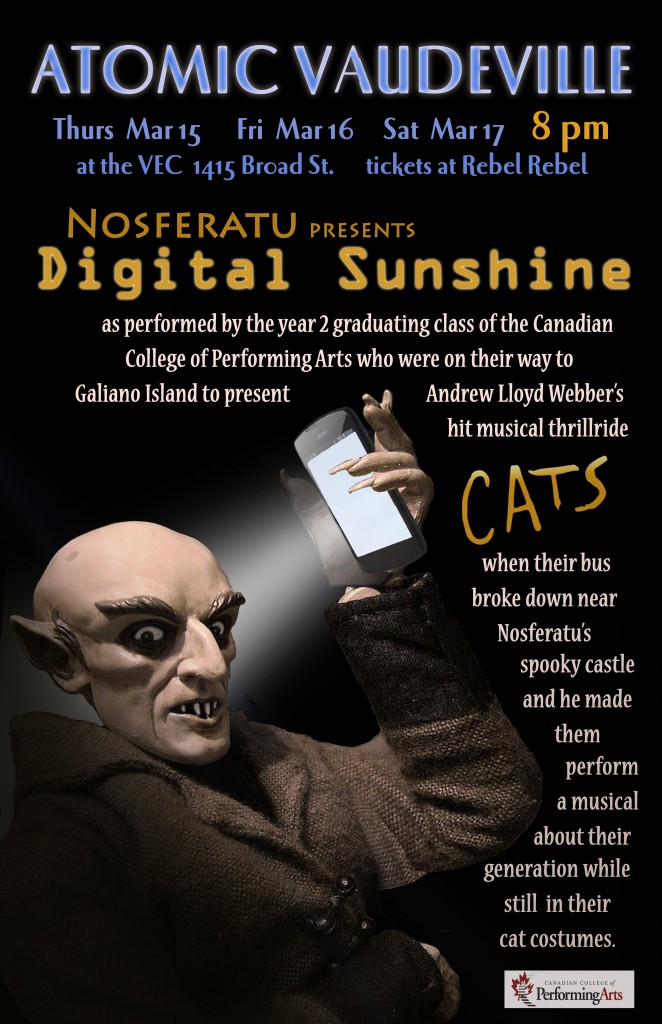 The co-directors of Atomic Vaudeville, Britt Small and Jacob Richmond, have been teaching a course in creative development at CCPA and working with the year two students on the creation of this original show.
The very long title alludes to the comedic content:
NOSFERATU presents DIGITAL SUNSHINE
(as performed by the year 2 graduating class of the Canadian College of Performing Arts who were on their way to Galiano Island to present Andrew Lloyd Webber's hit musical thrillride CATS when their bus broke down near Nosferatu's spooky castle and he made them perform a musical about their generation while still in their cat costumes.)
Some of AV's regular performers including Michael Delamont, Wes Borg and Morgan Cranny will be joining the 23 singing-dancing-acting students from CCPA for the performances.
"It's so exciting to be working with a large group of triple threats, some days I feel like I'm in an episode of Glee—but better," says Small.
Recently AV returned from a sold-out Canadian Tour of Ride The Cyclone, who's cast also included graduates from CCPA. Future plans for the show include more touring and reworking the musical for a potential run on Broadway.  While in Toronto, the production attracted the attention of Kevin McCollum, producer of Rent, Avenue Q and The Drowsy Chaperone.
Come out and experience AV's singular uniqueness – March 15-17 at 8pm at the Victoria Event Centre – 1415 Broad Street.  Advance tickets ($18/$22) on sale at Rebel Rebel (585 Johnson) or at the door.  Out-of-towners can email atomicvaudeville@gmail.com to reserve tickets.
For more information about Atomic Vaudeville visit www.atomicvaudeville.com
Contact:
Britt Small (Producer)  250-885-2837