God is A Scottish Drag Queen The Second Coming. UVic Farquhar September 16 2017. Media release.

Mike Delamont's two act comedy reaches biblical proportions!
A cross between Dame Edna and Billy Connolly, with a dollop of Eddie Izzard! God, dressed in a floral power suit, comes down to skewer everything from the 10 Commandments to Trump in a hilarious two act comedy of biblical proportions!
Acclaimed Victoria comedian Mike Delamont continues his ongoing comic quest to turn religion on its head with his impeccable wit and timing. Mike is easily one of the fastest-rising standup comedians in Canada. In his five years in the profession, he has won 18 "Best of the Fest" awards on the Fringe Festival circuit, is a two time nominee for the Just for Laughs Best Comedy Award and has numerous sold-out shows under his belt. God Is A Scottish Drag Queen is based on a character created by the comedian Mike Delamont and playwright Jacob Richmond for the hit cult cabaret Atomic Vaudeville. Now a 4 part series of shows, God Is A Scottish Drag Queen: The Second Coming continues to deliver on Mike's divine comedic power.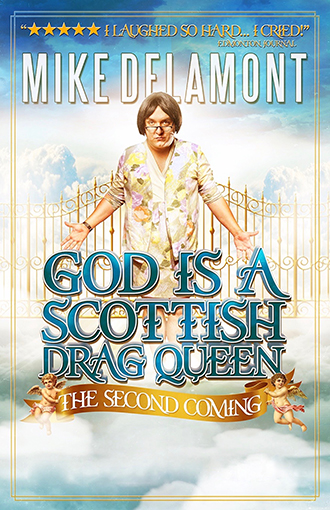 God has sold out every performance to date in Victoria, and now tours the continent as one of the most popular comedies on the international fringe circuit! This is your chance to see the world premiere of an all new evening of comedy at the Farquhar that you will never forget!
God Is A Scottish Drag Queen: The Second Coming
Saturday, September 16, 2017 at 7:30 p.m.
Farquhar Auditorium, University Centre, UVic
Tickets: Early Bird Pricing: $28.50 General, Student/Alumni $18.50. After Aug 31st General $32.75, Student/Alumni $22.75
For ticket information please contact:
University Centre Ticket Centre
250-721-8480 | ticket@uvic.ca
Mon-Fri 9:30am-4pm
http://tickets.uvic.ca
More info: http://www.uvic.ca/auditorium
All university buildings are accessible to people with differing mobility issues and mobility aids. Those with a disability requiring individual accommodation should call the event's organizer at least 48 hours in advance. UVic is also accessible by various modes of sustainable transportation including regional transit and cycling. For those arriving by car, pay parking is in effect. Maps and info are available at www.uvic.ca/maps.
Join the Farquhar Auditorium on Facebook at http://facebook.com/uvicfarq Follow the Farquhar Auditorium on Twitter at http://twitter.com/uvicfarquhar