Greater Victoria Shakespeare Festival 2014—interview with Karen Lee Pickett, artistic director.
Now in its 24th year, the Greater Victoria Shakespeare Festival (GVSF)—founded in 1991 by Clayton Jevne of Theatre Inconnu as a summer festival in downtown Victoria and produced since 2003 by the Victoria Shakespeare Society—presents Henry V and The Taming of the Shrew on the Camas stage at Camosun College's Landsdowne Campus.  Earlier this year they announced two significant changes—former Artistic Director, Michael Glover, who had been involved since the inception of the Victoria Shakespeare Society stepped down, to be replaced by last year's Festival Producer, Karen Lee Pickett and the company moved to a repertory model.
Although I remember attending performances in Centennial Square and under a tent at Ship's Point, it was only when friends of my son were involved in Julius Caesar (2008) that the GVSF re-appeared on my radar.  I volunteered for a number of years as well and quickly became hooked on the complete experience—the incredible family of cast, crew and volunteers, the beautiful outdoor setting, the immortal words of the Bard, the beautiful productions.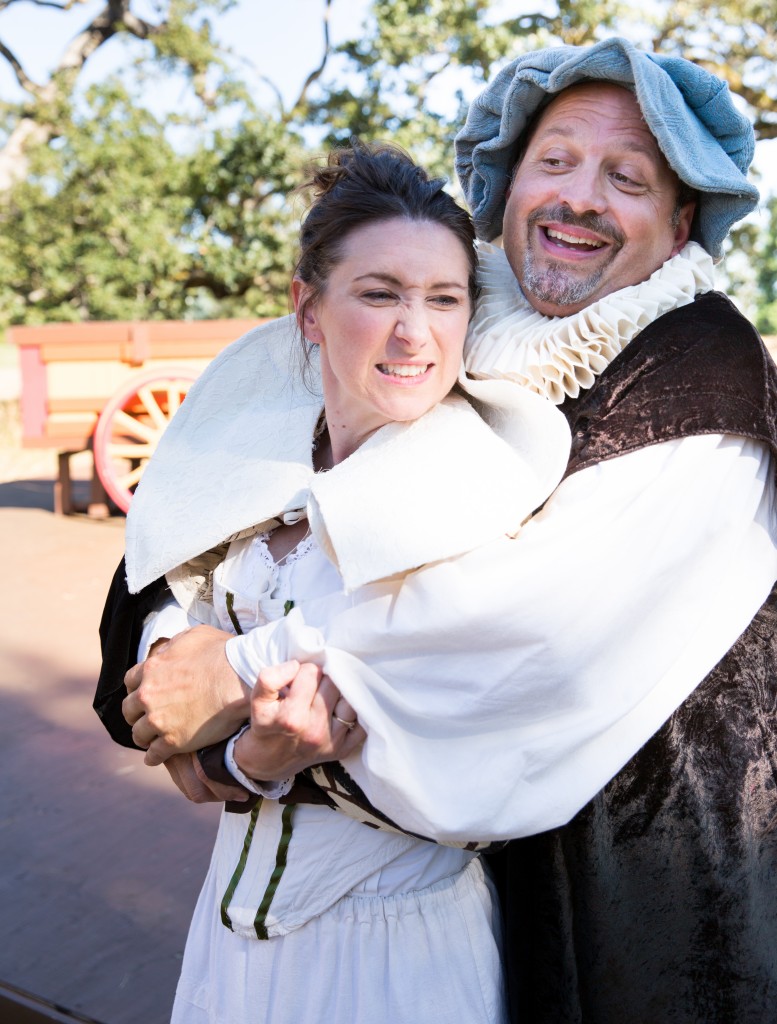 Adrienne Smook (Katharina) and Cam Culham (Petruchio) in The Taming of the Shrew. Photos: David Bukach
Karen Lee Pickett was kind enough to answer a few questions for me.
What was the impetus in going to the repertory company model?
The repertory model hearkens back to Shakespeare's time, but fell out of favour in the 20th century as cast sizes got smaller, and theatre got ever more expensive to produce. But working this way gives the company of actors and the director an opportunity to create a strong bond of trust, and to delve deeper into the plays. It's hard work, but pays huge creative currency!
Can you explain the difference and/or reason between the adult company and the young company?
Our Junior Company is something we hope to expand in years to come, as we believe it offers an exceptional opportunity for young actors to learn from the rest of the company, and to engage in all aspects of theatre: literary, artistic, and technical.
Is there a "typical" performer at the GVSF?  What type (s) of training and or/experience do people have.
All of our company actors have a certain level of training and/or experience. Education is part of our mandate, so we are always excited to work with emerging artists who are in the early stages of their artistic life.  In creating the mentor actor positions, we weren't interested in having a hierarchy — in fact, several of our company actors are seasoned professionals. It gives the mentor actors an opportunity to take active leadership through teaching workshops and techniques related to the challenges of Shakespeare's language and history. Really, the model is that everyone learns from everyone — an atmosphere is created wherein knowledge is shared, actors lean on each other for help in particular areas — this also enhances the trust that is essential when you're engaged in creative risk.
What is the benefit to having one director?
From my perspective, it is a glorious boon to have such an experienced and talented director as Clayton Jevne at the helm! Yes, it is a lot of work (he also designed and built the carts you'll see onstage!), but it puts the director in the same repertory boat as the actors, which again goes to the trust that's built as the whole company goes through the process of bringing these stories to life.
To a typical person—who doesn't necessarily have a lot of experience with Shakespeare—why should someone come?
Why should someone come see some Shakespeare on a lawn on a beautiful summer's night? These plays are exciting and relevant, and have been illuminating the particulars and passions of the human condition for over 400 years. But it's also a fantastic way to spend an evening with friends and loved ones, relaxing in the grass and enjoying good food (courtesy of Dine-In Victoria!), music, and thrilling stories!
To volunteer for the GVSF: 
https://victoriashakespearfestival.wufoo.com/forms/gvsf-volunteer-application-2014/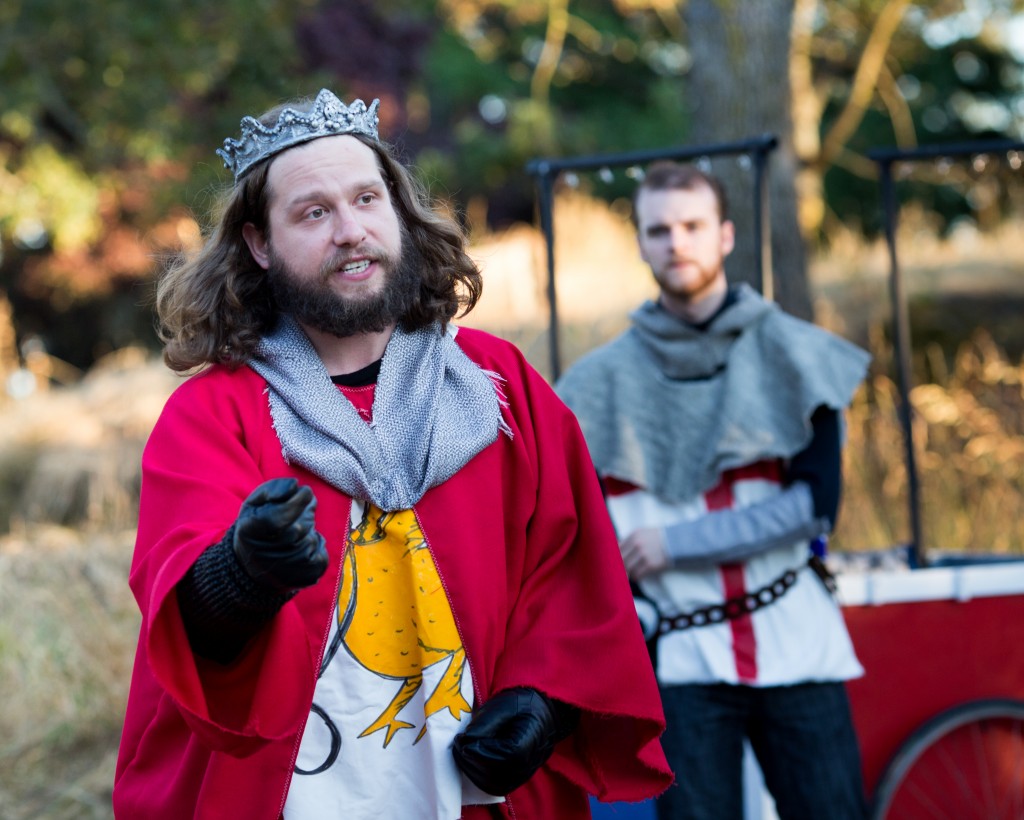 Julian Cervello (King Henry) and Adam Holroyd (Duke of Gloucester) in Henry V. Photo: David Bukach
The Greater Victoria Shakespeare Festival
July 14-August 16, 2014
Henry V
Directed by Clayton Jevne
Mondays, Wednesdays and Fridays
July 16 through August 15
Preview: July 14
Opening: July 16 
The Taming of the Shrew
Directed by Clayton Jevne
Tuesdays, Thursdays and Saturdays
July 17 through August 16
Preview: July 15
Opening: July 17
Tickets available through Ticket Rocket
Single Tickets:
Adult $24 Student/Senior $19
Children 12 and under are free! (tickets at door)
Passes (both shows):
Adult $42 Student/Senior $33
Disclaimer: I will be attending Henry V and The Taming of the Shrew as a guest of the Greater Victoria Shakespeare Festival. Stay tuned for reviews.