It's time to put on your silly hat, leave the judging adult behind and surrender to delight – the Old Trout Puppet Workshop has arrived in Victoria for the first time since 2007 (Famous Puppet Death Scenes) with Ignorance (playing January 7-18th at Blue Bridge at the Roxy as part of the Presenter's Series).
If you believe that puppets are limited to characters like Casey on Mr. Dressup, or the traditional Punch and Judy, prepare to have your repertoire expanded considerably.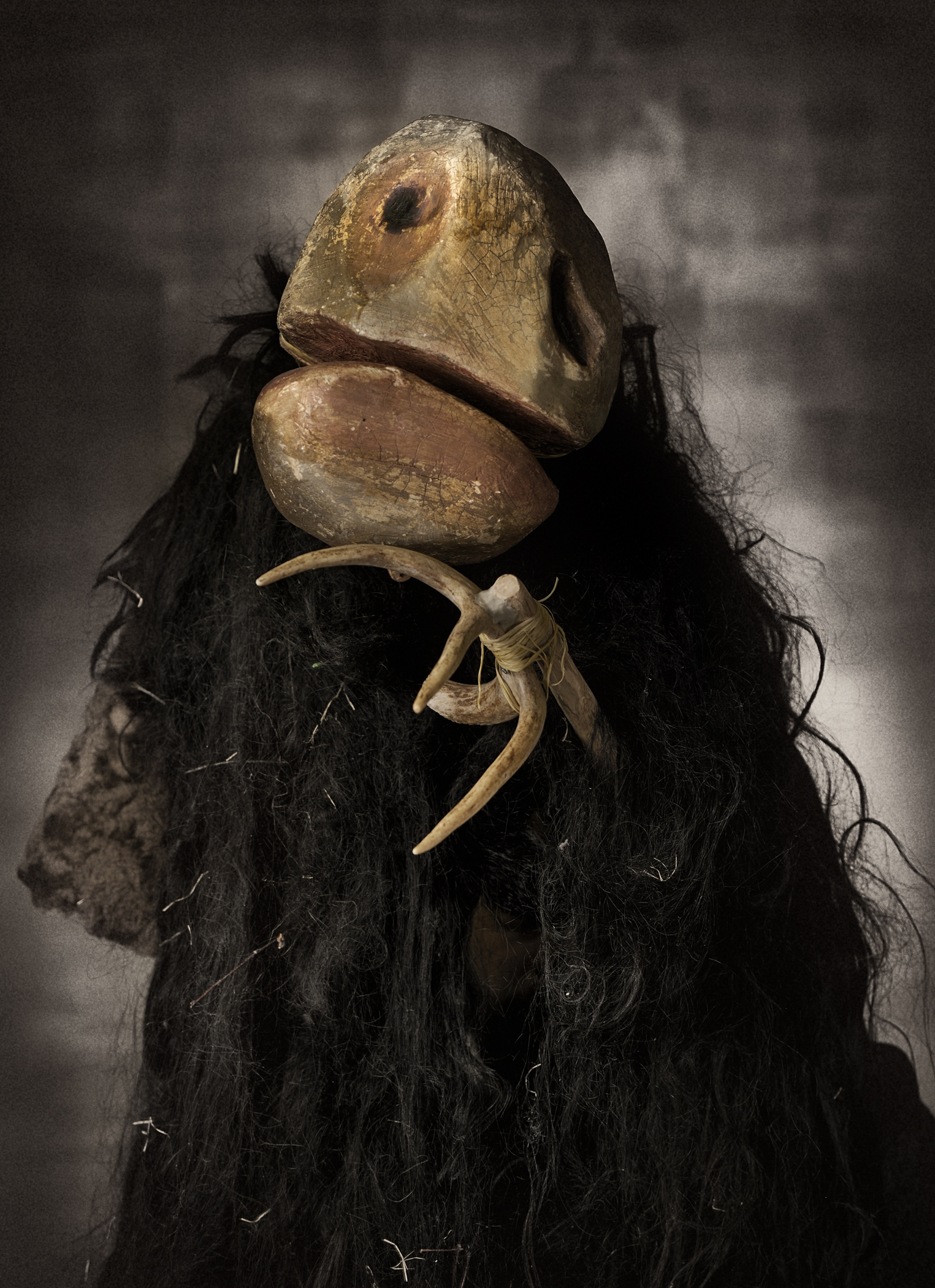 The Old Trout Puppet Workshop, founded in 1999 by Peter Balkwill, Pityu Kendres and Judd Palmer, has garnered acclaim for their innovative techniques that marry puppets—large and small—manipulated objects, storytelling, projections, film and animation.
In 2011 they set out to investigate the complex and weighty question, "What is happiness?"
Tracing the evolution of happiness from man's pre-historic Cro-Magnon roots to the present day Ignorance touches on human biology, anthropology, psychology, philosophy and history.  Dressed as horned beasts, three puppeteers (Nicolas Di Gaetano, Viktor Kukawski and Trevor Leigh), communicating in babbles, squeaks and grunts, inhabit and animate various sculpted creations, moving backwards and forwards through time, since before the birth of imagination to the 21st century.
An omniscient voice (Judd Palmer) narrates in a witty and slightly perplexed tone.  A child's balloon appears as a recurring motif.
To further stretch their creative muscles, the Old Trouts embarked upon an experiment, a completely new way to write theatre they call Open Creation.  Using a WordPress blog site, they took the basic premise —a puppet documentary about the evolution of happiness—and then posted everything they wrote on the web for anybody who wanted to comment, criticize or contribute. Ignorance is very much a mega-collaboration.
Gigantic driftwood-like bones represent the womb of the cave, with walls functioning as canvasses or portals for the projections and shadow puppetry.  In one particularly moving scene the cave woman begins to draw, her movements mirrored by the unseen hand.  Technically it gives the appearance of being much simpler than it is.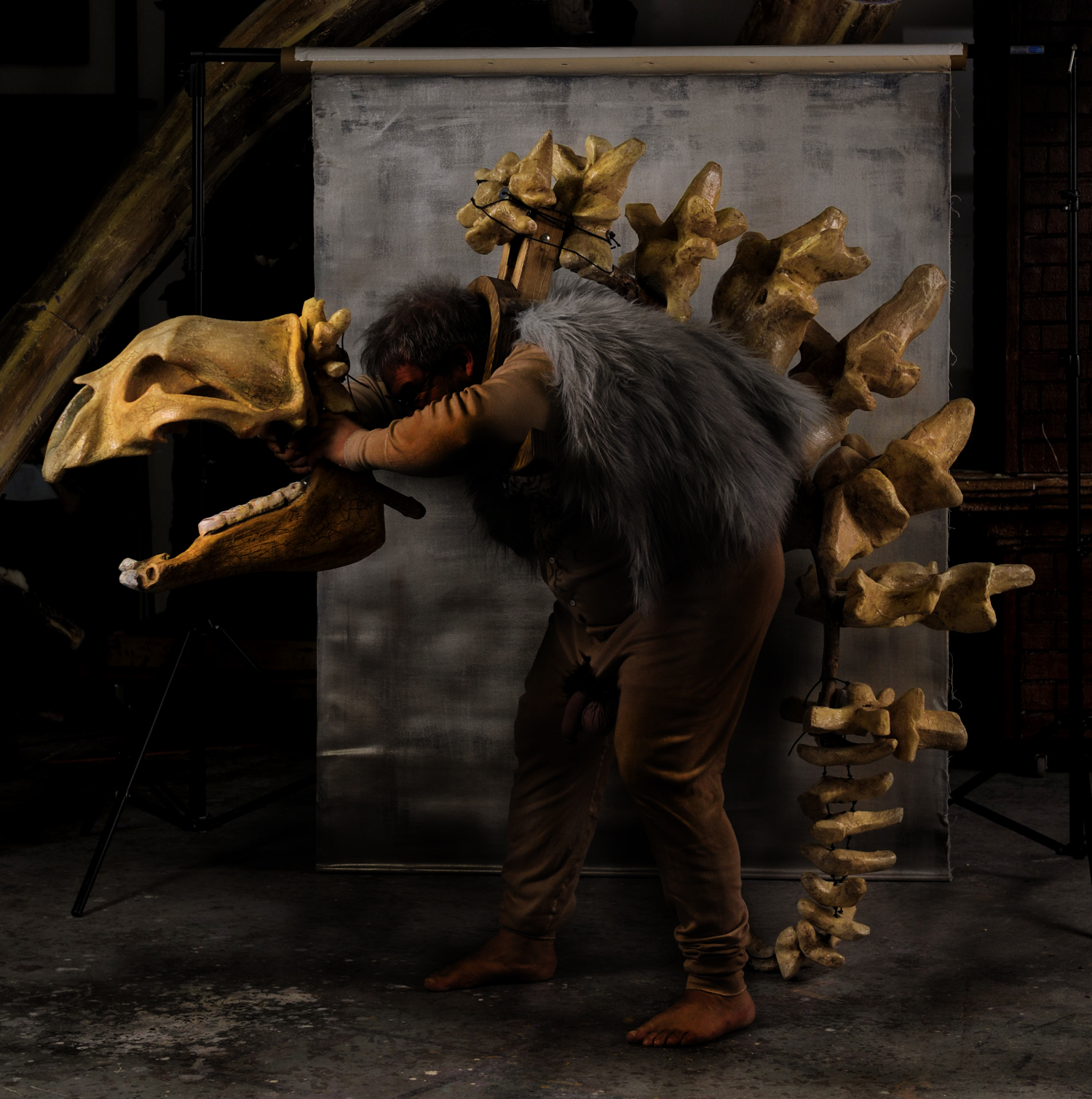 In order to show perspective, scale, and magnitude, the sculptors employed a brilliant device in the hunt scenes by crafting miniature replicas of the cave people and animals—we accompanied them every agonizing step of the way on their monumental journey. Whether full size, or mini-version, their actions made our hearts pound in anticipation of the outcome—would they be victorious?
Equally dazzling were the lighting (particularly the skies rent with thunder and lightning) and sound. The soundtrack has a compelling quality reminiscent of the songs Piaf sang in divey French nightclubs—it weeps pain and happiness in equal measure.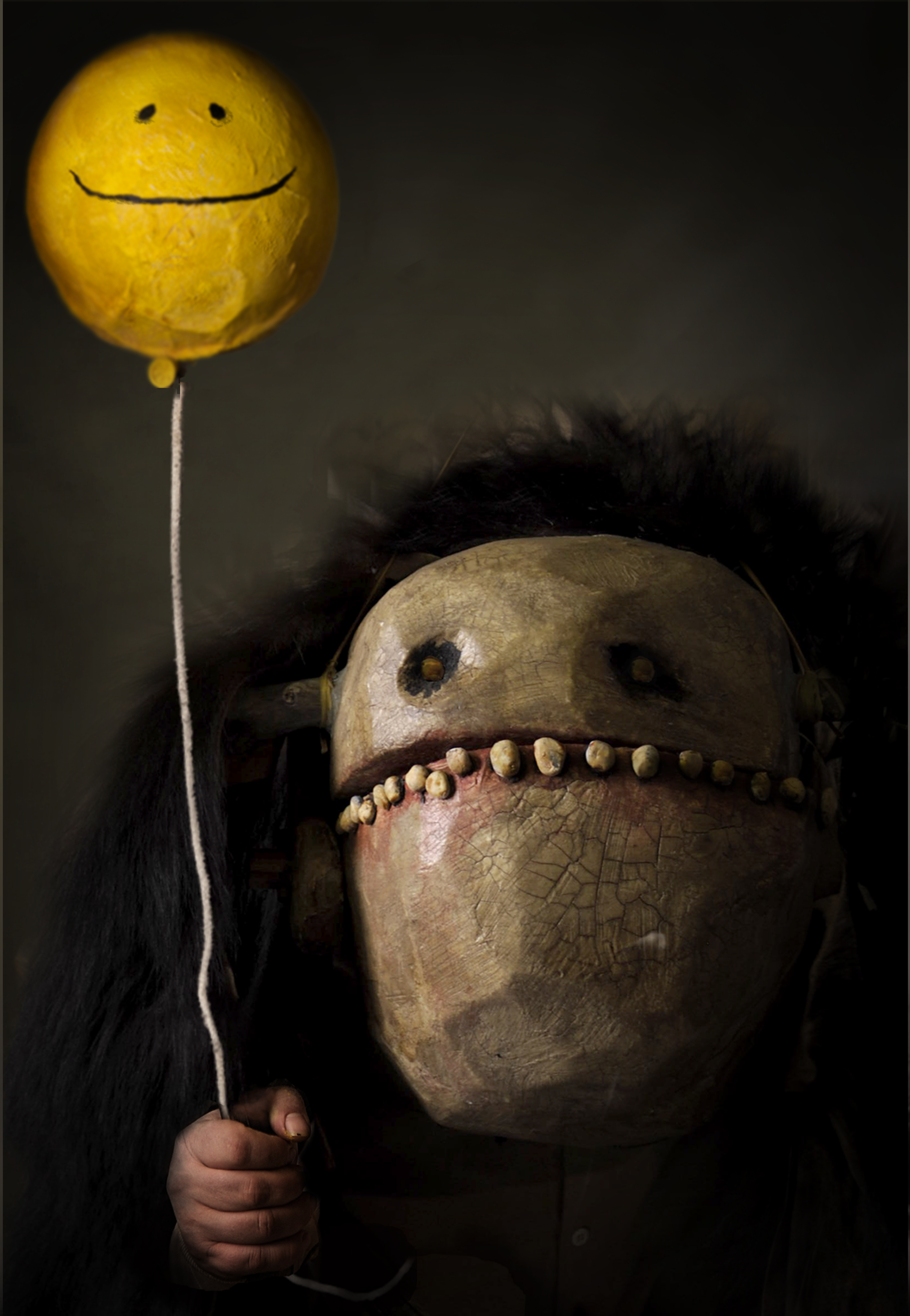 Why do we continue to chase the shiny object? Are we ever satisfied?  On an assembly line, a character waits and is initially enchanted with the single balloon that appears but in inevitable Sorcerer's Apprentice fashion, things go terribly awry.
The appeal of the Old Trouts and Ignorance lies in the company's ability to take complex questions and translate the elements of deep inquiry using tools and language that even a child can understand while still retaining enough intricacies to completely satisfy adults.
There were many chuckles, giggles, and knowing laughs as the audience responded with joy to the story and vignettes. Ignorance itself is a wonderful illustration of the play's central premise—life is made up of small, irretrievable moments of bliss, and we should savour them fully while and when we can.  I can think of no better medium than live puppet theatre to help us ponder this perplexity.
Ignorance, by the Old Trout Puppet Workshop
January 7-18, 2014
Blue Bridge Repertory Theatre at the Roxy, 2657 Quadra Street
Tickets ($26- $42) through Ticket Rocket, online, in person or by phone (250 590 6291)
Please note: NO minors at the evening performances (this is a licensed event)
Written by The Old Trout Puppet Workshop and Anonymous Contributors
Performed by Nicolas di Gaetano, Trevor Leigh, Viktor Lukawski, and Judd Palmer as The Narrator
Directed by The Old Trout Puppet Workshop Puppets & Props built by Peter Balkwill, Erin Baskerville, Juanita Dawn, Nicolas di Gaetano, Jen Gareau, Pityu Kenderes, Deneen McArthur, Judd Palmer and Clunk Puppet Lab: Jonathan Davis, Kyla Read, & Shawna Reiter
Animation by Paul Dutton with Sitji Chou, Jessi Schroeyers-Frederick and Tyler Lemermeyer
Costumes by Jen Gareau with the assistance of Laurana Rayne
Lighting Design & Tour Management by Cimmeron Meyer
Projection Design by Jamie Nesbitt
Sound Design by Trevor Leigh
Set Design by The Old Trout Puppet Workshop
Set Construction by The Old Trout Puppet Workshop with the help of Donna Mark, Techart Custom Creations and Beyond Foam Insulation
Stage Management by Paul Bezaire

Website contributors (besides many others who wished to remain anonymous): Kris Fleerackers, Marilyn Palmer, and Clark Taylor. General Manager: Bob Davis
North American Touring Agent: Grant Burns – grant@theoldtrouts.org
International Agent: Paul Tanguay – paul.tanguay@sympatico.ca

Special thanks to: Mercedes Bátiz-Benét, Nan Bruntjen, CJSW, Charles Culver, James Davidge, Elizabeth Dutton – age 11, Greg Francis, Ma and Pa Higgins, Teddy Ivanova, Rob Lahache, Dave Lane, Sarah Malik, Marilyn Palmer, Mel Vovchuck, Christa Mayer, and the Royal Saskatchewan Museum.

This show was developed as a creative residency at the Banff Centre for the Arts in 2011.  The Old Trouts are very grateful for their assistance, and also to everyone who attended the workshop performance of Ignorance.  And a special thanks as well to Quickdraw Animation Society, who helped a great deal with facilitating the animated sequences.
www.theoldtrouts.org   Ignorance Tour 2014
Disclaimer: I was provided with complimentary tickets for a preview performance of Ignorance, for the purposes of writing a review.  As always, I retain complete editorial control over all content posted on this website.