Words like "labour of love" and "massive undertaking" are often over-used.  In the case of Fractured Fables: The Prison Puppet Project currently playing at William Head Onstage (WHoS) they accurately describe not only the creation process but also the end result.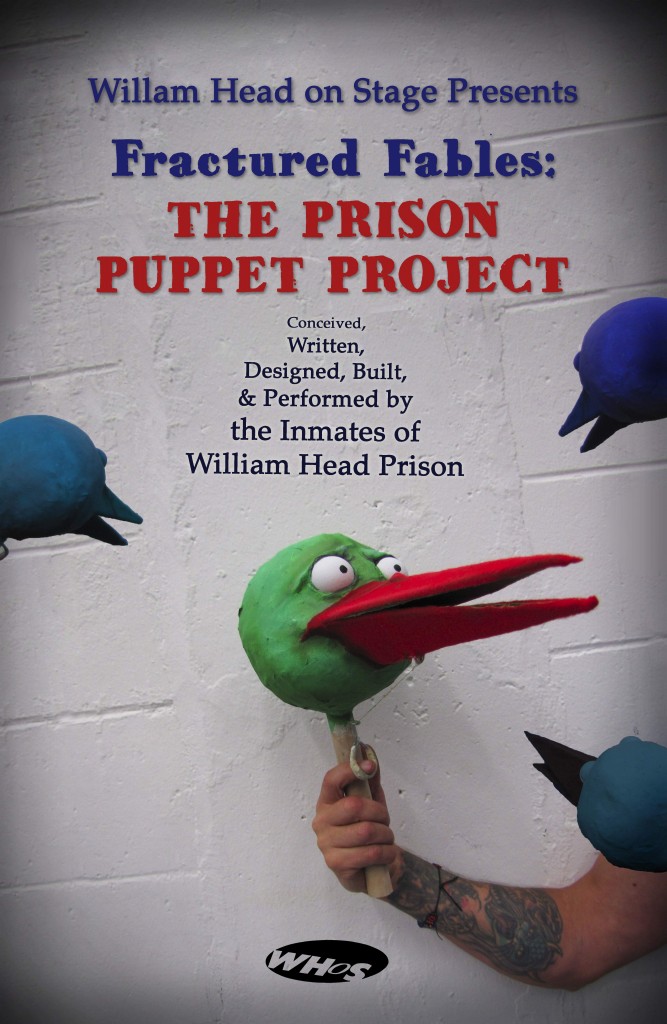 Founded in 1981, William Head on Stage is the only inmate-initiated, inmate-run theatre program inside a Canadian federal prison which opens it's gates to a public audience.  Over the years, many theatre students and members of the local theatre community have been enlisted to assist with direction, design, staging and acting.
Current co-director Ingrid Hansen of SNAFU Dance Theatre began working with WHoS in 2007 and in 2010 with fellow SNAFU member Anne Cirillo created the original work CHALK with the company of inmates.
Her work with puppets includes four summers performing as a lead puppeteer and voice actor on the children's television series Tiga Talk on APTN.  Recently she attended a Puppet Intensive at the Banff Centre led by Peter Balkwill of the famed Old Trout Puppet Workshop.  During discussions, the idea of co-creating a show with WHoS came up.  The rest is history – Balkwill moved his family to Victoria for 2 months.
The WHoS company has meshed devised theatre, puppetry, original storytelling and music-making to create a rich and accessible theatrical experience with universal themes.  Over 30 people – inmates and volunteers from the community – were involved in the production. Everything (costumes, sound, lighting, puppets, music) was created from scratch.
Distilling personal stories to 13 short fables with titles like "Playing with Fire", "The Giant Who Fell From the Sky", "Square Peg" and utilizing a vast array of puppet styles – shadow puppetry, hand puppets, manipulated objects – the actors imbue their puppet creations with a complete range of emotions. The audience on opening night was quick to revert to child-like enthusiasm and wonder, responding with spontaneous outbursts of sympathetic response to the plight of these fantastical creations.  It's all the more note-worthy given that the puppeteers are constantly visible.
Interspersed with the fables are episodic true stories of the inmates' lives.  Original music created by Katrina Kadoski (Cougar Annie Tales) and an inmate band (some of whom had never played an instrument before) underscores the wide sweep of the story arc.
Set designer Carol Klemm and lighting designer Poe Limkul turn a simple gymnasium stage into a place of magic and portend, proving that good design does not need elaborate budgets to be effective.
Of special note was the giant bird "Oda", one of many puppets constructed by Jeni Luther and inmates, which brought to mind Stravinsky's "Firebird".
Although I do remember one visit to William Head in the early 1980s, it's only more recently (since 2010), when friends have been involved in productions, that I've made the trip to WHoS a regular part of my theatre-going schedule.  When I consider the environment of the institution, and the backgrounds of the inmates involved, and weigh it against the fact that I, as an audience member, would be hesitant to undertake a project of this magnitude, I continue to be not only amazed, but grateful.
Fractured Fables is proof that a creative spark exists in each and every one of us, and simply requires talented and dedicated individuals to coax it into flame.  In the program biographies participants underline the themes of cooperation, team-building, stepping outside of personal comfort zones, and dedication.
As composer Kadoski said during a talk-back after the show "Trust in the mystery!"
"I continue to learn so much from these guys, about empathy, and how to foster a safe creative space, and about how IMPORTANT community is", says Hansen.
If you'd like to be part of the community of William Head Onstage (WHoS), performances run until November 9th.  Don't wait until the last minute to get tickets either – the shows sell out, particularly at the end of the run.
Fractured Fables: The Prison Puppet Project
October 11, 12, 18, 19, 25, 26, 31 & November 1, 2, 7, 8, 9
VENUE – William Head Institution – 6000 William Head Rd
A Minimum Security Prison, a 45 minute drive from downtown Victoria, through Metchosin
Inquiries and Information – The WHoS Office Line – (250) 391-7078
TICKETS $20 through Ticket Rocket : www.ticketrocket.org
ALL TICKETS MUST BE PURCHASED IN ADVANCE. 19+.  Photo ID required.
6:15pm – Gate Opens
7:15pm – Gate Closes (absolutely no latecomers)
7:30pm – Show Begins
Seven weeks ago, 27 prisoners embarked upon an impossible task: to build a giant show from scratch, using the art of puppetry to tell all their own stories.

There is no instruction manual.

The result is an hour of pure madness–an intense collage of stories where animals and humans reveal themselves through humour, darkness, and love.
Disclaimer: I was offered complimentary tickets to Fractured Fables. I was not paid to write a review nor was I required to do so. As always, I retain editorial control over all the content published on this blog.
 Of note:
Ingrid Hansen and Rod Peter Jr perform Kitt and Jane:  An Interactive Survival Guide to the Near Post-Apocalyptic Future at UVic's Phoenix Theatre October 17th – 26th.
Old Trout Puppet Workshop's production Ignorance is part of Blue Bridge Theatre's Presenter's Series (at the Roxy Theatre) January 7 – 19th, 2014