Pretty Good Not Bad Festival June 17-19 2016. Preview. A new festival for Victoria BC.
When noted musical improviser Dan Godlovitch contacted me with news of a new festival—I was intrigued.  Over the years I've come to know Dan more for his work with Paper Street Theatre Co, but others will recognize him from The Krells, Urban Therapy, Cloud Sounds and CFUV.
Media release follows:
Pretty Good Not Bad (PGNB) is a brand new festival focused on new music, visual and video art, modern dance and multimedia. The organization responsible (Pretty Good Society) is an amalgam of members of a few other influential entities from Victoria's creative community:
Animal Productions – Animal executed GOAT Festival last year alongside several other prominent shows (SHabazz Palaces, Viet Cong, MNDSGN). Animal have nurtured a longstanding connection to Victoria's underground punk, rock and post-punk community. Pretty Good is a natural evolution for the organization.
sub|division – Joining the Animal/Pretty Good team is Chris Long, who helmed sub|division for six years, programming over 125 local, regional and international artists, ensuring that Victoria's electronic music scene had a vibrant underground home for all committed to seeking out new sounds.
Alyssa Hrenyk (CFUV), Dan Godlovitch (Urban Therapy, Cloud Sounds, CFUV) and Toni Hall (Urban Therapy, sub|division) make up the rest of the Pretty Good board of directors. As of December, the organization's mandate and focus has been on executing Pretty Good Not Bad this June.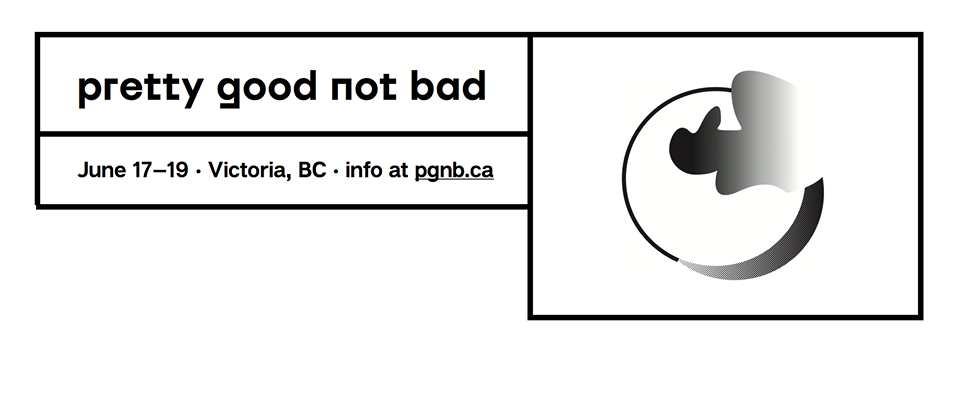 THE FESTIVAL
Pretty Good Not Bad's ideation, planning and ethos emanate from individuals that have been actively involved in Victoria's creative landscape for years. We feel that the general landscape of music festivals is supersaturated. Equally concerning is the consistent lack of progressive programming, absence of focus and minuscule resources afforded to the adventurous creative risk-takers doing valuable work in our own backyard.
PGNB's programming reflects the collective recognition that Victoria's experimental, avant-garde and progressive landscape—ie/ the "underground"—requires its own platform to appropriately showcase our homegrown talent alongside regional and international artists. This festival is that: an opportunity for artists to collaborate and showcase their work, and an avenue for the community to actively participate and celebrate it.
PGNB is committed to working with established entities and artists who are already supporting our local experimental community: CAVITY Curiosity Shop, The Fifty Fifty, The Copper Owl, Broken Rhythms, EMP Interactions…all of these local lynchpins are involved in our programming and as we are already looking toward 2017, we aim to collaborate with communities like Open Space to keep the focus on the good work already being executed in Victoria.
For a look at programming, you can visit our website: pgnb.ca – points of note:
Friday June 17 at Alix Goolden Hall – Laurel Halo is a renowned New York/Berlin electronic musician who will make her Western Canadian debut at Pretty Good Not Bad. Her live performance will be complimented by a giant 35 ft projection of visuals courtesy of local video artist Cory Arnold aka Comp_Zit.
Saturday June 18 at Centennial Square – we're excited to be working with the City of Victoria on AMBIENT PICNIC; a free, all ages performance in downtown of ambient electronic music from 7 BC artists. Jazz, pop, rock and dance are frequent on the Centennial stage; we're excited for an afternoon of mellow, ambient sounds.
Saturday June 18 at Crag X Climbing Gym – the new Crag X gym on Pandora is a world class climbing facility with state-of-the-art interior design and architecture; this space will be a showcase for ambient musicians well as local visual artists EMP Interactions: they will be video mapping a large scale projection inside the gym, animating the space unlike anything Victoria has ever seen before.
Sunday June 19 at the Atrium – Arts & Crafts' newest signing, Montreal pianist Jean-Michel Blais will make his Western Canadian debut bringing his avant garde classical piano compositions to the towering glass, steel and wood of the Atrium. His stunning pieces will inhabit the Atrium providing an emotional, beautiful close to the festival's programming.
Pretty Good, Not Bad Festival
June 17-19, 2016 in Victoria BC
Tickets: $15-20 via the website.
Many events are free.