Into The Woods by Company C January 28-February 6, 2016. A preview.
It's hard to believe how quickly time flies. It's been 10 years since my son Elliott Loran first became a student at the Canadian College of Performing Arts and I still remember, fondly, the productions of the inaugural season of Company C, the year III program that sees students forming their own repertory company and taking on roles from production to performance.
To cap off Company C's 10th anniversary season, they return to the magical and complex world of one of those inaugural productions, Stephen Sondheim's Into The Woods.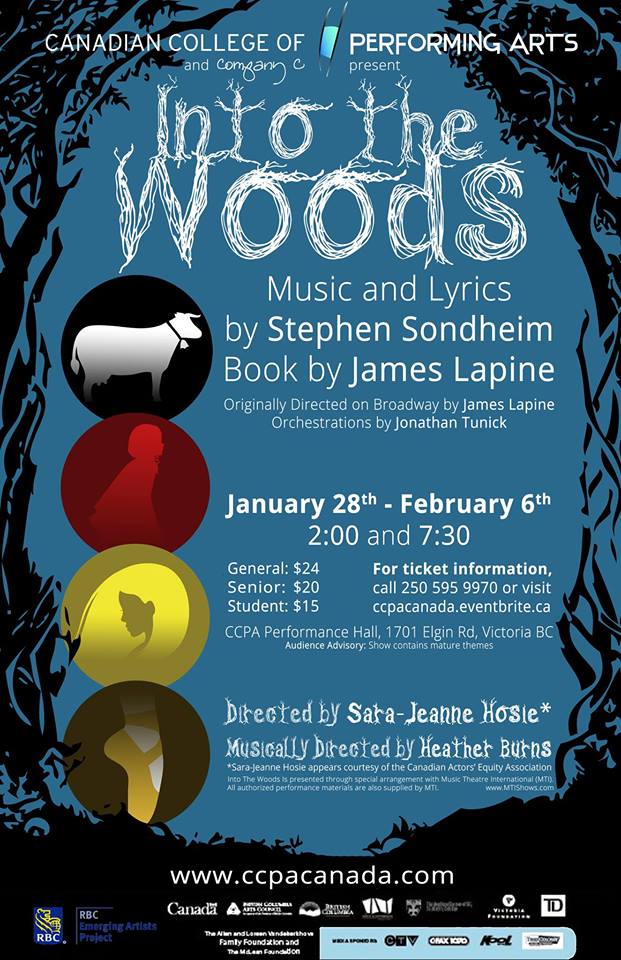 Winner of Tony awards for "Best Original Score" and "Best Book of a Musical", "Into The Woods" has received several revivals on both Broadway and in London's West End, and was made into a musical film by Walt Disney Pictures in 2014. The production (book by James Lepine and music by Sondheim) welcomes back classic fairy tale characters kicking off just as their tales ended with the words "and they lived happily ever after". "We're dealing with themes of love, growing up, and the consequences that follow when you achieve your heart's desire just as we are about to graduate and launch our own careers", says cast-member Lina Wahlstrom.

"Company C" welcomes, for the first time, renowned Canadian actor and director Sara-Jeanne Hosie, whose directing and choreographing credits include "Godspell" (Arts Club in Vancouver), "The Buddy Holly Story" (The Chemainus Theatre Festival), and "My Fair Lady" (The Blue Bridge Repertory Theatre).

Fifteen of Canada's most talented emerging artists will take on the stage roles and all aspects of the backstage production, with the guidance of local professionals including Musical Director Heather Burns and local musical theatre treasure Sarah Carlé, herself an alum of 2005's original "Company C".
"I'm absolutely loving working with Company C, enthuses Hosie. When you have the opportunity to teach the process, it's rewarding on several levels: one, you get to see the growth in the pre-professionals you're working with, and secondly, you discover new things that will help you with your own growth; both sides are learning.
I look forward to seeing where these young artists end up; they study not only acting and music, but also the production side, so some of them may choose to do stage management*ç."
Alum Sarah Carlé is happy to book-end ten years away from the college by revisiting Company C and the CCPA space, and help guide students through the process, while working with Hosie in a different capacity.
Marketing rep Helena Descouteaux promises, as with previous shows Marat/Sade and The Great Gatsby, "an incredible visual experience in the transformed space" of the CCPA Performance Hall.
Company C proudly presents "Into the Woods"
Music and lyrics by Stephen Sondheim
Book by James Lapine
Directed by Sara-Jeanne Hosie
Musically directed by Heather Burns
January 28th – February 6th, 2016
CCPA Performance Hall
1701 Elgin Rd
Performances at 7:30pm on Thursday 28th – Saturday 30th and Wednesday 3rd – Saturday 6th.
Matinees at 2:00pm on Saturday 30th, Sunday 31st, and February 6th.
Tickets available by calling 250 595 9970 or visiting http://www.eventbrite.ca/e/into-the-woods-tickets-18614116323