Pride and Prejudice at Langham Court Theatre October 1-18, 2014. A review.
PLEASE NOTE: Pride and Prejudice is SOLD-OUT but you can chance the wait list.

Pride and Prejudice at Langham Court Theatre (October 1-18, 2014) is a brilliantly mordant adaptation of Jane Austen's beloved 200 year-old classic by Victoria playwright Janet Munsil, perfectly paced with astute direction by Judy Treloar and gracefully interpreted by a talented multi-aged cast.
The writer has lost none of her power over the centuries; her wry observations skewer the British gentry in all its facets and underline the interplay between family, friends and lovers.
What a quandary faces the Bennet family—father (Paul Terry), mother (Jennifer Hoener) and five daughters (Jane, Elizabeth, Mary, Kitty and Lydia). Matches must be found, and a flighty and exasperating Mrs Bennet will stop at nothing to ensure her daughters are well settled. As the good-natured father bumbles, her aspirations are set—nothing but the richest young man in the district (Ian Simms as Charles Bingley) will do.
Petty rivalries, snobbery, genuine regard—the full range of faults and foibles are laid bare with precise wit.  Although the initial theme is introduced at the very beginning, Pride and Prejudice contains many surprises for audience members unaware of the story.
The attractions between Bingley (Ian Simms) and Jane (Sarah Tradewell), Darcy (Montgomery Björnson) and Lizzie (Melissa Taylor) build slowly.  Characters are revealed judiciously through daily interaction—preparing Christmas treats, dancing in the parlour, visiting with neighbours.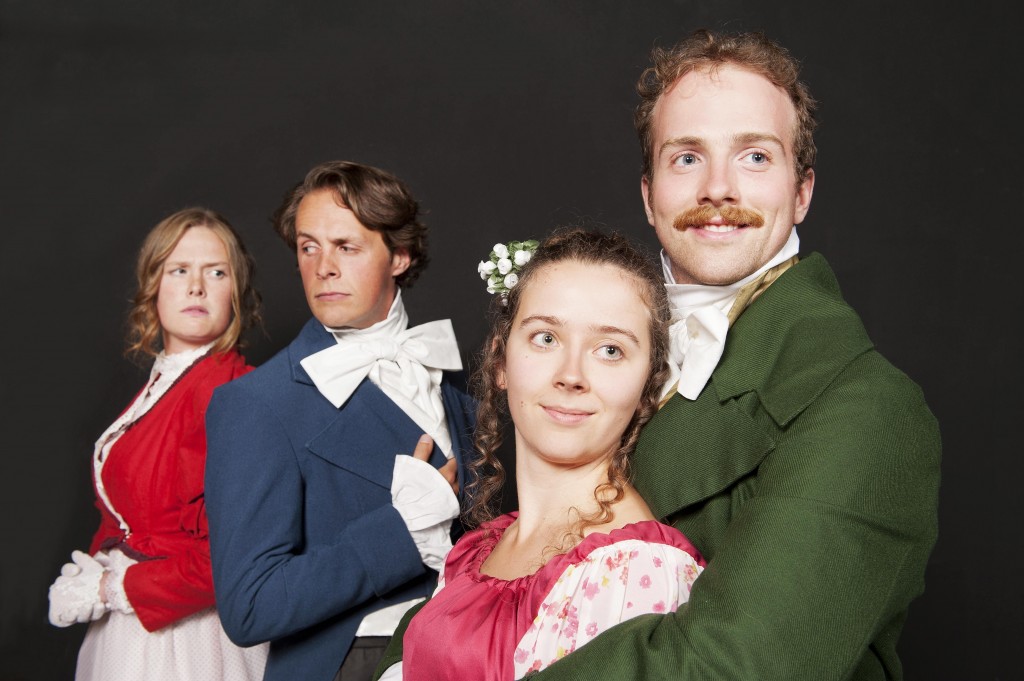 Melissa Taylor (Lizzie Bennet), Montgomery Björnson (Mr Darcy), Sarah Treadwell (Jane Bennet), Ian Simms (Mr. Bingley). Photo: David Lowes
Choreographer Sylvia Hosie's dance numbers are exquisitely genteel, the muted applause after each musical interlude (sound design Jason King) signalling the careful attention necessary to decorum during this era. Period costume by Merry Hallsor (her first design foray) is elegant, particularly in terms of the colour palette employed for the sisters—a range of pink, cranberry and rose that is definitely not fussy—contrasted with the richness of the gowns worn by the upper class women.
Audiences have come to expect the un-expected in terms of set design at Langham Court Theatre and novice Caroline Mitic does not disappoint with her rooms that fold out from the humble Bennet  home Longbourn to reveal the stately interiors of Netherfield and Pemberley.
The main protagonists are strongly interpreted by Taylor and Björnson in a delightful display as original antipathy turns to regard and then love.  Sympathies are high for individuals who must navigate relationships within a particularly stilted social construct.  That they manage to do so with aplomb is remarkable and what continues to engage us, even today.  Even-handed, never mean-spirited, operating within the boundaries of convention yet remaining true to oneself—Austen's classic holds a contemporary message.
Chase Hiebert as Mr Collins, heir to the Bennet estate, and unhappy suitor of Lizzie, elicited much laughter for his obsequiousness; Elizabeth Whitmarsh is a terrifyingly regal harridan as Lady Catherine de Bourgh (his patroness and aunt to Mr Darcy). Michael Bell is a particularly suave and odious George Wickham and Danielle Florence ideally expresses all the frustration of know-it-all sister Mary while Melissa Berry defines snob as Caroline Bingley.
I believe the ultimate test for any work of theatre to be how it engages the general audience—people who come unaware of the story, never having studied the playwright or the play.  My guest for the evening is more familiar with rock and roll than the genteel considerations of Austen. The genius of this production of Pride and Prejudice is that it captured his attention completely. Bravo to cast and crew for a job well done—you have breathed new life into an undisputed treasure of the English language canon.
A caution—many nights are already sold-out. If you plan to attend, get your tickets immediately.
"Funny, fierce, romantic, undeniably engaging"– STEPHEN HUNT, CALGARY HERALD

Fall in love all over again! Can Elizabeth overcome her pride and Darcy overcome his prejudice? Victoria's own Janet Munsil has beautifully crafted the characters so that this beloved tale, set in Regency England, is more accessible, fresher and sparkling. As Munsil states, "Life doesn't go the way you plan it, relationships are complicated, and love can sneak up on you." Play of the Year 2012, Calgary. Come see this period treasure.

Munsil's plays include Influence, The Ugly Duchess, Emphysema (a love story) (UK title Smoking with Lulu), Be Still, Circus Fire and that elusive spark. Since 1992, she has been the Artistic Director and Festival Producer of Intrepid Theatre in Victoria, BC, where she produces the Victoria Fringe Theatre, Uno Fest, and an international theatre presentation series, Winterlab.
SUITABLE FOR ALL AGES
Pride & Prejudice, A Drama by Jane Austen, Adapted by Janet Munsil
Directed by Judy Treloar
Langham Court Theatre
October 1-18, 2014
Tickets:
$21 Adults, $19 Students / Seniors (ages 65+), $16 / ticket Groups 10+
2 for $20 Preview (Wed, Oct 1)
2 for $30 Tuesdays (Oct 7 & 14)
$10 Student Rush Ticket (15 min before curtain, with ID )
Performance Schedule (October 1 to October 18, 2014):
Oct 01 to Oct 04–Wed thru Sat nightly show time 8:00pm
Oct 07 to Oct 11–Tues thru Sat nightly show time 8:00pm
Oct 14 to Oct 18–Tues thru Sat nightly show time 8:00pm
* Plus two Sat matinees Oct 11 & 18-show time 2pm
For more information, contact Langham Court Theatre:
805 Langham Court
Victoria BC V8V 4J3
Box Office / Admin: 250-384-2142 Email: boxoffice@langhamtheatre.ca

Production team:
Director-Judy Treloar
Assistant to the Director-Kevin Eade
Choreographer-Sylvia Hosie
Producers-Rick Underwood, Peta MacKenzie
Stage Manager-Nick Stull
Assistant Stage Manager-Sue McCaskill
Properties-Maureen Colgan
Costume Designer-Merry Hallsor
Sound Designer-Jason King
Lighting Designer-Adam Wilkinson
Set Designer-Caroline Mitic

Cast (character / actor):
Jane Bennet / Sarah Tradewell
Lizzie Bennet / Melissa Taylor
Mary Bennet / Danielle Florence
Kitty Bennet / Ellen Law
Lydia Bennet / Catherine Landry
Mr. Bennet / Paul Terry
Mrs. Bennet / Jennifer Hoener
Mrs. Gardiner / Caroline MacKenzie
Mr. Gardiner / Ian Case
Caroline Bingley / Melissa Berry
Charles Bingley / Ian Simms
Charlotte Lucas / Katt Campbell
Mr. Collins / Chase Hiebert
Lady Catherine de Bourgh / Elizabeth Whitmarsh
Lady Anne de Bourgh / Melissa Berry
Georgiana Darcy / Keshia Palm
Fitzwilliam Darcy / Montgomery Bjornson
Mrs. Reynolds / Elizabeth Whitmarsh
George Wickham / Michael Bell
Disclaimer: I was provided with complimentary tickets to attend Pride and Prejudice for the purposes of writing a review.