Rosencrantz and Guildenstern Are Dead. Langham Court Theatre June 11-28, 2014. A review.
As my friend Cheryl DeWolfe elegantly wrote recently in I'm Familiar With That Story , so often we are not—familiar; to our detriment. That is the case, I discovered, with my spotty knowledge of Shakespeare's Hamlet.  I know the major plot lines, and can probably quote a line or two from some of the more well-known soliloquies, but as for Rosencrantz and Guildenstern—well, they escaped my attention entirely! Thus, I entered Langham Court Theatre's production of Rosencrantz and Guildenstern completely blind—having never seen it or Hamlet before.
Despite what could be considered a significant handicap I laughed mightily at the uproarious antics of the eponymous characters—played by Alex Judd and Rick Rodrigues in their first major roles at Langham—in one of the most entertaining pairings on a Victoria stage in recent memory.  They are joined by Jason Stevens (A Christmas Carol-Craigdarroch Castle, Glengarry Glen Ross-Island Repertory Company, Copenhagen-Theatre Inconnu) in full Monty Python-esque flight as the Player, leader of a band of wandering actors The Tragedians—motto "Blood, Love, Rhetoric".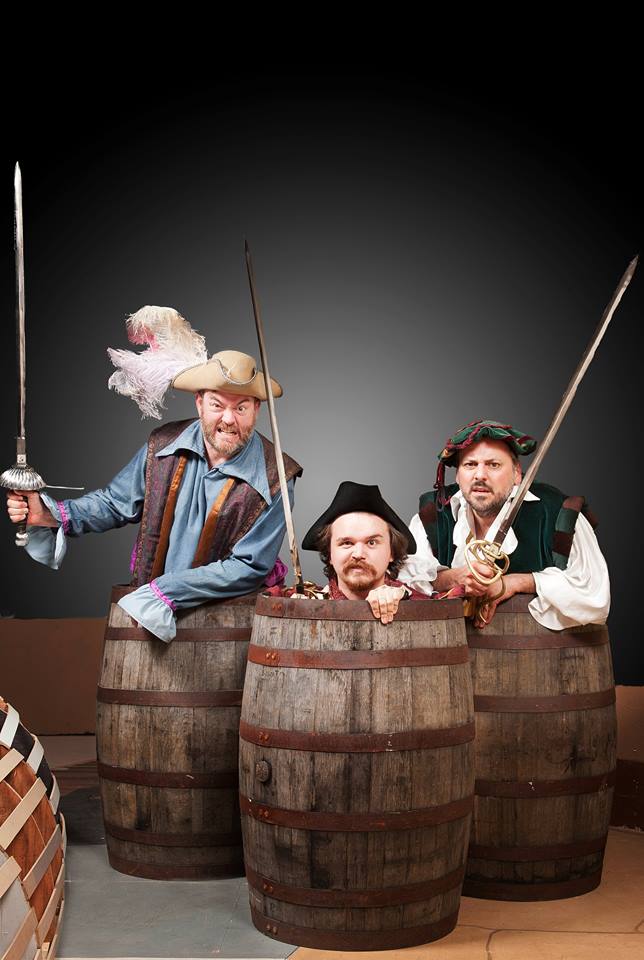 Jason Stevens (Player), Alex Judd (Rosencrantz), Rick Rodrigues (Guildenstern). Photo: David Lowes  Art Studio 21
Rosencrantz and Guildenstern Are Dead presents an intriguing set (Bill Adams) utilizing a very effective raked stage and sculpted side elements to suggest both the vast horizon and an intimate more cloistered environment. Swirling projections (Kevin Stinson) and lights (Karrie Ayotte and Paul Hinton) conjure images of the cosmos and deep magic. From the initial presentation, the audience is pulled into a state of wonder and curiosity.
The play opens to sounds (Kevin Stinson) before the lights come up on Rosencrantz and Guildenstern engaged in a game of chance. There is neither rhyme nor reason to their situation that they can determine and the audience is as much in the dark. It's easy though to surrender to the perfidy and non-sense as these characters try mightily to figure it out. With shades of Waiting for Godot and superb physical and gestural comedy Judd and Rodrigues provide laugh after laugh. Amid the one-liners are some imposing logical arguments on the nature of identity, time and existence.
With the arrival of  The Tragedians (pulling a dilapidated cart), the comedy is amplified, and the debate grows in scope.  This campy interlude provides much grist for the mill as the failed thespians attempt to come to terms with the role of the actor in society. Confusion reigns supreme—it's witty and funny. Here, directors Keith Digby and Cynthia Pronick mine the depths of high farce and the absurd without ever veering into cheap laughs or slapstick.
This finesse is demonstrated very capably by the troupe (some of whom are newcomers to the stage) as they play out various scene snippets from Shakespeare with wonderful flourishes and capers.
And thus to Elsinor for the second act. Those familiar with Hamlet will have the inside track on some of the jokes, but the action is laid out clearly regardless. Hamlet (Nicholas Guerreiro) sulks and storms, Ophelia (Michelle Mitchell) weeps and pouts, Claudius (Roger Carr) plots while Gertrude (Wendy Magahay) remains regal throughout and Polonius (Kevin Stinson) clueless. Our hapless heroes find themselves thrust into this drama in progress and try to stay above water.
Design elements of this production are of exceedingly high calibre and contribute greatly to the audience's overall enjoyment.  In one particularly evocative and poetic example, Hamlet, Rosencrantz and Guildenstern—engaged in deep conversation—are silhouetted (almost as shadow puppets) against a darkening sky.  There was a collective murmur of appreciation from the crowd for the sheer artistry.
Another striking visual moment is onboard ship as the crew is attacked by pirates, and hides in a trio of barrels (with a nod to Beckett's Endgame).
Costumes (Pearl Arden) are rich in texture, featuring high (the royal court) and low elements (the troupe of actors). Cf: the Sumptuary Laws that were in place in Queen Elizabeth's England. There is a mention in the program of Rad Juhli, known locally for her custom leather work.
Rosencrantz and Guildenstern was written in 1964 (this is the second production at Langham). Working with a large multi-generational cast comprised of professionals, Langham regulars and newcomers, and stage neophytes, Digby and Pronick prove the timeless appeal of a show that celebrates 50 years.
Production chairs Gil and Angela Henry are to be congratulated for the challenging task of shepherding a team where many of the roles were shared and mentorship provided.
Whether you are familiar with the source material or not, Rosencrantz and Guildenstern provides boundless entertainment and the opportunity to ponder the human condition, all at the same time—and that's an amazing feat. Bravo Langham Court Theatre!
There is one more show remaining in this 85th season—Boeing, Boeing July 24th-August 2nd.
Subscriptions for the 2014-2015 season—a journey via six families featuring Pride and Prejudice, The Small Room at the Top of the Stairs, People, Drood (the Mystery of Edwin Drood), August: Osage County and Humble Boy—are now on sale.  If the 86th season is anything like the past year, they are well worth the price.
Rosencrantz and Guildenstern Are Dead is the inventive tale of Hamlet as told from the perspective of Rosencrantz and Guildenstern, two minor characters in Shakespeare's play. Act one opens with Rosencrantz and Guildenstern flipping coins, in a game of heads and tails where every coin comes up heads. From here on the two protagonists leave everything to chance, with no idea who sent for them or why – or, come to think of it, even who is who! They finally get a chance to take the lead role, but do so in a world where reality and illusion intermix, and where fate leads our two heroes to a tragic end.

Tom Stoppard focused on radio dramas in his early career and in the mid-1960's he wrote the novel, Lord Malquist and Mr Moon. Yet his play, Rosencrantz and Guildenstern Are Dead, first produced at the Edinburgh Festival in 1966 and a year later by the National Theatre, earned him fame and fortune. Tom Stoppard is also known for co-writing the screenplays for Brazil, The Russia House, and Shakespeare in Love. He was knighted in 1997.

Rosencrantz and Guildenstern are Dead was written in 1964, and the play was published in 1967. It played on Broadway in 1968, where it won the Tony for best play.

"Life is a gamble, at terrible odds. If it were a bet you wouldn't take it."
Rosencrantz and Guildenstern Are Dead
Langham Court Theatre, June 11-28,2014
Tickets:
$21 for Adults
$19 for Students / Seniors (Seniors ages 65+)
2 for $20 Preview (Wed, Jun 11)
2 for $30 Tuesdays (Jun 17 & Jun 24)
Student Rush Tickets $10 per ticket (At 15 min before curtain, Student ID required)
Performance Schedule (June 11-June 28, 2014):
Jun 11 to Jun 14–Wed thru Sat nightly show time 8pm
Jun 17 to Jun 21–Tues thru Sat nightly show time 8pm
Jun 24 to Jun 28–Tues thru Sat nightly show time 8pm
* Plus two Sat matinees Jun 21 & Jun 28-show time 2pm
* Fri, Jun 13 performance includes a post-show talk-back with the director and cast
For more information, contact Langham Court Theatre:
805 Langham Court
Victoria BC V8V 4J3
Box Office / Admin: 250-384-2142
boxoffice@langhamtheatre.ca
Website: http://www.langhamtheatre.ca/
Twitter: https://twitter.com/#!/LanghamTheatre
PRODUCTION TEAM
Directors: Keith Digby & Cynthia Pronick
Stage Manager: Syliva Lindstrom
Asst Stage Managers: Finn Archinuk & Leigh Robinson
Producers: Gil Henry & Angela Henry
Set Designer: Bill Adams
Lighting Designers: Karrie Ayotte & Paul Hilton
Sound & Projection Designer: Kevin Stinson
Properties Manager & Set Decor: Joyce Kline
Costume Designer: Pearl Arden
Costume Assistants: Lynn Cadrain, Jean de Cartier & Rosemary Henry
CAST (actor / role)
Alex Judd / Rosencrantz
Rick Rodrigues / Guildenstern
Jason Stevens / The Player
Bobby Cleveland / Tragedian, Solider
Chase Arden / Tragedian-Alfred
Finnbhar McLaren / Tragedian-Alfred
Tony Cain / Tragedian, Ambassador
Travis Wilson / Tragedian
Nicholas Guerreiro / Hamlet
Michelle Mitchell / Ophelia
Roger Carr / Claudius
Wendy Magahay / Gertrude
Kevin Stinson / Polonius
Jay Fedorak / Tragedian, Horatio
 Disclaimer: I was offered complimentary tickets to Rosencrantz and Guildenstern Are Dead, and asked to provide a review. As always, I retain complete editorial control over all the content published on this website.