ROSS BAY VILLA GRAND OPENING: On August 4, 2013 The Ross Bay Villa Society and TLC open the doors of this special historic house museum to the community for a lawn party, house tours and to celebrate 13 years of restoration.
I've written before about the restoration of Ross Bay Villa. Here's an earlier post on the Oil Cloth Project from December 2011.
Now, you can tour the house, and view the results of thirteen years of careful restoration by a dedicated team of volunteers (who were awarded the Land Trust Alliance of BC 2011 Land Trust Award for Outstanding Volunteers). People have committed thousands of hours to recreating this 1865 home, one of a handful in Victoria, and indeed province wide. You'll marvel at the intricacies of the faux-wood panelling in the entry way, and be astonished by the oil cloth on the floor.
If you are unable to attend the grand opening on August 4th, tours are conducted regularly on the first Saturdays of the month at 2pm.
The Ross Bay Villa Society was recently formed. Members of the society are exploring options for revenue generation, and limited rentals of the space may be possible.  It would make a perfect spot for engagement or wedding photos.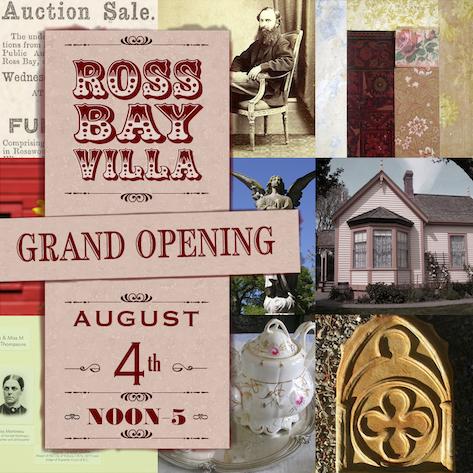 Ross Bay Villa was built in 1865 and is one of only a dozen remaining 1860s homes in the city. It was home to Francis James Roscoe, who arrived in Victoria in 1862, the same year as the city's incorporation. Roscoe was an important figure in early Victoria, holding many public offices. Perhaps most significantly, he was a staunch advocate for BC's rights in confederation and served as an MP for Victoria from 1874-1878.

In addition to its history as the residence of one of early Victoria's major political figures, Ross Bay Villa is also a significant historical object in itself. The house was saved from demolition by The Land Conservancy of British Columbia in 1999 and since then, due to the tireless efforts of a dedicated team of volunteers, it has slowly been restored back to its original 1860s glory, adhering meticulously to the Standards and Guidelines for the Conservation of Historic Places in Canada. The exterior of the house boasts many of the original architectural details characteristic of the popular 1860s Gothic Revival style, and its interior exhibits rooms that have been restored completely with period wallpapers, furnishing, floor coverings and artifacts. In addition to Ross Bay Villa's function as a historic house museum, it is also the home for the offices of the Hallmark Heritage Society and the Old Cemeteries Society, and serves as a hub for heritage activity in the community.

Ross Bay Villa Society: the Ross Bay Villa Society was incorporated in January 2013 to encourage and to participate in the restoration, maintenance, and stewardship of Ross Bay Villa in conjunction with the Land Conservancy of BC; to research, document, and promote Ross Bay Villa's historical significance to the community at large; and to operate as a not-for-profit organization.

Work continues throughout July on the final details of the new exterior colour scheme, hand-made wallpaper for the front hall, floor cloths, and kitchen garden as the volunteers prepare the house and grounds for the Grand Opening.

Ross Bay Villa Grand Opening – Celebrating 13 Years of Restoration

1490 Fairfield Road, Victoria (across from Ross Bay Cemetery)

Sunday August 4th, 2013 from Noon – 5pm

Ribbon Cutting by the Honourable Judith Guichon, Lieutenant Governor of British Columbia at 12:30pm. House Tours begin at 1pm.

Admission to the grounds: FREE and includes music on the lawn, heritage displays, plant sale and cemetery tours

Guided House Tour: $10    Cream Tea: $7     Tea + Tour: $15

Graphic Design generously provided by: HonkHonk Graphic Arts