Warning
: Undefined array key "width" in
/home/janislac/public_html/wp-includes/media.php
on line
1622
Warning
: Undefined array key "height" in
/home/janislac/public_html/wp-includes/media.php
on line
1623
The Skin of Our Teeth currently at UVic's Phoenix Theatre until November 23rd is a magnificent and mesmerizing spectacle, a veritable aural and visual feast that sustains the audience's attention over almost three hours.
Beloved American novelist and playwright Thornton Wilder had already been awarded the Pulitzer Prize for his novel The Bridge of San Luis Rey and the play Our Town when, during a trip to Europe in 1941, he saw Mother Courage by Bertoldt Brecht, and was inspired to write The Skin of Our Teeth.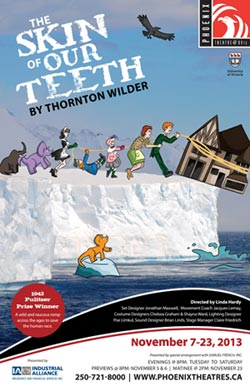 Meta-theatrical in nature, the play is an ambitious tour through the totality of human existence, as played out in the lives of a representative couple, George (Markus Spodzieja) and Maggie Antrobus (Julie Forrest), our own Adam and Eve, and their two children Henry (or Cain) and Gladys, with commentary by the maid Sabina.
The first hint of the ambitious nature of this production comes from the stage curtain. Flowing, cascading and scalloped layers of cloth, warmly lit in golden tones, provide a most unusual backdrop which parts, incrementally, to reveal wave after wave of stumbling and frigid humanity, battling the elements as they march inexorably forward.
Every inch of the thrust stage and the aisles of the Chief Dan George Theatre are used extensively to create director Linda Hardy's vision.  The magnitude of the undertaking is tremendous – how do you adequately portray an Ice Age with its advancing icebergs, a flood of biblical proportions, war, and a contemporary middle-class home (complete with pet dinosaurs)?
Set designer Jonathan Maxwell has constructed inventive and gasp-worthy mechanisms to suggest impending annihilation by ice and storm – I'd happily attend more than once, simply for the joy of seeing these special effects deployed.  Brian Linds' aural landscapes weave a rich under fabric, and are spectacular in the haunting creaking of the opening sequences.  Pay close attention to the music of the set changes – there are many allusions, including Der Führer's Face.
Costume designers Chelsea Graham and Shayna Ward, with their team of assistants, had the formidable task of costuming 23 actors, portraying 65 roles, in three very different periods.  I particularly noted the wide variety in the red, white and blue themed garments of the second act during the "Convention of the Ancient Order of Mammals", and the juxtaposition with those of the failed candidate in white, yellow and blue.
Lighting by Poe Limkul is the perfect complement to Maxwell's décor, ranging from icy, blue-grey tones, to warm golds suggesting a comfortable middle-class home, to shattering storms as the weather turns to flood conditions.
Movement coach Jacques Lemay's work is most evident in the large group scenes, and is particularly effective during Act Two when convention attendees battle the approaching storm, back-peddling against the ferocious winds.
A special mention needs to be reserved for the puppet creations of properties co-ordinator Bryn Finer, and the work of assistant director Chari Arespacochaga in guiding the puppeteers (Jenson Kerr, Amanda Millar, Colin Doig, Marisa Nielsen) with their pet dinosaurs, mastodon and crow.
The Skin of Our Teeth is now over 70 years old, and yet the topics covered in Wilder's script seem as important today as then, proving his main thesis of the cyclical nature of our human condition.
The entire cast is on point, and in fine form for this formidable undertaking – there are far too many cameos and notable moments to single out; in addition, some of the roles feature alternate actors.
Victoria audiences are fortunate indeed to have the University of Victoria's Phoenix Theatre who is willing to devote considerable resources to the study and staging of this 20th century masterpiece for our enjoyment
Laughing at ourselves surviving the human race.

Enter New Jersey suburbia: home of the perfect middle class family, George, his wife Maggie, their children Gladys and Henry (previously known as Cain?), and their pet… dinosaurs? George is the inventor of the alphabet and the multiplication tables and he's just invented… the wheel?  If you're not sure what's happening, then welcome to Wilder's wildly revolutionary romp across many millennia, from the ravages of ice ages, global warming, storms, floods, depressions and war – and back again.

Absurdly funny and very profound, this 1943 Pulitzer Prize-winning satire from the author of Our Town takes us on a wild and raucous tour through the ages to save the human race.  Revolutionary when first written, The Skin of Our Teeth is a play for our time.
The Skin of Our Teeth By Thornton Wilder
November 7-23, 2013
Director  Linda Hardy
Movement Coach Jacques Lemay
Set Designer Jonathan Maxwell
Costume Designers Chelsea Graham & Shayna Ward
Lighting & Projection Designer Poe Limkul
Sound Designer Brian Linds
Stage Manager Claire Friedrich
Featuring (in alphabetical order)
Alannah Bloch Asst. Stage Manager/ Broadcaster  
Surya Butterworth Announcer/ Broadcaster 
Sarah Cashin Miss E Muse/ Majorette
Amy Culliford Fortune Teller/Fate*
Lindsay Curl Miss M Muse/ Convenor
Cecilly Day Ivy/ Fate
Colin Doig Freddy the Dinosaur/ Chair Pusher
Sean Dyer Professor/ Convenor/ Mr. Tremayne 
Kevin Eade Henry/ Homer/ Defeated Candidate*
Danielle Florence Gladys/ Millie the Crow/ Girl in Chair* 
Julie Forrest Mrs. Antrobus  
Tyler Fowler Mammoth/ Judge Moses/ Convenor
Jenson Kerr Fitz/ Rex the Dog
Hayley McCurdy Sabina/ Majorette*
Francis Melling Doctor/ Convenor  
Amanda Millar Hester/ Fate  
Michelle Morris Fortune Teller/ Fate*  
Reese Nielsen Dolly the Dinosaur/ Convenor
Kathleen O'Reilly Gladys/ Millie the Crow*/ Girl in Chair*
Nick Postle Telegraph Boy/ Convenor/ Fred Bailey
Ian Simms Henry/ Homer/ Defeated Candidate*
Tea Siskin Sabina/Majorette*
Markus Spodzieja Mr. Antrobus   
LJ Tresidder Miss T Muse/ Majorette
* alternating roles on different evenings
Single Tickets: $14 Student /$20 Senior/$22 Adult/$24 Weekends @ 8pm (Previews $7.00, available after 5pm)
Season Subscription: $36 for 3 plays. Details and order forms at www.phoenixtheatres.ca Phoenix Box Office:  in person or by calling: (250) 721-8000
Disclaimer: I was offered complimentary tickets to attend The Skin of Our Teeth. As always, I retain complete editorial control over all content published on this site.