Theatre SKAM celebrates their 20th season in 2015.
Founded in 1995  by four emerging artists (Sarah Donald, Karen Turner, Amiel Gladstone, and Matthew Payne) as a means for the creation and production of new work, Theatre SKAM celebrates 20 years in 2015.  SKAM continues to push the boundaries of performance and provide opportunities for emerging artists.
They begin with a huge birthday bash at the Atrium January 17th featuring the music of Mike Demers, silent and live auctions, 50/50 draw and photo booth.
In recognition of 20 years, Theatre SKAM presents the SKAM: Remixed project—a series of performances featuring SKAM past hits, reworked in wonderful and amazing ways.
First up is SKAM Remixed: Ballet Victoria's Aerwacol! Inspired by Sean Dixon's stageplay, Paul Destrooper and Ballet Victoria bring a gritty work of outdoor theatre under the roof of contemporary ballet. January 31 at 9 PM and February 1 at 7 PM, at the Metro Studio Theatre. Tickets are available at DanceVictoria.com — or get a SKAM Season Pass and save at TicketRocket.org!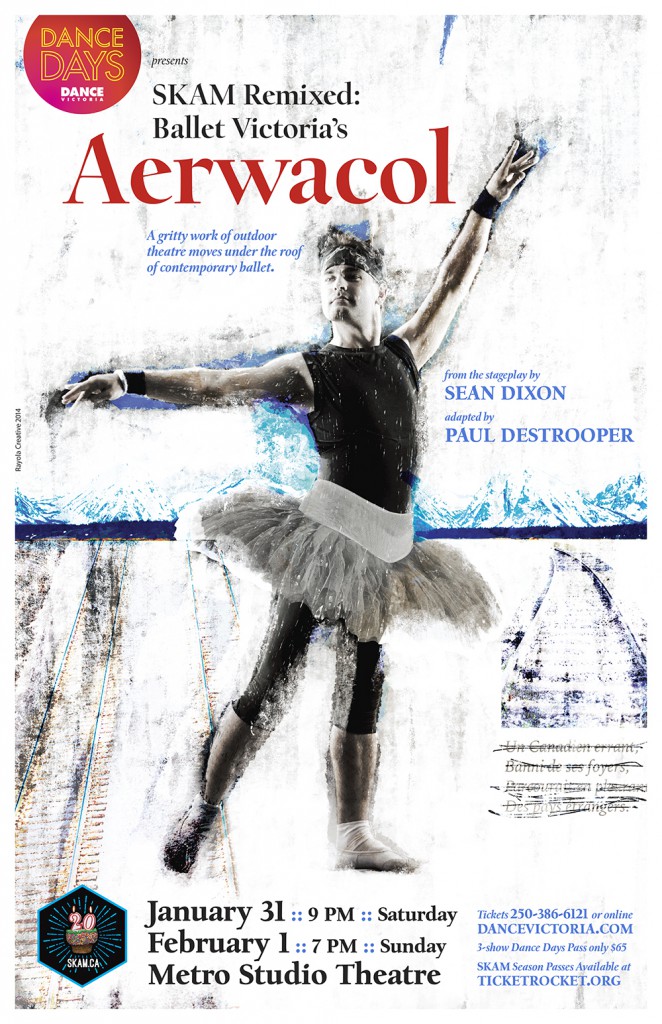 SKAM's one-of-a-kind installation Fashion Machine, where kids make your best outfits better, travels to  schools across the CRD in early 2015 and then to the Royal BC Museum March 28-29. 
The Belfry Theatre's SPARK Festival (March 9-22) will showcase a collection of SKAM-inspired mini-plays and a reading of Sean Dixon's Billy Nothin'.
April 30 to May 9 SKAM Interns Colette Habel and Chase Hiebert are given the keys to The Lab. Their mission: adapt a show originally performed by one actor in a semi-trailer into a full-cast, traditional-theatre-venue production!  Metro Studio Theatre.
Bike Ride favorite Runaway, by Mika Laulainen, will have its full-length premiere at the Kaleidoscope Theatre Family Theatre Festival May 1-3, 2015
Bike Ride returns July 10-12 with a new name—the Theatre SKAM Summer Theatre  Festival—a new look, and even more ways to see theatre on the Galloping Goose Trail.
August 26 to September 5, Lt. Nun gets a collaborative and multicultural revamp as part of the Victoria Fringe Festival, with Bike Ride mainstays Puente Theatre and SNAFU Dance Theatre teaming up with original playwright Elaine Avila to give the show the second run it deserves.
SKAM Remixed closes out the celebrations with The Ami Project, January 12 to 15 2016 and returns to the site of the very first SKAM show (Bean Around the World, formerly the Grace Bistro) to present the first play founding member Amiel Gladstone ever wrote for the company — and a new work never-before seen