"A Theatrical Double Bill" (Ionesco's The Lesson and Essay by Hannah Moscovitch) marks the first, in what Victoria audiences can only hope will be further, collaboration between Eric Grace (Dandelion Theatre) and Julian Cervello (Scrumpy Theatre).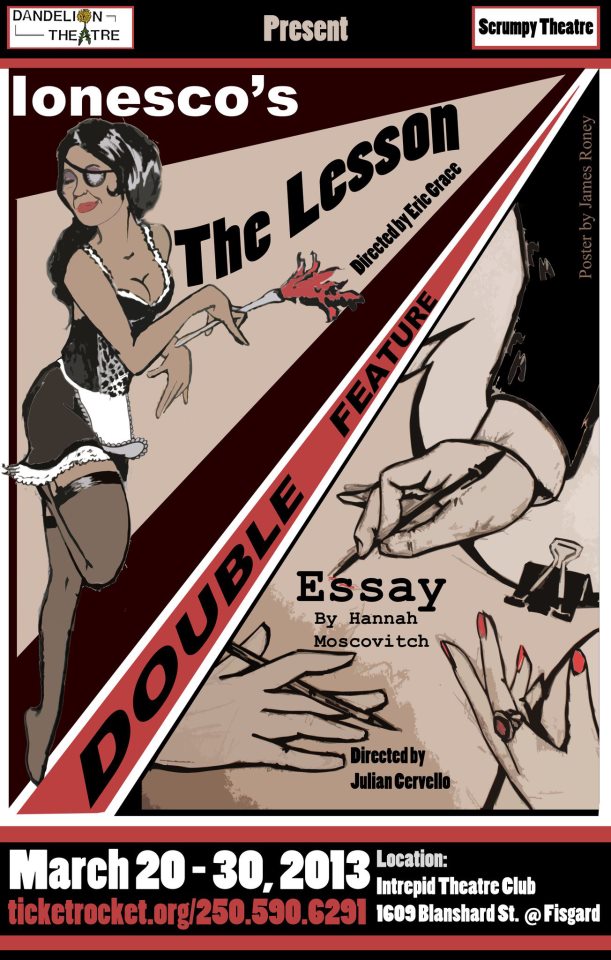 The partners are actors familiar for their roles with the Greater Victoria Shakespeare Festival, Theatre Inconnu, and the Victoria Fringe Festival.  When Grace decided to mount The Lesson, he was questing about for another one-act play to complete the program. Cervello, a graduate of the University of Toronto, was familiar with the work of the very popular Toronto-based young playwright Hannah Moscovitch, and suggested her piece Essay (Summerworks 2005) as being a suitable companion.  Essay marks Cervello's directorial debut.
Moscovitch's plays produced in Victoria include The Russian Play (Belfry Theatre SPARK Festival 2010) and the recent Little One (SPARK Festival 2013).
It's an intriguing concept to pair two plays about the power imbalance inherent in the professor-student relationship, particularly ones that are written over 50 years apart.
Ionesco's The Lesson is ground-breaking Theatre of the Absurd, a nonsensical descent into the madness of language deconstructed, railing against totalitarianism in all its forms.
Melissa Blank is the eager student, attending her first lesson with The Professor (Eric Grace).  Blank and Grace's acting is accentuated and highly stylized, mining the script for every possible moment of humour, and there are many.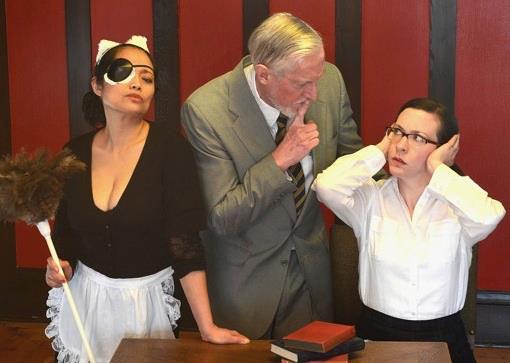 Ana de Lara, Eric Grace and Melissa Blank. Photo: Brian Adams
At first, all appears normal with the lesson, but cracks soon appear. Blank has only a brief period in which to prepare for her exams, and it becomes evident that she knows next to nothing.  Grace's Professor is calm and sympathetic, but as the depth of her ignorance becomes apparent, he slowly unravels, and tries to impose his specious theories of language.
A laconic maid (Ana de Lara) utters cryptic and ominous warnings, but ultimately does nothing to stop what is to come.
Using the small black box space of Intrepid Theatre Club, the set is appropriately cozy  – a table, chair and bookshelf to suggest the professor's study.  The effect is disconcerting when contrasted with the craziness of the language and its (non) meaning.
Moscovitch's Essay employs a more familiar and straight forward plot.  Pixie (Leslie Appleton), a student, comes to argue her case with Jeffrey (Kaeden Derksen), a TA in a course she's taking.
Dissatisfied with his response, she goes over his head to the professor, again played by Eric Grace.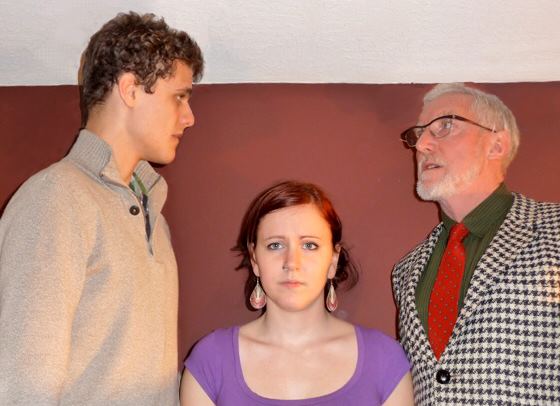 Kaeden Derksen, Leslie Appleton and Eric Grace. Photo: Julian Cervello
In one short act the issues of power balance/imbalance, gender, sexism, and the stifling nature of academic tenure are exposed.
If it all sounds frightfully politically correct – it isn't.  There are many moments of levity, and skewering of positions.  No one escapes unscathed.
Of the three, Grace's Professor Galbraith is the most disturbing for his ease in manipulating not only the student, but also the tutorial assistant.  What a switch from his role in The Lesson, even if both do involve a fair degree of obfuscation.
Leslie Appleton is a most convincing Pixie – waffling between passionate and disinterested with the alacrity of youth.  Jeffrey (Kaeden Derksen) is confused and bewildered; unable to convince the student, or please his professor.  His bafflement is genuine.
Cervello's direction is light and subtle, highlighting the complexity of the issues, rather than hammering home a point.
The naturalistic and contemporary language of Essay hides difficult questions without any obvious answers. Despite our desire to chose sides, these characters, by turns sympathetic and unsympathetic, don't make the task easy.
Thanks to Grace and Cervello for a double bill that is engaging, entertaining, funny and thought provoking while demanding not only close attention, but further conversation.  I'd love to see a mini-festival with Mamet's Oleanna added to the mix.
In doing research for this review I learned that The Lesson has been in permanent production at Paris' Théâtre de la Huchette, on an Ionesco double-bill with The Bald Soprano, since 1957. It's further proof of the enduring nature of the playwright's work and the debate on language.
Theatrical Double Bill: Ionesco's The Lesson, and Essay by Hannah Moscovitch
Presented by Dandelion Theatre and Scrumpy Theatre
March 20 – 30th, 2013
Intrepid Theatre Club, 1609 Blanshard (at Fisgard)
Tickets  $20/$15 are available at Ticket Rocket (250-590-6291) or at the door with cash only.
continues March 28, 29, 30 at 8 pm and March 30 at 2pm.

The Lesson, directed by Eric Grace with  Melissa Blank (the Student), Ana de Lara (the Maid) and Eric Grace (the Professor)
Essay, directed by Julian Cervello with Kaeden Derksen (Jeffrey), Leslie Appleton (Pixie) and Eric Grace (Professor Galbraith).
I was offered a complimentary ticket to attend this Theatrical Double Bill. I was not required to provide a review. As always, I retain complete editorial control over all content posted on my blog.