Team 4 Hope is a group of women, in Saskatchewan and Victoria BC, linked by a common cause – fundraising for neuroblastoma research.  On Sunday June 3rd from 12-4pm the Victoria members of Team 4 Hope are hosting Touch A Truck at Panorama Rec Centre. It's the perfect event if you have young children – there will be a police car, fire truck, Zamboni, ambulance, excavator, dump truck and more.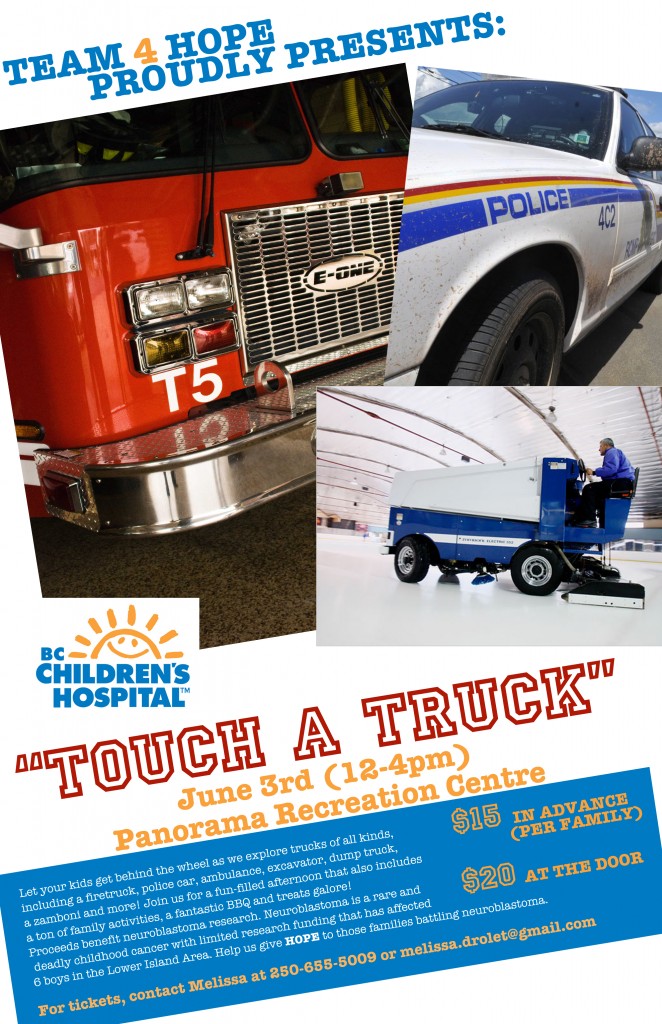 I'd originally seen the poster at the Greater Victoria Library and contacted Melissa Drolet (one of the organizers) for more information.
Team 4 Hope was originated by Lisa Hopkins.  Her son Jordan was diagnosed over 10 years ago with neuroblastoma, a rare form of pediatric cancer that develops from nerve tissue.  At the time, little research was being done, and the prognosis for most patients (infants and toddlers mainly) was not positive. In Jordan's case, the Hopkins family was told they had "some hope" and today Jordan is an active happy 13 year old.
Over the years, the Hopkins family has held fundraisers with the goal of endowing a research project at the Michael Smith Genome Centre at UBC.
This is exciting stuff: Because the disease affects so few children, little research is done into neuroblastoma, which means advances in dealing with it have been slow, the result being that it accounts for a high proportion of pediatric cancer deaths. "We knew that the survival rate would not improve without, of course, more research, which of course means raising money," Lisa says.  (quoted from Jack Knox column, Times Colonist August 30,2008).
In 2011, to mark the 10th anniversary of Jordan's diagnosis, Team 4 Hope was formed with the goal of running the Nike Women's Half-Marathon in San Francisco while raising $45,000 for the BC Children's Hospital Foundation, and the research project.  They surpassed their goal! (read more about the half-marathon here from one of the team's participants).
Even if you are not able to attend the event, you can contribute to the fundraising through a secure donation page.
Touch a Truck Fundraiser for Neuroblastoma Research
Sunday June 3rd 
12 – 4pm, Panorama Rec Centre
1885 Forest Park Drive
North Saanich, BC V8L 4A3
(250) 656-7271
http://www.panoramarecreation.ca