Shakespeare in Love: Love Scenes from Shakespeare at Craigdarroch Castle doth pleaseth mightily. Hurry hence to purchase tickets plenty, for happy your love will be.  Hark – Valentine's Day approacheth, here's a gift most rare. Yonder fair castle, and within its oak-ed walls and rooms, thespians talented doth strut, proclaiming venerated Bard's songs and sonnets.
All jesting aside – for my prowess with iambic pentameter is to be questioned – it's wonderful to have Giggling Iguana Productions reprise, with the Victoria Shakespeare Society, and a few script changes, a show they successfully staged at Craigdarroch several years ago.
Shakespeare in Love is a benefit for the 11th annual Greater Victoria Shakespeare Festival, using the latter's talent pool of actors and directors.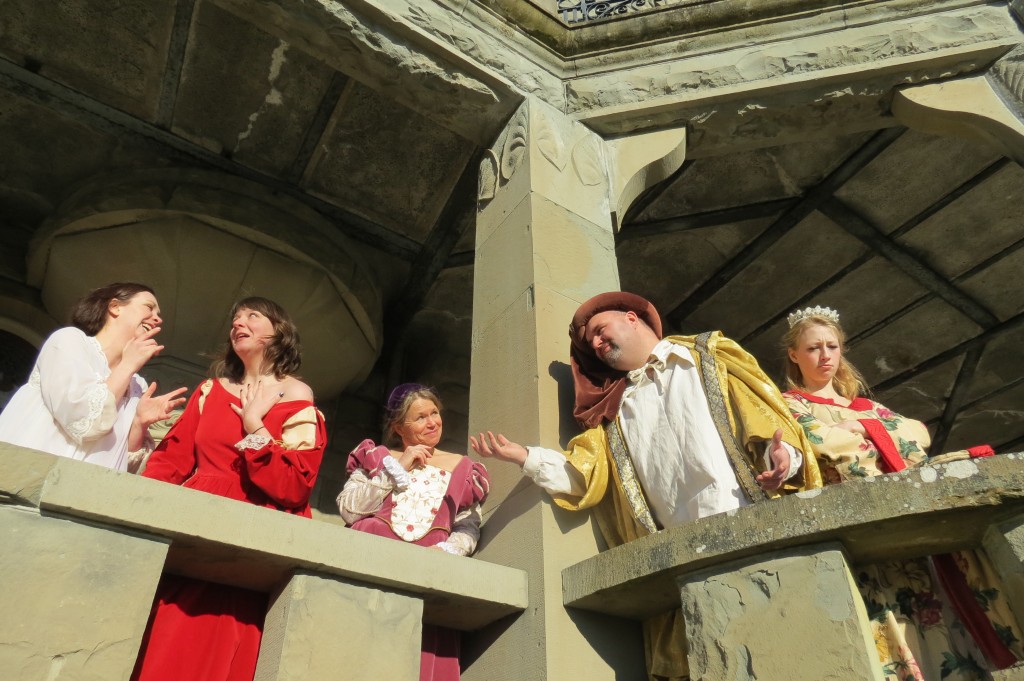 Melissa Blank, Michelle Chowns, Kate Rubin, Michael Glover, Amy Lee Radigan. Photo provided: Ian Case
Step beneath the porte-cochère, and be ready for the experience of wandering these beautiful hallways and rooms, moving from scene to scene. The Castle presents a perfect site-specific setting for the words of the immortal Bard – Robert Dunsmuir's rich display of wealth doubles most convincingly for castles inItaly,EnglandandFrance.
Whether you are coming with your Valentine, as a gift to yourself, or are out on-the-town with a group of friends, there is something for all preferences in this production.
Scenes presented range from tender moments (Romeo and Juliet), to furious arguments (Taming of the Shrew), hilarious slap-stick (Midsummer Night's Dream), farce (Merry Wives of Windsor) and drama (Measure for Measure).
Most of us remember the famous love scenes from Romeo and Juliet – it was truly a treat to see works as yet unknown-to-me.
"We reveal the many kinds of love that Shakespeare so beautifully illuminates in his works," says GVSF Artistic Director Michael Glover.
Minstrels Michelle Chowns and Amy Lee Radigan provide transitions in music, song and verse. The company of actors is strong, and eloquent; the words do truly "trip off the tongue" and illuminate Shakespeare's language.
We smiled at the antics of Kate (Amy Lee Radigan) and Petruchio (Michael Glover) (Taming of the Shrew), swinging wildly at one another in the great room at the top of the castle; listened quietly and hopefully as Henry V (Adam Holroyd) wooed Katherine of France (Amy Lee Radigan); and laughed at loud as the "mechanicals" staged Pyramus and Thisbe (the play with a play) in Midsummer Night's Dream.
Kate Rubin played Bottom/Pyramus to the hilt and delivered a death scene that had us laughing to tears in the former while we could only stand in dismay at the predicament before Melissa Blank (Isabella, Measure for Measure).
Co-directors Ian Case, Karen-Lee Pickett, Kate Rubin, and cast, have crafted a splendid series of vignettes, each one capable of standing alone.
Gorgeous costumes, some of them period, others more modern (Much Ado About Nothing is transported to the 1930s) complete the picture.
Shakespeare in Love: Love Scenes From Shakespeare; directed by Ian Case, Karen Lee Pickett and Kate Rubin
February 7, 8, 9, 11, 12, 13 and 14 at 8pm at Craigdarroch Castle, 1050 Joan Crescent.
Tickets: $28 and $25 for Castle members.  Includes coffee, tea and dessert service.
IN ADVANCE ONLY:  www.thecastle.ca or by phone 250 592 5323
PLEASE NOTE: This is not a seated performance. Craigdarroch Castle is a historic house museum.  There are 87 stairs and NO ramps or elevator – it is NOT wheelchair accessible. Tickets are limited to 50 per night.
I attended as a guest of the producers, and made a donation to the Greater Victoria Festival Society.  I was not asked, nor was I required,to write a review. As always, I retain all editorial control of the content published on my blog.