As darkness falls earlier and earlier, comes a hankering for terrifying tales to entertain us during long evenings. At times, we stumble from the comfort of warm homes, enticed by the prospects of time spent wandering the hallways of a stately mansion in the company of accomplished thespians. Giggling Iguana Productions and Launch Pad Productions propose a creative re-telling and re-working of the Dracula legend for your pleasure.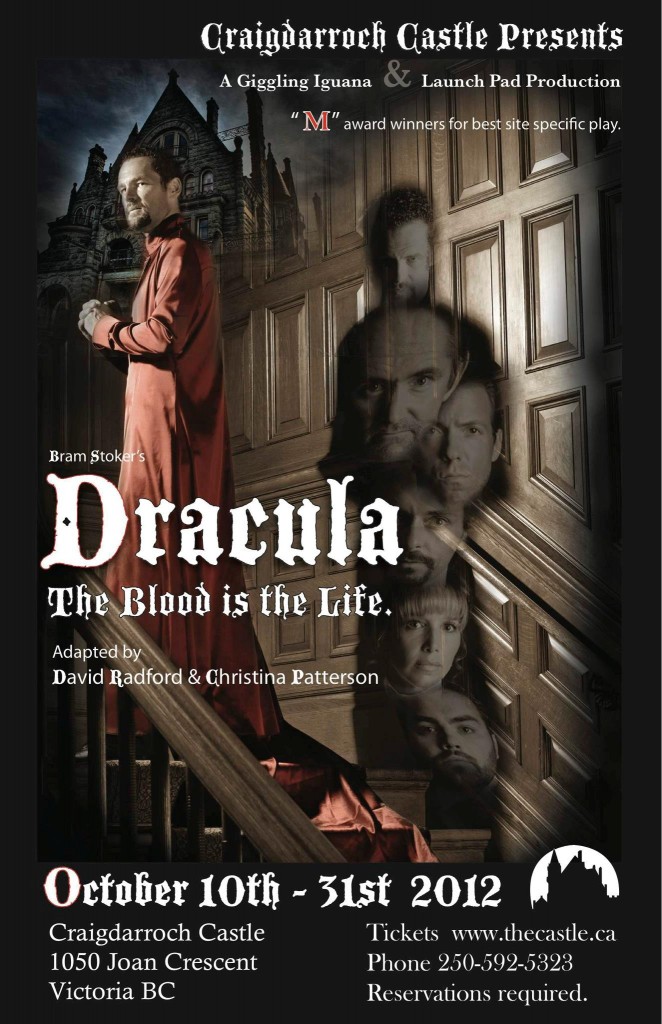 poster by Adelio Trinidad

Join Professor Abraham Van Helsing (Paul Terry), the famous vampire hunter, at Carfax Asylum (Craigdarroch Castle), run by Dr John Seward (Michael Shewchuk), and learn of the terror that is about to engulf England. 
Dracula – The Blood is the Life is adapted from Bram Stoker's classic horror novel by Launch Pad's David Radford and Christina Patterson, the team that adapted the award-winning The Strange Case of Dr. Jekyll and Mr. Hyde. This new adaptation mixes the iconic Dracula story with a dose of demonic exorcism, led by the famous vampire hunter Professor Abraham Van Helsing. You may think you've seen the story of Count Dracula, but you've never seen it like this.
Giggling Iguana has been producing site-specific Halloween treats at Craigdarroch Castle since 1991.
As always, the audience gathers under the porte cochère, in great anticipation of frights to come. The majestic edifice with its imposing interior staircases, panelled walls, secret passages, and sliding doors is the perfect setting for a Gothic horror tale. No set design could compete with the authentic nature of this décor.
We're admonished and instructed in the proper etiquette for the evening, and quietly file to a small theatre on the fourth floor. It's the only time we'll be seated.
Professor Van Helsing and Dr Seward introduce us to a troubled spider-and-bird-eating inmate, the by-turns hilarious and terrifying Mr Renfield (Trevor Hinton), and to Jonathan Harker (Matthew Coulson), a clerk summoned to Transylvania by Count Dracula (David Radford) for a house hunting mission.
Evil lurks, as Harker's betrothed, Miss Murray (Christina Patterson), tends to Seward's love, the ever absent Lucy. Strange sounds and shrieks emanate from the bowels of the castle. The tone is sombre as we are led from place to place. Will all succumb or good prevail?  Tension builds with each successive revelation.
Director Ian Case has assembled a fine cast of well-known Victoria actors.  They tackle the story with gusto and verve, taking us deep into the workings of minds unhinged; prodding our doubts, building our fears, until the terrifying dénouement.  Abandon all hope in the pursuit of delicious Halloween evil.  I'll take a night of Dracula at the Castle over the hi-tech hijinks of horror movies any day.
The period costumes by long time Case collaborator Martha Burd complement the drama beautifully, and add an additional element of richness to the proceedings.
Giggling Iguana's Halloween productions are very popular; this year an extra week of performances has been added to ensure that people are not disappointed. Regardless, it is wise to book early.
[vsw id="k3kRCAkzcbk" source="youtube" width="425″ height="344″ autoplay="no"]
Giggling Iguana Productions and Launch Pad Productions proudly present Dracula – The Blood is the Life, October 10-31, 2012.
Cast:
Paul Terry – Professor Abraham Van Helsing
Michael Shewchuk – Dr. Seward
Matthew Coulson – Jonathan Harker
Christina Patterson – Mina Murray
Trevor Hinton – Mr Renfield
David Radford – Count Dracula
Dracula – The Blood is the Life takes place at Craigdarroch Castle, 1050 Joan Crescent, Oct 10 and 11 at 8pm, Oct 12 and 13 at 7pm and 9pm, Oct 17 and 18 at 8pm, Oct 19 and 20 at 7pm and 9pm, Oct 24 and 25 at 8pm, Oct 26 and 27 at 7pm and 9pm, Oct 28, 30 and 31 at 8pm.
Information and tickets are available online at www.thecastle.ca and by phone at 250-592-5323. Reservations are required. Tickets are $26 general admission and $23 for Castle Members (prices include HST). Tickets must be purchased in advance.
PLEASE NOTE: This is not a seated performance. Craigdarroch Castle is a historic house museum. There are 87 stairs and NO ramps or elevator – it is NOT wheelchair accessible.
 Disclaimer:  I was offered a complimentary ticket  to attend the preview of this play. I was not paid to write a review nor was I required to do so. As always, I retain editorial control over all the content published on this blog.