After a sold-out run of Dracula – the Blood is the Life in October 2012, Giggling Iguana Productions returns to Craigdarroch Castle and partners with the Greater Victoria Shakespeare Festival for a Valentine's treat – Shakespeare in Love: Love Scenes from Shakespeare. Don't be disappointed – Giggling Iguana shows are extremely popular and will sell  out. There are only 50 tickets for each performance.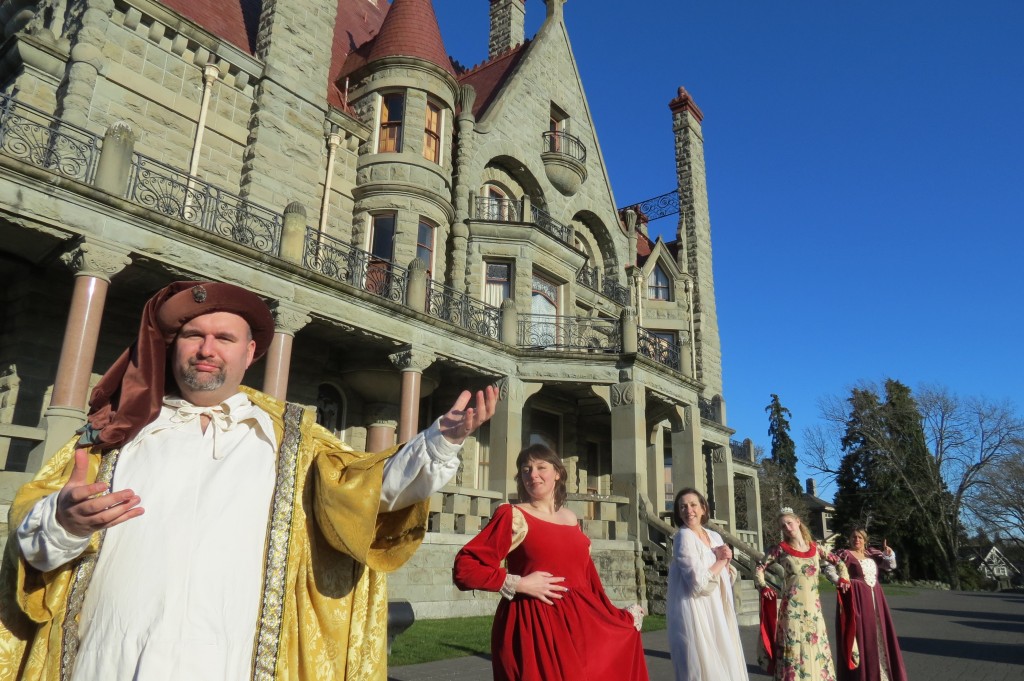 Michael Glover, Michelle Chowns, Melissa Blank, Amy Lee Radigan, Kate Rubin. Image (provided): Ian Case 
"Over 10 years ago, Giggling Iguana Productions put Shakespeare In Love on at the Castle for two years running," says Iguana's Ian Case. "It was very popular, and I thought it was time to bring it back."  Case adds, "At Iguana, we're longtime supporters of the GVSF.  This show is a perfect fit for them."

Shakespeare in Love: Scenes of Love From Shakespeare features love scenes from Shakespeare's plays, sonnets and songs; all staged site-specifically, using the Castle's magnificent rooms and landings as perfect settings for a Valentine treat.  Expect scenes from Romeo and Juliet, Taming of the Shrew, Much Ado About Nothing and many more.  "We reveal the many kinds of love that Shakespeare so beautifully illuminates in his works," says GVSF Artistic Director Michael Glover. "At evening's end refreshments and dessert will be served in the Castle's magnificent Dining Room – the perfect Valentine's gift for the special love of thy life!"
For 2013, the show has been re-written, and is being staged as a benefit for GVSF's 11th season.
 "We wanted audiences to get a chance to see a fun show and perhaps get a sneak peak at the coming GVSF season too," hints Festival Producer Karen Lee Pickett.  "We hope this may become an annual event for us."
Talented cast members include: Michael Glover (Much Ado About Nothing), Kate Rubin (The Importance of Being Earnest), Adam Holbroyd (Lady Windermere's Fan), Amy Lee Radigan (The Cursed Cabaret of Kelowna Day Taylor), Michelle Chowns (Gormenghast), and the 11th Annual Critic Choice Award winner for best local actor Melissa Blank (A Day in the Death of Joe Egg and Crackwalker).
Shakespeare in Love: Love Scenes From Shakespeare; directed by Ian Case, Karen Lee Pickett and Kate Rubin
February 7, 8, 9, 11, 12, 13 and 14 at 8pm at Craigdarroch Castle, 1050 Joan Crescent.
Tickets: $28 and $25 for Castle members.  Includes coffee, tea and dessert service.
IN ADVANCE ONLY:  www.thecastle.ca or by phone 250 592 5323
PLEASE NOTE: This is not a seated performance. Craigdarroch Castle is a historic house museum.  There are 87 stairs and NO ramps or elevator – it is NOT wheelchair accessible. Tickets are limited to 50 per night.